---
This article originally appeared in the November/December 2019 issue of Museum magazine, a benefit of AAM membership.
---
The Children's Museum of Indianapolis has worked with the local children's hospital to create an engaging health and fitness experience for children and families.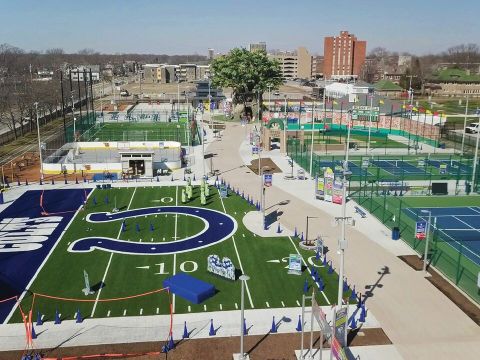 Look at the nation's health challenges, and the need for a fresh approach to encouraging physical activity is clear. Several studies indicate that only one in three children is physically active every day, and inactivity leads to serious health risks, including type 2 diabetes, heart disease, and high blood pressure.
The Children's Museum of Indianapolis was determined to positively transform the health of children and families by encouraging them to explore healthy habits together as a family. This focus started in earnest 10 years ago when the museum completed market studies that found that visitors would support such an experience through the lens of sports.
The museum then began working with Mark Rosentraub, a University of Michigan sports management professor, to pursue how the museum could engage families in health and fitness, particularly given that organized sports activities for children generally exclude parent and grandparent participation. His research showed that the US didn't have any facilities designed around intergenerational participatory health and fitness or sports activities. The studies also concluded that museum members and visitors were "highly likely" to participate in such an experience.
In creating a health-focused experience with the right balance of fitness, family engagement, and fun, the museum wanted a title sponsor that could not only help fund the project, but also provide visitors with rich medical knowledge about health and wellness. Riley Children's Health, the Indiana University–affiliated children's hospital, was and is a leader in the field and therefore the logical choice.
The museum consulted with the hospital's medical professionals to determine the most effective ways to implement healthy activities that would be safe and engaging. The museum also reached out to multiple professional sports teams and their athletic trainers to capitalize on the nation's love of sports. These experts worked with exhibit developers.
"The goal was to create an immersive outdoor and indoor experience that would bring families together and promote an active lifestyle," says Jeffrey H. Patchen, president and CEO of The Children's Museum of Indianapolis.
The result is the $38.5 million, 7.5-acre Riley Children's Health Sports Legends Experience®, which opened in March 2018 and combines sports history, physical fitness, and health education in a variety of family-fun outdoor and indoor experiences.
"We believe this extraordinary experience will motivate families to work together to create healthier habits that can stay with them for a lifetime," Patchen says. "In the process, we provide interpretive educational programs that build character, instill life-enhancing values, and promote healthy choices through sports."
What It Is
The Riley Children's Health Sports Legends Experience® includes immersive outdoor experiences focusing on basketball, football, hockey, soccer, baseball, golf, tennis, and pedal cars. There is also a run-walk track; exercise equipment to improve muscle strength, balance, coordination, and flexibility; and a 60-foot-tall tree house. Additionally, the Old National Bank Sports Legends Avenue of Champions features 12 life-size bronze sculptures representing 16 male and female sports legends—great for photos—with information about the athletes' accomplishments.
Each miniature sports experience offers age-appropriate equipment and hands-on activities that are led by themed interpreters who help the whole family work as a team. The museum aimed to make each experience accessible to people of all ages, sizes, and physical abilities.
For example, the Indiana Pacers and Indiana Fever Basketball Experience features 17 basketball goals of various heights, from 4 feet to 10 feet (regulation height) above the ground. The Kicking Challenge in the Indianapolis Colts Football Experience has a college regulation-sized field goal and a shorter one for younger legends-in-training. In the Seymour and Rheta Holt Tennis Center, the museum provides smaller racquets, smaller courts, and slower balls designed by the United States Tennis Association, all of which allow children and inexperienced adults to be more successful from the start, resulting in increased confidence and fun. The environmentally friendly outdoor turf was selected for its wheelchair accessibility.
Inside the Efroymson Pavilion, an indoor space that complements the Riley Children's Health Sports Legends Experience®, the NCAA Sports Legends Training Facility looks at sports through the lens of the student athlete. It includes rowing and gymnastics activities, a broadcast booth for children and families to try play-by-play announcing, and more.
As the museum was building the sports complex, the National Art Museum of Sport (NAMOS) approached The Children's Museum about becoming the new home for the nation's only art museum dedicated to sports. The NAMOS collection features more than 1,000 rotating works of art (including drawings, paintings, works on paper, and bronze and stone sculptures) that focus on the human body; the energy, motion, and emotion of sport; and important moments in sports history. The gallery also offers a studio space for children and adults to create their own art.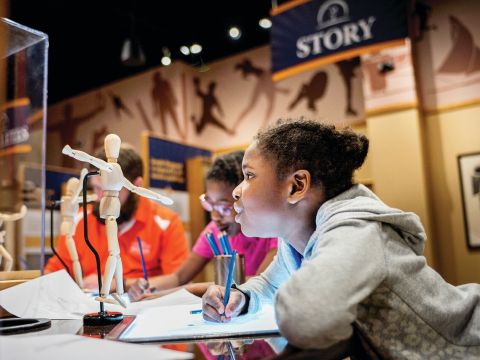 And another indoor gallery offers rotating exhibits that pay homage to different sports from a historical perspective, allowing visitors to further explore arts, humanities, and science stories associated with sports. This area allows the museum to provide sports content when the outdoor experiences are closed due to inclement weather.
Working with Health Professionals
A key to the success of these immersive experiences is the ability to draw on the expertise of Riley Children's Health at Indiana University Health. "Children today face serious lifestyle-related health risks such as obesity, heart disease, and type 2 diabetes, and reversing that trend requires a community-wide effort," says Matthew Cook, president of Riley Children's Health. Joseph O'Neil, developmental pediatrician at Riley Children's Health, adds, "Skills used in sports—running, throwing, and catching—are fundamental to all children as they grow and develop. Some sports encourage hand-eye coordination as well as building fitness, agility, and strength."
For two years before the opening, exhibit developers regularly met with advisors from the hospital and various sports teams to determine activities that would engage multiple family members and to explore the various facets of individual sports that would best promote fitness. These experts suggested everything from potential skills and drills that could be executed in the museum areas to potential equipment that could be installed to accomplish some of the activities.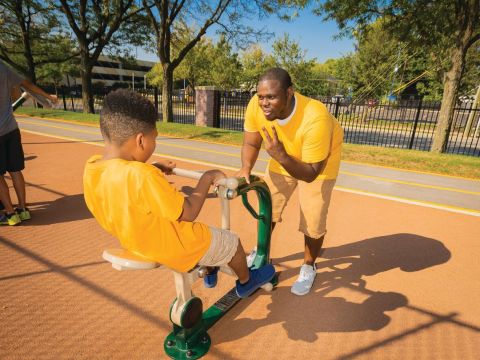 The museum also consulted with the local YMCA, which provided gym space as museum staff worked with the YMCA coaching staff and children to prototype interactives such as the Passing Challenge for both football and basketball and the basketball Shot Clock Challenge. The YMCA staff also helped test and evaluate equipment so the museum could make selections that were safe, authentic, age-appropriate, and durable. In addition, The Fehribach Group, an accessibility consultancy, evaluated the project for ADA compliance.
Riley Children's Health also helped the museum select healthier food options to serve in the museum's Food Court; those menu offerings are identified with the hospital's logo. The hospital also provides information on child wellness that is posted in the mothers' rooms. And the hospital helped provide medically accurate hydration, wellness, and activity tips that are shared throughout the museum and the outdoor space.
More recently, the museum worked with the Colts' Sports Performance and Strength and Conditioning team to create a new exhibition, First & Goal. Activities include a low-tech nutrition interactive that encourages children and families to think about what they eat and how food fuels our bodies.
Doctors continue to visit the museum periodically to give presentations to visitors about best practices regarding health and fitness, while athletes and coaches from the NFL, NBA, minor league teams for hockey and baseball, and other professional sports organizations host special team days to promote their sports through visitor interaction.
Keeping Everyone Safe
In the Midwest, the weather can change in minutes, a real issue for an outdoor experience. Coaches and professional interpreters have worked in snow, rain, and temperatures of 100 degrees and higher, and they take their responsibility for visitors seriously.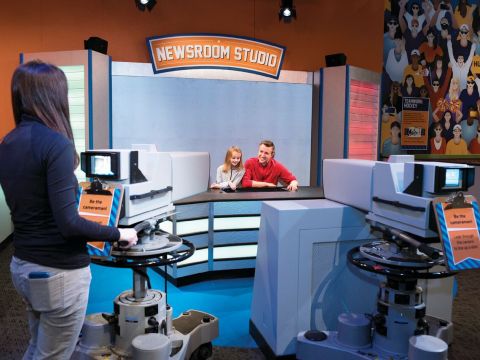 The Children's Museum consults with a weather service in addition to monitoring radar to take proper safety precautions if severe weather is approaching. The museum also makes sure its staff, volunteers, and visitors stay well hydrated. Safety officers patrol the grounds and assist visitors who may be overheated or dehydrated; the museum even added electrolyte popsicles to officers' first-aid kits to help those experiencing heat stress. Also, all museum safety and security personnel, many of whom are off-duty firefighters and EMTs, are CPR and defibrillator certified.
Some of the most positive feedback the museum receives from visitors involves their experiences with "coaches" in each sports area. These staff members not only monitor various areas related to that sport, but they also get in the game and play with children and their grown-ups. Family members especially appreciate the positive feedback these coaches provide to nervous children who are experiencing a sport for the first time. Some of these children go on to join teams and incorporate sports into their daily lives.
It is only fitting that visitors to the Riley Children's Health Sports Legends Experience® are greeted by statues of Nike (Greek goddess of speed, strength, and victory) and Discobolus of Myron (discus thrower) on the Efroymson Plaza. Ancient Greeks believed Nike could grant strength and speed to humans to be victorious. Add the harmony and balance of Discobolus, and visitors can walk away with ideas for a well-rounded and healthy lifestyle, realizing that fitness really can be fun.
---
Alli Stitle is associate vice president, experience development, and Kimberly Harms is director of media and public relations at The Children's Museum of Indianapolis in Indiana.