---
This article originally appeared in the November/December 2019 issue of Museum magazine, a benefit of AAM membership.
---
Michigan State University (MSU) has been ground zero of the largest crisis of sexual abuse in the history of North American higher education. For decades, university sports physician Larry Nassar assaulted hundreds of girls and young women, in many cases under the guise of medical treatment. This long history of abuse was enabled by many institutions, including the university, USA Gymnastics, the US Olympics Committee, law enforcement agencies, and many other entities that turned a blind eye or even actively suppressed reports of abuse.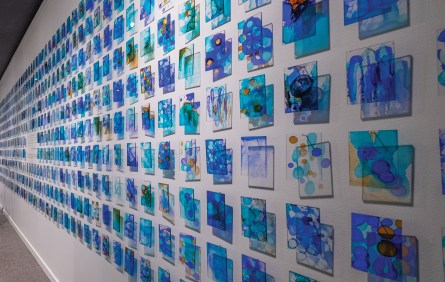 The survivors' struggle for justice culminated during an extraordinary week in January 2018 when 156 sister survivors delivered victim impact statements during Nassar's sentencing in Ingham County, Michigan. Following the sentence, the university president at the time resigned in disgrace, and the university was plunged into a period of deep uncertainty.
The following is the story of the museum exhibition that resulted from this horrific saga of violation, denial, and institutional failure, told as a dialogue between Mark Auslander, director of the MSU Museum, and Amanda Thomashow, a sister-survivor advocate and executive director of Survivor Strong, which provides educational and healing opportunities for survivors of gender-based violence, their allies, and the surrounding community. They discuss how museum staff worked with survivors and their families on an advisory council of community co-curators to develop "Finding Our Voice: Sister Survivors Speak," which runs through April 30, 2020.
Mark Auslander: The impact statements were enormously moving to all of us at the museum, and we began quietly to document protest actions on campus. We were unsure at first if we should create an exhibition about the crisis. Was this really our story to tell? Might we, in our ignorance or insensitivity, inadvertently cause additional pain for survivors and their families who had been betrayed for so long by those in power?
In early 2018, survivors' family members and allies wrapped more than 200 campus trees in teal-colored bows, each bearing the name (or victim impact number) of a sister survivor. The marked trees became sites of prayer and reflection for many survivors and parents.
In talking with survivors and family members, we agreed on the need for an exhibition that would fully address the institutional failures of the university and other entities, and that would allow survivors to tell their own story in their own words. We consulted with specialists on sexual violence, trauma, and recovery who emphasized that impacted survivors and family members needed to play major decision-making roles throughout the process. So we invited a group of engaged sister survivors and parents to serve as community co-curators for the exhibition.
Amanda Thomashow: At first, I was extremely wary of any involvement with the museum or any unit of the university. Although I had grown up as a loyal MSU fan, I had been repeatedly betrayed by the institution. After being assaulted by the perpetrator in 2014, I filed a Title IX complaint with university officials, only to receive a report asserting that I had not been sexually assaulted, and there was nothing irregular in my so-called "treatment" in his medical office.
Two years later, after the press revealed the scandal, I learned that this report had been heavily redacted and that the actual report, circulated to university officials, acknowledged wrongdoing and recommended some corrective procedures (none of which were implemented). Like hundreds of my fellow sister survivors, university officials disparaged my judgment and integrity in ways that were enormously painful.
After an initial working dinner with museum staff, a group of us agreed to serve on an advisory committee made up of sister survivors, parents, and the university detective who broke the case. We articulated several conditions. The committee would review and edit all aspects of the exhibition script and be centrally engaged in all design and aesthetic decisions during exhibition development. Our voices would be foregrounded as much as possible. The exhibition would unflinchingly document institutional failures across the decades while stressing survivors' agency in charting our healing journeys.
Auslander: The sister survivors and the consulting specialists in trauma explained, again and again, that our most important job as museum staff was to carefully, patiently listen. Sexual violence is an assault on both a person's body and their right to author their own story; if the exhibition were to have moral integrity and aid in healing, survivors must be empowered to share whatever aspects of their narratives they deemed relevant without constraint or censorship.
Our planning meetings, which brought together museum staff and advisory committee members, were both heartbreaking and profoundly moving. The group quickly settled on a title, "Finding Our Voice: Sister Survivors Speak," emphasizing the collective power of language, which had so often been used to harm, to serve as an instrument of healing.
The sisters spoke of a "trauma cloud," the sensation of being buffeted by conditions that initially defied labels or definitions. Guided by these recollections, designer Kelly Hansen created a "trauma cloud" installation that became an anchor of the opening gallery. Through shadowy words, it evokes a liminal state of being before survivors could fully articulate what had befallen them.
Thomashow: The sisters emphasized the importance of including survivor-created art that would dramatize landscapes of pain while also emphasizing ongoing struggles to remake the future on their own terms. We were fascinated when Mark told us he had been approached by an emerging artist who was also a former gymnast who had not yet publicly disclosed her survivor status.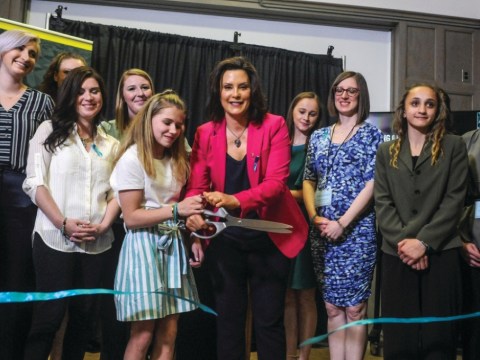 Jordyn Fishman's 21-foot triptych chronicled our shared journey through the visual metaphor of a women's gymnastics competition. Drawing on the visual iconography of the Flemish Renaissance, Jordyn takes us through a phantasmagoric underworld epic of abuse and violation, some of it on medical examining tables, moving toward images of reborn defiant women athletes remaking gymnastics in their own image.
We met with Jordyn as she decided to publicly disclose her status and have her important artwork included in the show. Working with MSU neuroscientist and survivor advocate Apryl Pooley, Jordyn recorded dialogues about trauma, the brain, and healing, which are vital components in the exhibition's mobile phone tour. Apryl shared that the artwork was consistent with clinical data that confirms when you experience trauma, the language center of your brain shuts down because you're just trying to survive. Jordyn responded that that is why the painting is circular, recursive, and multilayered, to emphasize that healing from traumatic injury requires, to her mind, continuous repetition and open-ended exploration of diverse possibilities.
Auslander: Art-making proved vital for other sister survivors engaged in the project. In late 2018, the survivors had been repeatedly castigated by the then-interim university president, who impugned their motives for speaking aloud. Many were close to despair and longed for a safe space in which they could create something of beauty.
We worked with therapist Nan Doolittle to hold several expressive arts workshops emphasizing the transformative power of wood. Art-making can allow for the therapeutic externalization of interior emotional states and inner conflicts; by moving into external arenas, inchoate sentiments can be dramatized and reintegrated. The sisters created "staffs of strength" from fallen tree branches; their parents in turn created wooden "bowls of life." Many of these elements were loaned to the exhibition to illustrate pathways of self-transformation.
Inspired by the workshop, survivor Elena Cram created a three-part tapestry, Emergence, using ikat weaving techniques to express her healing journey. An initial panel evokes a dark period of relative stasis or numbness, which a survivor endures by separating herself from the full weight of emotional life. The second panel introduces kilim techniques of heavier tapestry in the shape of shards, evoking the piercing pain of returning to a fuller interior emotional landscape. In the third panel, the brighter colors hinted at in the earlier panels coalesce to evoke a new day, a sunrise that looks to the future. Elena emphasizes that this journey is not unidirectional and that she, like her fellow sister survivors, can alternate between the emotional landscapes captured in the panels.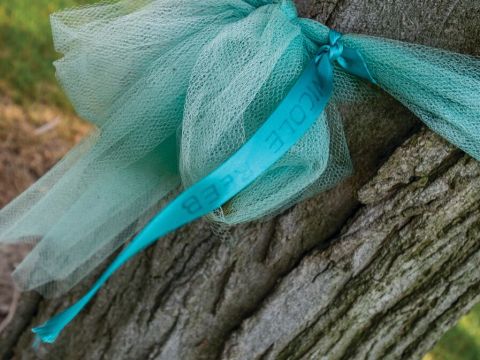 A similarly nuanced exploration of trauma and recovery informs a large adjacent sculpture by Alexandra Bourque, Transformed into Butterflies (Ten Feet Tall). Three hundred brightly colored silk butterfly-shaped cutouts are suspended on nearly invisible threads, forming a multicolored dress around a female dressmaker's form. The upper torso of the form has visible gaps, evoking the long-term traumatic wounds left by assault, wounds that are only healed by the solidarity and courage of hundreds of fellow sister survivors.
The community curatorial council noted that the beauty of the sculpture only conveys half of their continuing experience, which often entails dark, private moments of returned anguish. A parent on the council asked if there could be a full-size sculpture of a little girl crouched in a corner in a state of terror or agony. Our clinical advisors were concerned that such a three-dimensional work might retraumatize survivor visitors. As a compromise, a shadowed image of a crouching girl is projected from the base of the butterfly dress. This subtle element, which visitors discover on their own, is a poignant reminder that the wounds of trauma are easy to overlook, and we must all learn to be attentive to traces of injustice.
Thomashow: I've been thinking a lot about how participating in the creation of this exhibit has impacted my own healing journey. At times it has exhausted me, frustrated me, and left me an anxious mess with my stomach in knots. Other times it has rejuvenated my spirit, made me feel heard, and shown me that not everyone at my alma mater is as morally bankrupt as the former (and parts of the current) administration. This exhibition helps not only my sisters and me shed the years of silent suffering, but it gives hope to all survivors.
I am a survivor in an army of strong, powerful humans who understand my scarred soul and serve as a support system. I hope that while this exhibition shows the suffering we should never have experienced, it also extends that feeling of unity to all survivors. I hope it lets anyone who has been victimized know that they are not alone; they are a part of this army, too.
And this army, it's not stopping anytime soon.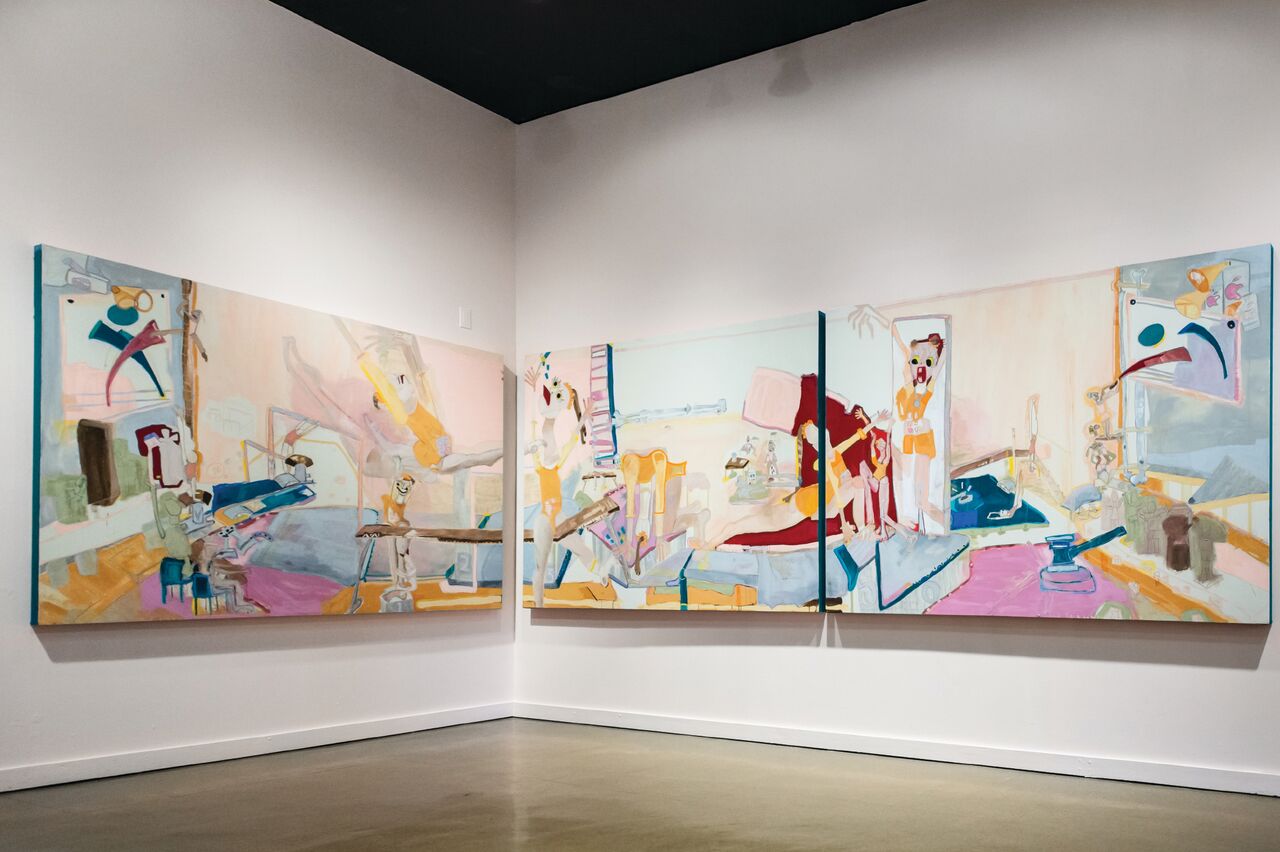 Hearing All Voices
Following are some lessons MSU Museum staff learned in developing a community co-curated, trauma-informed exhibition.
Convene an advisory council of survivors and allies that is empowered to make key decisions.
Work closely with clinicians and trauma specialists.
Allow time at each working session for survivors to share their thoughts on what has been accomplished and what work remains to be done.
Be attuned to locations, images, language, and gestures that may be triggering for traumatized participants.
Be aware that survivors may find it difficult to read a draft exhibition script in private; explore reading the materials aloud in small groups.
Consider working with expressive arts therapists to hold art-making workshops for shared explorations of challenging emotional territories without direct speech.
Be prepared to compromise continuously on wording, sequence, images, and design.
Remain committed to "affirmative consent." Even if survivors have been identified in the media, only reference them in the exhibition if they have given written permission to do so.
Consider a closed opening for survivors and their guests that protects everyone's privacy and places the decision to speak or be referenced in the survivors' hands.
Mark Auslander is the director of the Michigan State University Museum and Amanda Thomashow is a sister survivor advocate and executive director of Survivor Strong. "Finding Our Voice" is underwritten by Grewal Law PLLC.