This fall, AAM partnered with Welcoming America to encourage museums to participate in its annual Welcoming Week, in which organizations around the country welcome new immigrants and refugees into their new communities. For one AAM member, the International Museum of Art & Science, this task had special meaning. Located in McAllen, Texas, near the border between the U.S. and Mexico, the IMAS is situated in a growing community of immigrants from across Latin America, many of whom face economic and sociocultural challenges. In this account of their Welcoming Week experience, the museum's director and director of education explain why it was important to participate.
---
A few months ago, when we received an email from AAM about Welcoming Week, there was immediate consensus among department heads at the International Museum of Art & Science that we should participate. The museum is located in McAllen, Texas, on the border between the United States and Mexico. The Rio Grande Valley has for centuries been welcoming immigrants from Mexico and, more recently, from across Latin America. As such, we strongly felt it was important for us to convey a welcoming message and celebrate the values that unite us, values which are essential in sustaining strong, diverse, and inclusive communities.
The population of our region is increasing annually, and McAllen alone grew over 9 percent in the past eight years to its current 143,433 residents. Over 92 percent of those residents are of Hispanic origin, with 84 percent speaking a primary language other than English. It's also a young community, with over 40 percent under the age of eighteen, and one facing particular challenges. Over 29 percent of the population live below the federal poverty level, and fewer than 18 percent have a degree beyond high school, despite the emergence of public community college and state university campuses throughout the region. These institutions provide and advocate for affordable higher education opportunities, particularly for first-generation and migrant students.
Welcoming Week was a late addition to our already full program calendar, so the education and visitor services teams adapted planned activities and reached out to community partners to participate. Our marketing staff used Welcoming Week press and social media resources to encourage participation. These efforts caught the attention of the University of Texas Rio Grande Valley television station, who featured a news story on the museum event.
We hosted the event from September 17-22 to align with our calendar of events and hours of operation. During the event, the education team set up a special "Welcoming Table" in our lobby, with resources on citizenship and interactive props. Visitors were encouraged to take selfies with welcoming signs in various languages, and to use blank stickers to share their immigrant backgrounds on our "Where Are You From?" poster. The colorful poster filled with names of different cities and countries became an instant conversation-starter for visitors, and many enjoyed telling us what brought them to the Rio Grande Valley. One family mentioned they were visiting from Latvia and were encouraged by their local family to visit the museum.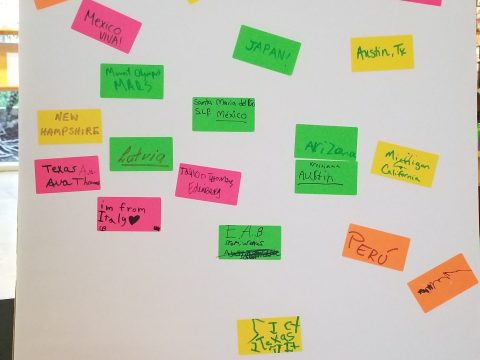 We know our audiences are "doers" and attendance swells on days with special activities, so we enhanced our daily program schedule to include hands-on activities, bilingual gallery tours, and planetarium presentations. Our most popular activity allowed visitors to design a flag using collage techniques in the Ann Moore Art Studio. One young participant, a native to the Rio Grande Valley, based her design on her favorite country, stating, "I wanted to do the China flag because I love China for their animals."
Building on the inclusivity theme of Welcoming Week—together we are stronger economically, socially, and culturally—we invited the 2020 Census and A Bright Beginning to join us as partners.
A Bright Beginning is an education support program that provides bilingual resources for migrant families. Their mission is to help these families overcome language, cultural, and social challenges that become barriers for academic success. Leticia Rosalez represented the organization on behalf of a local school district's migrant department. She hosted a table to provide families with information on local services for migrant scholarships, counseling, and much more. A fun bean-bag toss game caught the attention of families passing by the table. The children were encouraged to play while she spoke with the adults, and they received a small treat at the end.
The Census was interested in participating to build the trust it needs to get an accurate count of all residents—both U.S. citizens and non-citizens—a challenge amidst recent elevated stressors for the immigrant community. As resources are increasingly diverted toward building physical border barriers, the representation and funding that result from an accurate Census count become more important. Welcoming Week was a great way to initiate a partnership with our regional 2020 Census office, who provided our visitors with a friendly introduction to the purpose of the Census and what benefits being counted can bring to our community.
Recent hostilities towards people of Hispanic or Latino ethnicity have made initiatives like Welcoming Week all the more essential to cultural organizations like the IMAS, where DEAI (Diversity, Equity, Access, and Inclusion) are core values acted upon with public programs, board and staff composition, and community engagement. As first-time participants in Welcoming Week, being part of a larger national effort with readily available resources helped us to quickly inform and unify our staff (who all wore Welcoming-Week-branded buttons to show our support).
Our Welcoming Week experience reaffirmed our commitment to and responsibility for creating strong communities through acceptance, tolerance, and celebration of the diversities that we represent and embody. Moreover, Welcoming Week established to the community that the museum is a safe space for immigrants. Museums are vital agents in building resilient, sustainable communities, and being inclusive is an essential ingredient in that work. As museums work to be relevant resources to those they serve, Welcoming Week provides a framework and recognition that adds our voice to a larger national effort. Learn more about Welcoming Week at welcomingamerica.org.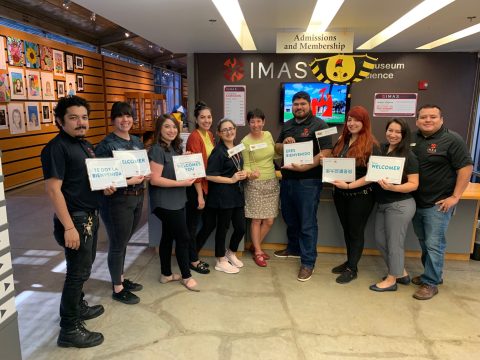 About the authors:
From her early years as a museum educator and now as a director, AAM member Ann Fortescue enthusiastically builds teams that strive to make the museum a place for everyone. She joined the International Museum of Art & Science in July 2019, bringing over thirty years of museum experience and service to the field including as an AAM Accreditation Commissioner, Peer Reviewer, and Development & Membership Professional Network board member.
Claudia Martinez is an avid museum-goer and AAM member with a passion for learning. She graduated with a BA in Art from the University of Southern Illinois—Carbondale in 2015, and is currently the Director of Education at the International Museum of Art & Science in McAllen, TX.
Skip over related stories to continue reading article