The Des Moines Art Center diversified its audience—and educated its staff—with an exhibition on queer abstraction that transformed the frame of reference for its cause.
---
This article originally appeared in the March/April 2020 issue of Museum magazine, a benefit of AAM membership.
---
During the summer of 2019, Iowa's Des Moines Art Center mounted "Queer Abstraction," a landmark exhibition focused on contemporary artists who visualize themes related to sexuality and gender identity through abstract art.
The exhibition presented many firsts for this nationally renowned modern and contemporary art museum. "Queer Abstraction" was the first exhibition in the art center's 70-year history to focus on queer subject matter and the first time a major museum recognized "queer abstraction" as a phenomenon in the development of modern art.
This exhibition came to life at an art museum that was nervous about—or even uncomfortable with—the use of the word "queer." As the art center prepared for this more inclusive exhibition and educational programs, it faced a variety of challenges. Over the course of two years, the art center underwent institutional changes that prepared itself to overcome these obstacles.
Laying the Groundwork
In 2017, the art center embarked on a three-year strategic plan that ensured a commitment to inclusive practices. This plan promoted exhibitions representing all people and not only the voices belonging to white, heterosexual, male artists who have dominated the canon of art history. Toward this end, the art center hired Jared Ledesma as assistant curator, in part because of his background in queer art history.
Ledesma's first exhibition with the art center, "I, too, am America," featured many works from the permanent collections by lesbian and gay artists that had not previously been on display. The show created momentum for exhibitions and programming that focused on LGBTQ artists, aimed at attracting Des Moines' LGBTQ community. This included two sold-out tours of queer art in the art center's collection led by Ledesma and Daniel Hoffman-Zinnel, the former executive director of One Iowa, a statewide LGBTQ organization dedicated to preserving and advancing equality for Iowans.
The tours were designed to show a queer presence in the art center galleries and promote advocacy for LGBTQ equality in Iowa. Meanwhile, "Queer Abstraction" was added to the exhibition calendar to be displayed in two years, and the institution would need to prepare.
In 2016, the AAM LGBTQ Alliance published Welcoming Guidelines for Museums, an assessment tool to help LGBTQ museum professionals and allies effect change at institutions that serve LGBTQ persons and families. With "Queer Abstraction" on the schedule and an increase in future LGBTQ programming at the art center, staff formed a resource group to review the welcoming guidelines.
The resource group did not initially receive senior leadership support until a member from the group was recruited to the art center's Inclusion Team, an internal group comprised of mostly senior leadership created to support diversity, equity, accessibility, and inclusion. While the Inclusion Team was making progress on procedures and policy, the resource group was developing staff trainings on sexuality, gender identity, and standard LGBTQ terms.
Trainings were conducted by Becky Smith, director of youth engagement at Iowa Safe Schools, a nonprofit that provides safe, supportive, and nurturing learning environments and communities for LGBTQ and allied youth through education, outreach, advocacy, and direct services. Smith conducted four trainings—two for administrative staff, one for security staff, and one for docents—that included an overview of sex, sexuality, and gender identity; an introduction to LGBTQ terminology; and a brief dive into the concept of privilege.
One of the challenges Smith faced was explaining the importance of the word "queer." A handful of art center staff members were uncomfortable using the word because of its history as a derogatory term. In fact, when announcing Ledesma's arrival in the art center's membership newsletter, there was uneasiness about whether to include that he focused on "queer art history." Though this uneasiness was never put to rest, it was helpful for staff to learn about the relationship of the word to LGBTQ culture.
Creating an Experience Through Installation
The Des Moines Art Center is known for its distinct architecture. The museum comprises buildings designed by Eliel Saarinen, I. M. Pei, and Richard Meier. "Queer Abstraction" was presented in both the art center's temporary exhibition gallery in the Saarinen wing and in the I. M. Pei wing.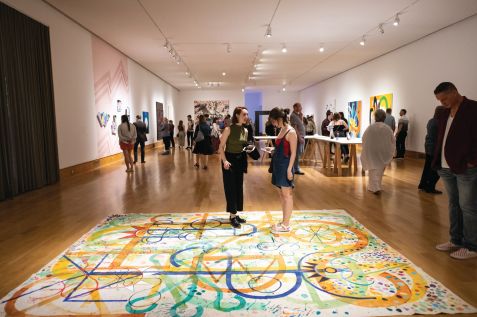 The installation of "Queer Abstraction" was crucial to the show's message. Typically, temporary walls are constructed within the exhibition space to create smaller, intimate galleries. But with this exhibition, it was important to have unobstructed sightlines so that all objects were visible, suggesting a dialogue between them and a sense of community. After all, though the objects were different in terms of medium, dimensions, etc., they all shared the common theme of queer abstraction.
On the title wall at the exhibition's entrance, visitors were met with the introductory text as well as a key that defined "queer" and "abstraction." This key not only functioned as a framework for the exhibition, but it also helped educate those who were unfamiliar with the terms.
The exhibition's extended labels were also different than normal. Typically, labels are well over a paragraph. But in "Queer Abstraction," most labels were only three to four sentences. This reiterated that queer abstraction cannot be entirely defined by certain works of art. Instead, viewers came to their own conclusions as to why the work was included in the exhibition.
At the end of the temporary exhibition gallery, visitors found an interactive glass board mounted on the wall near a table and stool. Beside the board was a question: What does "Queer Abstraction" mean to you? The art center received hundreds of drawings and notes from the public during the exhibition.
Diversifying the Opening and Programming
The opening night for "Queer Abstraction" was at the beginning of LGBTQ Pride Month, June 1, 2019. Therefore, it was important for the celebration to be just that: a party.
To ensure that the opening represented Des Moines' LGBTQ community, the art center held a meeting of various community leaders three months before June 1. After an introduction to the exhibition and its concepts, the first few questions from one community member set the tone for the entire meeting: "How many artists of color are in the exhibition? Why are there no bisexual artists in the show?" It was clear that the exhibition needed equal representation, beyond lesbian and gay members of the LGBTQ community.
The group discussed diversifying the opening night by including vendors, disc jockeys, and artists who represented more of the queer spectrum. The opening celebration for "Queer Abstraction" was as diverse and inclusive an event as most staff had ever witnessed.
Programming surrounding the exhibition included a lecture, "The Possibility of Queer Abstraction," by David Getsy, a noted scholar of contemporary queer art and a contributor to the exhibition's catalogue. The art center also hosted tandem gallery dialogues with visiting artists Carrie Moyer and Mark Joshua Epstein.
Becky Smith of Iowa Safe Schools provided a training called "How to be an Ally" for museum visitors that proved to be a lively, interactive discussion. Families with queer youth attended as well as grandparents of queer grandchildren. It was an incredible step forward for the art center.
Inspired by other institutions that offer free family events for LGBTQ children and their families, the art center hosted "Entirely Kids Day" on July 20, 2019. That day, 700 children and their families visited the art center, welcomed by a 30-foot pride flag. Entertainment included drag storytime, docent tours, art-making, and an LGBTQ dance performance. Iowa Safe Schools helped children and their families make bracelets that show support for all identities.
In addition, One Iowa used "Queer Abstraction" as a learning experience for its Leadership Institute, a program that trains queer folk to become better leaders. Institute participants met at the art center, toured the exhibition with its curator, and heard from an artist featured in the show.
Becoming More Inclusive
Marginalized audiences who had previously not been a part of the museum's scope prior to this exhibition were beginning to see themselves at the art center. The art center had accomplished a lot in two years, but everyone had more work to do.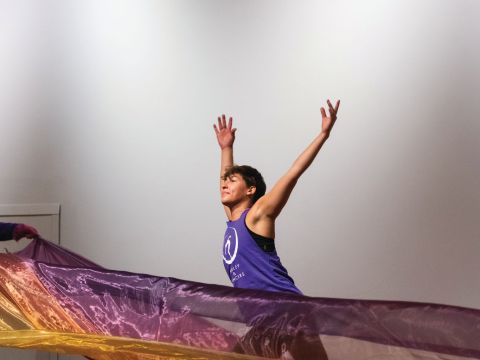 Today, the museum includes LGBTQ individuals as a target audience. This spirit is reflected in the art center's new positioning statement:
The Des Moines Art Center believes in the power of art to inspire personal, political, and social transformation. We commit to exhibit and explore thought-provoking modern and contemporary art. We connect people and art by offering opportunities for feeling, imagining, dreaming, and creating. We promote curiosity and embrace critical and empathetic thinking with a spirit of openness. We strive to be a welcoming and equitable cultural resource. This effort to ensure access to art for everyone has been a core tenet of the museum since its founding. Admission is always free for all.
As reflected in this positioning statement, the art center has become a more inclusive place, focusing on diversity, equity, accessibility, and inclusion. Because of "Queer Abstraction," the community now knows the art center not only as a jewel of an institution but also one that is mindful of the LGBTQ community in its programming and exhibitions.
Change within a museum is often challenging, difficult, and messy—especially when attempting to engage communities that have for decades been left out of the canon. But when you open a museum to these groups, the effort is appreciated, and many will benefit.
Did You Know?
Iowa was the third state to legalize same-sex marriage when its state Supreme Court unanimously upheld a lower court ruling in April 2009, six years before the US Supreme Court made its ruling.
A D&I Checklist
When emphasizing diversity and inclusion for institutional change, remember to do the following.
Iowa Safe Schools staff and Des Moines Art Center staff after helping children and families make identity bracelets during "Entirely Kids Day."

Make an effort to hire a diverse staff to support change.

Provide an internal voice for staff through resource groups.
Invite community participation early in the process.
Look to other museums as examples and for resources.
Allocate funding for LGBTQ community partners
to implement training classes.
Remember: not everyone will participate
or be comfortable.
Be ready: growth and change are slow and difficult.
Resources
AAM LGBTQ Alliance, Welcoming Guidelines for Museums, May 2016 aam-us.org/wp-content/uploads/2017/11/lgbtq_welcome_guide.pdf
---
Kara Fedje, formerly museum educator at the Des Moines Art Center, is now the vice president of learning experiences at the Putnam Museum in Davenport, Iowa. Jared Ledesma is assistant curator at the Des Moines Art Center in Iowa.