In 2018, twenty organizations enrolled in a special museum cohort of Aroha Philanthropies' Seeding Vitality Arts program. With funding from Aroha, and training provided by Lifetime Arts, these museums are developing high-quality, intensive arts learning opportunities for older adults. Many of these museums are contributing guest posts to this blog sharing what they've learned. Today's post is from Sara Lowenburg, Manager of Education at Louisiana State Museum.
---
The Louisiana State Museum is a statewide network with nine locations, including five National Historic Landmarks in the historic French Quarter of New Orleans. The museum welcomes a wide range of local and out-of-town visitors, and our New Orleans properties in particular see an especially high percentage of tourists. We were first drawn to apply for the Seeding Vitality Arts in Museums grant because of the opportunity it offered to establish new local connections and allow the museum to serve as a place of ongoing growth and community-building for older adults. We were also excited to see how the teaching artists and students might build upon the museum's collection to find new connections to and interpretations of New Orleans history. Given our small but dedicated staff, many of our existing programs rely on partnerships with outside organizations and artists, and we were excited to invite new teaching artists into the museum.
Now, midway through the grant cycle, these programs have expanded our reach and allowed the museum to serve as a truly collaborative artmaking space, bringing together locals from diverse backgrounds to build new community within the museum. The use of historical artifacts as the basis for new creations has enriched both the classes and the museum as a whole and offered exciting perspectives on the museum's collections and exhibitions.
This past spring, we launched our program with a printmaking class at the Cabildo, one of our historic properties on Jackson Square. The site, built in the 1790s under Spanish rule, now hosts a variety of exhibitions highlighting Louisiana history and art, which served as the perfect springboard for our students' creations. For example, students used the exhibition We Love You, New Orleans, a celebration of the city's food, architecture, amusements, nightlife, and more, as inspiration for their linoleum block prints, which were then displayed in a neighboring gallery at the culmination of the class.
Skip over related stories to continue reading article
Students in the printmaking class included lifelong residents of New Orleans as well as newcomers to the city. Some were docents or regular attendees at museum programs, while others were returning to the Cabildo for the first time in fifty years. All, however, had their own stories to share about the city and connections to make to the exhibition. One of our first class sessions was spent sketching in the exhibition for participants to get inspiration for their own prints. One student zeroed in on a 1950s Roosevelt Hotel tablecloth, which she used as the template for her print, while another used historic maps of the city as inspiration for his own map design. One student wrote in her label for the class exhibition, "On the day our class meandered through the museum, I sketched a lamp post from a painting hanging in one of the first-floor galleries. I selected the lamp post as a focal point of my print to symbolize the light that has illuminated my heart during this experience of creating it and likely forever more."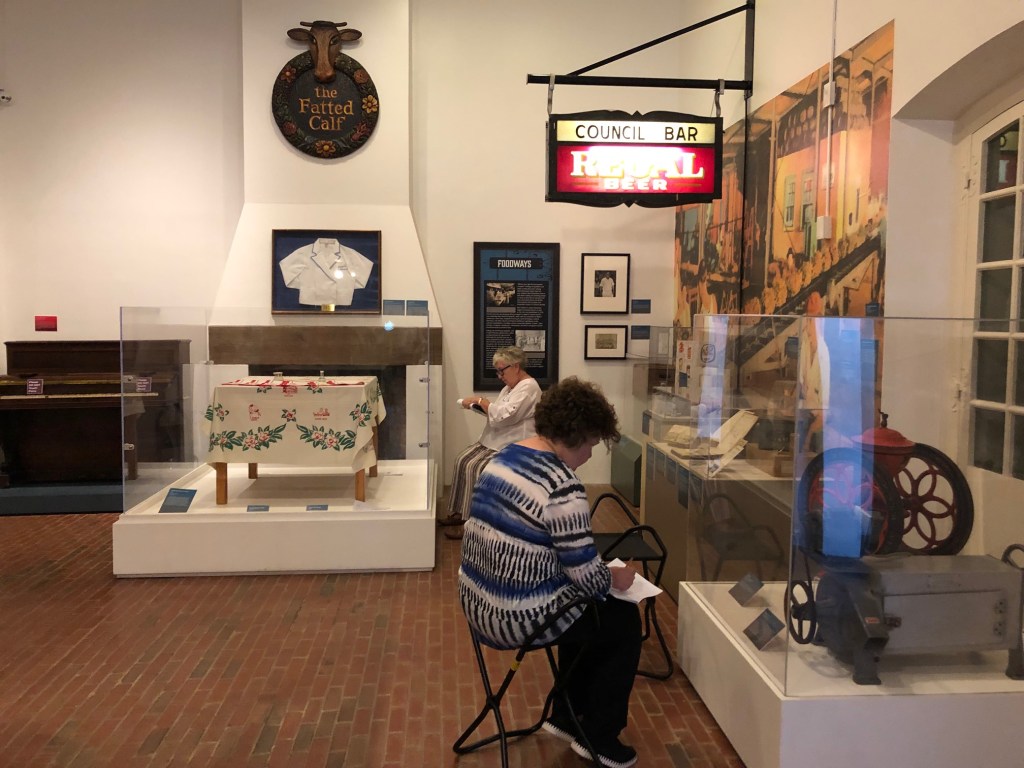 The success of the printmaking class inspired us to find new opportunities to connect artmaking to our other exhibitions. For our second series this fall, we offered a drumming class in conjunction with Drumsville!: Evolution of the New Orleans Beat, currently on display at the New Orleans Jazz Museum at the Old U.S. Mint, one of our other locations in the French Quarter. Throughout this nine-week course, the class explored the rich influences of New Orleans music, from African rhythms such as Funga and bamboula, to Caribbean rhythms, to the New Orleans second line beat so often heard in the city today. In week seven, the class met offsite in Congo Square, an incredibly significant public space about ten blocks from the museum. From the mid-eighteenth through the mid-nineteenth century, enslaved people and free people of color would meet at Congo Square on Sundays to sing, dance, drum, and sell goods.
Our teaching artist, Baba Luther Gray, leads a popular Congo Square drum circle every Sunday, and he recruited a colleague and friend, Mama Jamilah Peters-Muhammad, to teach the dances to the rhythms they had been practicing. Based on the students' past hesitations to dance, I was amazed by how willing and enthusiastic the group was. All in all, it was a pretty magical day, and it was incredible to watch participants venture out of their comfort zones. Back in the classroom at the Jazz Museum, many participants remarked on how special it had been to play in such a meaningful place. Lee, one of the participants in both class series, remarked to me in an email, "The Cabildo, the Mint and Congo Square—landmarks I've known my whole life—have never felt so alive and vibrant. I now see, feel and appreciate them with a much greater depth."
Although on the surface the two classes seem quite different, Lee's comments touch upon some of the common threads I have noticed throughout the program. In both classes, students have come from a variety of backgrounds, and their diversity of experience has greatly enriched the courses. Students heard about the classes through senior centers, the museum's docent program, flyers at the local community center, or even the listserv of a Mardi Gras krewe. Some came with their own expertise—including a technical illustrator in the printmaking class or a participant in drum circles at the VA in the drumming course—while others were venturing into the arts for the first time. The classes quickly opened opportunities for students to share their stories and expertise and make connections with one another. One student, for example, lived and studied in rural Cameroon and shared many rich stories of drumming and traditions she witnessed. Another student previously owned Donna's Bar & Grill—a shuttered nearby jazz club—for many years, and the class lit up when they realized she is "that Donna," igniting a conversation on music venues, past French Quarter establishments, property management, and more. It has been such a treat to watch the students learn from and support each other and build a community that sustains beyond the class. Several students from the drum class have made plans to meet up outside of the class for drumming and coffee or to hear live music.
The connections built between participants and with the museum have also inspired us to add more opportunities for long-term engagement, especially for older adults. The third round of classes kicked off this winter as a beading course with Big Chief Darryl Montana of the Yellow Pocahontas "Hunters" Black Indian Tribe. Based on overwhelming interest, we are also aiming to offer a second round of the drum class this coming spring. This winter, we also partnered with Southern Rep Theatre's Care for Creatives program on a six-week workshop for older adults in the LGTBQ+ community. The program, designed to foster social connection through artmaking, used the museum's exhibition Grand Illusions: The History and Artistry of Gay Carnival in New Orleans as its anchor and inspiration.
The Seeding Vitality Arts in Museums grant has served as a spark for our staff and our spaces, allowing us to serve as a forum for creativity and community-building and establish long-lasting connections to new audiences. We are excited to carry the lessons we have learned through its implementation into new opportunities for our visitors of all ages.