From celebrating tribal traditions in Kenya to reconnecting with immigrant roots in Taiwan, tens of thousands of museums all over the world held International Museum Day activities in 2019. This year, however, the fortieth anniversary of International Museum Day (IMD), planned for May 18, will be different for museums that remain shut down in countries dealing with the COVID-19 pandemic.
The International Council of Museums (ICOM)—a worldwide network of over forty-four thousand museum professionals at twenty thousand museums in more than 138 countries—is asking museums to share both on-site community and online digital activities celebrating the theme of "Museums for Equality: Diversity and Inclusion." ICOM hopes that this special day will "become a rallying point to both celebrate the diversity of perspectives that make up the communities and personnel of museums, and champion tools for identifying and overcoming bias in what they display and the stories they tell."
Historically, museums have been in the vanguard of international cultural and scientific research and exchange. We don't need a crisis to remind us that we live in a global village. We are already responding by sharing, networking, and engaging our communities online.
ICOM has created a website dedicated to International Museum Day 2020. It contains rich content and tools—including a communications kit with promotional graphics, such as a digital banner and a poster that can be adapted, printed, and/or posted on digital platforms. Once plans are finalized, your museum may pinpoint your location and share your themed activities through text and images in an online interactive map, along with other museums from all over the world.
The objectives outlined for #IMD2020 are jumping-off points for museums to develop creative events and activities that will engage their communities on-site or online and highlight the importance of the role of museums as institutions that serve society and its development by:
Advocating for museums as key actors in our society
Empowering diversity and inclusion in our cultural institutions
Promoting cultural exchange as a catalyst for peace among peoples
Implementing the UN Sustainable Development Goals
If you're looking for inspiration, try imagining how some activities from 2019's theme of "Museums as Cultural Hubs—The Future of Tradition" might be reimagined digitally with the 2020 theme: "Museums for Equality: Diversity and Inclusion."
For instance, look to the National Museums of Kenya, which have made International Museum Day into an annual event. In 2019, Hyrax Hill Museum in Nairobi organized a day of activities that included Kikiyu, Kissii, Hindu, and Sudanese dance performances, and exhibitions featuring indigenous medicine, weaving, and other cultural traditions. Nairobi's National Museum celebrated the tribe of Yaaku in Laikipia County, which is nearing extinction with a population of only four thousand. Through hands-on activities, tours, and storytelling, they explored topics of safeguarding the tribe's cultural heritage and the role of the museum in advocating for them and mitigating the trafficking of their artifacts.
How could these activities be made digital or adapted to this year's theme? We already have an answer: in 2020, the National Museums of Kenya will go digital for International Museum Day with Utamaduni Wetu: Meet the People of Kenya, part of their ongoing partnership with Google Arts & Culture! Take an incredible journey into Kenya's diverse communities and across its magnificent countryside. Learn about Kenya's history, superheroes, music, dance, stories, costumes, crafts, languages, national parks, and much more through rich and colorful content including reality tours, interactive games, and videos, such as this animation, "A Journey Through Kenya by Musa Omusi":
In another 2019 activity, local immigrants and refugees—known as Global Guides— led tours of artifacts at Penn Museum in Philadelphia in the museum's Middle East Galleries, during which they provided historical information combined with emotionally compelling personal stories to interpret objects from their countries of origin.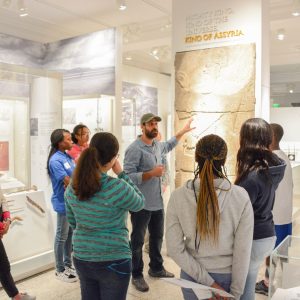 Could this example be made digital? What about an online "storyfest" with Global Guides sharing their stories on Facebook Live from their home computers with personal mementos that relate to collection objects on Penn Museum's web site?
The National Museum of History in Taipei, Taiwan, has been closed for renovation since late 2018, but that hasn't stopped it from celebrating International Museum Day. Last year, the museum partnered with Taipei's Botanical Garden and invited a diverse population, including families, immigrants, and elderly people with dementia and their caretakers, to take part in a five-part scavenger hunt spanning art, history, ecology, literature, and technology.
Could this idea work for this year's theme and circumstances? How about an online digital scavenger hunt emphasizing diversity and inclusion that uses local museum and cultural web sites?
One of the activities planned for this year, as documented in ICOM's live interactive Wemap, is particularly poignant during the coronavirus pandemic. The Archeological Museum of Nikopolis in Epirus, Greece, and The Ephorate of Anitiquities of Preveza are asking people from ages six to ninety-nine from all over the world to finish the sentence, "If all the people on earth held hands firmly…" in writing or pictures. They ask, "Could all people join hands and create a diverse and colorful circle, a circle of love, equality and respect? What would then happen?" They plan to organize an exhibition around the submissions. Perhaps this exhibition can be realized digitally and shared worldwide.
More museum digital activities are available in ICOM's blog post "How to reach—and engage—your public digitally."  Examples include curated exhibitions on Pinterest, Twitter threads, quizzes, and contests.
Hashtags are reliable aggregators: ICOM recently asked museum professionals and institutions to use the hashtag #WomeninMuseums to share the contributions of women to the cultural field. To celebrate the IMD theme for 2020, museums in history, science, and other sectors could do the same for women and other identity groups, or topics encompassing but not limited to ethnicity, physical ability, or sexual orientation and identity.
A handbook PDF of Social Media Guidelines for ICOM Committees may be downloaded for free and applied to museums. It enables institutions of all sizes to easily engage with their communities and reach a wider audience.
Museums and individuals are invited to share their #IMD2020, #DiversityAndInclusion, #StayAtHome, and #MuseumFromHome digital initiatives and experiences on Facebook and other social media platforms with the hashtag #MuseumsAndChill. Take a look, as the list of examples and hashtags is growing daily. And don't forget to follow ICOM's interactive map to see what happens this year for International Museum Day on May 18 around your community, your country, and the world! 
About the author:
Deborah Ziska was a publicist (1988-1995) and head of communications (1996-2016) at the National Gallery of Art in Washington, DC, where her office launched NGA's first social media platforms. She teaches "Museums of the Americas: Facing Challenges in the 21st Century" for the online Museum Studies graduate program at Johns Hopkins University, and consults in museum communications. In addition to advising the Art Museum of the Americas of the Organization of American States, she sits on the board of the U.S. National Committee and serves as vice president of the Marketing and Public Relations International Committee of the International Council of Museums.
Skip over related stories to continue reading article