For historians, there is history in the making at any given moment. The life events, triumphs, and tragedies we experience and record help us define our ever-changing world for generations to come. So, when the coronavirus began affecting the lives of the residents of our little town of Unionville, Connecticut, it was time for the Unionville Museum to act.
When the virus began taking hold in our state, we were busy planning a fall exhibit that was going to involve community residents sharing their personal photographs illustrating life in Unionville in 2020. The idea was to contrast those photographs with ones from the museum's permanent collection of Unionville in earlier days and build a "then and now"-themed exhibit. We have learned over the years that the most successful exhibits are those that allow the community to view their current life experiences as part of history. But the exhibit planning was put on hold when our governor ordered all non-essential businesses closed on March 23.
A few days later, a resident posted a photograph on a local Facebook community page that made us realize we did not need to pause our exhibition after all. The image was of a familiar local railroad bridge, which residents have used for decades to hang signs with messages for birthdays, graduations, and sometimes to mourn the loss of family members or friends. The photograph depicted a new sign someone had placed on the bridge that simply read "STAY HOME." Seeing this, it became clear that the story of this pandemic is the story of Unionville in 2020, and that story is what we at the museum need to record.
The museum is the main local resource for information on historical events and their impact on the region. Whenever we prepare for an exhibit and search through our collection for primary sources to help tell the story, there remains a wish that people had taken more pictures, saved more items, and wrote down their stories more often. Living through this historic event now gives us and others working in local history an opportunity to start collecting relevant primary sources immediately. Doing that has now become a mission for us.
Skip over related stories to continue reading article
To begin, we posted a request on our website and Facebook page for photographs and stories about the effects of the virus. The request included ideas of experiences people might want to share, such as family activities, homeschooling, working from home, grocery store senior hours, restaurant deliveries and pickups, empty store shelves, area signs, and what businesses did when they had to close down or stay open under different conditions. We left the request open to anything they thought would help document this incredible and challenging moment in time.
One of the first photographs we received was of a fourth-grader from one of our local elementary schools. She had written an inspirational message on her driveway in chalk advising all to "Stay Healthy." She and her mother were happy to learn that we wanted to add it to the museum's permanent collection. We then expanded our outreach by posting a general request in two local Facebook groups and by reaching out to supporters who are active in the community and are avid picture takers.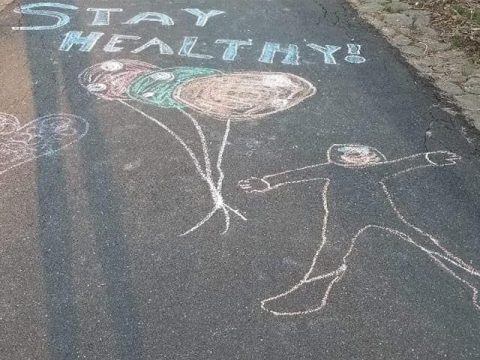 The response was overwhelming, with contributions coming in mostly from the local Facebook groups and our direct outreach. There were photographs of homeschooling, including one mother's handwritten daily schedule, photographs of pandemic signs on places that are closed, social distance warning signs on places that are open, photographs of empty church parking lots on Sunday, and empty school playgrounds, to name just a few.
People are also sharing their stories. One middle school teacher shared a beautiful digital journal she is keeping. One woman shared the story of her husband, forbidden by their daughter to leave the house, who used his mobility scooter to go to the grocery store. The mother of a nine-year-old sent a picture of her daughter practicing her soccer drills in the front yard, wondering, now that the season has been cut short, whether or not she had made the elite team.
This project has also had unanticipated side benefits, mainly keeping us connected with people in the community during a time of isolation. It has also increased awareness of the museum, especially among younger residents, which is one of our strategic goals. And it has increased the museum's use of social and digital media, something we have needed to do. One of the most important and unexpected surprises is how much people have appreciated being asked to share what they are experiencing. Individuals and businesses alike have thanked us. Businesses were especially appreciative of our wanting to be able to show how they stepped up in these difficult times.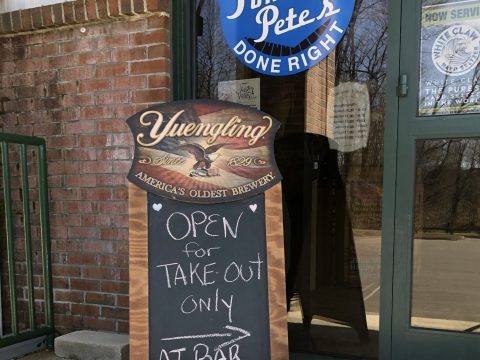 The museum is grateful to all who have assisted in the important work of documenting the pandemic response, an effort which will have long-lasting benefits. We are committed to maintaining this effort, during our weeks of social distancing and recovery, while our community navigates this difficult time and we transition into a way of life that will be very different than life as we knew it just weeks ago.
This shall pass and become yet another moment for all to look back on and wonder how we survived. And our little history museum will have played a small part in the much larger story being written in response to the pandemic. It is a story we will be telling for years.
About the author:
Anne Raymond serves on the board of the Unionville Museum. She began volunteering with the museum in 2014, offering history-related activities for children during museum events. She joined the board in 2018. Before retiring and volunteering with the museum, Anne spent twenty years coordinating professional development for teachers, counselors, and administrators, including managing three Teaching American History projects in partnership with local museums and historians.