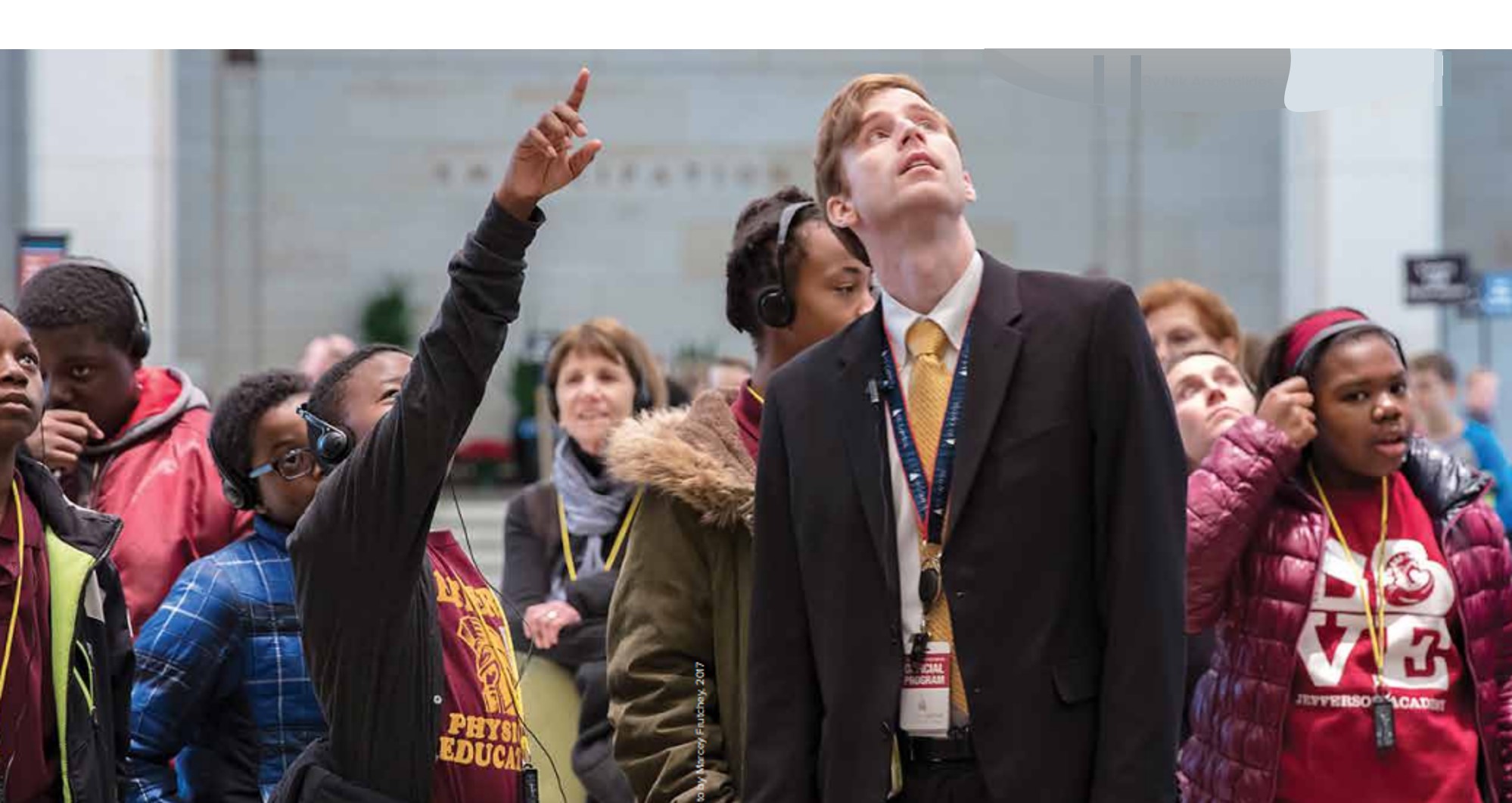 ---
This article originally appeared in the September/October 2020 issue of Museum magazine, a benefit of AAM membership.
---
The US Capitol Visitor Center engages student audiences near and far in civics education.
If—to quote the title of a seminal 2000 report by the American Council of Trustees and Alumni—our nation is "losing America's memory" in ways that endanger our treasured values and way of life, can an American museum help?
And, even when that institution seems perfectly positioned for positive impact—with a clear mission, committed partners, engaged and entrepreneurial staff, and a healthy visitorship—what is the alchemy that achieves the intended effect?
And how do we ensure that this mission embraces the local community as well as the national and international public?
These are questions the staff at the US Capitol Visitor Center (Capitol Visitor Center) continually asks. And with good reason.
Each year, more than 3 million eighth-grade students across this country study US history and government. And yet, according to the 2018 Civics Assessment, conducted as part of the National Assessment of Educational Progress, just 24 percent of US eighth-graders were proficient in civics. In fact, for decades studies have signaled an escalating civics education crisis in the United States.
Sometimes we hear these findings in comic soundbites: more Americans know that Michael Jackson composed "Billie Jean" than that the Bill of Rights is a body of amendments to the United States Constitution; nearly three-quarters of Americans can name the Three Stooges, while less than a quarter can name all three branches of our federal government; 10 percent of college students think Judith "Judge Judy" Sheindlin is a justice on the US Supreme Court.
But together, the statistics show a sobering reality—what Charles N. Quigley, former executive director of the Center for Civic Education, called "a civics recession" that's especially acute among our youngest Americans.
At the Capitol Visitor Center, we believe one answer to this crisis lies in informal education: learning that occurs outside of a structured curriculum and beyond a classroom setting that includes conversation, exploration, and experiential learning. Research shows such approaches are essential to improving student outcomes in civics and other subjects. Many US museums and other civic and cultural institutions are perfect venues for this type of enrichment.
Making a Good Program Better
Each year, hundreds of thousands of students take a class trip to Washington, DC, to visit the Capitol and learn about American civics. Our goal at the Capitol Visitor Center is to help students understand our unique form of government, the role of citizens, and the relevance of Congress to their daily lives through the legislation debated and passed here.
Because ours is, in the words of President John Adams, "a government of laws and not of men," sharing American civics with our visitors means helping them understand how the laws that enshrine our fundamental rights and comprise our system of self-government have been debated, formed, passed, and reshaped—a process that continues today. It can also mean helping them play their rightful role in the preservation, prosperity, and progress of our nation.
Our visitor guides are the beating heart of our passion for civics education. Each visitor guide gives up to five tours daily, often with groups of 50 or more students. They know that more than half of our visitors have never been to the US Capitol before, and most will not return until they are themselves parents or grandparents.
When I came to the Capitol Visitor Center in 2014, I saw how well we served students from around the country, and I was eager to find meaningful ways to ensure that our staff's passion for civics was equally accessible to students in our backyard—the diverse neighborhoods of Washington, DC.
I discovered that we already had the ideal partners as well as an ideal platform. For many years, under the leadership of the US Capitol Historical Society, a dedicated coalition of organizations—the US Capitol, the White House, the National Mall and Memorial Parks, the Supreme Court, and the National Archives—had offered the "We the People Constitution Tour" for DC public school students. "We the People" is a day-long field trip in which students visit the US Capitol, the White House Visitor Center, and the National Archives, among other stops. The program explains to students how each branch of government works together to uphold the principles of the US Constitution.
However, I also learned that students in the "We the People" program only visited the grounds of the US Capitol and did not come inside the building. Clearly, getting them in the building was a significant opportunity to engage them more deeply with the Constitution.
We needed a champion to gain consensus among the partners and work to realize this program's full potential. That person was Lauren Windham Roszak, the Capitol Visitor Center's educational programs manager. With a commitment to "having the courage to abandon successful methods," Roszak collaborated with the US Capitol Historical Society staff to incorporate a tour of the Capitol. Now eighth-grade students explore the Constitution, learn how its principles are applied in the work of Congress, and consider its effect in their own lives.
She also arranged for these students—from every background and circumstance—to have a free lunch through special support from funders and the Capitol Visitor Center's food service contractor, Restaurant Associates. This last feature—lunch—is so important for students who might not otherwise be able to afford it. It's hard to engage with complex concepts of civics and American government on an empty stomach!
DC students—some of whom grow up just steps away from our historic campus—now understand more about how Congress functions under our Constitution. We hope that our student visitors grasp the history, context, and concepts of representative democracy not as abstractions, but as relevant to their daily lives. We hope they leave with the sense that, as Justice Louis Brandeis suggested, "the most important office, and the one which all of us can and should fill, is that of . . . citizen."
By expanding the Capitol tour portion of the "We the People" program, we dramatically increased our outreach to DC public school students. Just two years after implementing these changes, we now reach more than half of the city's eighth-graders versus a few dozen at best previously. This remarkable growth is a testament to the impact one museum professional (Roszak in our case) can make in the lives of students and in the deeper fulfillment of our institution's mission.
"This is the first museum in which I've worked where the museum itself is not the primary function of the organization," Roszak says. "First and foremost, this is the working office building of the legislative branch. . . . I come to work every day owning the fact that I am here to connect people to their government and civic process through the objects and stories in this fascinating place."
Other Opportunities for Engagement
In addition to the "We the People" program, the Capitol Visitor Center's education specialists and public programs staff deliver a range of activities on-site and online—including classroom programs, family days, teacher institutes, film programs, and mobile education carts focused on civics and the history, art, and architecture of the Capitol.
We also try to offer programs that are both substantive and inclusive. For example, the annual "Mornings at the Capitol" program transforms the Capitol into a more welcoming, less distracting learning environment for children with learning differences. For example, we turn off water fountains, large information screens, bright displays, and our orientation film.
In our 30-minute "VOTE!" program, students role play as members of Congress, learn about an issue that an earlier Congress considered, and then vote on the historic issue. Middle and high school teachers can elect to participate in "VOTE!" at the beginning or end of a Capitol tour.
Perhaps the biggest opportunity of all is on the horizon. Right now, the Capitol Visitor Center's exhibits team is renovating our museum space, Exhibition Hall. Scheduled to open in 2021 and informed by visitor studies, this major redesign aims to provide an even deeper educational experience, helping visitors understand how Congress affects their daily lives. As we strive to make the most of it, we're implementing all the lessons we learned with "We the People" and our other ventures, including interpretive techniques to help students gain a deeper knowledge and understanding of civics.
Exhibition Hall will house a special exhibition gallery; a permanent exhibition on the history of Congress that includes thematic exhibits about the impact of Congress and the role of citizens in a democracy; exhibits that explore the art and architecture of the Capitol; and a democracy lab with "hands-on" and "minds-on" activities that cover fundamental concepts, including civics education.
As President John F. Kennedy noted, "Democracy is never a final achievement. It is a call to an untiring effort." To keep pace with this effort, and equip future generations to contribute to our national welfare, our museum teams and partners must be equally purposeful and bold.
Drawing Everyone Out
To foster children's civic engagement, it's useful for them to see the adults in their life modeling that behavior. At your institution, don't just relegate the adults to the silent back row. Include questions that allow the adults to impart their wisdom. For example, we might ask them to share the first time they voted. What was happening in the US around the time of that election?
To get the students more involved, create opportunities for visitor guides to prompt discussions and debate where the students express their personal beliefs on a topic. Start with a short warm-up debate on a topic they will feel confident discussing. We begin with a debate about food choices before digging into complex legislative history. This has been a successful engagement model for us.
Partners in Success
With help from sponsors—including the Brown Rudnick Charitable Foundation, International Paper, and the Morris and Gwendolyn Cafritz Foundation—the US Capitol Historical Society has led a consortium of organizations that make the "We the People" program a success. The consortium includes Children's Concierge, the federal courts, the National Archives and Records Administration, the National Park Service, Restaurant Associates, USA Guided Tours, the US Capitol Visitor Center, The White House Historical Association, and the White House Visitor Center.
Resources
National Assessment of Educational
Progress civics assessment
nces.ed.gov/nationsreportcard/civics/
US Capitol Visitor Center Education Resources
visitthecapitol.gov/education
US Capitol Historical Society, We the People Resources
uschs.org/educate/we-the-people-constitution-program/
---
Nik Apostolides is deputy CEO of the US Capitol Visitor Center in Washington, DC.