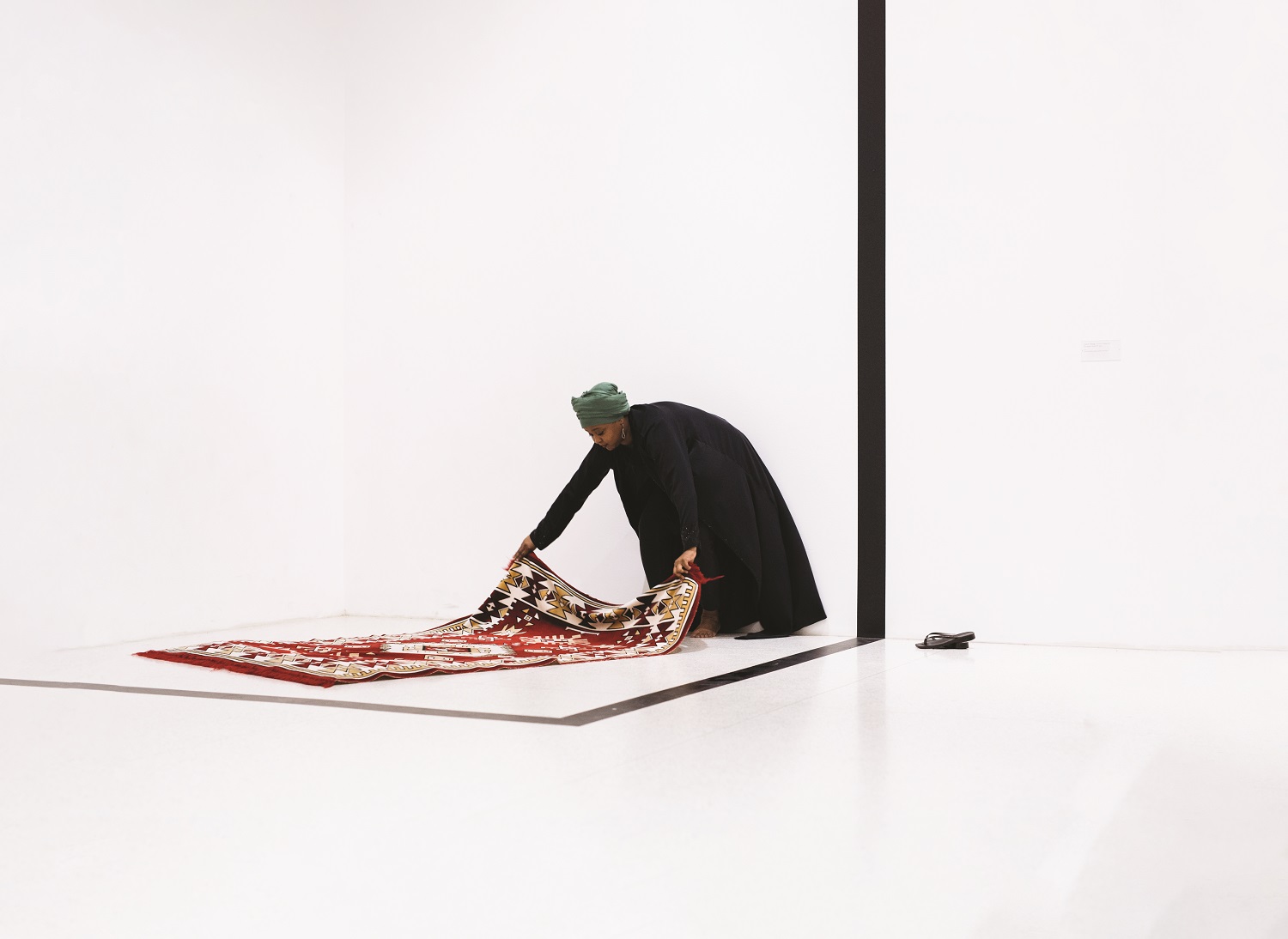 ---
This article originally appeared in the September/October 2020 issue of Museum magazine, a benefit of AAM membership.
---
A public education program at the Walker Art Center involving local artists invites community conversation on immigration and citizenship.
Four years ago, cultural institutions across the country were reacting to a major event: the 2016 US presidential elections. Seemingly overnight, these election results led to drastic shifts in American political and social discourse. In response, many museums quickly reconsidered their curatorial approaches, especially after policy changes such as Executive Order 13769, signed in January 2017, which banned travel to the United States from a number of predominantly Muslim countries.
In the fall of 2017, the Walker Art Center in Minneapolis, Minnesota, opened "I am you, you are too," a permanent collection exhibition that drew together works addressing monuments, nationalism, migration, and the politics of solidarity. This exhibition, which was on view for three years, provided a bedrock for rich civic discourse.
From this exhibition, we developed a public programming series that aimed to engage artists and audiences on the topic of immigration. "Citizenship Series: Filling the Void" ran four times over the course of two years, adding depth and detail to the exhibition and paving a way for us to discuss current events with our community in the future.
A Piece of Art and Current Events
The basis and title of this program series refer to an artwork featured in the exhibition: Declared Void II (2013) by London-based Carey Young. The artist, who is also an associate professor at the Slade School of Fine Art at the University College London, often incorporates law as an "artistic medium" in her practice.
The piece itself is conceptual. The thick, black vinyl stripes plastered to the white gallery wall create the illusion of a box in the corner of the space. Bold text directly to the left of the box states: "BY STANDING IN THE ZONE CREATED BY THIS DRAWING, AND FOR THE PERIOD YOU REMAIN THERE, YOU DECLARE AND AGREE THAT YOU ARE A CITIZEN OF THE UNITED STATES OF AMERICA."
For a conceptual sculpture, the piece is concrete and direct in its message. By working with attorneys to develop the language, Young created a genuine contractual agreement or "legal instrument" with the viewer, wherein the moment a person steps into the box, they are declared to be a citizen of the United States. Originally created in 2005, and then reiterated in 2013, Declared Void II developed out of a different geopolitical and temporal context. In Minnesota in 2017, the piece seemed to speak to issues of immigration and the moving target of "citizen" as defined by US immigration law.
This piece was especially profound in Minnesota, home to roughly half a million refugees and immigrants from all over the world, according to data from the American Immigration Council. The immigration status of many of these individuals hinges on a word at the root of Young's piece: citizen.
Building a Platform for Community Voices
Many artists in the Twin Cities incorporate political issues, such as citizenship, immigration, and critiques of nationalism, into their artistic practices. As the exhibition went on, I wanted to know how local artists were responding to these current immigration issues, and I wanted to help our audiences understand how these urgent and abstract policy changes were affecting our local community on a human level.
In January 2018, we began working with artists to co-create a platform for response, defining parameters for how they could present their work. Using Declared Void II as the framework and literal stage for a series of live programs, we invited local artists to help develop a structure for the program.
One by one, we met with four artists whose work related to immigration issues and eventually selected them to kick off the series on April 5, 2018. Spending time in the galleries with these artists, we discussed how their artistic practices intersected with the themes the piece evokes. We listened to their concerns about the latest immigration policy changes and learned about how their artistic practices were shifting because of the effects of these policies on their personal lives, family, or communities.
Listening closely and developing relationships with these artists was the most crucial step in developing the series. We wanted the participating artists to trust us to create a platform through which they could express themselves without feeling tokenized or censured in the process. Learning about their practice ensured that their projects, whatever they ended up being, were genuine to them and their experiences.
Since this would be an in-gallery program, we knew audiences would be either standing, sitting on the floor, or sitting on a few gallery stools that we have on hand. Because of this possibly uncomfortable viewing setup for visitors, we wanted to limit the program to about an hour. Aside from the usual gallery restrictions (e.g., no water, glitter, live animals, plants), the other program parameters were as follows:
each event would feature 3–4 artists;
each artist would prepare a 10-minute response to, or interaction with, Declared Void II;
artists would submit their program descriptions two weeks before their program date; and
artists' programs could not require more technical support than a microphone and a speaker system.
Selecting the artists, guiding the development of their projects, and coordinating schedules so all the artists could run through their pieces together took several months. During this time, the initial four artists we were working with helped us develop and refine the program's structure. By April 2018, our first lineup of artist projects would kick off the Citizenship Series, which ultimately included four unique hour-long programs involving 15 different artists over the course of two years.
The Series and Its Impact
Each program began with a 10-minute introduction by an immigration attorney representing different immigration rights organizations from around the Twin Cities, including the ACLU of Minnesota, The Advocates for Human Rights, the Immigrant Law Center of Minnesota, and the Binger Center for New Americans at the University of Minnesota Law School. Due to time constraints, the attorneys could provide only a cursory view of immigration law in Minnesota, but they also hosted 15-minute Q&A sessions with the artists and answered audience questions following each program.
The artists' projects ran the gamut in terms of tone, aesthetics, and creative response. Some were playful, poking fun at the ridiculous nature of some of the arbitrary policies in immigration law. Some of the works were deeply personal, with artists drawing on sensitive stories of parents and relatives and the delicate predicament of living their lives in the many shades of gray within a very black-and-white legal system.
After each iteration, we tried different ways of engaging the audience in discussion, which was challenging. During the Q&A session of the final event in the series, attorney Michele Garnett McKenzie from The Advocates for Human Rights tried a reverse Q&A, where she and the artists asked the audience questions. This did help a bit, but the sensitive nature of the topic perhaps accounted for the short audience discussion.
Audience and participant feedback was good. One attendee mentioned in a post-program survey that they realized that they had been taking their citizenship for granted and had not been aware of the complex system of applying for citizenship. Some audience members had loved ones going through the immigration process, or they had firsthand experience with the bureaucracy of the citizenship application. The attorneys expressed their gratitude for being involved with the project and seeing the impact of the issues they deal with on a daily basis in a completely different context.
In addition to facilitating local civic engagement, the program also had an international impact. The artist of the exhibited work, Carey Young, wanted to fold the program into her work at the University College London. In her research, she is assessing the social impact of Declared Void II and the Walker series. She sent surveys to series attendees, which have given us valuable feedback from our audiences.
As part of the opening of each program, Young also delivered a foundational introduction of her artwork from London via Skype. The call-ins, coupled with the national and ethnic diversity of the presenting artists, deepened the sense of internationality addressed in these works, particularly in light of the abundant worldwide news coverage of immigration and refugee crises occurring in other countries, such as Syria and Myanmar.
For many museums, public programming can be a nimble and responsive way to engage audiences with current issues in their gallery spaces. In the case of the "Citizenship Series: Filling the Void," we worked with one artwork in the gallery to create a broad range of conversations, reactions, and interactions about a timely issue that was, and still is, impacting our community. We created a space for local artists to respond, and by doing so, we invited our audiences to engage with the themes of the piece on a raw human level.
We may not be able to predict the next global crisis or current event that shakes our communities, but we are able to build public programming models that encourage discourse around these issues. This program responded to a specific piece, in a specific exhibition, for a specific issue, but we created a structure that will engage artists and audiences around future current events.
What We Learned
Respond versus react. When a current event hits, we are quick to try to react to the issue through our platforms as museums. With the Citizenship Series, we took the time to observe and listen and then respond, even though that meant it took longer to develop the program.
Look outside the museum. Instead of looking within our field for ways to engage audiences in civic discourse around current events, we worked with attorneys focused on the issues at hand. Their presence grounded the program and helped engage the artists and audiences.
Co-create the model. By creating a model for programs where the content is driven by the participants, museums can serve as platforms for community voices. Working with the artists to develop this model was essential in supporting their voices.
Change as you go. Setting up the program as a series from the beginning allowed us to evaluate and make changes for each iteration. By the end of the program, more than 15 artists had participated in the series and developed a community from the collective experience.
Find flexibility in the specificity. How do you make a permanent exhibition, or one that is up for several years, relevant to current events? Select an area or theme you are interesting in creating a public program around, and invite an expert in that field to view the exhibition. Ask that individual what speaks to them. A different perspective will shed light on new possibilities for your galleries.
Resources
"Carey Young Interviewed by Maria Walsh," Art Monthly, March 2019 ucl.ac.uk/slade/documents/cw-art-monthly-march-19.pdf
Jacqueline Stahlmann, "Filling the Void: The Politics of Geography," April 5, 2018 walkerart.org/magazine/zoe-cinel-carey-youngs-declared-void-ii-2013
Pavel Pyś, Vincenzo de Bellis, and Adrienne Edwards, "Art in Times of Uncertainty: I am you, you are too," November 20, 2017 walkerart.org/magazine/art-in-times-of-uncertainty-i-am-you-you-are-too
---
Jacqueline Stahlmann is manager of public programs at the Walker Art Center in Minneapolis, Minnesota.