---
This article originally appeared in the November/December 2020 issue of Museum magazine, a benefit of AAM membership.
---
One of the largest audience research studies aims to help cultural institutions remain relevant through the pandemic and beyond.
To provide an expansive, reliable, and in-depth knowledge resource to US cultural institutions as they navigate the unprecedented circumstances stemming from the COVID-19 crisis, cultural and digital strategy and marketing firm LaPlaca Cohen teamed with audience research experts Slover Linett to conduct one of the largest and most ambitious audience research studies ever.
Wave One of Culture and Community in a Time of Crisis: A Special Edition of Culture Track was fielded in late April through mid-May of this year. More than 650 cultural organizations of different sizes, in a range of localities and with a variety of audience types, shared their audience lists, resulting in more than 122,000 completed online surveys. These surveys were combined with those from thousands of people from NORC's AmeriSpeak panel to represent the broad demographic diversity of the general US population.
The project was created as a free and open resource and service to the field, funded by a collaborative group of dedicated foundations and philanthropists, led by The Wallace Foundation and the Barr Foundation and supported by Art Bridges and the Terra Foundation for American Art. FocusVision, Microsoft, the Advisory Board for the Arts, and Wilkening Consulting provided additional support and advisory services. In addition, an advisory committee comprised of a diverse group of leading practitioners and experts in the cultural world and the social sciences reviewed and helped refine the study. The result is a robust data set and unique insights into the "hearts and minds" of US cultural audiences and a baseline for a continued research process in Wave Two of the study, which is currently underway.
The following are responses to questions museum leaders had about the survey.
Based on the data, how can museums remain relevant or essential to their communities during the pandemic and post-pandemic?
The audiences we surveyed cited very specific emotional, social, and functional needs from cultural organizations during the pandemic. Foremost among these was the desire to "laugh and relax"—a positive and uplifting alternative to the anxiety and uncertainty pervading their everyday lives. This sentiment also appears in their desire for organizations to offer "distraction and escape." In addition, the theme of feeling disconnected surfaced in many responses, with audiences looking to cultural institutions to help them "stay connected." Respondents also sought a practical benefit in this period: that cultural organizations "help educate children" while schools are closed.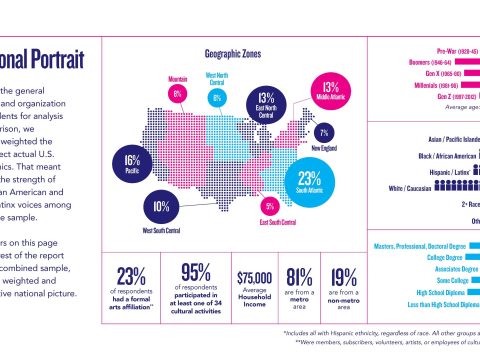 What prompted audiences to connect with museums and other cultural organizations during the pandemic that they didn't visit pre-pandemic?
This is a particularly interesting finding that we continue to probe. We learned that many respondents accessed online offerings from cultural organizations they did not physically visit in at least the past year. For example, 40 percent of those who accessed cultural content online from art museums had not physically visited such museums in the past 12 or so months. A working hypothesis is that digital might remove the "threshold" from "threshold fear"—that is, digital content overcomes perceptual and other barriers that have kept people from physically crossing the threshold of the museum. This could be because they do not feel invited or included, or they do not see other people like themselves participating. That feeling seemingly dissipates online, where the user chooses the content and determines the terms of engagement. There are also some early indications that audiences accessing cultural content online are more diverse than physical visitors, which suggest some intriguing possibilities for using digital as a channel for future audience development and diversification initiatives.
What one audience should cultural organizations focus on in the next six months and why?
This is a layered and complex question to which I can only respond with my subjective opinion, as it's not an issue that research can effectively address. I believe that audiences of color must be prioritized with greater focus and intentionality as we move into a "new normal" period, as these groups have been uniquely and negatively affected by both the health crisis and the ongoing crisis of racial injustice in this country. While this may seem obvious to some, others at this moment are advising to first focus on "core audiences" in order to rebuild. To me, this would seem to risk reactivating the very strategies that have resulted in exclusionary practices and museum audience profiles that do not match the demographics of the communities museums serve.
While our Wave One study was fielded before the horrific killing of George Floyd, we nonetheless were able to confirm adverse social and health-related impacts on these communities. We also quantified a "representation gap" in the lists of audiences and visitors provided by hundreds of cultural organizations that showed how underrepresented audiences of color are on these lists compared to US census data. There is much work to be done here; the moment for the cultural world to address this underrepresentation is clearly upon us.
What potential activity topics or programming examples might be most appealing to audiences based on their expressed needs?
The experiences people seek most from culture vary according to art form. At art museums, for example, people are seeking to be emotionally moved and transported. They told us they were looking for art museums to provide experiences that are beautiful, challenging or thought-provoking, and emotionally powerful. Science or natural history museum audiences are also seeking experiences that are challenging or thought-provoking, in addition to adventurous, fun and lighthearted, and active and participatory. I'm also struck by the recurring theme of connection and the power of the social, especially coming off of a period of limited social contact. Programming can play a role here, provided it is delivered in a way that is sensitive to concerns about health and hygiene that will be with us for the foreseeable future.
Does the survey data suggest that virtual programming has become an expectation rather than a temporary response to the pandemic? If so, which areas of digital engagement are most likely to have "legs" in the future?
Taken in aggregate, the appeal of cultural content among the audiences we surveyed was profound and, I believe, is unlikely to diminish. This, coupled with what some observers in the tech world have characterized as the "fast-forwarding" of digital behavior among all consumers—borne of the necessity of quarantining, school and office closures, and other limitations on shared social activity—suggests that we are moving into a new realm where digital and analog will co-exist as unique but parallel experiences, as opposed to the existing model (at least in the cultural world) where digital has been in service of and usually subordinate to the physical experience. This is classic "disruption" in which previous, long-established standards of behavior are being reinvented—in this case by the audience, whose online preferences and behaviors may well exceed the understanding and expertise of the cultural organizations seeking to connect with them. In our Wave One study, cultural audiences most often cited online activities for kids, online classes or workshops, and livestream performances as the digital content they currently value most.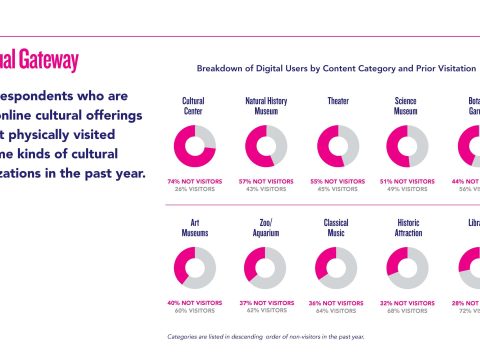 As only 13 percent of the survey respondents indicated they are paying for digital content, what are some potential revenue-generating strategies for digital?
We must first acknowledge that we are in the early stages of monetization of digital content in the nonprofit cultural world, so that 13 percent figure is probably reflective of a point in time and will evolve as cultural organizations become more adroit in creating digital content that connects with their audiences. That said, we looked at the same figure for a few organizational subsets in our study and found much higher levels—in the 30–40 percent range in some cases—for organizations that can be characterized as "category leaders" with high levels of brand recognition. Perhaps this relates to the way for-profit providers of cultural content have become most successful at monetization: by becoming the "go-to" source for that type of content. A museum seeking to achieve this status needs to begin by addressing the fundamental issue of who it is online: What is its unique voice and value in a crowded digital landscape that will encourage users to seek it out and, ultimately, pay for its content because they admire it, trust it, and believe they can't get that same digital experience anywhere else?
What are some potential messaging and marketing strategies for museums based on this research?
Building on the recurring focus on interpersonal connection and connectedness that emerged in our study, as well as the desire for uplifting and powerful emotional experiences that offer an escape from the worries and anxieties of the moment, I could envision reopening marketing strategies that emphasize the positive, social, and experiential qualities of returning to physical cultural spaces. There is a real opportunity to demonstrate empathy; audiences are likely to value knowing that their museums are "here for you": ready to welcome them, easy to enjoy, and there to provide opportunities to reconnect and relax. Of course different people will want different versions of reconnection (e.g., some will seek solitary encounters with favorite works in collections, while others will find comfort in shared moments of experience). Yet perhaps now more than ever, the social and emotional are likely to be among the most compelling messaging themes.
Audiences also had some specific "wish list" desires about how they would like cultural organizations to change and evolve—and almost all of them (96 percent) expressed an interest in seeing some sort of change. Among the opportunities for evolution in message, content, and experience are: increased focus on inclusivity and community—such as "being friendlier to all kinds of people," being "more fun" and "less formal," increasing "support for local artists," and being more relevant and relatable by "sharing stories or content that connect to my life."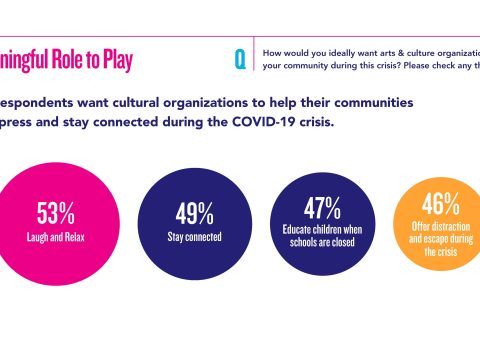 What new museum leadership models do the data support?
First, let's acknowledge that the impact of the current health crisis is unprecedented in its immediacy, and it is being viscerally experienced by all. For example, we found that almost one in eight of the people we surveyed has been directly physically impacted by the COVID-19 crisis (i.e., they, a family member, or a close friend had been ill due to COVID-19). Further, four in ten reported a reduction in income directly attributable to the crisis. The numbers were even more dire for communities of color. Add to this the ongoing uncertainty about recovery and its related anxieties, and this provides a snapshot of how deeply the audience is hurting. So I would say the first leadership model for this moment is one based on empathy; how can the museum be a place to help, to understand, and to just make people feel better?
Second, like all good research, I hope these findings ultimately support the essential and intuitive notion that the opportunities for growth and evolution—not just in leadership, but fundamentally in redefining and reactivating the museum's essential purpose in society—occur when we look at ourselves through the eyes of our audiences. To do this, we must recognize that the convergence of a health crisis and a social justice crisis is a lived experience that must be reckoned with on an ongoing basis. As the wise and insightful social impacts advisor and nonprofit consulting colleague Lisa Yancey notes, "It's not a moment. It's a movement."
For a museum leader, then, this means a constant focus on outside-in assessment, enhancing organizational expertise by infusing it with the concerns, needs, hopes, and dreams of those the museum serves. In the past, the idea of "collaborative leadership" has focused on collaboration between director and staff, and perhaps with the board. Now and in the future, I believe, "collaboration" will be defined in a more porous and expansive way that engages many voices in a truly equitable manner and creates new models of cultural exchange and experience where people can find not just beauty and inspiration, but also meaning and relevance.
Resources
The Wave Two phase of the study is currently underway. To access Culture and Community in a Time of Crisis: A Special Edition of Culture Track and related data, visit culturetrack.com.
---
Arthur Cohen is founder and CEO at LaPlaca Cohen, a cultural and digital strategy and marketing firm based in New York City.