---
This article originally appeared in the November/December 2020 issue of Museum magazine, a benefit of AAM membership.
---
Since its inception, the U.S. Olympic & Paralympic Museum has focused on universal accessibility.
Well before the first shovel went in the ground, even before pen went to paper to start designing the museum dedicated to American elite athletes and their participation in the Olympic Games and Paralympic Games, the decision was made. The United States Olympic & Paralympic Museum would be one of the most accessible and inclusive museums in the world.
"From conception, we wanted something that would really set a national and global standard in accessibility," says Dick Celeste, founding chairman of the museum's board of directors.
A centerpiece for the revitalization of the southwest part of downtown Colorado Springs, Colorado, the museum initially was called the U.S. Olympic Museum & Hall of Fame. But with a focus on accessibility from the start, the museum was well positioned when the U.S. Olympic Committee changed its name to the U.S. Olympic & Paralympic Committee in June 2019. One month later, the museum announced the addition of Paralympic to its name.
"The minute it was on the table that the museum was going to include Olympians and Paralympians, it focused everybody," says Kathy Barrie of Barrie Projects, which performed the museum's feasibility study and then worked on all aspects of the museum's development. "If you're going to do a museum including Paralympians, they have to have the same accessibility as everyone else."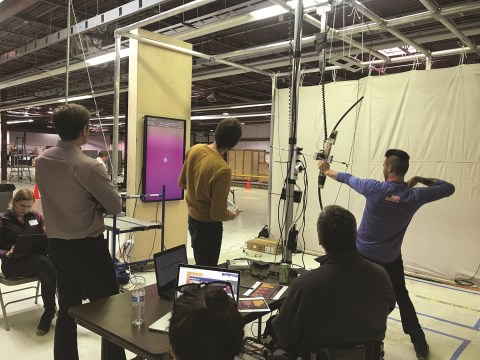 Universal Design
While the museum's decision to give Olympians and Paralympians equal standing required little debate, the considerations for how to accommodate all guests ran the gamut.
For persons with a physical disability, the museum needed to be completely accessible. Everything was designed structurally for two people in wheelchairs to be able to maneuver next to each other throughout the museum.
For guests with visual or hearing impairments, their journey through the museum's narrative arc and the content delivery, from authentic artifact displays to digital interactives, needed to be similar to that of all guests.
The museum hired a series of consultants to ensure a parallel experience for everyone who visits. They researched other museums committed to accessibility; several project members visited the Canadian Museum of Human Rights in Winnipeg to see how that museum addressed the issues at hand and the language it used throughout.
And one consultant added a unique perspective to the design process: Ileana Rodriguez, a swimmer with a visual impairment who competed in the London 2012 Paralympic Games and founded her own consultancy, I Design Access. She was impressed with the entire team's dedication to accessibility and universal design.
"It was not just a check of the box," Rodriguez says. "The architects did a fantastic job to make this possible. Certainly there was a commitment from both ends: from the client, obviously, but also from the architects themselves. They wanted to make it happen."
From the outside, the museum has sweeping, angular sides that resemble an athlete in motion. The building's 60,000-square-foot interior is ramped in its entirety, allowing guests to traverse all three levels without leaving any gallery space. Everyone begins their visit with the same elevator ride to the top of the museum and then descends via the ramped inner perimeter of the building.
"It's a universal pathway—a singular route that enables a shared, common experience," says Ben Gilmartin, a partner at the museum's design architect, Diller Scofidio + Renfro.
Throughout the spiraling, downward ramp, guests enter a series of 12 exhibition galleries, focusing on topics such as the winter games, the summer games, athlete training, and the lab—an exhibition focusing on the evolution of science, technology, and equipment in sports—as well as collections of torches and medals. Each gallery uses a variety of tools and features (described below) to ensure that every guest has a similar experience.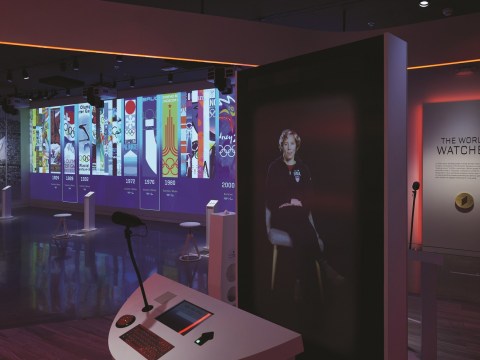 Technology Tools
Before beginning their journey, guests use their smartphone or one of several kiosks to register and customize their experience. They can choose their favorite sports, which can personalize some of the screened media that plays throughout the museum, and they can make a series of accessibility choices, including:
preferred text size
preferred screen contrast
enabling audio descriptions for each gallery (roughly six minutes long)
enabling audio-described video
Guests then receive a credential—similar to one an athlete participating in an Olympic or Paralympic Games receives—with an RFID chip in it that triggers the accessibility features they enabled as they enter each gallery. For example, a tactile floor strip near the entry of each gallery triggers audio descriptions that play over a speaker for visitors who selected that function. Additionally, for screened media with different options, the RFID chip will trigger the clip that corresponds to the guest's selected preferences. The RFID chip also connects guests to their own personal digital locker, which stores links that will allow them to revisit items of interest from the visit. The RFID implementation was a key collaboration between the museum team and exhibit designer Gallagher & Associates.
Olympians and Paralympians, such as speed skater Eric Heiden, basketball player Rebecca Lobo, and swimmer Brad Snyder, recorded the audio descriptions of the galleries and videos. Thus, guests hear from voices familiar with the topic and perhaps familiar to the listener.
Other accessibility enhancements include tactile keypads to assist with screen navigation as well as captions and American Sign Language that play across all video and interactive content.
"A typical approach would be to produce films and then think about accessibility services," says Hayley Walsh, projects and company director of Centre Screen, which produced the museum's interactives and screened media. "But even simple things such as captions and American Sign Language were designed into the films instead of being added as an overlay."
Other Inclusive Features
There are benches with cane rests located throughout the museum. Also, much of the display signage is placed at a comfortable height and angle for wheelchair users to read, and the lighting and sound were adapted to better serve all guests. Smooth flooring, not carpet, was chosen to ensure ease of movement for wheelchairs. Glass handrails are used in the atrium to provide low-height visibility.
The seating area in the Flame Café was expanded from the initial plans, and the furniture selected can accommodate groups of guests using wheelchairs to optimize the shared experience. Assistive listening devices; non-motorized transport chairs; weighted lap pads to help with focus and calming through sensory integration; and sensory inclusive bags that include fidget tools, noise-canceling headphones, and more are available for complimentary guest use. Those items often are reserved in advance; the museum stresses this availability in its communications with guests who purchase tickets in advance online.
For the sport interactive exhibits that are accessible to all users, a mix of Olympic and Paralympic disciplines showcase the speed, balance, accuracy, and reaction time that all elite athletes demonstrate. For the archery interactive, the bows are hung so that a person in a wheelchair can use them. A few steps later, an interactive exhibit allows every guest to take their shot at goalball, the most popular team sport for blind and visually impaired athletes, where teams try to roll a ball that contains bells past the opposing team's goal line.
The Parade of Nations, a 360-degree exhibit, is among the displays that feature a low-sensory version for guests needing an alternative experience with a reduced sensory load. The exhibit ramp in the Winter Games gallery and the 40-foot LED wall in the museum's atrium also have low-sensory options, which are triggered by museum team members stationed in these areas.
When it came time for exhibit fabricator Creo Industrial Arts to test its interactives, Paralympic athletes—including those with hearing impairments, vision impairments, and amputees—were brought in to provide their feedback, such as the need to make the ski poles adjustable on the skiing interactive.
"That feedback was taken to heart," says Jan Majewski, director of inclusive cultural and educational projects at the Institute for Human Centered Design and one of the advisers on the project. "They were going to the source and saying we need you to be the storyteller here.
"It wasn't a matter of just, 'We will adapt what we are creating for Olympians to be used by Paralympians or people with disabilities.' From the beginning they started looking at how can we design this universally so everybody can use it? How can we design the content so people learn what goalball is?"
While the museum's opening was delayed because of COVID-19, a series of safety protocols (see "Opening in a Pandemic" sidebar on p. 45) were developed in conjunction with local and state officials, and the museum opened July 30—just days after the 30th anniversary of the Americans with Disabilities Act (ADA).
"ADA was a starting point," says Christopher Liedel, the museum's chief executive officer. "The goal was to go well beyond and set a new standard.
"It was central to level the playing field in terms of the recognition of these athletes, that Paralympians are held in the same regard as the Olympians. Whether you do not have a disability or you are a person of disability, it is important that we celebrate the human achievement of all athletes."
Opening in a Pandemic
Getting ready to open in the midst of a global health crisis, the U.S. Olympic & Paralympic Museum took extraordinary measures, working with state and local officials to ensure guests could confidently and safely visit the new museum in Colorado Springs, Colorado.
"From an epidemiological standpoint, you wish you had these tools for every situation to keep people safe," says Leon Kelly, El Paso County coroner and chief medical examiner. "A lot of what we're doing is in the dark ages compared to what the museum is doing."
Among the measures taken:
Capacity is reduced to ensure that guests can socially distance within the museum.
Face coverings are mandated in the museum.
Every guest and staff member has their temperature taken before entry.
Ticketing and primary access control was moved to the outdoor plaza in front of the museum.
Every guest receives a keepsake stylus to use on interactive screens and other touchable elements throughout the museum, significantly limiting surface contacts.
A staff-led orientation helps all guests understand museum safety features, social distancing measures, and the guest safety and cleaning tools available throughout the museum.
Guest sanitation and safety stations with hand sanitizer and alcohol wipes were installed throughout the museum.
Visual social distancing indicators were installed for queueing and exhibit viewing.
Physical social distancing dividers were installed in various exhibits and interactive experiences.
The museum, Flame Café, and The Museum Shop are all cash-free and contactless-card enabled. The Museum Shop also has a digital mirror that allows guests to virtually try on an item.
The museum's airflow dynamics were altered so that exhaust fans in restrooms run 24 hours a day to move out any contaminants. Additionally, the HVAC system does not use recycled air anywhere in the building.
The RFID chip in each guest's credential provides a monitoring system that can be used if contact tracing is needed.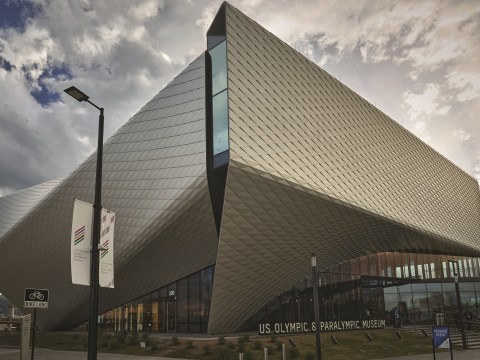 ---
Josh Barr oversees digital museum content for the U.S. Olympic & Paralympic Museum in Colorado Springs, Colorado.
All images copyright Bill Baum, U.S. Olympic & Paralympic Museum.