Think back to a childhood trip to a museum, aquarium, or historic home. Chances are the first thing you heard was a directive: "Hands in pockets and do not touch anything." Today, we still see similar interactions in museums between adults and little ones. Watching this, I sometimes wonder, why do we restrict enjoyment from learning, and how does this impact those who learn differently? How can we assure all patrons can participate and enjoy programs and exhibitions? By relaxing the strict environment within viable reason, making learning accessible on numerous levels, and striving for joy, museums can promote themselves as spaces of accessibility, understanding, and safety.
Like many institutions, in the last few years we at the NC Maritime Museum at Southport have begun to understand the importance of inclusive and accessible programming. We rolled out our "Sensory Saturday" program in January 2019, introduced inclusive internships in June 2019, and were designated as the first Certified Autism Center in the State of North Carolina in March 2020. Almost a year and a half into this process, we feel, as an institution, that it is important to share tips and tricks we learned along the way. Here are the key things we would recommend to those just getting started:
1. Identify a leader who is passionate about the project.
Choose someone to lead the initiative who is comfortable with the topics and community involved. At our institution, I was that person, because I had the most experience and comfort with, as well as passion for, teaching students with disabilities. The remaining staff, friends board, and volunteers supported this vision, some taking an active role and others supporting from afar.
It is also important to find someone with a strong grasp on the technology involved in accessibility. When creating virtual programming, for instance, it is crucial to have someone familiar with obtaining good sound quality, editing video, adding and editing captions, and obtaining an ASL interpreter if needed. Remember that technology takes time to get comfortable with and to be patient. Perfection will not be possible from inception, but you can work diligently to take steps and work with collaborative partners that can assist, watch webinars, and or look up how-to videos.
Skip over related stories to continue reading article
Having a passionate, knowledgeable leader is also important for getting the rest of the organization on board. When you begin an initiative like this, there will likely be staff and volunteers who say they are not comfortable with it. Instead of shaming them for this, it's important to have a conversation to understand why. Most times, it is a lack of understanding or exposure to the topic and people at hand, which an open discussion can address.
2. Do your research and conduct an institutional audit.
A successful initiative starts with collaboration and research. To gather ideas, talk to the Autism Society in your state or county. Look to social media for parent forums or help groups. Ask teachers of exceptional children in local districts and look to flagship universities for input. Ask these people what they want to see and how the institution can better help their family or group. Also be sure to gather sound statistics from state or county census data and the Centers for Disease Control and Prevention
Before our museum started planning our initiative, we joined a county council that identifies resources for special needs children and the planning committee of a local special needs group that hosts monthly gatherings, both of which helped us make connections, have conversations, and put faces to our conceptual ideas of the community. That way, we were no longer planning in the conceptual, but with specific people we encountered in mind.
After you have done some of this research, conduct an audit of your facility, considering how exhibits and classroom spaces could be navigated without hearing or sight, in a wheelchair, with reading difficulties, or with sensitivity to sensory stimuli. Ideally, this audit would include community members for direct feedback. By seeking out those within organizations that serve the identified community, they can assist you with adjustments that could best assist patrons. A formal audit by IBCCES is also a wonderful way to get a formulated proposal for changes.
3. Develop buy-in.
So, how do you create a culture where staff, volunteers, board members, and the greater community develop buy-in? By appealing to the human side of each person. Most people have a family member, friend, or coworker who has a physical or cognitive disability, and they may be able to understand the initiative better when they think about it personally.
Furthermore, you should explain how inclusive programming helps all people, regardless of whether they have a diagnosed disability. Think about the grandmother who cannot stand very long, or the teenager with poor eyesight, or the person who would always rather play than work or study. Think about how hard it is to understand someone behind a mask, regardless of how good your hearing is. Inclusive institutions help people in all these cases.
If your institution is offering inclusive programming, make sure that the whole museum is behind the effort to help people of all abilities. Offer awareness training for staff, volunteers, and board members where you accurately state why the institution is offering these services, note what is expected of staff and volunteers, and send participants home with resources. This allows the staff working on the initiative to get direct feedback and field the common questions that will follow. It also allows your staff to show a united front and bring volunteers and board members on board and get them seeing all the possibilities.
At our awareness training, which we held in 2019, staff explained that our institution stood for being a place of inclusion for all people, regardless of demographics. We handed out a "social story" that helped anyone identify with the anxiety of being a first-time visitor or someone on the spectrum. We also distributed a special needs communication guide, in addition to a few site- and state-specific needs.
4. Start small.
Once the museum identifies who will spearhead the project and what the needs are, move into the implementation process. But remember this process is a marathon, not a sprint. Let the programs be grassroots. The community will spread the word for the institution. This will give the effort credibility —a friend's recommendation goes farther than a marketing push in this case—and allow the staff, volunteers, board members, and community to warm up to the process gradually.
At our museum, we started with the Sensory Saturday program at once a month for two hours. From there, the program grew into groups, classes, and families asking about other inclusive programs and scheduling field trips. We also reached out to groups and organizations within our community to speak about the work being done at the museum. This provided a space to interact with a museum representative and ask the important question, "Will my relative be safe and accepted in this place?"
We tried to keep up this welcome even while being on temporary closure. Every time we recorded a program or hopped on a live stream, patrons were greeted with a hello, a smile, and an introduction. We do everything in our power to make every person feel welcomed and included in our space, in-person or virtual.
5. Adjust language.
Besides physical accessibility, you should also take a hard look at the language you use. Once you decide to create inclusive programming and exhibit space, for instance, you should expressly state in your communications that all abilities are welcome, including for virtual activities and programs. While this may not seem necessary to advertise, as if it should go without saying, stating it directly shows what your institution stands for. When a family or individual is looking for things to do, they will gravitate towards those that explicitly state they are welcome.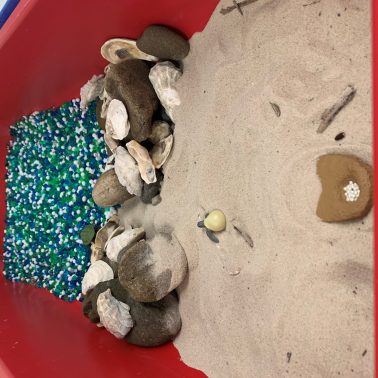 When our museum had a traveling exhibit on turtles, we stated in the flyers and press releases for public programs that all ages and abilities were welcome and that a calm-down space would be available. Through adding this deliberate marketing, we saw an increase in visitors who identified as being on the spectrum and came specifically for these programs. Sensory Saturdays and program requests have seen increased visitation as well. In the early months of these programs being rolled out, with specific language in the marketing materials, we had many visitors come in and thank us for the calm spaces and welcoming atmosphere. One grandmother brought in her grandson, saying that she was looking for ways to allow him to experience different things but had always worried about possible meltdowns. She thanked us profusely for creating this environment and shared how excited the young boy was to come back.
6. Think good, better, and best.
At this point, many institutions are stuck in the "awareness" phase with special needs and accommodations, but awareness is no longer enough. We need to figure out how to move past this, into the best model of thinking and acting. One way to do this is to think in terms of "good," "better," and "best." What are good things we can easily implement in the short term, what are some better things we can work toward for the near future, and what is the very best we can ultimately strive for to serve people of all abilities?
Here are some examples:
Good – special hours (i.e., opening early or closing late to accommodate diverse populations, showing your mouth when recording virtual programming
Better – ability-specific programming (i.e., Sensory Saturday), showing your mouth and adding subtitles for virtual programming
Best – blending and scaffolding programming and internships for all abilities, offering something for everyone at every program (i.e., calm-down spaces, volunteers to help as much or as little as needed, sensory kits). Showing your mouth, adding subtitles, and having an ASL interpreter for virtual programming; creating an ASL tour for on-site visitation; adapting internships as needed to be accessible.
The bottom line to this work is to be patient with all people. One truly has no idea what is going on in the lives of others—celebrate everyone's uniqueness and have fun in the process. Remember, everyone is learning about themselves, so do not expect perfection right from the start. Work with staff to create a movement that can continue and have a lasting impact on the community.
Resources:
Every institution has different needs and requirements, so there is no one set of resources that will be useful for everyone. The most important thing is that these resources spark conversation and imagination, so look for things that will excite the staff. Here are some of my favorites out of the many great options
Want more information? Reach out to Katy via email or NCMMSpt's social media channels: Facebook, Instagram, Twitter, YouTube, LinkedIn