Since 2018, AAM has partnered with Aroha Philanthropies to highlight and support museums that are developing programs for older adults, and to encourage others to do the same. The aim has been to address the epidemic of ageism, both within society and inside our own institutions, by creating connections, increasing well-being, decreasing social isolation, and offering new pathways for learning for audiences over the age of fifty-five. In this blog post, Eli Burke, Education Director of the Museum of Contemporary Art, Tucson, discusses how museum programs can help to address these issues and build communities across different age groups and life experiences. Eli (he/their) focuses on the particular challenges faced by LBGTQIA+ elders and advocates for intergenerational programs that can help build community and trust. This post is drawn from a presentation Eli made in Summer 2020 at Aroha's Lifetime Arts online training as well as subsequent conversations with author Marjorie Schwarzer (she/her), who is researching ageism as a social justice issue that museums are uniquely poised to address.
—Marjorie Schwarzer
---
In receiving support from Aroha and training from Lifetime Arts, my initial hope was to work with different communities in a range of formats and spaces to see what I could learn and how that could inform future programs. I ended up creating three different museum education programs: School of Drag, Stay Gold, and Armory Park. Each advanced my thinking about why it is important to honor the experiences of our elders and provide opportunities to different kinds of audiences. At the same time, I sought to leverage my own life experience as an LGBTQIA+ museum educator to create learning environments that are safe and welcoming for everyone. But developing museum programs for LGBTQIA+ elders has not been without its challenges, some of which I will discuss below.
The School of Drag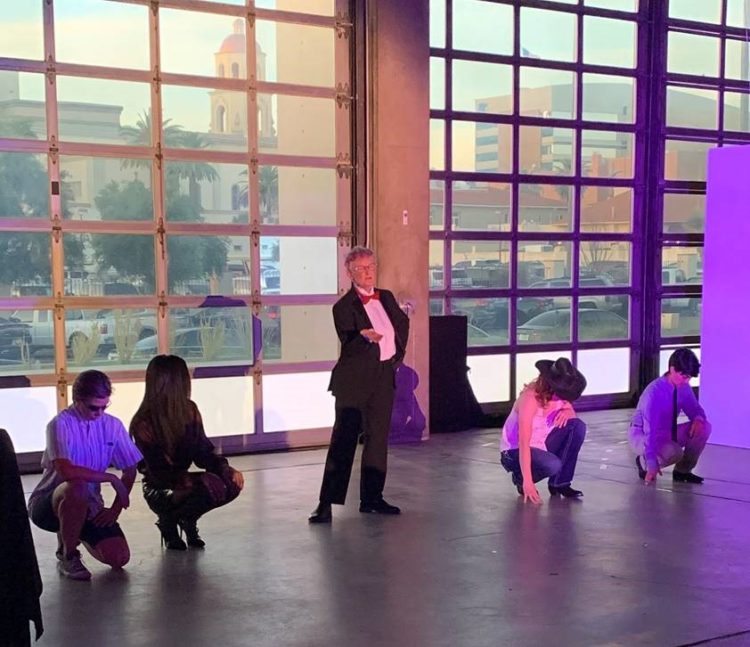 Skip over related stories to continue reading article
School of Drag is an intergenerational gender performance program aimed at providing a safe space to explore gender expression. The biggest lesson I learned with this program is the power of multivocal, reciprocal learning environments. I really had to think hard about how to recruit people to participate in this program for two reasons. First, performance art, I think, can be pretty intimidating for a lot of people. And second, in Tucson there was a really small target demographic for a program focused on drag, around 4.5 percent of the population, so that really shrinks your audience. Another challenge was the diversity of drag as an artform. There's a lot of different ways to do drag, and you want to have all those ways represented in how you teach that. On the flip side, the result was powerful because there was a lot of skill-sharing within the group and a lot of intergenerational connections made. I believe that had to do a lot with the final event: our showcase. I think putting on a production where everyone's having to visualize how their idea is going to become part of this larger thing really brought everyone together through that nervousness and excitement.
Stay Gold
Stay Gold was an intergenerational arts program designed specifically for the LBGTQIA+ community. I wanted to create a classroom space that could build much-needed intergenerational connections within a community that is highly compartmentalized by age and faces unique challenges with loneliness and isolation. When I researched the fifty-five-plus LGBTQIA+ community, I learned that they face severe rates of loneliness, often due to stigma around their identities. Many have lost friends and family from coming out, especially those who came of age in a much less accepting time, and have been limited in their ability to start their own families because of discriminatory marriage and adoption laws. At the same time, LGBTQIA+ youth also face their own social challenges. They're spending more time in unmediated spaces online, which creates a type of social isolation and puts them in spaces where bullying can go unchecked.
In some cases, this program format allowed for participants to expand their chosen families, which is important in the LGBTQIA+ community. I believe youth, elders, and everyone in between have the responsibility to care for and acknowledge different generations, and I wanted to model this and illustrate the benefits, both for myself and for the community. I have written more about the experience of creating these programs here.
Let me share a bit about how this program was formatted, because I learned a lot from that too. I initially had done weekly one-time projects, so that people with different schedules or barriers could attend without feeling like they were missing something that was going to affect the rest of their time in the program. However, in 2019, with support from Aroha, we pivoted to a sequential skill-building format. I learned that the connections we were seeking in our one-time activities were occurring more organically through our commitment to the program and through our challenges and successes in working on our projects. We also had a higher retention rate, and participants were more willing to commit to attending when they had something consistent to work on each week.
Unfortunately, our classroom time was cut short due to COVID-19. I then felt a really strong urgency to keep this program going, because I knew that there was going to be an even more severe isolation, particularly for the older participants. I tried to consider ways that I could use content that already existed, rather than trying to reinvent a whole new curriculum. I looked to the library of Art21, a nonprofit organization that produces documentary content on contemporary art and artists. In its library, I found ten different LGBTQIA+-identified artists, and created prompts based on their work for the students to complete each week. You can read more about the details of the program here.
That program was super successful, and I honestly don't know if it could have happened in an in-person space. The program that we're currently offering centers intuition, creative nonfiction, and zine-making.  Our intuition as LGBTQIA+ people is often challenged when we say who we are, and we know who we are. We're told that it is wrong and impossible. That distrust can create a lot of life-long issues around trusting your intuition. And so, this program is really aimed towards those kinds of specific issues unique to this community.
One big lesson of this program was the power of creating spaces where gender and sexuality are not othered, but centered, allowing for learning without the distraction of feeling judged or like an outsider. During the first iteration of Stay Gold in 2017, I realized it was the first time in my life that I was in a classroom as a trans queer person where I was not an outsider. I'm not that young, so I realized that was a long time to go feeling like an outsider where you're going to learn. I really hadn't realized the weight that it carried for me in those spaces until that weight was removed. This was an important moment.
Armory Park
Armory Park was a satellite program aimed at removing barriers around mobility and transportation for the fifty-five-plus community by bringing the program directly to participants in a space outside of the museum. It took place at Armory Park Senior Center, which serves an economically challenged population just south of downtown, a couple blocks from the museum. One of the seniors from Stay Gold told me that she had been going to the center for dance classes and she really loved it, so I reached out to its director, and after some discussion we set up a ten-week program.
In our first program, we focused on contemporary artist Mohamad Hafez, whose work inspired us to create mini installations inside suitcases that told stories about participants' lives. We partnered with a local radio station, KXCI, to record audio narratives that became part of the installations. For our second program, we focused on artist Amir Fallah, whose work was currently on view at the museum. He inspired us to create self-portraits using digital technology and mixed media.
These were both valuable programs, but there was a problem. I noticed immediately that the participant who had told me about Armory Park wasn't attending. I reached out and I asked what was going on. She told me she no longer attended programming at the center, because it was not for people "like us." This was a huge red flag for me, and it broke my heart that our city's senior centers didn't feel welcoming to all of our seniors. Then I started to hear participants at our programs making violent comments about the LGBTQIA+ community. While they weren't aimed at me personally, I felt uncomfortable going to the center. I felt like I really needed to address the issue.
I started to take action, which included setting up meetings with the center staff, reaching out to the director of Parks and Recreation, and inviting staff from the Pima Council on Aging to join me and other teaching artists in the program to advocate for seniors at the center. We discussed steps that could potentially be taken, including visible signage letting people know that discrimination of any kind would not be tolerated. We offered sensitivity training for all staff working in the city senior centers and we asked that someone at the front desk be visible who could be identified as an ally. I know for myself, when I enter any public space, one of the first things I do is look for any type of indication that it's a safe space for me. Even if it's a tiny rainbow flag in the corner, I know that someone thought about it, and that goes a long way.
The conversation with Pima Council on Aging is ongoing, not only about the issues of homophobia and transphobia but about other forms of mistreatment and abuses of power, like wearing clothing with intimidating and discriminatory political slogans on it.
The experience has been a powerful lesson, with several takeaways. One has been the importance of collaboration, which allowed for a more holistic approach to attending to the issues at the center. Inclusion was also key: It's important to emphasize that programs should be welcoming to all seniors and provide care and attention to all those who use their services. Being vocal is also something I felt was super important. Being an outsider in a space can sometimes reveal the cracks in our broken systems, so going into the center as an outsider, I could see things that people in that space may not have been able to see, because they were so immersed in it.
Ultimately, running a space outside the museum posed new and unexpected challenges. I learned that it's okay to remove yourself from an unsafe situation in a classroom, even if you're a facilitator. The community can also be your ally and should be included in the conversation. Different communities within the fifty-five-plus population have different needs, including how we recruit and attend to participants. So, it's important to acknowledge that not all older adults are the same.