As museums address issues of access to collections, galleries, and education during COVID-19, many have chosen to shift to a digital space to connect with the public and continue their missions as community and cultural institutions. As a museum educator and Education Director at the Museum of Contemporary Art Tucson, I have found myself scrutinizing all the different angles and facets of shifting to an online format. From our summer camp to our in-school K-12 education initiatives, I have been rethinking what we do, why, and for whom. From the murky unknowns of this pandemic, I have discovered some very interesting truths and outcomes bubbling to the surface.
One program I run at the museum is called Stay Gold, geared toward our intergenerational LGBTQIA+ community. Every fall and spring since 2017, we meet for ten weeks to connect between generations through creativity and making, using contemporary art as the touchpoint for relevance and meaning in the lives of participants. Originally, the program was broken into weekly activity prompts centered around sparking connection within the group and cultivating vulnerability. In 2019, we received funding from Aroha Philanthropies and training from Lifetime Arts to provide a platform for expression specifically for our fifty-five-and-up community. Stay Gold was the perfect fit for this work, but we needed to shift formats to structure the program around a sequential skill-building curriculum with a culminating showcase event. From this shift, I learned about the benefits of implementing this form of curriculum in a community-based arts program in ways that differed from our previous iterations.
Benefits included:
Participants were excited to learn new skills.
They were more thoughtful in their approaches to the projects.
They were more invested in the outcomes.
They had a sense of pride over both the work they were doing and the stories they told about the work.
They were more motivated to complete projects and excited to share at the culminating event.
Overall, we had a higher program retention rate.
During week eight of the program, COVID-19 hit and the museum closed. I was challenged with rethinking the curriculum, delivering the instruction, and restrategizing intentional community-building for the program in this new environment. I worried that I would not be able to implement something due to issues around access. Would participants have sufficient access to technology, and if so, would they have the skills needed to participate? What art forms could I teach that everyone had access to? How could I support my community from the confines of quarantine?
Skip over related stories to continue reading article
Once the initial panic settled and I was able to reflect quietly on the possibilities, I came up with a plan that would allow me to use resources already readily available on the internet. I turned to Art21 to locate queer/LGBTQIA+ artists I could highlight each week. I realized that through their work I could provide art-making prompts and questions for consideration over the week. In this online pilot version of the program, I reverted to presenting new prompts each week instead of the sequential skill-building format. I also made it so that people could attend when they were able; there was no requirement to attend all or most sessions. Still, I was unsure if this would work or if there would be any interest in an online program. Would people want to sit in front of a screen for an extended period of time? Would we still have the intergenerational interest we did in person?
The goal of Stay Gold is and always was about connection. Among people older than fifty-five, members of the LGBTQIA+ community face higher rates of loneliness (Anderson & Thayer, 2018) often due to loss of family, friends, church, and communities because of their identities. Likewise, queer youth also face more isolation than their peers. According to researchers, "This isolation has increased due to the use of social media. While online communities can offer spaces of support, they can also become spaces of trauma where unmediated dialogue occurs. Queer youth are more likely to be bullied or harassed on social media, in chat rooms, and through text messages" (Burke & DiCindio, 2019). The pandemic only further compounds these issues. Contemporary art has the power to counter them, in that it deals with a myriad of topics relevant to the lives of participants and provides a wide range of mediums to use and consider. I decided to take the leap and see what happened.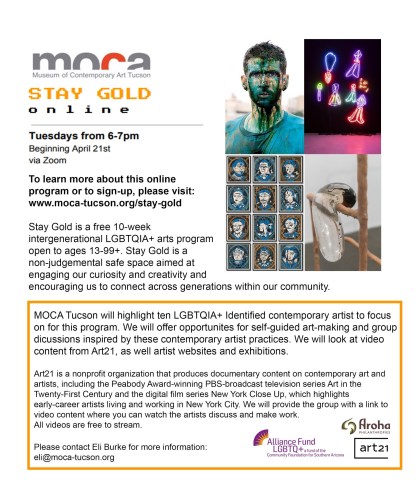 So, what did happen when I started the program in this new format? We had our first session on April 21, 2020 and twenty-one participants signed up to attend. A majority of those who signed up were in attendance for the first session. An additional fifteen have since joined. We have a regular group of about twelve-fifteen participants who join each week, with others joining when they can. For me, this was a success. As it turned out, even though the internet is flooded with online artmaking resources, people still longed for real-time connection and had a desire to keep learning and challenging themselves. I tried to create prompts that were open both in how they could be interpreted and in the mediums people could use to express themselves. These prompts have included:
I noticed almost immediately that everyone was much more intentionally engaged than in person; I was surprised by participants' willingness to be vulnerable in this online format. While our in-person program is also a space of vulnerability, this was on another level. And while issues of accessibility are still a factor, the online version has conversely allowed people to attend who had difficulty attending the in-person group. It both decreases and increases access, in different ways. I found the following to be major benefits of this online shift:
Participants are separated by a screen and attending from the safety of their homes. They are not sitting in an institutional museum space, which have historically been inaccessible for many in our communities. While Stay Gold works against that, we still cannot undo or detach from that history completely.
We are face-to-face. The format of these online spaces creates digital windows that frame our faces. We are looking at one another and listening attentively to each person, rather than sitting and talking in groups focusing our eyes on our projects.
Projects happen outside of our meeting time in the participants' own space. They have time to digest and reflect upon the prompt, as well as to create the work. This has generated deeply meaningful and personal projects that are shared with the group. Every participant has been vulnerable in this process.
There is no pressure to "get it right." Participants are invited to express themselves in the ways that best describe the meaning of the project. Contemporary art is very helpful here, in that it has essentially blown up what we consider to be an art material. It dismantles the hierarchy of mediums and allows for people to use what is at hand and meaningful to them, rather than having to purchase things that are not relevant and which they often cannot afford.
Geographic location is no longer an issue. Opening the program up to an online format made it possible for people from outside Tucson to join us. We have had participants from Seattle and Los Angeles join the group.
In addition to the artmaking prompts inspired by LGBTQIA+ contemporary artists, participants have shown interest in intentional intergenerational connections. For instance, they wanted a deep discussion around the word "queer." Queer is historically a slur against our community that youth have co-opted and made their own as a way to push back. The older members of the group wanted to understand the contemporary use of the word queer and its meaning to youth. There was a desire within the group to share experiences around how we arrived where are, what experiences were like in the past, and where youth are taking things forward.
Overall, this was a profound experience for me as a facilitator. I learned more from this than any one program has taught me. Ultimately, it has allowed me to cultivate deeper community connections among participants and learn how to best serve this intergenerational population. It was not without its logistical challenges, as we had participants—particularly our low-income seniors—without access to the internet or adequate technology, and/or adequate knowledge of how to use that technology. We problem-solved as many issues as possible, but we know that barriers to accessing technology and the internet are ones that we will need to continue working on.
During this program, Aroha Philanthropies reached out and offered funding to members of the original cohort of museums to create online pilot programs. This meant creating a skill-building sequential online program. Once I had the peace of mind that our intergenerational LGBTQIA+ community was interested and engaged in this format, I was able to step back and think about what could potentially be a curriculum and medium that everyone could easily access and adapt to make their own.
I reached out to L.A.-based artist Asher Hartman to see if he would be interested in facilitating the next program. And he was. Asher had an abundance of ideas, and we ultimately decided on a creative nonfiction writing workshop series culminating in a collective zine, as a way to connect the group and continue our important intergenerational conversations. The workshop will focus on developing intuition, which I find to be an important aspect to the program and this community. In being queer/trans myself, I have had my intuition challenged at almost every turn, especially as a youth. Knowing who you are and being told you are wrong or impossible has profound negative effects on an individual's ability to trust in their own intuition. I still struggle with this aspect of myself to this day.
I hope that this new program can offer a space of healing and empowerment for participants as they learn new skills and can apply them to their own experiences. I am excited to see how a sequential skill-building curriculum does or does not change the connections we make during our time together. And when we can return to in-person programming, I plan to continue this digital version, either as a separate program or a hybrid between in-person and online formats. I am humbled by and grateful for my LGBTQIA+ community.
About the author:
As the Education Director at the Museum of Contemporary Art Tucson, Eli Burke provides leadership, direction, and coordination for the museum's education and public programs. Eli is currently a Ph.D. student in Art and Visual Culture Education at the University of Arizona and received his MFA in Studio Art from the School of the Art Institute of Chicago, where he was a full-tuition Merit Scholarship recipient. In addition to MOCA, he taught at Pima Community College and the University of Arizona.