The Challenge
Years before the world was thrown into the coronavirus pandemic, the Smithsonian National Museum of Natural History (NMNH) sought to increase awareness about the concept of One Health—the interconnectedness of human, animal, and environmental health through viral diseases. Recognizing the global importance of such information, the exhibit team set itself a challenge: how could we extend the exhibition that emerged in 2018 as Outbreak: Epidemics in a Connected World beyond the museum walls to reach a national and global audience, in an inexpensive, easily adopted format? The result became a new paradigm for NMNH outreach: the Do-it-Yourself (DiY) exhibit.
The Process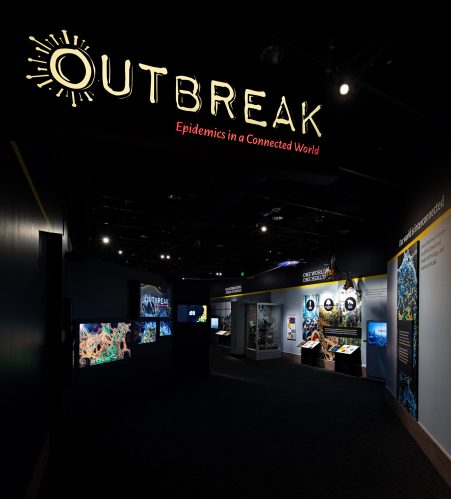 Coinciding with the centennial of the 1918 influenza epidemic, Outbreak: Epidemics in a Connected World opened at NMNH in May 2018. The forty-four-hundred-square-foot exhibit uses specimens and artifacts, text, images, videos, and interactives to convey how zoonotic viruses such as HIV, Ebola, SARS, and Zika originate and spread. Although the content is sobering, the exhibit avoids a doom-and-gloom approach by highlighting personal perspectives from patients, health care workers, and activists, and offers "on-the-upside" cues to show how positive actions can reduce the spread of disease.
The message of One Health proved to be not only timely, but also in need of amplification. We wanted to reach an audience in places near and far, bringing awareness to the One Health concept and generating discussion worldwide. But none of the existing routes to extending exhibitions seemed right. A typical traveling version of the physical exhibit would be expensive to produce and likely available only to traditional museum venues. Putting the content on a website might not have achieved the deeper engagement the museum envisioned. Instead, a new hybrid model was required.
We took a close look at the Outbreak content and carefully chose vital information and compelling stories for a series of print-on-demand panels. Each panel needed to be stand-alone and visually compelling. For Outbreak DiY, the toolkit consists of pre-designed panels, customizable templates, multimedia and interactives, 3D virus files, promotional materials, and an extensive resource guide with educational programming. We also took the opportunity to add important public health content that wasn't in the on-site exhibit, including a COVID-19 panel, and focused on big-picture public health takeaways.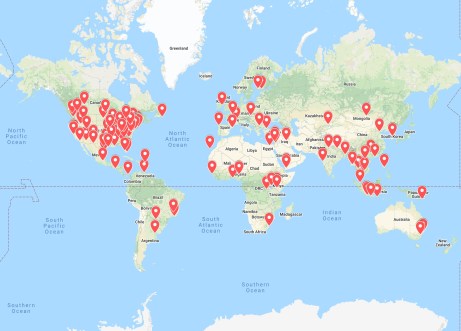 The DiY exhibit was launched in conjunction with the opening of the in-house exhibit. Promoted initially by word of mouth via exhibit contributors and visitors, Outbreak DiY was staged in over fifty locations in its first year. As of January 2021, the museum received over two hundred applications to put up the exhibit in over forty-five countries. The exhibit is now available in a bilingual format with ten languages. Applicants vary from small museums to large science centers to hospitals and community centers.
What Worked?
The launch of our pilot DiY inspired us to closely examine the development process to determine what worked, what didn't, and how we can continue the model in the future. We hope these reflections inspire museums and educators who may be interested in starting global conversations through pop-up exhibits of their own.
Flexibility. When developing the DiY model, we considered the uniqueness of each possible venue. Not all locations have the space to put seventeen panels or the technology to display videos or interactives. With the toolkits, a venue is only required to display our title panel and one pre-designed content panel. Beyond that, the venue has creative liberties on what to display and how to do so.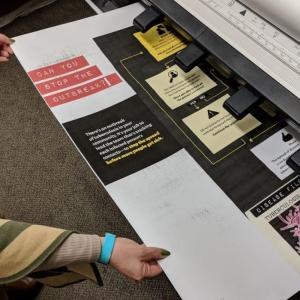 Cost. Traveling or in-house exhibitions can be costly, especially for nontraditional venues. DiYs are free and our toolkits allow for all budgets—even classrooms printing on computer paper.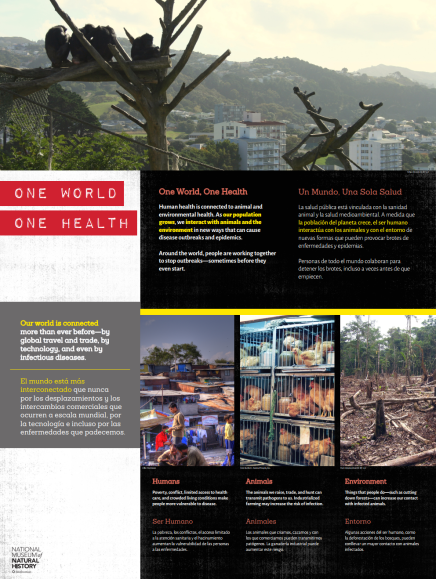 Customization. In addition to providing the content on pre-designed panels, we allowed for the venues to adapt the content to suit their communities. Especially in topics of public health, empowering local venues to tell the stories important to their audiences increases the impact and reach of the conversation.
Design. The pre-designed panels are easy visuals that depict sometimes challenging content. By avoiding "museum-splaining" and keeping word counts to a minimum, the toolkits provide materials accessible to multigenerational, multilingual, and otherwise diverse audiences.
Inclusivity. Bilingual pre-designed panels allow communities access to the content. Additionally, we provide a bilingual-blank option which encourages users to translate panels into their local language if we do not offer it.
Overall, we realized that there is a great desire for compelling content on timely topics from trusted institutions. The toolkits help other organizations—big or small—make science content accessible, localized, and responsive to audiences' experiences, all while advancing inclusion.
This success encouraged the museum to expand our offerings and start the Do-It-Yourself (DiY) exhibits program. Available DiY toolkits are all derived from current or past onsite exhibits. NMNH now offers two additional DiY toolkits: Dig it! The Secrets of Soil and Genome: Unlocking Life's Code.  
Bringing a Smithsonian Exhibit to Your Community
From universities and hospitals to science centers and museums, a DiY toolkit can fit your organization's needs for free, trusted content with optimal flexibility. DiY toolkits all include pre-designed panels, a customizable template, media, and a user's guide with additional resources. At a minimum, all panels are provided in monolingual English and bilingual English-Spanish.
Museums and educators around the world have already used the toolkits in a range of ways to fit their space in and budget.
Whether outside at a park or a community health center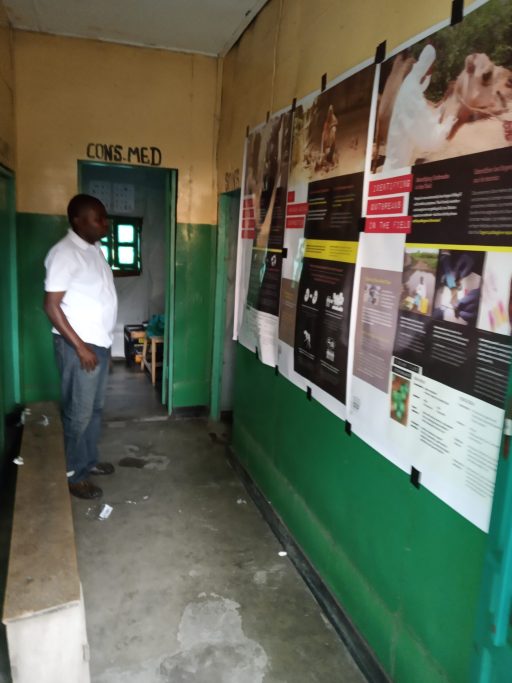 Or in museum exhibition spaces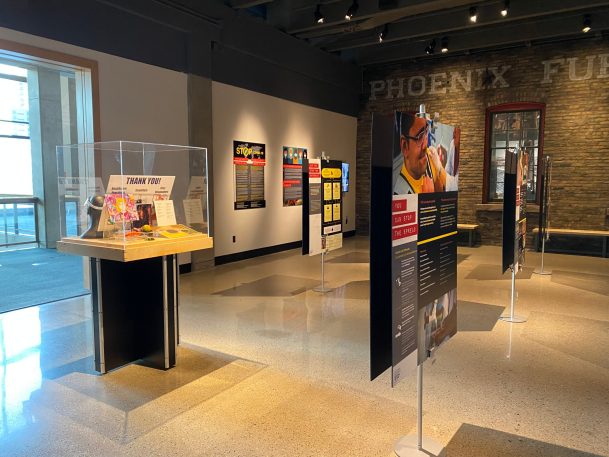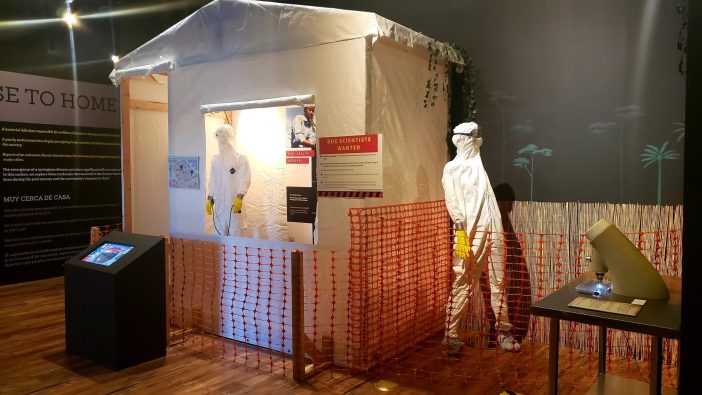 Or educating college students on planning an exhibit to communicate public health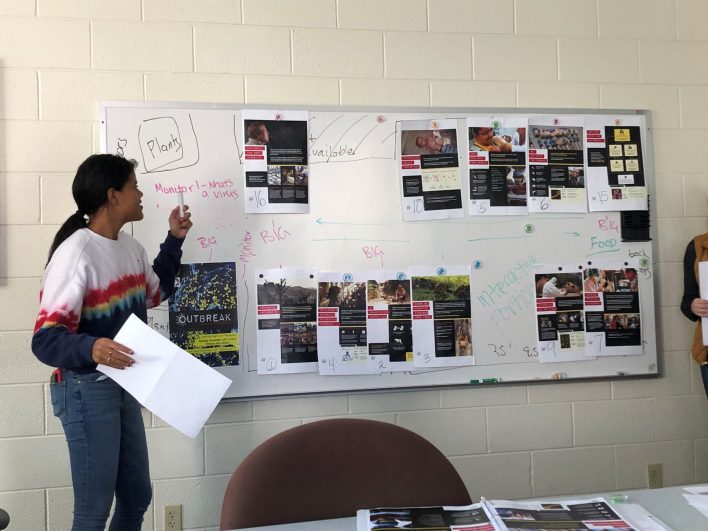 Museums, educators, and the like are all encouraged to explore the offerings of our series of free DiY toolkits. Access to the toolkit is available through an easy-to-use web platform at https://naturalhistory.si.edu/exhibits/diy.
Skip over related stories to continue reading article