Essential Evaluators seeks to gather evaluators in a common space to dialogue, reflect, and support each other in a world upended by COVID-19 and the Black Lives Matter protest movement. This is a time of uncertain and unknown expectations in our professions, in our institutions, and in our communities. We invite you to join us as we rethink, revision, and ultimately redefine our roles as evaluators and our place in museums.
Other posts in this series:
---
Over the past eleven months, we've thought and written a lot about how museums have adapted to COVID, from changing data collection protocols, to evaluating through social media, to altering front-line staff training, to making responsive policy decisions. Others have written about how museums shifted to providing materials—real and virtual—for a nation full of students who suddenly found themselves learning at home. However, there is another aspect of how museums have adapted to COVID: by contributing to important social science research related to the pandemic. We heard that the Department of Evaluation and Research in Learning at the Science Museum of Minnesota was conducting research around COVID messaging and information-sharing through the family-friendly Brains On! podcast. We reached out and asked them to provide an update on research into whether COVID-related podcast episodes were helping ease children's worry and fears, imparting information, and promoting family conversations around COVID, and what lessons they could share with the field. Thanks to Evelyn Christian Ronning, Amy Grack Nelson, Marjorie Bequette, Choua Her, Scott Van Cleave for sharing their work.
---
While children can be resilient in the face of the trauma and uncertainty of a crisis, parents, caregivers, educators, and others also want to attend to children's worries and meet their informational needs during the global COVID-19 pandemic. Informal Science Education (ISE) content developers have a role to play in communicating critical, science-based information during crises, using the most productive characteristics, or features, that meet the informational needs of families trying to understand complex science topics.
Skip over related stories to continue reading article
American Public Media's Brains On! is an award-winning science podcast for kids ages five to twelve and their families that has produced seven coronavirus episodes since March 2020. As current partners in research, Brains On! and the Department of Evaluation and Research in Learning at the Science Museum of Minnesota decided that we were uniquely positioned to examine how certain podcast features impact children's worries or fears and the conversations families have over the course of the pandemic. We also wanted to shape the development of episodes on the coronavirus pandemic that would be accessible to a large and dedicated listenership of the podcast.
Our Study
A review of available coronavirus-related resources in the early months of the pandemic revealed a lack of information in kid-friendly formats. We put together a resource guide with links to resources from an array of mental health professionals, pediatric associations, and community-serving non-profit organizations that could support caregivers and educators in talking to children about coronavirus. Additionally, we have conducted two online surveys with caregivers of children who listen to Brains On!, in June 2020 and January 2021. Our webpage describes our latest findings from this and related studies.
What We Found
COVID-19 has changed the lives of children globally, prompting worry and fear in many. In our study, over two-thirds of children (68 percent) expressed worry or fear about the coronavirus. However, close to three-quarters of caregivers (73 percent) felt that at least one of the Brains On! coronavirus episodes helped to ease their child's worries and fears. Previous research has shown that increased understanding of a topic can help to ease worries and fears about it; there was strong evidence for this in our data.
Caregivers most frequently cited topics covered in the episodes as a key way that Brains On! eased their child's worries or fears related to the pandemic. An increase in knowledge and a resulting decrease in worry and fear was supported by the various kid-friendly means of addressing these topics.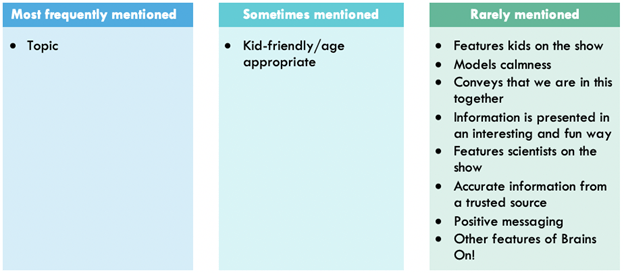 Brains On! uses various strategies to deliver content, including incorporating humor, featuring kids' voices, answering questions submitted by children, interviewing scientists and other experts, and modeling calmness when talking about scary topics. Listeners frequently mentioned the show's "Kara and Gilly" sketch—a podcast within a podcast hosted by two viruses—as a feature that stood out for using many of these strategies to convey content. These strategies are important for engaging children, which can increase their knowledge and hence ease their worries.
Brains On! also uses strategies to appeal to children's emotions directly. During the pandemic, children have had similar experiences around remote and/or disrupted schooling, isolation from friends and family, worrying about loved ones getting sick, and more. Brains On! centers children and their experiences, creating feelings of togetherness, validating children's experiences and emotions, and communicating to child listeners that they aren't alone. It also models calmness and uses positive messaging, which avoids sensationalizing what is happening and stoking fear in children.
Our data shows that Brains On!'s child-friendly features were important not only for increasing knowledge and easing worries and fears, but also for supporting conversations between children and their caregivers. Conversations between caregivers and children while jointly engaging with media become important opportunities for meaning-making, shared understanding of a topic, and for learning new concepts and vocabulary. These experiences can also help parents recognize their child's STEM interests and revisit the experience later for continued engagement and learning around the topic. The most frequently mentioned feature of Brains On! that supported conversations was the range of pandemic-related topics across the podcast episodes, such as preventative measures to stop transmission and topics related to vaccines.
Other supportive features mentioned were the interesting and fun way information is presented, and how Brains On! either reinforced conversations that adults had had with children about the pandemic or provided points that caregivers could reinforce in later conversations. Episodes supported child-caregiver conversations for over three-quarters (79 percent) of children in our study. Interestingly, children more often (85 percent) started the conversation after listening to an episode, compared to less than two-thirds of caregivers (61 percent).
Preventative measures were the most frequently described topic of conversations based on a Brains On! coronavirus episode. This included conversations about handwashing, how soap works, quarantine or staying at home, social distancing, why certain activities were canceled or different, mask-wearing, being safe in general, and flattening the curve. One caregiver described how their children started conversations:
"After the first episode, my child referenced it numerous times. He asked many questions and we looked up more age-appropriate information together. The biggest topic we focused on was washing hands and the ways it helps to stop the virus from spreading. It was a wonderful way to help him understand this new normal of his world."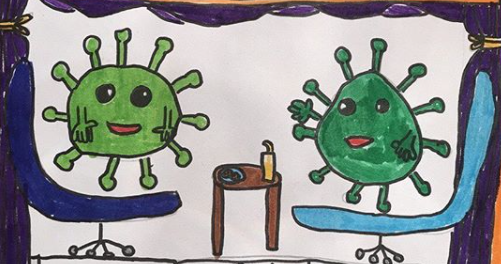 Contribution to the Field
We hope our findings are useful to content developers and facilitators/educators in ISE as they communicate messages about complex science topics in moments of great informational need. We shared our findings with our own museum's floor staff and they found it helpful to know what kinds of questions kids have, and what was worrying them, so they could best support children's (and families') experiences. Our study describes the informal science learning needs of children and families during COVID-19 pandemic; it also details the strategies that Brains On! employs in the development of an informal educational resource for children. These strategies aren't limited to podcasts, but could support development of any content experience designed for children and their families to engage with and use information during a pandemic. We also hope to influence informal educational programming and experience producers to more quickly develop engaging educational resources to meet informational needs. With their place in society as trusted sources of information, museums are uniquely positioned to use their role as effective communicators to share information that could benefit a wide array of people in the midst of a crisis. By centering the child in the design and direction of the content, they may be able to increase their impact on a segment of their audiences during a critical time.
Learn More
To learn more about the research, findings and implication for future programming, join a free webinar on Thursday, March 25, 3-4 pm Central, Children's Questions, Worries, and Information Needs During the COVID-19 Pandemic. Register here!
Acknowledgments
This material is based on work supported by the National Science Foundation under Grant No. 2029209, titled RAPID: Addressing Families' Covid-19 Information and Education Needs Through Podcast Media.