---
This article originally appeared in the May/June 2021 issue of Museum magazine, a benefit of AAM membership.
---
The Toronto Ward Museum is building more inclusive cities through storytelling, one neighborhood at a time.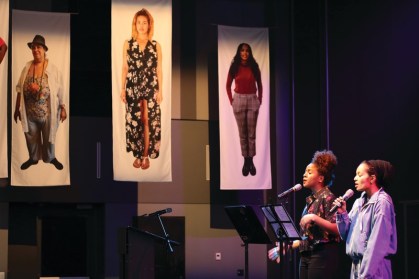 Spoken word migration stories performed in the lobby of a community center. A drum circle followed by live testimony about past neighborhood organizing. Memories of local services embedded in an urban planning document. Posters of community leaders in a bakery window.
While these may not sound like traditional museum exhibits, they are outcomes of Block by Block, a multiyear program of the Toronto Ward Museum. Block by Block documents and animates oral histories of migration, settlement, and civic life in rapidly changing urban neighborhoods, bringing personal histories to bear on contemporary concerns about inclusive city building.
How have newcomers staked their place in these neighborhoods by building their own support networks, local economies, and grassroots organizations? Which physical, social, and cultural aspects of the neighborhoods do community members value most? And how are already marginalized residents experiencing the impacts of neighborhood change?
Currently running in four Toronto neighborhoods, all in the midst of significant redevelopment, Block by Block explores these questions up close and in all of their complexity, offering a model of museum programming that holds equity, lived experiences, placemaking, and community partnerships at its core.
Toronto Ward Museum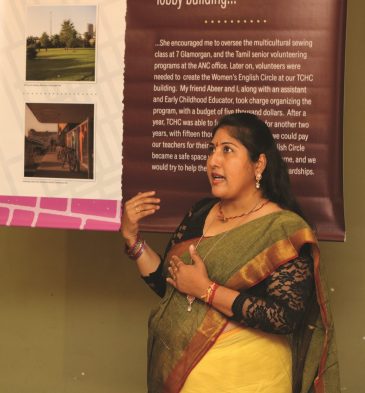 Founded by a group of young professionals under the leadership of Gracia Dyer Jalea in 2015, the Toronto Ward Museum (TWM) is a community-engaged museum that facilitates the creation, sharing, and preservation of migrants' personal stories. The museum takes its name from "the Ward"—a downtown Toronto district that continuously attracted the city's newest arrivals from the mid-19th century until just after World War II. Demolished in the name of urban renewal, the Ward was an early example of the multicultural neighborhoods Toronto has been known for—a site where, despite systemic discrimination and poverty, residents developed strong cross-cultural and entrepreneurial networks, survived together, and forged new cultural identities and practices.
While few newcomers settle in downtown Toronto today—they instead head for the suburbs—TWM's name signals the museum's conviction that the best story sharing is rooted in specific places, whose histories, current dynamics, and futures matter. When it is socially grounded and genuinely collaborative, place-based story sharing can powerfully connect past and present, sparking dialogue about the future.
Having rejected more traditional museum models—we do not have a building or physical collections—TWM focuses on participatory programming and site-specific exhibitions in accessible community spaces and online. Our programs and exhibitions are always developed in collaboration with program partners from a range of sectors, including settlement services, arts and culture, government, urban planning, and postsecondary education. Collaborative program design encourages the active involvement of newcomers and a focus on community relevance and collective empowerment.
Since 2016, TWM has created several innovative programs that explicitly support young people in developing the skills and insights to document oral histories, organize community events, and mount participatory exhibits. The museum's popular "Dishing Up Toronto" programs have ranged from large community meals to smaller, more intimate gatherings, but all have acknowledged the truth that story sharing develops most naturally when food is also shared. Our "Not Just Numbers" program, where diverse audiences reflect on their own migration stories while using census data and historical documents to consider other experiences and identities, was first held in libraries and community centers and is now used in secondary schools.
Block by Block
Block by Block is TWM's flagship program. It first ran nationally in 2017 as part of Canada's sesquicentennial commemorations. That year, with funding from the Department of Canadian Heritage, TWM trained and mentored three teams of young adults to record oral histories in three historic immigrant neighborhoods. Working simultaneously in Montreal, Vancouver, and Toronto, the teams were supported by a network of local and national program partners, some with expert community-building experience and others with expertise in oral history and museum interpretation.
With guidance from a TWM lead researcher/curator, each team produced an exhibition to share with their neighborhood as well as a Block Party, a celebratory event that enlivened the local exhibition and invited participants to reflect on the histories presented. The Block Parties included games, music, performance, dialogue and, of course, food. An accompanying online exhibition made links between the histories of displacement, intercultural relationships, entrepreneurship, and community organizing in the three neighborhoods.
Thanks to a multiyear grant from the Ontario Trillium Foundation, TWM is now running the same Block by Block program model in four Toronto neighborhoods, all historic landing sites for newcomers to the city that are currently experiencing rapid neighborhood change. Since 2019, we have hired 16 racialized (non-white) and newcomer young adults citywide each year, training them in oral history and co-curation and setting them up in neighborhood teams to collaboratively preserve and animate stories of migration, settlement, and community building. By 2022, Block by Block will have documented 100 oral histories, created 12 local exhibitions and 12 Block Parties, and co-curated an evolving online exhibition, the beginnings of which can already be found at wardmuseum.ca/blockbyblock/. We are also building toward citywide programming and events for 2022 in an effort to foster dialogue between and beyond the neighborhoods.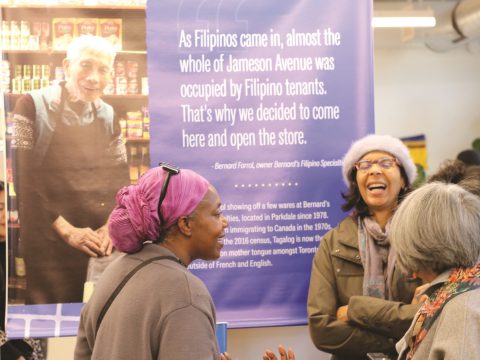 In this iteration of Block by Block, our neighborhood research/curation teams each consist of one local programming coordinator and three young researchers/curators. As in 2017, we have prioritized hiring people with diverse community connections in the neighborhoods. Consequently, our team members have a wide range of cultural competencies, lived experiences, and professional interests.
TWM also continues to lead the program with strategic guidance and support from a multisectoral network of program partners, including a neighborhood-based film festival, a First Nations cultural center, multiple immigrant settlement agencies, a university, and a number of other nonprofit and government organizations. These program partners help keep Block by Block grounded, forward-thinking, and relevant to the communities we are working in.
Successes and Challenges
While Block by Block is not yet sustainably funded and TWM still has a very small core team with no full-time staff, the program shows many signs of success and significant potential for growth. In anonymous surveys, more than 95 percent of visitors to the 2019 Block Parties and exhibitions said the experience was of value to them, and the program's structure allowed them to engage with the storytellers. The vast majority also said they had learned something new and now better understood migrant experiences.
Our 2020 storytellers, who gained an intimate view of the program, have shared with us the power of seeing themselves represented in public spaces through our poster exhibitions and the ways that Block by Block provided a safe and caring environment in which to tell their stories. The experiences of the young researchers/curators have been equally positive. In ongoing focus groups and surveys, they consistently reflect on the collective empowerment of this process. Our community partners also continue to affirm that Block by Block's research and exhibitions are of value to their own community building, teaching, and policy efforts.
And, yet, inevitably, there are challenges we are working through as we continue to develop the program. First, even when the lived experiences of members of the curatorial team are similar to those of the community members they interview, there is a distinct power dynamic and a risk that the oral histories will be distorted or manipulated from their original context. To combat this, a rigorous consent process is cultivated that must be carried out in a way that is both informed and intentional. Collaboratively negotiating power, storyteller consent, and issues of ownership and audience are critical to the success of the program and a challenge that necessarily accompanies our process.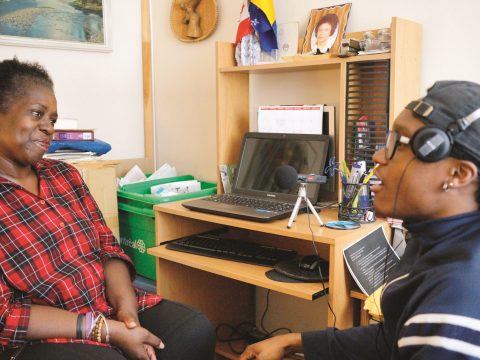 It can also be difficult to synthesize these stories as curators—to distill the complex and lengthy histories that are shared through the interviews into exhibitions and participatory experiences. The oral histories the program has documented to date cover a wide range of lived experiences, including struggles with employment and housing, navigation of cultural identities, experiences of systemic racism, and more. Many of the oral histories include stories of multiple displacements, first those that prompted migration to Toronto and then local displacements within Toronto due to gentrification, high rents, and redevelopment.
As our research/curation teams bear witness to these often painful stories, they also seek stories of joy, strength, and community building. The oral histories provide a consistent reminder of the myriad ways that newcomers powerfully contribute to city building. How do we hold these multiple and complex lived experiences, both painful and joyful, marginalized and powerful, in single exhibitions and events? The learning that accompanies that process, and the ensuing dialogue with those who have been generous enough to share their stories, is perhaps the most complex, and therefore the richest, aspect of the program. We view it not only as a challenge, but also a success.
Finally, the sustainability of our archive, and of TWM as an institution, is a continued challenge. As of now, the full-length oral histories that we've recorded, along with family photos and other documents, are stored privately in the cloud and on external drives. As a forward-looking museum, how can we ensure that our archive remains active and publicly accessible, contributing to future public memory? TWM is often asked where archival materials will ultimately live, and the short answer is that we don't yet know. Again, a detailed informed consent process has been necessary in the face of that uncertainty.
What the Future Holds
We are confident that the many contributors who have played a role in shaping the program, including our founding executive director, ever-evolving research/curation teams, and committed program partners, have landed on a model of community engagement rarely seen in larger and more established museums. Such institutions have capacity and resources but are burdened by their histories, often rooted in colonialism and white supremacy, which are obstacles to building community trust and cultivating sustainable relationships with local communities.
TWM is a new and small player in Toronto's heritage sector, yet it managed in just a few years to develop and implement an inclusive, innovative, and consultative model of exhibition making. This kind of community-engaged research and co-curation requires meaningful funding and genuine collaboration and relationship building over time. It requires support from well-resourced institutions alongside the recognition that comes with the development of equitable partnerships.
Institutions cannot cut corners to apply this model, nor can they "scale up" hastily. Building reciprocal relationships in communities, sharing curatorial authority with interviewees, and allowing for iterative decision-making that is grounded in ever-evolving community needs require effort. Despite the cost and effort, this model of community-engaged museum practice is our answer to many struggles in the museum and heritage sector. It keeps us grounded in contributing materially to the communities in which we work and helps us avoid fetishizing newcomer struggles, marginalization, and urban change. Our next challenge is to both broaden and deepen our work, one we look forward to with optimism.
---
Maggie Hutcheson, Ph.D., is the Block by Block program director at the Toronto Ward Museum. Nipuni Kuruppu is a researcher/curator for the Block by Block 2020 exhibition at the Toronto Ward Museum and a student at Ryerson University in the School of Creative Industries.