For Immediate Release
Arlington, VA—The COVID-19 pandemic altered many established museum education practices. In response to these challenging times, museum education staff created innovative ways to engage audiences and contributed to the broader educational landscape.
This year, the Education Professional Network (EdCom) of the American Alliance of Museums, the only organization representing the entire scope of the museum community, presents awards to four museum programs demonstrating innovation and impact on the field. The Pandemic Innovation and Education Awards recognize museum education projects that have been created, reinvented, or revamped in response to supporting audiences during the pandemic.
Awards were granted based on museum size: small museum (with less than a $1 million annual budget), mid-sized museum (whose annual budgets fall between $1 million and $9.9 million), and large museum (whose annual budgets are larger than $10 million). All nominees were reviewed by EdCom members, who are peers in the museum education field. Through a popular vote, they determined the finalists in each category. The top five nominees were assessed by the EdCom leadership team, who selected the recipients of the following four Pandemic Innovation and Education Awards.
Small Museum Category
New England Air Museum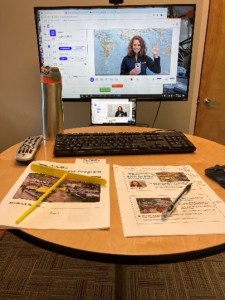 For more than fifteen years, the New England Air Museum's grant funded SOAR for STEM program has used the museum's collection of historic aircraft to bring science, engineering, and aerospace history to life for hundreds of students each year at no cost to local schools. When school districts switched to remote learning in the wake of COVID-19, the museum pivoted its programming to meet their needs, launching Virtual SOAR for STEM in the fall of 2020.
Virtual SOAR for STEM's unique hybrid approach to virtual field trips included four distinct components. Students first received kits containing custom-designed workbooks and hands-on learning aides. Students then participated in two 60-minute virtual sessions led by museum staff utilizing materials from their kits. The program's final component facilitated family engagement as well as in-person experiences at the museum, as each student received an admission pass valid for a one-time free visit for up to four people.
Despite COVID-19 preventing K-12 field trips from happening this year, Virtual SOAR for STEM allowed the New England Air Museum to continue fulfilling its mission of inspiring the next generation of aerospace innovators, both in-person and virtually.
Mid-Sized Museum Category
The Durham Museum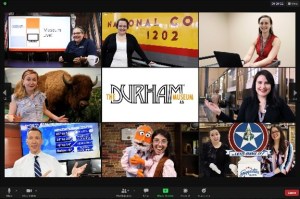 Designed to connect students to history and to each other, Museum Live!, a weekly broadcast for students created by The Durham Museum, comprises multiple, short, recurring segments such as Today in History and History Mystery. Scripted and delivered in a 30-minute news format, staff from across all departments assume the roles of anchors and correspondents, delivering content on an array of topics. The museum also partners with local ABC affiliate and their meteorologist to offer a weekly science-based weather segment.
Museum Live! connects classrooms with museums from across the country including The Birthplace of Country Music Museum, The Greensboro History Museum, and the National Museum of American History.  Most viewers' favorite segments include historic actors and Professor Durham, a puppet designed for Museum Live! and brought to life by a local puppeteer.
Museum Live! came when teachers needed reliable and unique virtual experiences. The impact has been tremendous, with over 60,000 participants from the majority of Nebraska's counties and 20 states. Museum Live! is here to stay. The education team's innovation, tenacity, and passion took a fundamental idea and made it into the most successful program in the museum's history.
Large Museum Category (two recipients granted awards)
The Children's Museum of Indianapolis
The Museum Apprentice Program (MAP)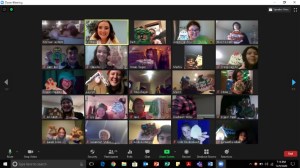 The Museum Apprentice Program (MAP) aims to develop well-rounded thinkers and active citizens, which requires competency, empathy, responsibility, and community. It serves 30 youth ages 13-18 each year.
Due to the COVID-19 pandemic, MAP moved to a virtual format for the first time. The program shifted to support individualized, personal development and well-being. MAP has always included a career exploration component and relied on museum staff as guest experts. In the virtual format, staff provided even more behind the scenes video tours to help youth feel connected to the museum. They planned activities aimed to help youth become socially, morally, emotionally, and cognitively competent. After noting repeated mentions of struggle with mental health and isolation from the teens, staff brought in a social worker to discuss healthy coping mechanisms and strategies for maintaining relationships during a pandemic.
This year's program theme focuses on documenting the pandemic, including recording oral histories, surveys, interviews, photography, and videography. Through this work, MAP participants are learning about careers both inside and beyond the museum field and practicing important project planning and through the process exercising agency and have space to process their own experiences and participate in documenting history.
Fine Arts Museums of San Francisco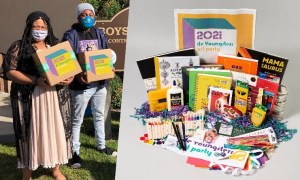 The de Youngsters Art Party (dYAP) underwrites family programs at the Fine Arts Museums of San Francisco (FAMSF). The event typically hosts 300 paying families who enjoy art making, gallery activities, and entertainment. This year, staff and trustees re-envisioned the event due to COVID-19. The 2021 dYAP included open access resources and made art material donations to local organizations serving families severely impacted by the technological and instructional inequities affected by the pandemic.
The 2021 dYAP proved more successful than any previous event. Artists made videos crafted around the theme, Out of the Box, which are hosted on YouTube. The videos prioritized process over product and drew a creative arc that supported exploration, experimentation, and reflection. The teaching artists also used materials easily found at home. Staff assembled and mailed "art boxes" that included the materials needed for all five videos.
The program reached 1,200 children and provided the foundation for ongoing partnerships with the Boys and Girls Club of San Francisco and Contra Costa County. As the museum looks forward, they plan to make the event as inclusive as possible, abandoning the old model for one that celebrates curiosity and creativity for all children visiting the de Young.
About the American Alliance of Museums' Education Professional Network (EdCom)
The American Alliance of Museums has been bringing museums together since 1906, helping to develop standards and best practices, gathering and sharing knowledge, and providing advocacy on issues of concern to the entire museum community. Representing more than 35,000 individual museum professionals and volunteers, institutions, and corporate partners serving the museum field, the Alliance stands for the broad scope of the museum community.
The American Alliance of Museums' Education Professional Network (EdCom) advances the purpose of museums as places of lifelong learning, serves as an advocate for diverse audiences and educators, and promotes professional standards and excellence in the practice of museum education.
Through mentoring, communications, professional development and continuing education, trend tracking, and awards, EdCom works to define, foster, and celebrate promising and next practices in museum education and investigate, articulate, and provoke next practices. EdCom offers something for everyone, from seasoned veterans of museum education looking to continue as life-long learners, or educators new to the field just trying to figure out the basics.
For more information, visit www.aam-us.org and https://www.aam-us.org/professional-networks/education-committee/
###
Press Contact:
Natanya Khashan
media@aam-us.org