For immediate release
Arlington, VA—In a uniquely challenging year, six museums have been recognized by the American Alliance of Museums' Environment and Climate Network as exemplars in the field of museum sustainability. The Sustainability Excellence Awards are presented by AAM, the only organization representing the entire scope of the museum community. Since the inaugural debut in 2014, 30 different institutions have been acknowledged for their efforts to champion sustainable practice in facilities, programming, and exhibits.
The 2021 Sustainability Excellence Awards committee received applications from museums across the country dedicated to advancing thoughtful museum practice while operating under the additional constraints of the COVID-19 pandemic.  This year's recipients are: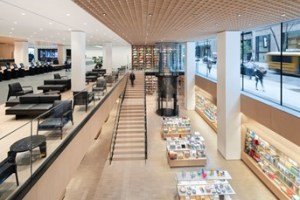 Museum of Modern Art
New York City
Existing Facility category
MoMA has achieved LEED v2009 ID+C: CI Platinum, exemplary energy savings, and embodied carbon reductions in a complex museum typology with a fine art collection. As a result, the expansion project is designed to reduce annual energy cost by 48% over the ASHRAE 90.1-2007 baseline and the anticipated building energy use intensity is approximately 90 kBtu/ft2-yr. The dense urban location added to construction challenges to build green. Nonetheless, the team made significant advances in recycling, high air quality, water savings, high-efficiency lighting, and thermal comfort while opening the museum doors wider to the public. The project contributes toward New York City's goal to reduce greenhouse gas emissions by 80% from 2005 levels by 2050.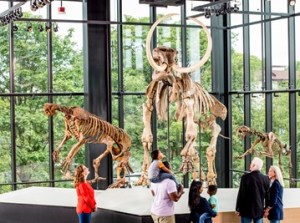 Burke Museum
Seattle, WA
New Construction Category
The Burke Museum in Seattle, WA represents efficiency in space usage and inventiveness in programming. By turning its building inside out, a "glass box" allows the collections to be visible from the exterior of the building, significantly expanding physical accessibility and transparency in the workspaces.
The museum's ongoing relationship with tribes and indigenous communities is celebrated through knowledge exchange and this new dimension of cultural equity. Additionally, a native ethnobotanical landscape benefits from 100% stormwater used on site. The museum has integrated both water and carbon reduction into its exhibits.  The new LEED Gold building has a smaller physical footprint than the original building and features a new natural wood exterior encouraging wider natural material use in American cultural architecture.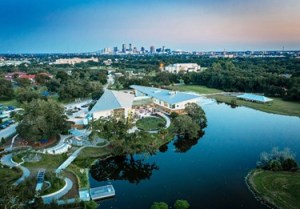 Louisiana Children's Museum
New Orleans, LA
Special Award of Merit
The Louisiana Children's Museum's award is in recognition of the museum's integration of programming and education into the building design, and for the attention paid to post-occupancy staff feedback. Sustainability and environmental education are bedrock to programming, teaching resilience, and living "in" the environment. The museum has been designed with excellent Passive Features and commendable stormwater strategy resulting in performance ratings 25% below the energy model estimates. The jury felt the Museum demonstrates how much can be achieved on a limited budget and displays that with imagination, sustainable designs and museums can create great public experiences.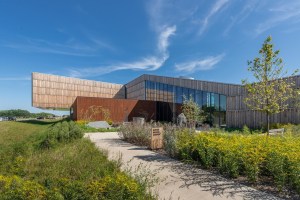 Bell Museum
St. Paul, MN
Honorable Mention
The Bell's Museum has been awarded an honorable mention for using the pandemic-caused disruption to improve museum operations and adopt a holistic approach to sustainability. By leveraging the resources of its university partner, cleaning protocols, adjustments to air circulation, and monitoring of energy consumption were all improved to the benefit of its staff, visitors, and community. Waste management and pest control improvements are replicable examples for institutions of any size in the museum field.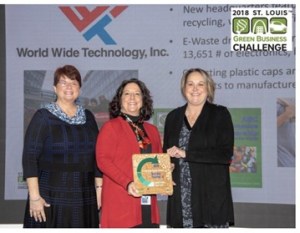 Missouri Botanical Garden:  St. Louis Green Business Challenge
St. Louis, MO
Programming Award
The Missouri Botanical Garden has been awarded a programming award for its expansive and long-running green mentorship program. Sharing its own lessons learned through green operations, the Green Business Challenge uses familiar tools in a voluntary program aimed at assisting businesses of any size or scope in creating positive change internally and in their communities. Networking, mentorship, and shared resources have resulted in re-participation rates of 65%, the creation of Green Teams and Sustainability Policy in 50 local institutions, removal and catalogue of invasive species and reintegration of native species on two business campuses, city-wide greenhouse gas inventories, and the diversion of 1,410, 812 pounds of electronic waste from landfills. In the 12 years of the Challenge, community involvement, education, and scalability have resulted in a continuously expanding program incorporating every facet of sustainability.
Madison Children's Museum: Trash Lab
Madison, WI
Exhibits Award
The Madison Children's Museum's whimsical and immersive approach to waste management and sustainability mindsets receives the exhibits award. The partnership between the Madison Children's Museum and the Dane County Department of Waste and Renewables resulted in a traveling exhibit housed in a 27-foot long repurposed cargo trailer powered by solar panels and created with 90% of materials reclaimed from the Dane County waste stream.
The exhibit explores historical waste creation and disposal, social media's relationship to consumer behavior, and the social inequity of air and water quality. Interactive play experiences, imaginative thought exercises, and an evolution of Reduce, Reuse, Recycle into Rethink, Refuse, Reimagine allows visitors of all ages to explore lifestyle changes in a space embodying the spirit of sustainability.
"The jury was very impressed with the efforts of the Missouri Botanical Garden" said Jury Chair Michael Fiegenschuh.  "In addition to their ongoing commitment to making their own operations more sustainable, the St. Louis Green Business Challenge marks a significant shift in how we can work together to make sure we are collectively working toward more sustainable business practices and a healthier planet.  Their efforts on this program are not only commendable but serve as an example for other community leaders to follow around the world."
The SEA awards strongly encourage museum energy benchmarking, community-driven practices, and innovative approaches addressing climate action. They are sponsored by the Environment and Climate Network, a professional network comprised of AAM members committed to establishing museums as leaders in environmental sustainability.
About the American Alliance of Museums' Environment and Climate Network
The American Alliance of Museums has been bringing museums together since 1906, helping to develop standards and best practices, gathering and sharing knowledge, and providing advocacy on issues of concern to the entire museum community. Representing more than 35,000 individual museum professionals and volunteers, institutions, and corporate partners serving the museum field, the Alliance stands for the broad scope of the museum community.
The Environment and Climate Network (ECN) is a Professional Network of the American Alliance of Museums and is a collaborative and pro-active community working to establish museums as leaders in environmental stewardship and sustainability, and climate action.
In the last ten years since the Network's official founding, accomplishments include establishing the annual Sustainability Excellence Awards (SEA) to educate, facilitate, and encourage green practices in museums, hosting multiple sustainability summits, workshops, and sessions, and connecting colleagues across the world in a collaborative conversation of why environmental sustainability and museums should not be mutually exclusive.
ECN believes that a museum's role in the community includes being a resource for information and building awareness of issues that impact our world today. The Environment and Climate Network's focus is to explore and articulate environmentally sustainable practices and taking climate action as fundamental to all museum missions. By setting a strong example through education, museums can catalyze a potential triple net effect that encompasses economic, social, and environmental issues, internally and externally.
For more information, visit www.aam-us.org and https://www.aam-us.org/professional-networks/environment-and-climate-network/
###
Press Contact:
Natanya Khashan
media@aam-us.org