---
This article originally appeared in the September/October 2021 issue of Museum magazine, a benefit of AAM membership.
---
A nature journaling class at Naples Botanical Garden connects older adults to the institution, the natural world, and each other.
Educators in museums and gardens consider age-appropriate program structure all of the time, but is that same consideration given to programming for audiences whose grade-school years are long passed? Are adult programs passive entertainment when they could be connecting people with collections in a transformative way?
These were some of the questions on the minds of educators at Naples Botanical Garden in Florida in the summer of 2018. The garden, which opened in 2009, had recently undertaken its first comprehensive audience survey and was evaluating current offerings. The median age of the community surrounding the garden was 52 and steadily climbing, but adult programming was missing the mark.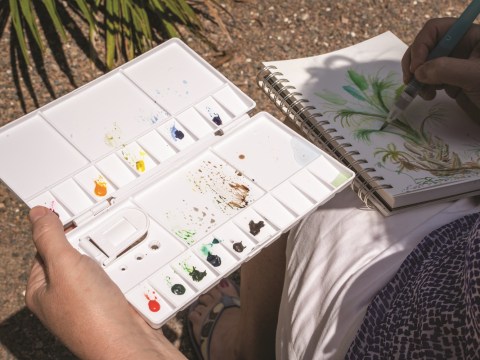 The garden eliminated much of its adult education programs in the ensuing months, but one program evaded the chopping block: nature journaling, which had been offered for several years as a stand-alone class. Unlike the other art classes that were eliminated, this class could serve the garden's mission to connect people to plants and support meaningful connections between adult learners and the garden's natural landscapes and collections of tropical plants. There was potential for these students to learn about nature and themselves as they reflected in their journal writings. There was even a possibility for sharing their creative works inspired by the garden with the public. But the garden was unsure how to make that happen.
In truly fortuitous timing, the Aroha Philanthropies Seeding Vitality Arts in Museums grant opportunity arrived just as the garden prepared to end this program. With guidance from Aroha Philanthropies' technical partner Lifetime Arts, in just a few months this one-off class transformed into a successful eight-week sequential skill-based arts program tailored to adults over 55.
More Than an Art Class
In a region full of art centers, the garden's "Nature Journaling: Botany Through Art" is much more than an art class. Instead of just teaching skills—like how to use watercolor pencils or draw a leaf—the nature journaling program features deliberate social engagement that fosters friendships within the class and builds community.
Art classes can be intimidating to beginner artists, especially older adults who may be trying creative expression for the first time. The garden's program is designed with beginners in mind and, through creative icebreakers, puts everyone at ease. Mary Helen Reuter, the garden's curator of education and visitor experience, begins each class in the eight-week session with an activity that is relevant to the course content and designed to encourage students to engage with each other. Classes range in size from 10 to 14 participants.
The first icebreaker is the "Birthday Bloom" activity. Students find their "birthday horoscope" in the book A Bloom a Day: A Fortune-Telling Birthday Book. Each page features a vibrant flower photograph and text that describes the bloom and theoretically reveals the personality and fortune of those born on that day. Students share their horoscope and discuss whether it resonates with them—or if it is wildly off base. This activity is a fun plant-centric way to loosen up and learn more about each student's personality.
"Building in time for students to get familiar with each other at the beginning of the class creates a safe space for the sharing sessions at the end of class," says Reuter. These activities also allow Reuter and professional teaching artist Elizabeth Smith to learn more about the students on a personal level, which helps Smith tailor class presentations to student needs. Later in the session, icebreakers are part of the homework assignments and give students the opportunity to practice skills learned in class. A favorite assignment asks students to write a story and create a journal page based on the prompt, "If I were one inch tall, where would I go in the garden and what would I do?" At the start of the next class, students share their stories and journal pages. By shifting perspectives, students notice details in nature they might have otherwise missed; in class, they delight in hearing about the imaginary exploits of their lilliputian peers.
Each eight-week session ends with a brief exhibition at the garden. The garden gets to share art inspired by its rich botanical collections with visitors, and students get to celebrate their artistic journey and creative works with the public. Students feel a sense of pride in seeing how their work can positively impact others. For the garden, these exhibitions have been the best recruitment tool for future "Nature Journaling: BotanyThrough Art" sessions.
In the 2019–20 season, the garden offered "Nature Journaling: Botany Through Art" three times. Each session was modified based on student evaluations from the previous session. A benefit of working with adults is that they are much more willing to share specific feedback than children.
For example, students in the first session shared that presentations from the professional teaching artist could be overwhelming to new artists. Reuter and Smith subsequently pared down the content to be more accessible for beginners while also providing extra resources for those who wanted more challenges. Another set of comments noted that the plein air portion of the class could be downright unpleasant on hot Florida days, especially if it was located far from the air-conditioned classroom where the rest of class took place. Consequently, during inclement weather, it made more sense to bring plant material into the classroom.
Just as critical as the drawing and painting portions of the class is the sense of routine, the emphasis on slowing down and observing, and the building of community. One student shared, "Since retirement, I had lost my sense of routine and purpose. This class gave me something to look forward to, week after week." Another student said the class helped her cope while recovering from medical procedures.
Reuter and Smith saw the community blossom before their eyes as students independently organized meetups and luncheons after the session ended. Once strangers, students now had new friends who shared their creative interests and love of the natural world.
Going Virtual
At the end of February 2020, the garden had just wrapped up the third session of "Nature Journaling: Botany Through Art." Planning for future sessions was underway, but just two weeks after that last session's culminating exhibition, the garden closed due to COVID-19 and ended in-person programming for the foreseeable future.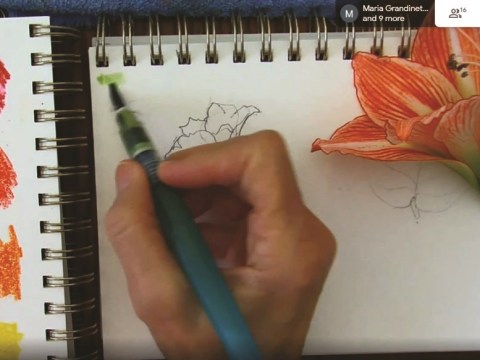 Nature journaling alumni quickly banded together and, before the end of March 2020, started a private Facebook group so they could stay in touch, share their journaling projects, and support one another during this uncertain time. Reuter and Smith also joined the group, continuing to share creative prompts and helpful tips.
Seeing the positive impact nature journaling had on past students and the way these older adults used technology to fight social isolation spurred the garden to continue the program despite limitations caused by the ongoing pandemic. With support from Aroha Philanthropies, in summer 2020, the garden piloted a short virtual nature journaling program for past students. This short course became a full eight-week virtual program for new students in 2021.
The artistic curriculum of the virtual program remains largely the same as the in-person version, although the delivery methods have certainly changed. The summer pilot revealed a need to reduce the number of apps and accounts needed to participate, so now students just need a single Google account to access the program. Course content is hosted on Google Classroom, which also provides a space for a virtual discussion room. Reuter and Smith teach class live through the Google Meet video conference platform.
Individual class length needed to be trimmed as well, from three hours to 90 minutes. Removing the plein air portion was an easy decision since the act of nature journaling is largely a solo practice anyway. Instead, students are encouraged to discover nature near them and paint, draw, and write on their own schedule. Reuter also provides free access to the garden for all students to visit independently.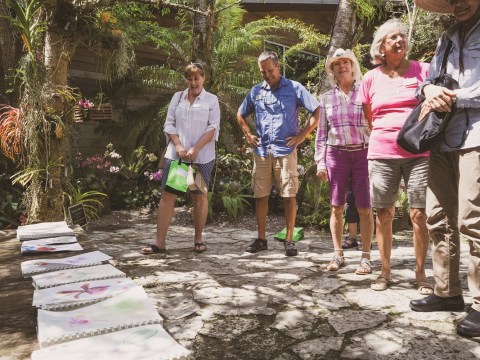 What has not changed in the transition from an in-person to a virtual program is the intentional social engagement. Class still begins with icebreakers, including the "Birthday Bloom" and one-inch-tall prompt. Going into the pilot, Reuter and Smith weren't confident that the icebreakers would translate to a virtual format, but students surprised them. The older adults who signed up for this class were hungry for social engagement even if it was through a screen. One student shared that she had recently lost her mother, but she found emotional relief through the process of nature journaling and her classmates' support.
Plans for the Future
As the limitations initially imposed by COVID-19 relax, the garden intends to keep teaching"Nature Journaling: Botany Through Art" virtually. Technology improved many aspects of the program. For example, in the virtual class, the teaching artist uses a document camera to demonstrate techniques, giving students a bird's-eye view of her actions. The in-person version of technique demonstrations saw students crowd around a table to watch the teaching artist, so it is easy to see why students preferred the virtual demonstrations to learn how to execute challenging techniques.
The virtual platform also lends itself well to guest appearances from past program alumni, who are periodically invited to log on from wherever they are to answer questions from current students and offer constructive advice.
Although socializing works well virtually, it is still no replacement for the real thing. Reuter cannot wait to facilitate in-person meetups of current students and alumni in the garden this winter because "in person, it's much easier to have spontaneous, organic discussions on creativity and work through challenges together. There's no need to 'unmute' yourself."
As for the students, they are eager to grow the creative aging community. One wrote as much in an exit survey: "It is my hope that others will be as fortunate as I have been with this opportunity to risk taking the class and then growing from it. You're never too old to try something new!"
---
What We've Learned
Make socialization and discussion as much of a priority as teaching the content.
Supply each student with the same materials.
Share examples of past students' work to make the art form accessible to current students.
Keep engaging alumni! They are a great resource for current students.
For virtual programs:

Host a training on technology before class starts so students feel empowered on the first day.
Use document cameras, which are essential for any virtual program with a visual medium.
Record every class to share weekly.
Recordings alleviate panic for those who may miss a class due to connectivity issues, doctors' appointments, or unforeseen scheduling conflicts.
---
Resources
A Bloom A Day: A Fortune-Telling Birthday Book, written by Billie Lythbergand Sian Northfield, photographs by Ron van Dongen
John Muir Laws, Nature Stewardship Through Science, Education, and Artjohnmuirlaws.com
Aroha Philanthropies arohaphilanthropies.org/vitality-arts/
Elizabeth Smith, teaching instructor natureartjournal.blogspot.com