---
This article originally appeared in the September/October 2021 issue of Museum magazine, a benefit of AAM membership.
---
The Anchorage Museum's "Vital & Creative" programs helped older adults engage in creative pursuits both in-person and online.
The balance between personal vitality and overall well-being is particularly difficult for individuals aging in Alaska. Limited assisted living facilities force many older adults to age in place out of necessity, and they are often isolated from traditional support networks as younger family members leave the state. These factors, along with the northern climate and high cost of health care, make engaging in creative pursuits and other healthy activities challenging for older adults.
Such activities are particularly needed in Alaska. According to the Alaska Commission on Aging's 2019/2020 Senior Snapshot, the state had the fastest growing senior population per capita for the ninth consecutive year, with about 19.5 percent of Alaska's population over the age of 60.
So in spring 2019, with support from Aroha Philanthropies, the Anchorage Museum launched "Vital & Creative," eight-week sequential art workshops for adults 55 and older. The museum's interdisciplinary nature allowed for the first three series to focus on textile arts, movement, and book arts. Each program brought knowledge from Northern traditions, art, and cultural objects to life with the expertise of local community artists, culture bearers, and the participants themselves.
A Collaborative Effort
The Anchorage Museum drew upon previous connections to hire experienced teaching artists. These instructors were instrumental in developing and leading every workshop series, meeting our objectives to engage participants in art-making and help them make social connections. The museum also sought to offer multiple perspectives in examining the complex, dynamic contexts of each art form. To add this depth, we incorporated museum objects and brought in additional guest artists throughout the classes.
For example, the textile arts class learned about Indigenous practices for preparing and seeing moose hides from Ahtna and Paiute artist Melissa Shaginoff, and participants examined a moose hide jacket from the museum collection with her. In the movement class, Yup'ik artist Michelle Snyder selected dance fans from the museum collection to share with participants and then taught everyone a Yup'ik dance. Guest musicians, including Anchorage Symphony Orchestra percussionist Corliss Kimmel, provided joyful musical accompaniment for several movement class sessions.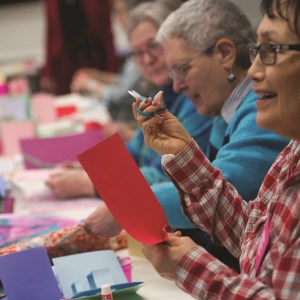 Additionally, museum collections staff shared several museum objects not on public view that related to the workshop themes, including original sketches of the Iñupiaq Wolf Dance circa 1900 and contemporary artist books. Collections staff also provided valuable context, such as acquisition history and caretaking information.
The guest artists and museum collections staff helped participants see textiles, movement, and book arts through different lenses and form personal connections to museum objects. They also were able to interact with audiences they did not usually engage. Guest artists also appreciated being financially compensated for sharing their knowledge and skills.
A Range of Outcomes
While the Anchorage Museum expected participants would enjoy these workshops, we did not anticipate just how impactful they would be. Participants ranged in age, mobility, dexterity, and previous art experience, but all demonstrated creative personal growth over each eight-week series. Participants built confidence, overcame preconceptions about their lack of creativity, and engaged in deep personal reflection.
Textile arts participants created wall hangings that expressed touching personal stories. One participant shared that she "was surprised…that the theme [emerged] about childhood memories and my Granny." Although hesitant at first, participants in the movement class became comfortable making personal movement choices. They connected with each other while doing structured movement improvisation in an art gallery. Book arts students made personal artist books with themes that included family, hometowns, landscapes, and cats.
Interest in these free "Vital & Creative" classes far exceeded the 18 available spots, but we also welcomed many repeat participants. These individuals felt comfortable trying an unfamiliar art form—like movement—because they trusted museum staff to create a welcoming environment and stimulating class. However, we reached a limited group of older adults, many of whom were already connected to the museum as members or volunteers.
To expand the participant group, we created a new older adult mailing list where we shared "Vital & Creative" information. This mailing list started after our broad marketing efforts for the first series led to more interest than class space. We also partnered with two assisted living centers to engage new individuals and offer them the opportunity to develop meaningful relationships outside of their residential facilities. One resident was an inspiration to all when she celebrated her 90th birthday during the movement workshop.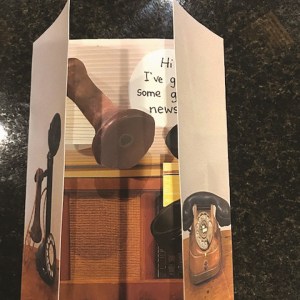 These are the first steps toward welcoming a wider range of individuals, but we recognize we can still be more inclusive by addressing transportation and language barriers as well as dispelling misconceptions that these classes are only for existing museum lovers.
These workshops also led to some unexpected opportunities for the museum as the community started associating us with creative aging programming and expertise. A museum staff member served on the board of the nonprofit Older Persons Action Group, the Anchorage Senior Activities Center invited the museum to lead one of its monthly "Age Smart" talks, and the museum led a "Landscapes of Alaska" virtual program series for AARP members.
Pivoting to Virtual
When COVID-19 suspended in-person programs, the Anchorage Museum joined other museums and cultural institutions in pivoting to virtual program delivery. This included programs for older adults who were especially vulnerable to isolation during pandemic lockdowns.
In our first foray into virtual programs for this demographic, we adapted our in-person movement series. This four-week summer series provided opportunities for physical activity at a time when many individuals were unable to leave their homes or attend group fitness classes. One person shared that "after just the first class, I felt happy, which is a good thing to be feeling these days." Another participant recovering from COVID-19 said, "This class has been perfect to gradually regain strength and confidence in my body…I am healing and getting my body back."
These classes also created new opportunities for cross-departmental collaboration education, exhibitions, and information technology staff worked together in new ways.
The success of the pilot series paved the way for three more "Vital & Creative" virtual workshop series, which took place from fall 2020 into spring 2021. Each series was seven weeks but alternated between 90-minute synchronous classes and asynchronous activities on the "off" weeks. This model sought to reduce screen fatigue and allow for further creative engagement that did not fit into the live class time.
Our virtual series expanded upon our in-person workshops. In virtual book arts, participants created individual artist books showcasing personal object collections. In a virtual movement series, participants learned about, tried, and wrote sets of instructions—or scores—to inspire movements that were then performed in small groups over Zoom. The final series was a virtual writing class where participants were introduced to different poem and short story structures to inspire the retelling of personal stories.
We supplemented these classes with a digital platform where we posted activity prompts, resources, and upcoming virtual events related to the class. This class-specific platform allowed participants to interact with each other and the art form outside of structured class time. The platform also allowed us to showcase more Anchorage Museum objects, through links to object photos, videos, and virtual exhibitions, that could be viewed during in-person classes. Participants enjoyed using the platform to share their work and comment on each other's posts.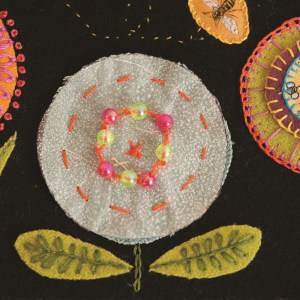 We also fostered social engagement through a "snail mail" exchange in which we matched participants with someone else in the group and included stamped notecards in their provided material kits so they could easily send each other mail. On asynchronous weeks, we posted mail prompts related to the class theme on the digital platform. For example, a mail prompt from the book arts series asked participants to draw or write about an object from their personal collection. Participants shared photos or descriptions of the mail they received both in class and on the digital platform.
The virtual writing class took this a step further: participants were organized into small writing pods where they shared their work and received feedback from each other. One pod even met in person—with sensitivity to COVID-19 protocols—and planned to continue meeting to discuss their writings after the class ended.
We were pleasantly surprised at how the digital platform, asynchronous prompts, and mail partners gave participants greater agency over how they engaged in the class. Participants had multiple ways to share their work and a space to continue conversations that were cut short due to limited class time.
The pandemic-initiated pivot to virtual programs demonstrated how the museum can support our communities by not only considering our program audience but also our instructors. All our teaching artists expressed profound gratitude for these opportunities, especially at a time of pandemic-related financial and emotional stress. Teaching artists were also grateful for the museum staff who managed the technical and logistical aspects, easing their transition to virtual teaching and empowering them to teach virtually in the future. The instructors also looked forward to each class and even participated in the mail exchanges. Participants appreciated the teaching artists and gave them high praise in survey responses. Several mentioned how one teaching artist "brought cultural awareness" to the class, demonstrating the value of employing teaching artists with different backgrounds and skills.
We limited our virtual classes to 20 or fewer participants to allow for deeper personal connections. Individuals who had not previously participated in the "Vital & Creative" series joined the virtual classes, including some outside the anchorage area. However, this expanded audience only included individuals with internet access and basic digital literacy—something many older adults in the region do not have.
Challenging Questions Remain
Whether in person or virtual, the Anchorage Museum saw the profound benefits of "Vital &Creative" programs for both participants and facilitators. The museum is recommitting to strengthening the partnerships with local organizations that serve older adults so these types of programs can continue even if dedicated funds are no longer available.
However, as we look to future creative aging programs, we are considering the following complicated questions about diversity, equity, accessibility, and inclusion in these programs—and we hope other institutions will join us in thinking about such adjustments to their practices. How can we reach older individuals who are not already actively involved in our museum? What barriers do we remove to reach new older adult audiences? How do we equitably and sustainably balance our new virtual experiences with in-person programming?
These questions also extend to the teaching artists. Why do we hire certain teaching artists? How can we expand our networks to include other teaching artists? How can teaching artists help us work with communities whose culture or language has previously excluded them from museum programs?
Partnerships with other organizations can introduce programming to new participants and teaching artists. We partnered with two different assisted living facilities, which allowed our "Vital & Creative" programs to reach older adults who would not have otherwise participated.
However, these relationships lapsed due to staff turnover at the assisted living facilities. This demonstrated the importance of having higher-level institutional support in any partnership. Creating such partnerships takes time and requires a long-range view, which leads to another series of questions about the sustainability of these programs: Will museum boards and leaders support the time it takes to build genuine community partnerships? Once these partnerships are established, how will institutions help sustain them? What happens when grant funding is not available?
Both research and anecdotal evidence support the benefits of creative aging programs, and museums are essential in providing these types of experiences. Museums should be proud of this work, but we also need to seriously reflect on how these programs can reach older adults who are not already museum advocates. Let us consider these difficult questions together and work to make our creative aging programming more inclusive of our local communities.
---
Tips for Virtual Programs
Establish a facilitator team. If possible, divide responsibilities (such as technology troubleshooting, participant communication, and curriculum) among multiple staff members and have multiple staff members present at each virtual program.
Front-load logistical details about what to expect. When initially communicating with participants, include information about the class structure, ways to participate, technology how-tos, and who to contact with questions.
Keep materials simple. Mail any necessary supplies to participants in advance or arrange a pick-up location.
Do a test run (or two!). Practice the virtual program before the first class to make sure everyone, including the teaching artist and participants, are comfortable with the virtual platform.
Have an asynchronous digital platform. This allows participants to communicate and stay engaged between synchronous classes as well as share additional resources. The AnchorageMuseum used Google Classroom and MeWe.
Get creative with screenless activities. In addition to the art-making activities, the AnchorageMuseum paired participants with a "snail mail partner" and provided prompts related to the course content and materials that participants used to send each other mail.
Incorporate the collection. Virtual programs present opportunities to showcase objects that cannot be viewed in person. The Anchorage Museum used a combination of photos and videos of its collection for these classes.
---
Resources
The Creative Aging Resource creativeagingresource.org
Aroha Philanthropies Vitality Arts resources arohaphilanthropies.org/resources
DanceOn Online Festival creative aging resources danceexchange.org/dance-on-festival-resource-room