---
This article originally appeared in the September/October 2021 issue of Museum magazine, a benefit of AAM membership.
---
The Louisiana State Museum engaged community culture bearers to lead classes in printmaking, drumming, and beading for older adults.
At the Louisiana State Museum (LSM), a state-run system of nine historic sites and museums across Louisiana, students over the age of 55 have created poetry, learned printmaking, celebrated diverse New Orleans beats through drumming, and beaded with a Black Masking Indian chief. These courses, funded by Aroha Philanthropies, have varied in format and medium, but each has been rooted in Louisiana history and culture, highlighted the work of local creators and culture bearers, and helped build community within the class and the city at large.
Supporting the museum's mission to preserve and interpret Louisiana history and culture, these courses have strengthened connections with local audiences, built diverse communities of older adults, and created new interpretations of Louisiana history and culture through students' art.
Sustaining the Culture
In spring 2019, LSM launched the series of courses for older adults with an eight-week printmaking class at the Cabildo, a national historic landmark located on Jackson Square in New Orleans. The site, built in the 1790s under Spanish rule and now host to a variety of exhibitions highlighting the state's history and art, served as the perfect springboard for students' creations.
For example, students used the exhibition "We Love You, New Orleans," a celebration of the city's food, architecture, amusements, nightlife, and more, as inspiration for their linoleum block prints, which were then displayed in a neighboring gallery at the culmination of the class. The students found personal connections in the museum exhibitions, such as memories of growing up in New Orleans or favorite forms of architecture, and wove those connections into their own art, creating a diverse tableau of prints celebrating the city.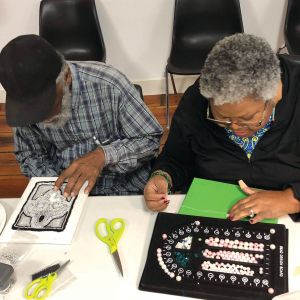 Building upon the success of the printmaking course, the following two courses—drumming and beading—continued to prioritize connections to museum content and highlighted New Orleans traditions. Each was taught by a well-known culture bearer, a common term for the leaders, creators, and sustainers of culture. The museum had either previously worked with these culture bearers or was connected to them through its network of partners.
For the second series, the museum offered a drumming class in conjunction with "Drumsville!: Evolution of the New Orleans Beat," currently on display at the New Orleans Jazz Museum at the Old U.S. Mint, another museum located in the French Quarter. Throughout this nine-week course, the students explored the rich influences of New Orleans music, including African rhythms such as Funga and bamboula, Caribbean rhythms, and the New Orleans second-line beat so often heard in the city today. In week seven, the class met off-site in Congo Square, a significant public space about 10 blocks from the museum. From the mid-18th through the mid-19th century, enslaved people and free people of color would meet at Congo Square on Sundays to sing, dance, drum, and sell goods.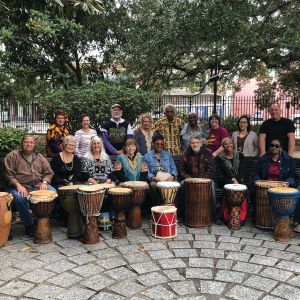 The teaching artist, Luther Gray, is the co-founder of the Congo Square Preservation Society, founder of the percussion group Bamboula 2000, and a drum maker. He leads drumming in Congo Square every Sunday, continuing a centuries-long tradition. Gray wove storytelling and history into each new lesson, creating a communal space for students to share their own stories and build meaningful connections with the art form and its community. Many of the students have continued drumming after the class and often attend the Sunday drum circles.
Several of the drumming students also signed up for the third series in winter 2020, a beading course in the style of Black Masking Indians, also known as Mardi Gras Indians, taught by Big Chief Darryl Montana of the Yellow Pocahontas Black Masking tribe.
Black Masking Indians have been a distinct part of New Orleans culture for well over a century, influenced by Native American, African, and Caribbean traditions. These culture bearers spend the full year making a hand-sewn suit of beads and feathers, with a new suit debuted each year on Mardi Gras day. Chief Montana is a fourth-generation Black Masking Indian who has been masking for nearly 50 years, and he is the son of Allison "Tootie" Montana, a cultural leader who's credited with transforming the practice.
Throughout the eight-week course, students learned the techniques and artistry behind the craft, hand sewing their own designs out of beads, sequins, and pearls. They explored the differences between the pictorial, two-dimensional "Uptown" style and three-dimensional "Downtown" designs, using them as inspiration for their own canvases.
Much like Luther Gray, Chief Montana infused storytelling and song into each class, bringing the culture and history to life and building a shared appreciation among students. Each class session, for example, started and ended with singing "Indian Red," a song that is integral to the tradition.
One of the students, Warren, commented that while he was nervous about diving into a new art form, he thought it would be a great way to get a closer look at the culture as someone not native to New Orleans. His piece, a fleur-de-lis made from banana leaves, celebrated his personal connections to both New Orleans and Puerto Rico. Warren found the class to be both joyous and meditative. The process pulled him in, and the hours slipped by. Even more, he said, "watching what other people did from nothing was fascinating."
Making Connections
Each of these courses served a diverse group of students, building connections and community among New Orleanians who may not have otherwise crossed paths. To recruit students, the museum reached out to docent programs at museums around the city, local community centers, senior centers, and even Mardi Gras krewes.
Through the classes, students found new opportunities to connect with each other and the museum, and many students returned for more than one series, eager to try out new art forms. Lee, one of the participants in all three in-person classes, remarked in an email, "The Cabildo, the Mint, and Congo Square—landmarks I've known my whole life—have never felt so alive and vibrant. I now see, feel, and appreciate them with a much greater depth."
These connections to local history and culture reach far beyond the physical spaces, though. Through these courses, the museum was able to connect students to some of the vibrant cultural communities of New Orleans. Just as many students have continued drumming, others have continued creating beadwork and maintained connections with one another and the teaching artists.
Chief Montana even invited one student, Mr. Raymond, a 90-year-old lifelong New Orleanian, to mask with the tribe for Mardi Gras. Though these plans were postponed due to COVID-19, they have since been in touch and are planning for the coming year. Through their connection, Chief Montana also took part in the reopening celebration of PACE, the senior day program through which Mr. Raymond and other students have found the museum classes.
Moving Online
When COVID-19 hit in March 2020, it drastically reshaped the museum's offerings, including these courses for older adults. Although students could no longer meet in person, the museum was able to shift quickly to virtual courses through continued funding and guidance from Aroha Philanthropies and Lifetime Arts.
These online courses began in summer 2020 with two four-week-long poetry courses, which met entirely over Zoom. Even in this virtual setting, the courses followed the same guiding principles of being grounded in the museum content, exploring Louisiana culture and history, and providing a space for community and growth.
For example, teaching artist Elizabeth Gross, a local poet and professor, designed the course around poets with connections to Louisiana. Students read works exploring local history and environmental issues and created their own works, many of which reflected these local connections.
The virtual courses continued with an eight-week drawing class, again rooted in the Louisiana landscape, focusing on New Orleans architecture and students' own homes. The class learned basic techniques using various drawing tools and practiced with historical photos from the museum's collection. The teaching artist, Jonathan Mayers, is a visual artist and language activist for Kouri-Vini, the endangered Creole language of Louisiana. He brought this understanding into his teaching, inspiring a love of and closer connection with Louisiana landscapes.
For their final pieces, students created drawings of their own homes or neighborhoods. This required active looking as they explored the context and history behind the spaces and shared stories of how they came to live there. In the midst of the pandemic, the course gave students an opportunity to reflect on their sense of place, and as a collective, they created a tableau that spoke to this unique moment. After the class, many of the students have remained in touch with Mayers and other students as they create artwork for themselves, friends, and family.
Now and in the Future
The museum continues to offer these courses for adults ages 55 and older, with additional in-person beading and drumming courses planned for 2021, and given the success of the virtual classes, LSM expects to offer more online courses in the future. The success of the courses has inspired even more programming beyond the grant. The museum is particularly focusing on opportunities for long-term engagement and culturally connected creative experiences.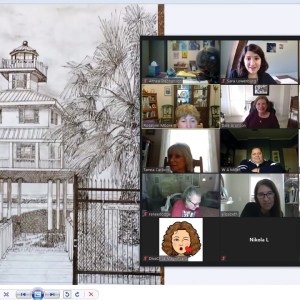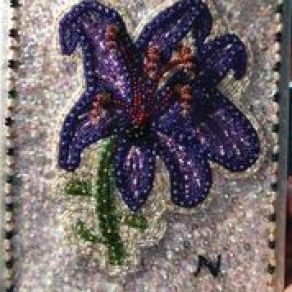 In winter 2020, LSM partnered with Southern Rep Theatre's Care for Creatives program on a free six-week workshop for older adults in the LGBTQ+ community. The program, designed to foster social connection through art-making, used the museum's exhibition "Grand Illusions: The History and Artistry of Gay Carnival in New Orleans" as its anchor and inspiration.
In spring 2021, LSM offered a free virtual six-week course in African dance and Black Masking traditions for students of all ages in connection with the exhibition "Mystery in Motion: African American Masking and Spirituality in Mardi Gras." Similar to previous courses, the teaching artists led students in song, storytelling, and dance focusing on New Orleans culture and history. For the culminating event, the class came together in person to celebrate with an afternoon of dancing and drumming in Congo Square.
The Seeding Vitality Arts in Museums grant through Aroha Philanthropies has allowed the museum to serve as a forum for creativity and community building. Through these courses, LSM has expanded its audiences, strengthened local connections, and served as a platform to uplift and support culture bearers and their work. These priorities will continue to inform and inspire museum programming for audiences of all ages.
---
How to Develop Culturally Connected Programming
Hire teaching artists rooted in the cultural community. Their expertise and passion will inspire more meaningful experiences for students and help them connect with preexisting communities, cultural traditions, and heritage outside the museum.
Weave in connections to the museum's collections and exhibitions. Each course included a visit, whether virtual or in-person, to the museum's exhibitions, where the teaching artists shared inspiration, highlighted artistry, and encouraged closer looking. As a result, each class was meaningfully connected to the museum and the wider landscape, and students created works that reflected this sense of place.
Conduct thoughtful outreach to develop diverse student groups. By reaching out to organizations outside of LSM's typical network, the museum successfully cultivated classes of students with diverse skill levels, interests, and backgrounds, and their diversity of experience has greatly enriched the courses. Students heard about the classes through senior centers, multiple museums' docent programs, flyers at local community centers, social media, and even the listserv of a Mardi Gras krewe.