Through the Museum Assessment Program, museums gain perspective on how to improve core areas of their operations, with a combination of guided self-reflection and close consultation with an expert Peer Reviewer. One of the many museums that have transformed their practices through this process is the Manassas Museum in Manassas, Virginia, which completed its third and fourth assessments in 2017 and 2020, focusing on Community Engagement and Education and Interpretation. In this post, the museum's Curator and Programs Coordinator share how the assessments helped them reverse a trend of diminishing relevance and center the needs of the museum's rapidly changing community.
---
Mary Helen Dellinger, Curator:
Ten years ago, the Manassas Museum found itself at a crossroads. The recent recession, staff retirements, and other impacts to the budget had reduced the number of programs it could offer; an exhibit meant to be temporary had been on display for well over a year; and the main gallery needed an upgrade. The community that was the force behind the museum for over forty years had changed, but the museum, now owned and operated by the City of Manassas, had not changed with it. Most residents were not familiar with the museum, and many had never visited.
This was the situation I faced when I began my tenure as Curator on January 9, 2012. I set to work right away to tackle these issues, creating new temporary exhibitions and developing new partnerships. Still, it was challenge to erase decades-long conceptions about what the museum was and who it was for.
Fast forward to 2017. As part of a larger effort to improve city services, the museum was folded into the new division of Parks, Culture and Recreation. At first, I was skeptical of being part of a division that included the community swimming pool, but along with this reorganization came a division manager who, like me, wanted to bring serious change to the museum. She decided the best way to go about this was to participate in an AAM Museum Assessment Program (MAP) study focused on Community Engagement, which would be our third MAP after a Collections Stewardship assessment in 2006 and an Organizational assessment in 2010.
When we were accepted to the program, our staff laid out the following questions we hoped to answer:
How we could better serve a rapidly changing demographic
How we could improve collaborations with diverse communities and forge new partnerships
How we could meet our audiences' needs through exhibitions and programming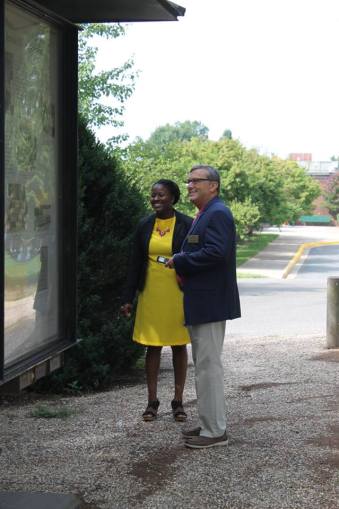 After we completed the first step of MAP, the self-study workbook, we were assigned our peer reviewer: Norman Burns, President and CEO of the Conner Prairie Museum. Mr. Burns spent two days talking with museum staff, key city officials, board members, and other stakeholders, asking hard questions along the way that delved into how we operated. After these conversations, he wrote a final report that gave us great feedback on how to determine who our audiences were, how to better leverage the seven other historic sites we operate in addition to the museum, and what strategies we could use for creating an inclusive planning process.
Armed with this information, museum staff felt we had the support to make much-needed change. In order to reach new audiences, I started planning exhibitions that put the needs of our community first. Our first effort was Bridging Cultures, an exhibit about the local Latino community—a demographic which makes up nearly 40 percent of the Manassas population, according to the 2019 Census. This was followed by Native Legacy, created in partnership with the local Patawomeck Tribe. Our current offering, Manassas Faces, called on members of the community to nominate individuals for inclusion in the display. Each of these shows was well-supported by the community, especially people who had never visited the museum before.
With the success of these exhibitions, we began to feel like we had cracked open the door to more fully representing our community. We then moved our attention to transforming our educational and outreach programs. The first step was to hire a creative new Programs Coordinator to take us in a new direction.
Rachel Goldberg, Programs Coordinator:
That's where I come in! When the museum hired me in the fall of 2019, it gave me a blank slate on which to create and develop a portfolio of programs and events that would engage Manassas residents. Jumping off from the recommendations in the final MAP report, I began to research, talk to the community, and meet with potential partners and collaborators before kicking off a portfolio of new programs the following February.
Our first public program was a sold-out Front Porch Talk at Liberia House, one of the historic sites that is part of the Manassas Museum System. As the month progressed, we also offered a family workshop, a toddler program, and an Evening for Educators, plus created new marketing collateral to promote our school tours and education trunks. It was a whirlwind month of programs, some more successful than others, and then wham, the pandemic hit, and the museum was forced to close along with the rest of the world in March.
In the winter of 2020, we applied and were accepted to participate in another MAP study, this time focusing on Education and Interpretation. The timing couldn't have been better. Because I was still relatively new in my position and starting education and interpretation programs from the ground up, and because we were in the planning stages of a renovation, we were in a great position to integrate the feedback from the assessment into our programs and exhibitions. The brief pause that the beginning of the pandemic brought gave us much-needed time and space to focus on digging in and doing this work.
Skip over related stories to continue reading article
I shepherded the museum staff through each of the activities and readings in the self-study workbook, which helped us to better understand our audiences and consider how effective our programs and exhibitions are. We had a number of Zoom conversations and phone calls with our Peer Reviewer, Melissa Prycer, Executive Director of the Dallas Heritage Village, both individually and as a group. It was great for our staff to think about how our visitors use the museum and in what ways the museum is a welcoming place for them.
Participating in these MAP assessments has been incredibly rewarding for our staff. We made an effort to examine our work, ask and answer the hard questions about if what we were doing was what our community needed, and, when asked to change, do so. This was not an easy process, and at times it was scary as we waded into new waters. We are proud to say that today the Manassas Museum is more engaged in the community than ever before, our audiences are becoming more diverse, our programs and exhibits are well-received in the community, and we have gained new followers and supporters.
As 2021 draws to an end, the Manassas Museum is preparing to close for a major renovation of our interior space, and the construction of a new addition that will give us more programming and exhibition space. We are working hard to create a museum that is of, by, and for our community. We firmly believe that our work with the MAP program, and the meaningful feedback we received from our peer reviewers, put us in the position to move forward into the future.
---
MAP is supported through a cooperative agreement between the Institute of Museum and Library Services and the American Alliance of Museums.
Learn more about MAP – A sample application PDF is available on our website, and online applications are now being accepted through Feb. 1, 2022!