This post is an advertorial written by a company that serves the museum field. The views, opinions, and positions expressed by the authors and those providing comments are theirs alone and do not necessarily reflect the views, opinions, or positions of AAM or its employees.
---
At the annual Boom exhibition in Saxony, Germany, more than two dozen AS-168i Audio Spotlight directional sound speakers were placed strategically throughout an open-floor layout of visual displays to provide sanitary, touchless directional audio narratives for attendees at twenty-five select positions, and to encourage safe social distancing. Visitors at the event were captivated by Audio Spotlight's revolutionary directional sound-beaming technology in an exhibition that celebrated five hundred years of the state's industrial heritage.
For its use in museums and galleries, the flexible and self-powered Audio Spotlight directional sound speaker is a powerful tool, ensuring that any exhibit has its own isolated audio, engaging visitors in an immersive, personal experience, while keeping the surrounding area quiet.
Faced with the changed social landscape brought on by the COVID-19 pandemic, museum and gallery directors are rethinking exhibit designs and audio delivery systems to ensure the safety of patrons as well as staff members. By implementing social distancing measures and touchless technologies such as Audio Spotlight, unsanitary devices such as headphones, handsets, and listening wands have quickly become antiquated relics of the past.
Skip over related stories to continue reading article
Audio Spotlight, while already a popular choice for adding focused sound beams as precise as a beam of light, has become an even more valuable tool owing to its inherently touchless design that delivers personalized audio experiences without requiring any physical contact by the listener.
The Boom exhibit, which is run by the Saxon state government, included decals on the floor in front of various displays to guide patrons to the exact spot where Audio Spotlight directional sound narratives could be heard. From these positions, attendees were entertained and educated by stories that described topics such as the automotive, railway, and textile production histories of the Saxony region.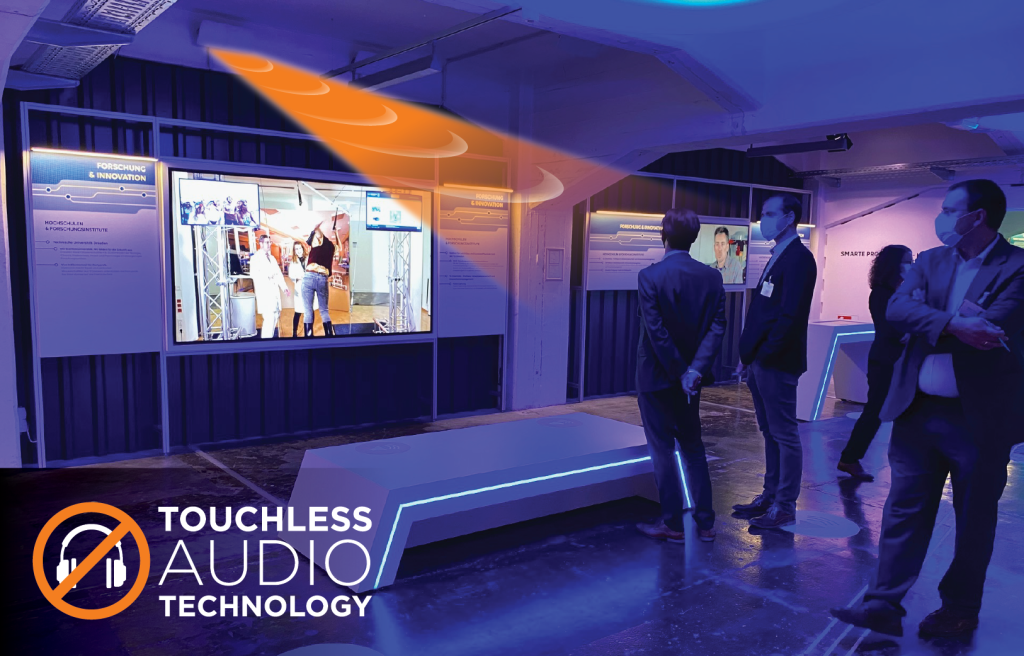 By using Holosonics' patented directional speaker technology for the event, our installer partners at KP Media GmbH were able to isolate sound to specific displays that were in very close proximity to each other. Audio Spotlight's touchless technology was also particularly critical during the event to help attendees maintain social distancing, given the state of the COVID-19 pandemic when the exhibition opened in July 2020.
"The stations with sound were very close together and headphones were not provided because they would have created a sanitary concern, as well as disrupting the exhibition's overall appearance," said Jenny Kunkel, Managing Director, KP Media GmbH. "The event's interior designer wanted a technical solution that was as invisible as possible, which made Audio Spotlight the perfect solution."
The exhibition, which was held in the Audi Building in the city of Zwickau, focused on the beginnings, the highlights, and the future of Saxony's industrial development. Audio Spotlight technology was featured in more than two dozen of the hundreds of exhibits at the event. Through displays of rare paintings and other works of art, valuable documents, unique technical devices, photographs, films, and media installations, the exhibition offered a broad cultural and historical panorama of industry in Germany.
Visit www.holosonics.com to learn more about how our Audio Spotlight directional sound technology can benefit your exhibit projects in the same way it enhanced the experience for visitors at Germany's Boom exhibition, as well as a wide variety of other settings that include retail stores, libraries, hospitals, airports, and many other locations throughout the world.
About Audio Spotlight by Holosonics
Audio Spotlight is a revolutionary audio technology that creates sound in a narrow beam, just like light. Aim the flat, thin speaker panel to your desired listening area, and provide all of the sound and none of the noise.™ From museums, galleries, exhibits, and a wide range of other venues and applications, hundreds of companies throughout the world have chosen this patented technology to provide high-quality, precisely controlled sound, while preserving the quiet.™
Contact us to learn more about how our directional sound technology can benefit your projects and we'll work with you to design an Audio Spotlight solution that will meet all your needs. Our patented technology has enhanced the experience for patrons in a wide variety of settings that include museums, galleries, retail stores, libraries, hospitals, airports, and many other locations throughout the world.