---
This article originally appeared in the November/December 2021 issue of Museum magazine, a benefit of AAM membership.
---
The Queens Museum serves as a community anchor by embracing porosity, situatedness, and uncertainty.
When the first wave of the pandemic hit New York City in early 2020, the Queens Museum found itself at the epicenter of both the city and the nation's COVID-19 crisis. Flushing and Corona, two largely immigrant neighborhoods bordering the museum's home base—Flushing Meadows–Corona Park—were experiencing the highest death rates in the United States.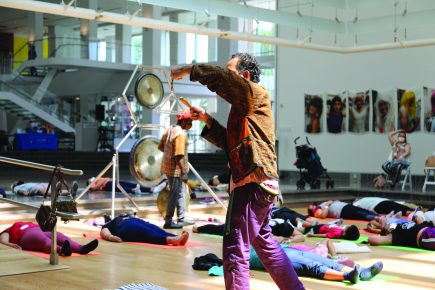 When the museum closed its doors to the public on March 13, 2020, Queens hadn't yet reached the apex of COVID-19 hospitalizations. As a borough, country, and global community, we were not yet fully able to process the severity of this health emergency.
I stepped into my role at the Queens Museum only a few weeks before our physical space became inaccessible to visitors, employees, artists, and programming partners. As our team anxiously entered a nebulous period of remote work, we were faced with the following question: How could we use our resources and relationships to address the urgent needs of our diverse communities? For me, as a newcomer to the institution, this question seemed grounded in an even larger issue: What's a Queens Museum without a building?
Preserving Hyper-Local Histories
The New York City Building—the museum building's official name—existed decades before the idea of a borough museum in Flushing Meadows–Corona Park formed. Robert Moses, the notoriously multi-hyphenated New York planner-politician-architect, conceived the building to house the New York City Pavilion throughout the 1939–40 World's Fair. From 1946 to 1950, the New York City Building hosted the General Assembly of the United Nations, where a number of important decisions, including the partition of Palestine and the creation of UNICEF, were made. For the 1964–65 World's Fair, the New York City Building reclaimed its initial title as the New York City Pavilion and became the permanent headquarters of the Panorama of the City of New York: a 9,335-square-foot architectural model of the city designed by Moses.
In 1972, the New York City Building took on its current title: the Queens Museum (or as it was then known, the Queens County Art and Cultural Center). Occupying the only remaining pavilion from both World's Fairs allows the Queens Museum to embrace its role as a preserver, disseminator, and mediator of hyper-local history.
Bringing the Outside In
Fast forward to spring 2020 and the Queens Museum is an empty museum building at the center of a COVID-19 hot spot. Rising infection rates, combined with sudden loss of employment and limited access to government assistance, left families across Corona and Flushing struggling with food security. While food pantries in Flushing continued to operate throughout the lockdown, these distribution centers were unequipped to serve the influx of individuals coming from Corona.
When Pedro Rodriguez, founder of Flushing's La Jornada food pantry, approached Gianina Enriquez, the Queens Museum's community organizer, with the idea of launching a food pantry for Corona residents, we responded by leveraging a major resource: our building. Initially managed in collaboration with Together We Can Community Resource Center, the La Jornada Food Pantry at the Queens Museum began operating in June 2020, and with the support of more than 70 volunteers from within the immediate community, it has distributed fresh and nonperishable food items to Corona residents. A year later, partnerships with local organizations like Commonpoint Queens and Elmhurst Corona Recovery Collaborative have enabled us to continue serving an average 600 families per week—47,000 total by the end of October.
Making our building available to La Jornada is rooted in a long legacy of creating opportunities for community members to use the museum as an extension of their organizing and programming space. For example, our Community Partnership Gallery is dedicated to presenting short-term exhibitions by local cultural and other nonprofit groups, and our holiday events have been tailored to neighboring immigrant cultures, working with the New York Chinese Cultural Center for Lunar New Year and Flushing's Hindu Temple Society of North America for a Holi festival. Adopting this localized approach to public engagement means centering the needs, desires, and experiences of those living closest to the museum.
During the pandemic, the Queens Museum has also been able to leverage other internal resources to help community members remain resilient. Our "Hecho Local" (Spanish for "locally made") product development series invited aspiring artisans and craftspeople to participate in an eight-week workshop led by Christine Jeanjaquet, manager of the museum's gift shop, The August Tree. Geared toward Spanish-speaking makers based in Queens, this free online series guided participants on how to develop a new product line for income. In addition to strengthening their entrepreneurial skills, "Hecho Local" gave these Queens creatives access to industry-grade equipment with the help of the creative reuse center Materials for the Arts and offered them an opportunity to generate revenue by selling new products through our shop.
"Queens Spotlight" is another example of how we used our immediate resources to empower the work of community members. Launched in April 2020, this online interview series highlighted local COVID-19 relief efforts while honoring the resourcefulness and responsiveness of their leaders. At a time when digital channels were the primary connection with the public, "Queens Spotlight" allowed organizers to amplify the essential information they were eager to share throughout the Queens community.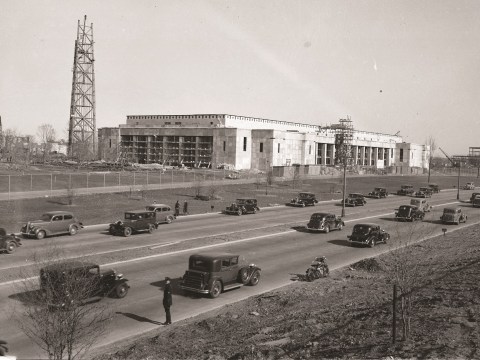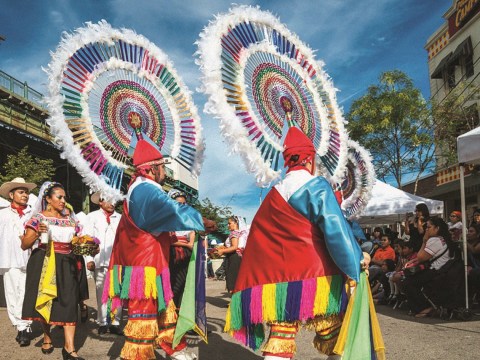 Bringing the Inside Out
One key lesson I've absorbed during my time at the Queens Museum is that bringing the outside in only reaches its full potential when the opposite also occurs: bringing the inside out. Therefore, moving beyond the museum walls has become a core institutional praxis.
Corona Plaza is an exciting example of the Queens Museum's commitment to decentralizing community engagement. The plaza has been the main site for many of the museum's public art projects and community festivals and our parks and public space advocacy work.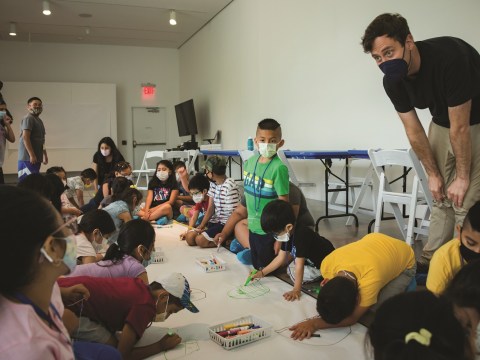 For years, Corona Plaza was a small, one-block street riddled with parking and trash collection issues. Museum efforts generated a network of local business owners and community leaders who regularly partnered on health initiatives, street fairs, and beautification efforts. When the city turned the street into a public plaza in summer 2012, we began hosting an ambitious suite of public programs in the plaza, including Corónate, a cultural festival organized in partnership with local folkloric performers, artists, and social practitioners.
We have also made our values visible outside the museum by partnering for the last 10 years with Queens College, City University of New York to support early career, socially engaged artists. Social Practice Queens is a unique degree program focused on the intersection of art and social justice that aims to initiate real-world change through practices of care, social intervention, and aesthetic experimentation. Social Practice Queens students have been able to use the museum's resources to develop and present their work both on-site and within the community. One of our recent exhibitions, "Art As Social Action: 10 Years of Social Practice Queens," delves into this decade of intimate collaboration, highlighting how it bolstered community efforts and acts of public service.
Reimagining What a Museum Can Be
It's been a year since the Queens Museum reopened its doors to the public. Trying to stay afloat amid the waves of post-lockdown unpredictability creates new anxieties. But this unrest has inspired us to reimagine how we co-create with communities both between and beyond our walls.
In January 2020, the museum initiated a new long-term, cross-institutional program, the Year of Uncertainty (YoU). Born out of the states of precarity that have been heightened by the COVID-19 pandemic, including the crises of inaction and unaccountability related to racial justice and xenophobia, climate reparations, and income disparity, YoU was conceived as a framework for strengthening connection among the Queens Museum, our communities, and constituents through collaborative experimentation.
At the center of YoU are five themes—care, repair, play, justice, and the future—and a cohort of creative interlocutors who have become deeply embedded in the fabric of the museum:
six artists-in-residence with diverse research-based and socially engaged practices encompassing discursive and participatory forms as well as object-based work;
nine community partners, which include organizations from across the borough that are tackling issues such as gender justice, mental health, environmental justice, youth enrichment, gun violence prevention and intervention, LGBTQ+ activism, and civil rights for transgender and nonbinary people and sex workers; and
twelve artists, designers, scientists, writers, architects, and activists invited as "co-thinkers" who serve as mentors and facilitators to artists-in-residence, community partners, and Queens Museum staff.
For example, through YoU, our on-site food relief initiative has evolved into a Cultural Food Pantry where artists-in-residence and community partners weave artistic and cultural activities into the structure of the pantry. And the Year of Uncertainty Summer Community Camp, which offered two weeks of free arts education led by YoU cohort members, was conceived specifically for families visiting the La Jornada Food Pantry.
The Year of Uncertainty has also reshaped our Queens Teens into a more social justice–focused program. Artist-In-Residence Julian Louis Phillips launched "A School of Art & Protest," a weeklong Queens Teens camp that built community around imagining a future of liberation. For five days, participants explored the histories, strategies, and physicalities of protest and policing grounded in the teachings of the Abolition Movement.
Throughout fall 2021, all ideas, discussions, and materials generated during this camp and other YoU initiatives will be shared through public conversations, activations, and presentations across all the museum's spaces and platforms. In January 2022, YoU will conclude with collective reflection on this period of experimentation, leading to new, flexible working methods that will help the Queens Museum grow our commitments to culture, accessibility, and equity.
As we reimagine how to inhabit space with a radical, community-driven mission, conversations with people remain at the core of the Queens Museum vision. "It is exciting to see how we can make a museum that is defined by and through dialogue with our neighbors, communities, and constituents," says Sally Tallant, Queens Museum president and executive director. "Our upcoming capital project, developing a multilingual, intergenerational family learning center, a Queens Children's Museum, will be pivotal in helping us realize this ambition."
Porosity and situatedness, at both the local and international levels, continue to guide our work. These pillars have become even more embedded in our mission as we relearn how to move in an ever-changing global context.
---
Resources
Corona Plaza Es Para Todos: Making a Dignified Public Space for Immigrants
queensmuseum.org/wp-content/uploads/2016/01/Corona-Plaza-Es-Para-Todos_web.pdf
Art as Social Action: 10 Years of Social Practice Queens
queensmuseum.org/wp-content/uploads/2021/02/AASA-24-Aug-Revised_v2.pdf
Samantha Baldwin, "Queens Museum Executive Director Sally Tallant on Her Vision for a More Just Art World,"
Artnet News, July 27, 2021
news.artnet.com/career-stories/queens-museum-sally-tallant-more-just-museum-world-1987272