---
This article originally appeared in the November/December 2021 issue of Museum magazine, a benefit of AAM membership.
---
Liberating collections from their imperialist pasts can occur through a new model: the museum-university.
As a curator and cultural historian living in Berlin, I am interested in the possibilities raised by the redesign of museums, particularly those that were established under the cultural politics of colonialism.
All museums are civic spaces that, together with universities and art colleges, perform an important educational role. But how do we make their vast collections of historical artifacts active once more while the world is becoming increasingly virtual? Can we reorganize the exhibition rooms of a museum with mobile workspaces for researchers and students? Can we bring collections into the venue's central space, filling it with artifacts, archives, documents, and miscellanea? The consumerist walk-through would no longer be possible. Instead, the museum would provide everything necessary for hours of study with tables, chairs, technology, mobile vitrines, and, of course, students, who would constitute the key public.
Perhaps we are at a moment when the conflation of exhibitions and new research is possible once again, as it was during the time of German art historians Aby Warburg and Carl Einstein. For Einstein, writing 100 years ago, museums were like "living schools," nurturing rigorous observational analysis and ways of seeing and speaking about human experience. For Pontus Hultén, the curatorial brain behind the planning of the Centre Pompidou in Paris, a collection was not a shelter for retreat, but a source of energy for the curator and the visitor.
These considerations formed the basis for my direction of the Weltkulturen Museum in Frankfurt, Germany, between 2010 and 2015. Founded by citizens in 1904 as an ethnographic museum, it holds over 67,000 artifacts, an image and film archive with 120,000 documents, and a public library with 50,000 books and periodicals.
When I arrived, I wanted to transform this museum, with its contested collections, into a contemporary civic institution. To begin to heal the wounds of the past, I chose to encourage experimentation inside the museum by developing dialogues with artists, writers, and historians from the outside. The goal was neither armchair anthropology, nor participant observation in the wild, but quite literally fieldwork in the museum.
What Is the Museum-University?
Over the five years I was there, the Weltkulturen Museum transformed into a civic and educational institution that was unequivocally collection-centric and the precursor to something I call the museum-university. In 1975 artist Joseph Beuys said, "I want to make museums into universities where there is a practical department of objects. The museum could be the first model of a permanent conference for cultural inquiries."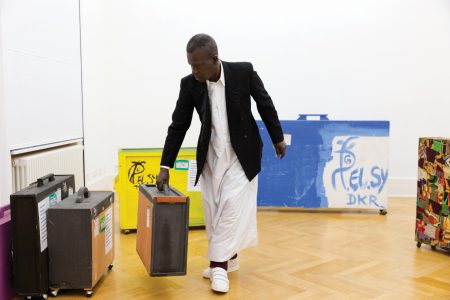 Today, there is growing recognition of the value of subjective historiographies drafted by artists based on contested archives and colonial collections. Whether this takes place on the African continent, in the US, or in Europe, the engagement of artists demonstrates the desire to define a new inclusive space that draws on alternative faculties, decolonialized methodologies, and shifting cultural and social contexts. This intersection between museum and university can help in the remediation of colonial collections by activating new approaches to visual education.
Museum-universities can be imagined as forms of horizontal architecture that provide an optimal environment for growth. I sometimes imagine a huge greenhouse structure that enables circulation and juxtapositions between artifacts and archives. With diverse origins and different levels of contention, historical collections are repositioned and navigated into polycultural constellations. Collections are essential in the development of alternative art histories and metafictions through the processes of retrieval, gathering, decoding, and restituting—what American writer and academic Saidiya Hartman calls a work of "critical fabulation."
So-called ethnographic collections contain live wires of information, or stored code, in art, design, history, architecture, engineering, and much more. But they are also repositories of cultural heritage that are riddled with traces of violence, forced translocation, and illegitimate appropriation. The referentiality of these important collections is yet to be extricated from colonial and ethnographic taxonomies.
Today, while they remain rooted in the Global North, these sequestered artifacts have become vital to reviving visual education and responding to the democratic intellect in the 21st century. Their inaccessibility makes us confront the blockages produced by the ideology of conservation: no oil, sweat, breath, or human friction is possible as long as these artifacts are held under current jurisdiction.
At the Weltkulturen Museum, I dedicated one of the museum's three 19th-century villas to a new space for post-ethnographic inquiry. The building consisted of guest apartments on the top floor, a photographic archive in the basement, and lab space in between. Living and working in the museum, guest researchers could analyze in the lab the artifacts, photographs, and documents they selected in the depot. They could work with the collection as they wished in their own time and with 24-hour unobserved access. Art students from the Städelschule nearby curated their own research exhibitions in the Green Room project space inside the lab.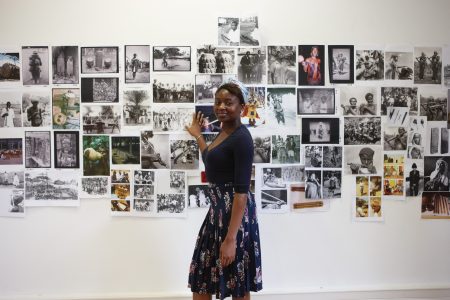 The lab became a crucible for negotiating new relationships and responsibilities to the institutional history of the museum and its extensive collection. Through the input of external guests—artists, but also lawyers, writers, filmmakers, and anthropologists—I hoped to suspend the classification of objects along the traditional lines of regional divisions and ethnic groupings. Guests included artists John Akomfrah and Sunah Choi, writers Tina Makereti and Tom McCarthy, and filmmaker Werner Herzog, among others.
All exhibitions curated at the Weltkulturen Museum during my time presented the collection together with the outcomes of new exercises in translation. With "Object Atlas: Fieldwork in the Museum," painting proved to be the red thread between the individual positions of the artists, whose renditions of the ethnographic artifacts allowed visitors to see these objects from different perspectives. Otobong Nkanga photographed herself wearing jewelry from West and Central Africa and subsequently made a series of posters with these images, which were distributed both in Nigeria and through the exhibition. For "Foreign Exchange (or the stories you wouldn't tell a stranger)," Peggy Buth reclassified the convolution of missionary photography, and Luke Willis Thompson gifted his materials' budget toward the repatriation not of an artifact, but of a recently deceased person of African descent from Frankfurt back to Africa. The outcomes of the laboratory experience were unpredictable, in turn affecting the exhibitions, which encouraged visitors to embark on their own fieldwork.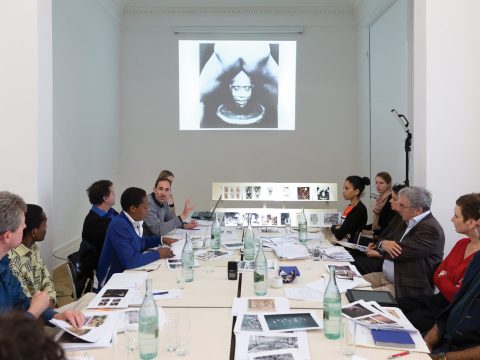 This post-ethnographic model sought to generate alternative, decolonial metaphors of interpretation. Finding metaphors for museums is a compelling thought exercise that helps us recognize how much these venues differ in attitude and scale, how they prioritize space and human behavior very differently. Some imagine the successful museum to be an exclusive emporium touting the global experience of art and luxury and complementing new estates and shopping malls. In this place of cultural and intellectual purchase, the public acquires the sheen of high-octane capital. As German philosopher Theodor Adorno once wrote, art, like a casino, cannot lose.
The Right of Access
In art history, 1989 is commonly recognized as a moment of transformation with the dissolution of the Soviet states, the Tiananmen Square protests, the demolition of the Berlin Wall, and the reunification of Germany. The year also marks a watershed moment in exhibition-making: the exclusive North American–Western European alliance was irredeemably confronted with alternative flows of modernism and contemporary art from the Global South.
Today, one generation later, the emphatic awareness created by Black Lives Matter in 2020 has brought with it a second paradigmatic shift now shaping how arts institutions contend with representation and equity. My commitment to this process is to push toward legislation for the right of access to colonial collections held in European museums. Whereas it makes sense for someone from a specific region or group to see their artifacts, I believe that access needs to be much more pluralistic, enabling students and researchers to cross over continents and ethnicities and build comparative assemblages. If a museum becomes a university, then access can be democratic—the only remaining hitch is the way the architecture is conceived, and whether the ideological construct around conservation can be loosened to enable analysis.
The legal argument to enable access to these vast "ethnographic" collections for researchers of all nations, cultures, and schools of thought needs to be developed. Only rights of access can generate a museum of the commons and, with it, an equitable reassessment of historical collections while they are stored in Europe.
This differentiated use of the museum highlights its current and uncomfortable condition within the civic environment. New institutions, wrote Austrian philosopher Ivan Illich in 1970, "should be channels to which the learner would have access without credentials or pedigrees—public spaces in which peers and elders outside of his [sic] immediate horizon would become available." Such an open, untethered location with no vantage points, or attempts to direct the mind toward the confines of one experience or another, would be a field, an expanse, an agronomy where every visitor would farm modest meanings from unmastered works, slowly apprehending the metabolics of the museum as a body.
Since leaving the Weltkulturen Museum in 2015, I have explored different models for a Metabolic Museum–University (MM–U). The MM–U is currently based at KW Institute for Contemporary Art in Berlin, where I have brought together a multidisciplinary faculty that meets regularly and initiates investigations into Berlin's varied collections. Together we have begun to shape an expanded technique of analysis and interpretation based on diverse private and public collections.
For example, in July 2020 we ran a Debating Chamber in the exhibition of Hassan Sharif at KW. Each participant brought an artifact or element, which was placed on a trestle table. These were moved around as our discussion progressed. Nearly everyone spoke about the evocations produced by the various items and their assemblage. Straight contextual information was avoided. These agent-objects (a term that places artworks and artifacts on the same level and emphasizes agency and dialogue) included musical notation, an Asafo flag from Ghana, small colored glass slides, a photocopy of the pages of open books, a small carved figure, an old plate found in the sea, gilt chains to be worn on the body, a video, half a fresh cow's liver, part of the skull of a horse, plus Sharif's surrounding artworks.
As it progresses, the MM-U will expand to include "Companions," an associated group of young researchers who will work closely with the faculty and delve deeper into the holdings of Berlin's neighborhood museums and university collections. The generative process of the MM-U and the outcome of its inquiries will be presented in a publication and comprehensive exhibition to be held at KW in 2023.
The Post-Colonial Museum
Today, a renewed engagement with archives takes the museum beyond its existing definition toward a more radical understanding of curatorial and educational urgency. Working with collections necessarily addresses what French philosopher Maurice Merleau-Ponty calls the "stuff of the body" out of which the world is made.
By working through contentious collections, new alliances are formed that question the normativity of inherited colonial disciplines and their genealogies. For example, does it make any sense to retain former divisions between art historical and world-cultures collections today? What do we do about efficiency, ecology, and energy, and how does that reflect in works collected and in the usage of the museum building and infrastructures by human beings and technologies?
The museum of the 21st century is a museum of movement and change, but, above all, it negotiates this new understanding through an intergenerational model. This dialogical constellation is both curative and adventurous. In the world today, there is value to be gained in listening to life histories, making visible former human networks, and building new partnerships.
Museums can fulfill vital functions for a range of friends, guests, students, and visitors whose time in the museum has no limit. The public is welcomed into a foyer of experience, sitting, reading, watching, and conversing with one another—in short, all the activities that were central to museums prior to the 19th-century colonial model.
---
Resources
Metabolic Museum–University
kw-berlin.de/en/metabolic-museum-university
Clémentine Deliss,
The Metabolic Museum, 2020
Clémentine Deliss,
Object Atlas: Fieldwork in the Museum, 2012
Clémentine Deliss and Yvette Mutumba,
Foreign Exchange (or the stories you wouldn't
tell a stranger), 2014