Is your institution ready for Museum Store Sunday, taking place this year on November 28 (the Sunday after Thanksgiving)? 2021 marks the fifth anniversary of this worldwide museum retail advocacy event—five years of supporting cultural institutions around the globe, offering unique gifts, and encouraging communities to shop local. Museum Store Sunday lets the public know about the important value museums provide for their patrons through accessible experiences, distinctive programs, and mission-driven products featured in their stores.
Don't miss this opportunity to join forces with other cultural institutions around the world to spotlight and support your institution and museum store. To get ready for Museum Store Sunday 2021 and its five-year anniversary, here are five lists of five fun facts, five major messaging points, five ways to market your event, and more!
Five Ways Museum Store Sunday Benefits Your Museum
It boosts your revenue: Participants have reported average increases of 47 percent (gross sales), 42 percent (net sales), and 21 percent (transactions) from previous years.
It attracts new audiences: Showcase your store, products, and organization to new customers and visitors. In prior Museum Store Sundays, stores experienced a 35 percent increase in visitors and museums experienced an 11 percent increase in visitors on average.
It increases awareness: Attract and receive press and media coverage and social engagement by being part of Museum Store Sunday's international reach.
It encourages consumers to shop with purpose: Last year, nearly 100 percent of patron survey respondents said it's important to support local museums with their dollars. 74 percent of respondents said they were prompted to shop because of Museum Store Sunday itself, and 97 percent said they'd return for Museum Store Sunday the following year.
It gains additional visibility: Feature your museum and online e-commerce store on the Museum Store Sunday website year-round by listing them on the Find a Store and Find an Online Store locator pages.
Five Fun Facts About Museum Store Sunday
The annual museum store advocacy event was launched in 2017 by the Museum Store Association.
Despite the COVID-19 pandemic, the number of Museum Store Sunday participants keeps growing—demonstrating engagement and excitement from museums, and support from consumers. As of today, more than 1,700 stores are registered to participate.
Museum Store Sunday is a global event, with stores participating in all fifty states and the District of Columbia, twenty-four countries, and five continents!
The Find an Online Store page (created last year) is the second-most-visited page on org after the homepage—showing the value and demand of online shopping.
While there is only one Museum Store Sunday every year, this event encourages consumers to support and shop at museum stores throughout the year.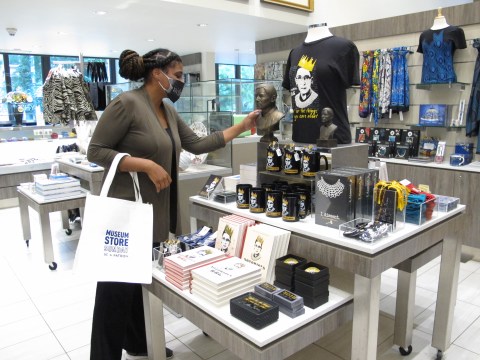 Five Major Messaging Points
COVID-19 Recovery and Support: This year it is especially important for patrons to shop museum stores to support their local cultural institutions, which may still be recovering after extended closures and restrictions during the COVID-19 pandemic.
Shopping with a Conscience and Purpose: By shopping at local museums and cultural, historic, or natural attractions, patrons are actively contributing to their future sustainability and success. (Proceeds from purchases at museum stores directly support the educational missions and programs of the parent institution.) They are also helping to support small businesses, independent suppliers, and artisan makers.
Unique Mission-Related Products and Shopping: Museum Store Sunday invites holiday shoppers to "Be a Patron" by purchasing the quality gifts filled with inspiration and educational value that are found at museum stores and related nonprofit retailers. Many of these gifts are exclusive to their store and cannot be found anywhere else.
A Meaningful Experience: Shoppers will find a fun, relaxing, and meaningful experience and be satisfied that proceeds from purchases from museum stores will help support the mission and programming of the organizations.
Special Events or Discounts: Celebrate the five-year anniversary of Museum Store Sunday by shopping and enjoying storewide or product-specific discounts, giveaways with purchase, raffles, and in-store or virtual events (such as trunk shows, product demonstrations, and meet-the-maker videos). Note: Hosting a special event or discount is completely optional, but may encourage visitors to shop, support, and celebrate on the day.
Five Ways to Market Museum Store Sunday
Note: All registered participants enjoy access to an exclusive Marketing Tool Kit, which includes marketing to-do lists and resource guides, social media graphics and logos, printable materials like signage and postcards, a press release template, and talking points to distribute to all frontline staff.
Signage: The easiest way to promote Museum Store Sunday to your museum visitors and store customers is to print out the tabletop sign and display at your cash register, near a product display, at the museum entrance, in the café, at the membership desk, or elsewhere in the museum. Be sure to put up "signage" online too, using web banners and logos on both the museum and museum store websites. (Tip: A printable tabletop sign, plus web banners and online logos, are available in the Marketing Tool Kit.)
Press and Community Outreach: Send out a press release, pitch a story to the media, or ask to be included in holiday event roundups or gift guides. Submit your Museum Store Sunday event to online community and media calendars. (Tip: A press release template is available in the Marketing Tool Kit.)
Social Media: Post regularly in the weeks leading up to Museum Store Sunday to get your followers excited! Create a Facebook event and tag @MuseumStoreSunday as a co-host. Plan social media posts highlighting events or discounts, showcasing special products or gift ideas, or simply encouraging followers to shop and support. Post Instagram stories on the day. (Tip: Social media graphics and a social media resource guide are available in the Marketing Tool Kit.)
Emails: Feature Museum Store Sunday in emails to store, museum, or member lists. Include in Thanksgiving emails, standalone emails, or November e-newsletters. If you have an online store, add the Museum Store Sunday logo to confirmation/receipt emails sent to online customers.
In Person: Chat it up with your customers, reminding them to come back on November 28 to shop and support your museum! Customize and print a Museum Store Sunday postcard and add to every customer's bag so they have a tangible reminder of the day. (Tip: A postcard template is available in the Marketing Tool Kit.)
Five Milestones over Five Years
2017: Museum Store Sunday launches! (Number of participants: 670)
2018: AAM first partners with Museum Store Sunday. (Number of participants: 1043)
2019: Renowned cartoon artist Tom Toro creates a special Museum Store Sunday image with the support of founding Museum Store Sunday supporter Popcorn Custom Products. (Number of participants: 1400)
2020: The Find an Online Store page is created on the Museum Store Sunday website, as the COVID-19 pandemic forces museum closures and causes many museums and museum stores to engage online only. (Number of participants: 1650)
2021: Blackwing collaborates with Museum Store Sunday on a special limited-edition set of pencils to be sold in celebration of Museum Store Sunday. (Number of participants: growing every day!)
Join us this year in celebrating Museum Store Sunday! There is still plenty of time to register, and any nonprofit cultural institution can participate. For a list of museum FAQs, please click here, and for more information please reach out to info@museumstoreassociation.org.
Skip over related stories to continue reading article