Enter through the museum store! Much more than a gift shop, the museum store has become a major earned revenue stream for parent institutions as they continue to recover post-pandemic. And as museums and other cultural institutions embrace sustainability, diversity, inclusion, and equity initiatives, their stores are increasingly seen as prime showcases of these values, both internally and externally. Instead of just moneymaking attractions for visitors to "exit through," museum stores are important assets that allow for accessible introductions to the institution's subject matter for both regular and first-time museum visitors, especially as museums seek to embrace their communities and the public at large.
MSA's signature advocacy initiative, Museum Store Sunday, is a direct call to action from museum stores to consumers to "Be A Patron" and shop at museum stores during the all-important Thanksgiving holiday weekend. Museum Store Magazine asked the Co-Chairs of this year's Museum Store Sunday Committee key questions as the annual advocacy event celebrates its seventh year on November 26, 2023.
---
Q: What is new for Museum Store Sunday this year?
A: This year, Museum Store Sunday wants to facilitate sustainable shopping. Many museum stores already offer products that provide environmental, social, and economic benefits while protecting public health and the environment over the product life cycle. Often made of recycled or biodegradable materials sourced from fair-trade communities, the sustainable items found at museum stores ensure a positive impact on both the provider communities and our environment. In addition, many museum store suppliers support environmentally friendly actions in addition to charitable causes.
Shopping on Museum Store Sunday means that your guests are helping to build a more sustainable world. By offering many products from local providers, museum stores are sourcing items sustainably in an effort to reduce the carbon footprint. Shopping at your local museum store helps to reduce environmental impacts on our communities and planet. By reducing transportation costs and emissions for both museum stores and their patrons, together we all help to reduce air pollution as well as conserve energy.
Skip over related stories to continue reading article
"Bring your own bag" will be a consumer call-to-action for patrons shopping during Museum Store Sunday this year. Many museum stores are conscientious about the impact of single-use plastics in packaging of products and services. Whenever possible, museum stores strive to achieve zero-waste packaging, often forgoing packaging and/or recycling single-use waste. MSA vendor member ART IS has also relaunched the Museum Store Sunday Eco-Tote, which is made from 100 percent recycled post-consumer materials. The tote can be ordered by participants to either resell in their stores or use as a promotional giveaway.
Another key feature of this year is Museum Store Sunday's re-launch of a national public relations campaign with Los-Angeles-based firm The Postcard Agency. The annual national campaign was interrupted for three years starting in 2020 due to the pandemic. Now that we are in the post-pandemic phases, the MSA Board and Museum Store Sunday Committee felt that the time was right to commit resources for a national strategy to communicate the value and importance of shopping at museum stores across the country. New this year will be the activation of an influencer marketing campaign and regional spokespersons composed of MSA institution members.
Q: How can I ensure my institution participates in Museum Store Sunday?
A: Internal promotion is vital to securing support from your institution. Send out a communication as soon as possible to all museum staff informing them about your involvement and enthusiasm for Museum Store Sunday, highlighting the significance of the event for the entire institution, not just the store. Once you've done this, here are some additional steps you can take to prepare:
Notify your supervisor and leadership about your participation in Museum Store Sunday. Reiterate how this event benefits the entire museum.
Request the opportunity to speak at all-staff meetings leading up to the event to keep everyone informed and engaged.
Reach out to your marketing department and share materials from the Museum Store Sunday Participant Toolkit. Discuss ways they can support the event through various channels such as email marketing, social media, and the museum's website.
Explore options to include Museum Store Sunday in museum calendars, membership magazines, and newsletters.
Collaborate with your Membership Department to develop membership promotions and gift membership offers related to Museum Store Sunday.
Engage other museum departments to brainstorm and create special events or programming for November 26th.
Ensure that frontline staff—in your store, visitor relations, membership, cafe, and other areas—can effectively speak with visitors about Museum Store Sunday.
Provide training sessions, including the Museum Store Sunday Talking Points, to equip them with the necessary knowledge and enthusiasm to encourage visitors to participate.
Print the Museum Store Sunday signage that can be prominently displayed in your store and throughout the museum. This signage will help reinforce your institution's involvement in Museum Store Sunday and draw visitors' attention. It's one of the simplest ways to celebrate Museum Store Sunday.
Q: How can I promote and market Museum Store Sunday to customers, visitors, members, the community, and the press?
A: Visit the Participant Tool Kit page on museumstoresunday.org under the "For Museum Stores" menu and enter the password, exclusive to registered Museum Store Sunday participants, to access resources. Within the Tool Kit you will find social media and marketing strategies, instructions on keeping your profile up to date, recorded webinars, a schedule of implementation, logos, signage, and much more. These tools can help you develop a plan that works best for your store and customers, and it's never too late to start planning. If you are unsure where to begin, feel free to reach out to the Museum Store Sunday Committee for advice and consultation. If you are a seasoned participant, consider using our press release template to reach out to local news outlets to promote your museum's Museum Store Sunday offerings.
To celebrate your event, offer a promotion both in-store and online, such as a discount or "free gift" offer that will please customers on this important shopping weekend. Another great way to promote and market your event is to organize a shared promotion with your fellow local museum stores. A group promotion such as a "Museum Store Sunday Shopping Passport" is a fun and creative way to encourage shoppers to patronize your store. And, of course, why not celebrate Museum Store Sunday for the entire weekend?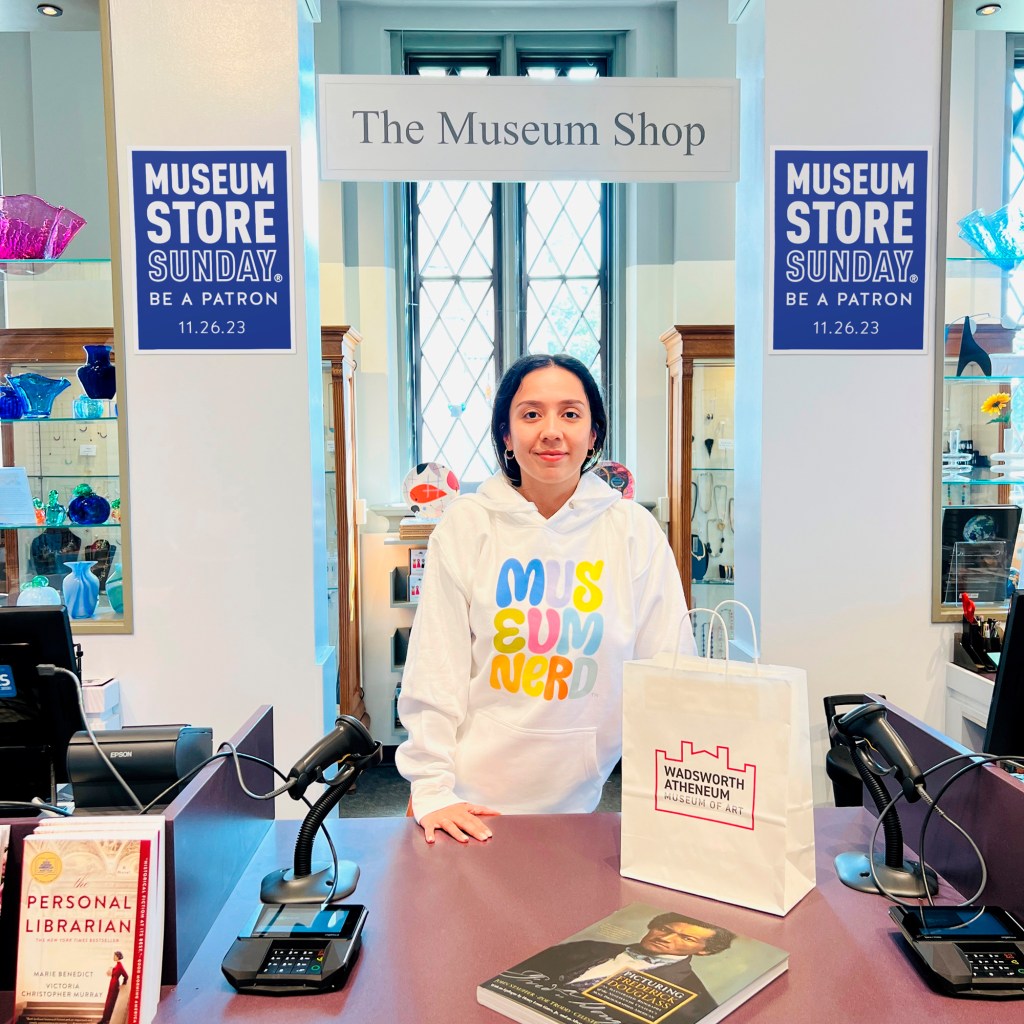 Q: How can I involve my local vendors?
A: Organizing a special in-store or virtual event for Museum Store Sunday is a fantastic way to engage with your community, promote your store, and celebrate the importance of museum stores.
Start by brainstorming ideas for your Museum Store Sunday event. Consider your store's unique features, your target audience, and your budget. Possible event ideas include trunk shows featuring products inspired by museum exhibitions, "meet the maker" sessions where local artisans can showcase their work, art or craft demonstrations related to your museum's collections, product showcases highlighting items with educational or historical significance, book signings with local authors of relevant publications, and food tastings inspired by historical recipes or regional cuisine.
Reach out to your existing vendor partners and local artisans to gauge their interest in participating in your Museum Store Sunday event. Discuss the event concept and how their products or skills can contribute to the celebration.
Ask them to provide giveaways or special offers for "free gift with purchase" promotions.
Work closely with vendors and artisans to finalize event details and coordinate logistics, including date, time, and format.
Update your store listing on the Museum Store Sunday store locator with event details and special promotions.
Provide promotional materials to vendors and artisans, encouraging them to promote Museum Store Sunday to their followers and networks.
By hosting an engaging event for Museum Store Sunday, you can not only attract more visitors but also showcase the value of museum stores in supporting cultural institutions. Additionally, collaborating with vendors and artisans can create a memorable and unique experience for your patrons.
Q: Why should I implement the Patron Survey?
A: The Patron Survey will help ensure the future success of Museum Store Sunday. On November 26, we strongly encourage all participants to implement this quick ten-question survey which asks your store's customers on that day about the event and their shopping experience. The survey will take approximately one minute to complete!
The Patron Survey provides important and valuable data for all participants and MSA as we seek a major sponsor for Museum Store Sunday. It also helps document the growing success of our advocacy initiative each year.
Q: What are future goals for Museum Store Sunday?
A: Our short-term goals for Museum Store Sunday include driving brand awareness of the initiative. We plan to achieve this by utilizing social media platforms, websites, and email marketing to consistently share Museum Store Sunday updates, stories, and engaging content. At the same time, we will collaborate with participating museums to share their unique products, events, and promotions.
We also hope to identify and engage a key spokesperson who aligns with the mission and values of Museum Store Sunday. This could be a cultural leader, celebrity, or influencer who can effectively communicate the importance of nonprofit retail and museums. Their involvement could significantly boost the initiative's visibility and credibility.
The long-term goal for Museum Store Sunday is to secure a major sponsor. This would elevate and support this advocacy campaign on a national and global level and would bring greater awareness of the importance and value of museums to the world's cultural life and well-being. Sponsor targets include businesses that are tied to consumer spending internationally, such as major credit card companies, banks, travel/visitor bureaus, and media companies.
Building strong partnerships, leveraging the influence of key figures, and consistently communicating to the world the value of Museum Store Sunday will be key to achieving both short-term and long-term success in years to come.
Here's to a happy and successful Museum Store Sunday 2023!