Crystal Bridges Museum of American Art is taking its arts programs into the community to tackle longstanding issues of inequity and meet critical needs.
---
This article originally appeared in the March/April 2022 issue of Museum magazine, a benefit of AAM membership.
---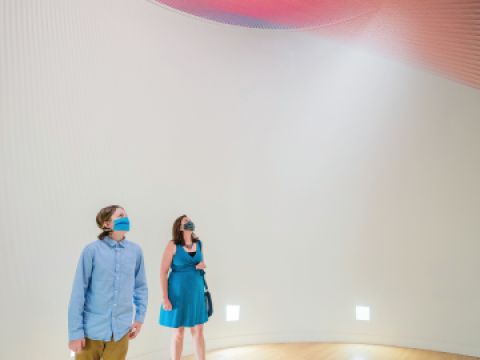 As museums continue to struggle with COVID-19 and the enduring impacts of racial and economic inequity that have excluded some communities from cultural participation, many institutions are heeding the call for deep reflection and change. At Crystal Bridges Museum of American Art, located in Northwest Arkansas, our ongoing journey toward transformation began on March 17, 2020, when we closed our doors because of the pandemic.
This was a destabilizing moment, one that could have easily caused the museum to retreat and lie dormant as the virus wreaked havoc on our region's economic, health, and cultural infrastructures. Instead, we chose to mobilize.
We knew that the pandemic was exacerbating the existing inequity that the vulnerable communities in our region were experiencing. We were committed to supporting Northwest Arkansans during this crisis and had resources such as museum space, staff members, and culinary expertise that we could leverage to help.
We turned to our community partners—an assortment of regionally-based organizations from a variety of industries, including NWA Food Bank, Schmieding Center for Senior Health and Education, and Fayetteville Housing Authority—to give us insight into what our communities needed. In collaboration with them, we identified key areas of support: food, housing, artist relief, internet, and information access, and a campaign for fostering social connections with vulnerable, isolated groups (see "Helping Our Community in Crisis" sidebar on p. 25 for more information on some of our pandemic-related efforts).
The museum's pandemic response was not only helpful in the moment but also showed us a new world of community engagement possibilities that focus on equity and critical needs. What COVID-19 forced into action, we have now expanded and evolved, moving our arts programming into the community to tackle longstanding issues.
Using the Arts for Social Impact
In the early part of 2021, we unveiled a community engagement pilot initiative called the Arts and Social Impact Accelerator Program (ASAP) to activate the museum's resources and staff in an effort to build trust, welcome diverse perspectives, and nurture authentic relationships with the communities we serve. The program is very much a work in progress but is nonetheless critical to the continued relevance and future of Crystal Bridges. Elizabeth Crooke, author and professor of heritage and museum studies at Ulster University, summed up the urgency we feel: "To be of value, museums need to find significance within these communities—without those connections, the museum and its collections will be of little importance. It is people who bring the value and consequence to objects and collections; as a result, if a museum cannot forge associations with people, it will have no meaning."
ASAP cultivates multi-year partnerships with social service agencies and local artists in Northwest Arkansas. The partnerships will incubate ideas that creatively address social issues through collaboration, arts-based solutions, and socially engaged experiences. For the pilot, we paired three local artists––Octavio Logo, Kalyn Fay Barnoski, and Kholoud Sawaf––with three local agencies––Ozark Regional Transit Authority, the University of Arkansas for Medical Sciences, and Arkansas Coalition of Marshallese.
At the beginning of the year, the three artist-agency pairs held listening sessions and community events to better understand the needs of their audiences. This research has informed the following arts-based projects that each pair is pursuing.
Reimagining Public Transit
Northwest Arkansas is a mecca for mountain bike enthusiasts, with over 250 miles of trails crisscrossing the region; however, the lack of accessible public transportation remains a critical community issue that leads to road congestion, increased energy consumption, and lack of mobility for lower-income communities. Through ASAP, artist Octavio Logo and Ozark Regional Transit Authority (ORT) Executive Director Joel Gardner have been working together to learn how community members use the limited existing public transit system. The partnership aims to advance the public conversation about transportation in the region by shedding light on community needs and barriers and facilitating dialogue with bus drivers, community members, and civic leaders.
As part of the discovery process, Logo spent time at ORT attending bus safety training sessions with staff and getting to know the bus drivers. This past summer, the museum hosted a program called "Where To," a pop-up art experience that invited visitors to share their thoughts and experiences about local public transit. At a public housing facility in Fayetteville, Arkansas, visitors joined Logo and ORT bus drivers in creating a temporary mural on the side of an ORT bus. We also organized "Discuss the Bus," a roving community conversation held inside an ORT bus in which community members and civic and cultural leaders could discuss the future of public transit in Northwest Arkansas. More listening sessions, community conversations, and artist activations are planned for 2022, leading up to a multiday transit festival.
ASAP facilitates creative engagements and public dialogue through art, and this approach has significantly informed ORT's process for public input sessions. "By embracing this nontraditional approach to meeting people where they are at, ORT has learned that we can gather real suggestions for improvement from real people in spaces where they are comfortable," Gardner says.
Art and Empathy in Health Care
Multiple studies confirm that exposure to the arts can help medical professionals develop empathy skills. Recognizing this critical community need, artist Kalyn Barnoski, in partnership with Lauren Haggard-Duff, director of the Accelerated Bachelor of Science in Nursing program at the University of Arkansas for Medical Sciences (UAMS), has created "Woven Together," a community weaving and conversation project to help faculty, staff, and medical students at UAMS develop empathetic understanding.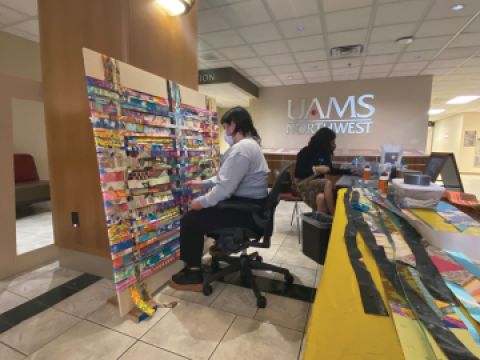 Barnoski spent weeks on the UAMS campus to observe and interact with UAMS personnel and students during interprofessional events. The medical school also held listening sessions where personnel and students viewed and contributed to an art installation while interacting with Barnoski. For Haggard-Duff, these listening sessions revealed that faculty and staff desire more connection with one another and between departments.
The museum also hosted a virtual panel discussion on empathy and health care. Designed for the general public, the talk invited counselors, clinicians, and artists to offer different perspectives on the role of empathy in the healing process.
The project's outcomes include a massive paper and textile weaving project featuring text reflections from staff and faculty about aspects of empathy, belonging, and connection. The project will culminate in a celebration on campus that will include the unveiling of the weaving along with an additional text-based public artwork that Barnoski created. Inspired by her conversations with UAMS personnel, the public artwork will wrap around the medical building's exterior. An art zine, similarly inspired, will be published later in the year.
Reflecting on the partnership, Barnoski describes its potential effect of "platforming decentered narratives within the medical field and helping facilitate relationship building between UAMS faculty, staff, students, and administration."
Amplifying Community Stories
Theater artist Kholoud Sawaf and the Arkansas Coalition of Marshallese (ACOM) Executive Director Melisa Laelan have been working together through ASAP to raise awareness about the Marshallese story in Northwest Arkansas. Years of US nuclear testing on the Marshall Islands, which sit between Hawaii and the Philippines, have forced many Marshallese to leave. This diaspora has spread to Springdale, Arkansas, which is now home to the largest Marshallese community in the US, as many have found employment in the region's poultry industry. This partnership aims to preserve the culture and wisdom of the community's elders, empower and engage Marshallese youth, and discuss policies affecting the community.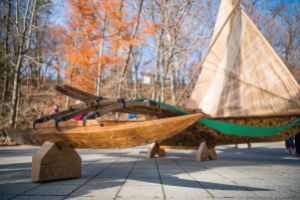 The creative output of the partnership is a multipronged canoe-building project called "Wa Kuk Wa Jimor," or "Canoe of One Community." For four weeks, master boat builder Liton Beasa and his team of youth apprentices were on-site at Crystal Bridges constructing a kōrkōr, a traditional Marshallese wooden outrigger canoe, made from the wood of a dead tree from the museum's North Forest. The canoe was later launched in the waters surrounding the museum during a powerful and moving ceremony and celebration of Marshallese culture.
The canoe is now installed in the museum to help tell Marshallese stories and explore the depth of the Marshallese journey and culture. A digital component of the project will document the canoe-building process and shed light on the positive stories and social issues within the Marshallese community.
For Laelan, the project represents an opportunity for cultural understanding. "If you want to know about the Marshallese culture, you should learn the parts of the canoe," she says. "This canoe is something that we are proud of because it was made here [locally] by the people of this town." For Sawaf, ASAP is an example of how museums can do better by their communities. "Art is not meant to be transactional," she says. "It should be transformational."
Continuing the Work
Darren Walker, president of the Ford Foundation, echoes Sawaf's calls for transformation. "We are in a moment of reckoning, a moment of transformation. This is the time to be bold and ambitious and to challenge the ways things have been done in the past," he said on September 23, 2020, during the State of the Art Summit organized by Crystal Bridges.
For the museum, ASAP represents just one effort of many in our continuing journey toward transformation. We have learned a lot during these challenging times, and we are carrying these lessons forward. This truly is a time to "challenge the ways things have been done in the past." The communities we serve expect nothing less.
---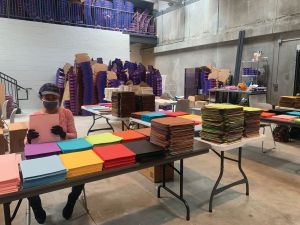 Helping Our Community in Crisis
Crystal Bridges Museum of American Art closed its doors on March 17, 2020, and reopened on June 10, 2020. During closure and beyond, our focus on our Northwest Arkansas community remained strong. In 2020, our efforts to help our pandemic-stricken communities included the following.
The Social Connecting Campaign. We created this effort to help those especially vulnerable to the negative effects of isolation, including patients in hospitals and residents in assisted living facilities. We hired nine local artists to design postcards inspired by the word "together." The postcards were distributed to community members who were encouraged to color in the drawings, write supportive notes, and return the postcards to the museum for distribution to those at risk of feeling isolated during social distancing efforts. Each artist also created a large mural of their design. The murals traveled around Northwest Arkansas medical facilities, assisted living facilities, social service organizations, and apartment complexes as an outdoor, socially distanced exhibition. At the conclusion of the campaign, the murals were displayed at the museum.
Food Distribution. We partnered with the Northwest Arkansas Food Bank to distribute boxes of food to area food pantries and provided meals to nearby schools for distribution to their students. Every food box also included a Creativity Kit that contained high-quality art supplies for children and families.
Household and Personal Care Supply Distribution. We collaborated with the Northwest Arkansas Continuum of Care to connect with social service organizations throughout Northwest Arkansas to provide personal hygiene and house cleaning supply kits to individuals experiencing housing insecurity. A Creativity Kit was included in every box.
---
Our Pillars of Community Engagement
The Arts and Social Impact Accelerator Program is one of four pillars that enable Crystal Bridges to support and deepen community engagement through art, both inside and outside the museum. The other three pillars are:
Access and Inclusion. Programs under this pillar focus on engaging disability communities and seniors and include experiences in the museum for individuals with Alzheimer's and dementia, individuals with blindness and low vision, and youth with autism. We are also committed to raising the level of accommodation, training, and operations across our campus to create an accessible museum environment for guests of all abilities.
Welcoming Communities. Programs and initiatives in this pillar are geared toward transforming the museum into an inclusive space by providing responsive programming and exhibitions that are relevant to local communities and reflect their contributions. In addition, we are developing an internal framework consisting of standards, best practices, and resources to help staff use ethical and culturally sensitive approaches when working with communities.
Art in Communities. This pillar meets people where they are, enhancing arts participation and improving quality of life by providing experiences that promote creativity, social connection, and belonging. A key program is CB to You: Mobile Art Lab, which partners with libraries, festivals, and community centers in underserved areas to bring workshops, performances, and public art featuring local and regional artists.