I have a special place in my heart for exhibits and installations that explore potential futures in creative, immersive ways. As I compiled a collection of such work, at some point I noticed that an awful lot of them originated with one person—Jonathon Keats. There are several through-lines to his explorations: non-human intelligence (the Plasmodium Consortium, a policy research institute run by slime molds created at Hampshire College; an Intergalactic Art Exposition installed at the Judah Magnes Collection of Jewish Art and Life); how technology could transform how we conduct our lives (the Neuroscientific Workplace created for LACMA's Art + Technology Lab; an automated federal government developed at San José State University), and perhaps most consistently, probing the concept of deep time (pinhole cameras that capture images over the course of a century or a millennium installed at the Mead Art Museum and the ASU Art Museum, among others; Alaska River Time, a clock created in partnership with the Anchorage Museum's Seed Lab that measures time by comparing the flow of local waterways to historic data). His most recent project, the Library of the Great Silence, which is as much a museum as a library (being based on objects, not books), embodies several of these themes. Today on the blog, I quiz Jonathon about his work and his plans to establish branches of the library worldwide—perhaps your museum might serve as a host?
—Elizabeth Merritt, Vice President, Strategic Foresight and Founding Director, Center for the Future of Museums, American Alliance of Museums
---
Elizabeth Merritt: Jonathon, you've characterized yourself as a conceptual artist and experimental philosopher. What is experimental philosophy, and how does it differ from the academic variety?
Jonathon Keats: I studied philosophy in school and found it to be fascinating but utterly detached from reality. The strong tendency toward specialization in academia, and the attendant jargon, have kept some of the most powerful ways of thinking out of the public sphere where they're most desperately needed. Over the past couple decades, I've tried to counteract the intellectual reclusiveness of academic philosophy by adapting philosophical methods to address social and political problems through forms of interaction that are accessible to everyone.
I've undertaken this because I don't personally know what's best for the world. I believe that all of us need to work together on the great challenges of our time for the sake of attaining understanding, reaching consensus, and acting in concert. In particular, I find the thought experiment to be especially useful for these purposes, albeit not in the way thought experiments are usually deployed in academia.
In an academic setting, the thought experiment is a form of argumentation. A counterfactual is posited and the consequences are shown to be absurd, ostensibly proving the position of the philosopher presenting the argument. Setting aside the academic sadism of the technique, I think there's a missed opportunity to use the counterfactual experimentally: to examine our world and explore the realm of possibility from the vantage of an alternate reality. Science fiction does this by telling a story set in the future or on another planet, effectively taking the reader on a guided tour of another time or place. What I do is to set up an alternate reality that people can experience together, often in a public space such as a museum, drawing conclusions collectively.
I typically start out by asking what if? For instance, what if the flow of time were measured by the flow of a river? This is a way of asking how our society has been denatured through timekeeping technologies that allow us to coordinate our actions without taking into account the environmental consequences. In order to find out whether clocks are driving the Anthropocene, and to consider other ways of interacting in time, I developed a fluvial time standard. Initially this was presented in Alaska as a projection of a river-calibrated digital clock on the edifice of the Anchorage Museum. I'm now working with Flux Projects in Atlanta on building a permanent municipal clock in a public park.
So that's an example of experimental philosophy as I practice it. The practice is inherently versatile. An experimental philosopher can be a clockmaker one day and a librarian the next.
EM: Deep time is a central concept for many of your experiments—the Century and Millennium Cameras, and five-thousand-year time frame of the Centuries of the Bristlecone. What do you hope, or expect, will result from prompting people to think far into the future?
JK: I try not to have expectations. In fact, my wariness about expectations and skepticism about predictions are primary motivations for working in deep time as I do. I want to entice people to enter the realm of possibility with me so that we can collectively imagine what might be, and communally consider what we want to happen, in order to coordinate our present-day decisions. Broadly speaking, I believe that responsibility involves working together for a better tomorrow according to the best of our understanding today, while openly acknowledging uncertainty and committing to reconsideration of everything as circumstances and stakeholders change.
My clocks and cameras are philosophical instruments designed to make possible futures palpable in the present, to focus observation, and to prompt reflective anticipation. I described one of the clocks above. Another clock, planned for the Nevada Museum of Art in partnership with the Long Now Foundation, is calibrated by the growth of bristlecone pine trees, which live for as long as five millennia. The calendrical indication of this clock can reveal the short- and long-term effects of climate change, which will affect the tree's growth rate. The date may get to be far ahead of or behind the Gregorian calendar, revealing ground truth through time. Alternatively we can use the clock and calendar to calibrate our lives, moderating our actions now.
The cameras that I've installed in the Tahoe Basin and the Pioneer Valley of New England will each take a single photographic exposure over the next thousand years. For people in the far future, these devices can provide a visual record of forty generations of ecological impact. For us, they encourage collective self-examination in the moment and encourage us to consider the long-term consequences of our individual and collective behavior. We're challenged to change the picture to reflect what we wish future generations to see based on the choices we make today and every day.
EM: Since several of your experiments have been staged in, and with, museums, can you offer some observations about museums as a genre, and as organizations? Are there ways you would encourage museums to challenge the paradigm that guides their behavior?
JK: I remember visiting the Metropolitan Museum of Art as a child. I visited often, and I remember getting lost in collections I had no interest in seeing before I discovered them. I had no idea what to expect. I learned to be open to everything. I learned never to take a map. The Met was a cabinet of wonders. I was privileged that the wunderkammer in my neighborhood spanned four city blocks.
There are corners of the Met that still have that quality for me, corridors that I'm convinced have never been detected by curators. In Europe and Asia, I've encountered other museums that are equally eclectic. But professional standards, concerns about visitor experience, and commitments to STEAM education have led most institutions to clean up the clutter. I would encourage greater chaos.
I don't mean that every museum should always be befuddling. A white cube provides the advantage of focus. And I'm not advocating chaos by design, as has become popular in some immersive spaces. What I'm saying is that there is value to genuine disorder as a result of consensual negligence. There is value to the unexplained and inexplicable. The imagination is primed by free association. As the filter bubble of social media increasingly narrows minds online, we increasingly need physical spaces where expectations are confounded and mental models are sundered.
Forests naturally provide this experience through overwhelming abundance, providing an experience that is sometimes aptly known as soft fascination. I would advocate something equivalent in cultural spaces.
EM: Communicating across time, or across species, forces us to depend on prompts other than language. Your current project, the Library of the Great Silence, solves that challenge by embodying knowledge in objects, rather than books. Tell us a bit about the library and its goals. What kind of time frame are you applying to the planning for the library? How long will it need to exist, to increase the chances it will connect with the cosmos?
JK: In truth, the impetus for the Library of the Great Silence was the dearth of communication at a cosmic scale. For the past century, humans have been listening attentively for messages from beings elsewhere in the universe, and have heard nothing. One explanation is that we're alone. Even more haunting is the possibility that civilizations tend to self-destruct when they reach the level of complexity needed to make their presence known across the cosmos. This hypothesis was first ventured during the Cold War—coincident with the period when early episodes of I Love Lucy were first detectable in other star systems—and has only come to be more plausible as we face ever greater existential threats here on Earth.
I was thinking about the so-called Great Silence when I became an artist-in-residence at the SETI Institute last year. And I asked myself: What if the silence were broken? If we're not alone, and we're visited by aliens, what should we discuss with them? Existential risk struck me as the most urgent subject, and also the most pertinent to all parties. It seems to me likely that we've managed to overcome some threats to our existence that may lie ahead for others, and vice versa. I decided to build a library as a center for interstellar research about survival and flourishing.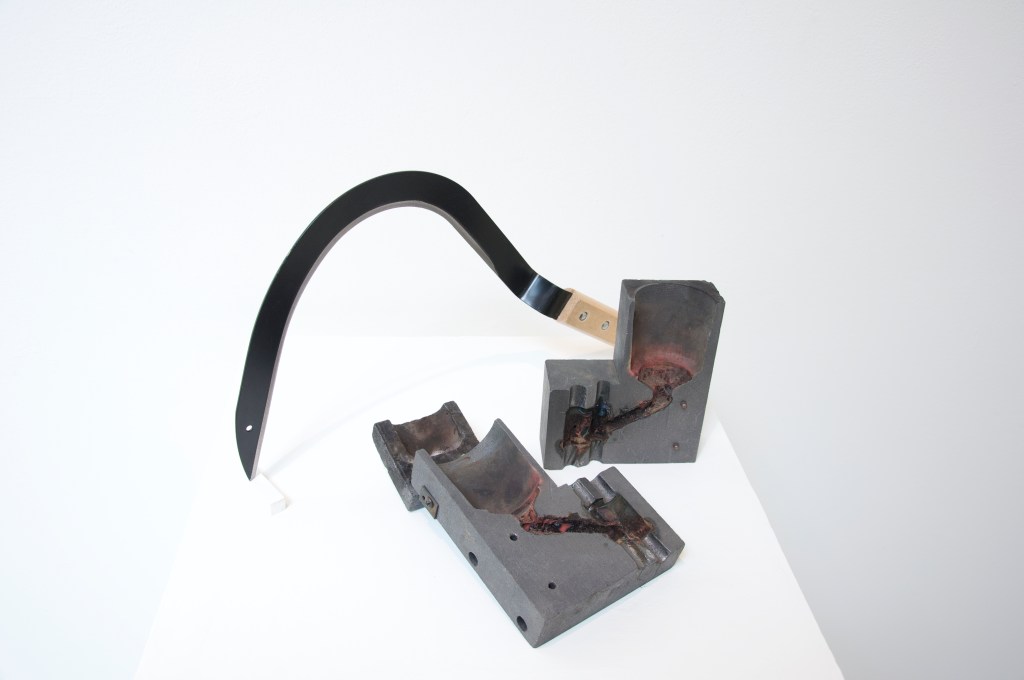 The Library of the Great Silence is an epic thought experiment in the form of an institution intended to persist through deep time. It's open to all beings, regardless of their origin. For that reason, I have opted not to collect books that require literacy in English or another human language to be intelligible. Instead the library comprises a collection of objects that have been implicated in and are representative of transformations here on Earth. These range from a paleolithic handaxe to fragments of trinitite produced by the first atomic bomb explosion. There's coal and concrete and plastic, artificial fertilizer and penicillin. (And yes, there's a mechanical clock.) Because these objects are simply themselves, and not represented symbolically, their meaning is hypothetically accessible to all beings everywhere. In any case, the lack of symbolism undercuts many of the assumptions latent in the languages we speak.
I have already initiated a global selection process for objects in partnership with the SETI Institute (and would welcome nominations from readers). I have also developed apparatus to silently interact with these objects, to create concepts, and to deliberate about the consequences of the transformations instantiated by the objects, which I recently exhibited for the first time at Modernism Gallery in San Francisco. By these means, I believe we can come to a deeper understanding of the causes of existentially threatening phenomena such as overreach. We can also potentially find new ways to thrive.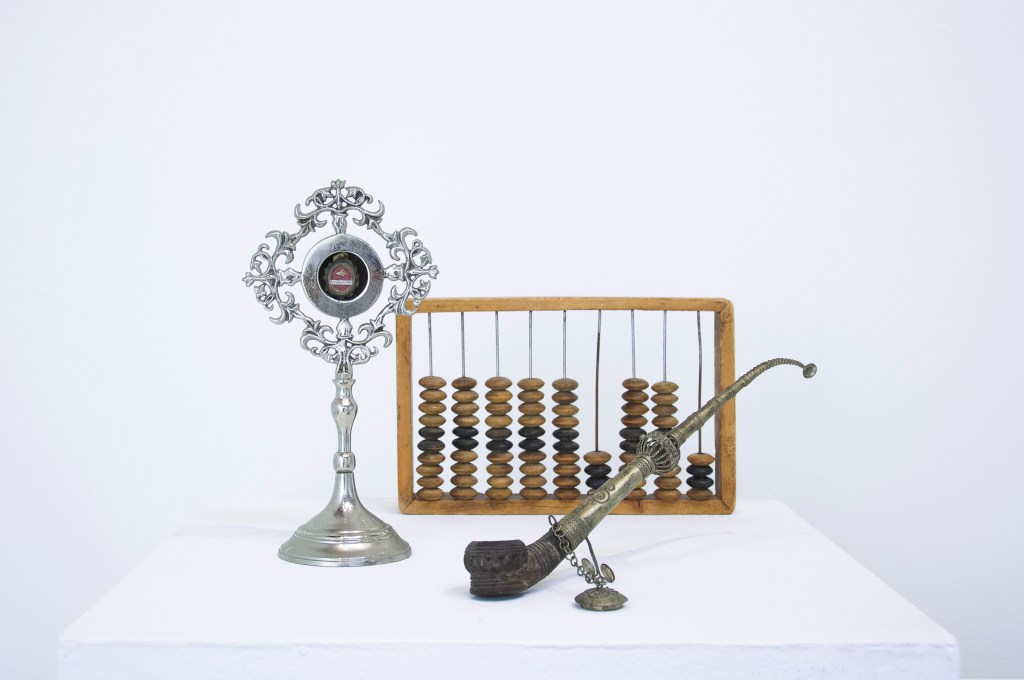 Of course the 'we' involved in all I've just said is less than straightforward. I have no reason to believe that extraterrestrials showed up in Italy last summer when I prototyped a branch library in Abruzzo. I think it's highly unlikely that extraterrestrials will enter the library while I'm still alive. If there is intelligent life elsewhere in the universe, the intended longevity of the library will increase the likelihood of engagement by aliens by extending the span of opportunity. Perhaps this will provide some small motivation for us to be more responsible, in order for humankind still to be around to greet them.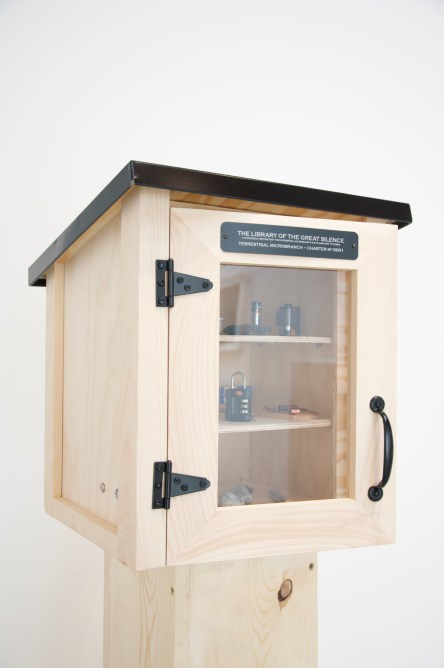 But ultimately I don't think the arrival of extraterrestrials, or even their existence, is so important. What matters most is that we humans come together to engage the problems we all face, and that we do so with open minds. The Library of the Great Silence is a thought experiment instantiating an alternate reality in which beings everywhere can solve problems together. It's a provocation and a model for public engagement. If it brings earthlings to undertake the collective introspection needed for planetary wisdom, the thought experiment will no longer be necessary.
EM: I understand you are looking for organizations interested in hosting satellite sites of the library. Would you like to say more about that opportunity?
JK: Although the plan is eventually to build a headquarters for the Library of the Great Silence on Mt. Lassen, where the SETI Institute's Allen Telescope Array is located, my short-term ambition is to establish as many outposts as possible to engage the broadest possible public. These range from neighborhood micro-branches modeled on the Little Free Library system to locally organized community branches occupying abandoned public spaces.
I also see a great opportunity for partnership with museums, especially those with holdings that might represent societal transformations. (This is also a way in which museums can recontextualize collections, giving relevance to materials that are seldom shown.) From temporary exhibitions to permanent installations, I invite any and all forms of collaboration. If you are interested in discussing possibilities, please email me at jonathonkeats@gmail.com.
Skip over related stories to continue reading article