---
This article originally appeared in the May/June 2022 issue of Museum magazine, a benefit of AAM membership.
---
The Ohio History Connection is linking emerging new American leaders with community resources, networks, and civic education to empower their communities.
"Two community organizers walk into a museum …" could be the opening to a pretty lame joke. But the "punchline" in this case was a new opportunity for the Ohio History Connection to serve immigrant and refugee Ohioans.
When the Ohio History Connection hired me and my former colleague, Ibrahima Sow, in 2017, we didn't have a background in museums or history. We came from the world of community organizing and politics. We both had experience building coalitions of everyday Ohioans, but we didn't know what lay before us at a state history organization that includes the state historic preservation office, the official state archives, state history museum, and more than 55 sites and museums across Ohio. But we did know what brought us to the organization—a love of history and the power it has to uplift the stories of historically excluded people.
When Ibrahima and I arrived, the Ohio History Connection was already informally weaving community trust-building into the museum's long-standing work. We simply brought new techniques and best practices from our previous roles. That new blend of perspective and passion would become the Emerging New American Community Team, or ENACT.
ENACT connects emerging new American leaders—including immigrants, refugees, asylum seekers, and first-generation Americans—with community resources, networks, and civic education so that they can build a base of knowledge that empowers them to become community advocates, increasing their sense of belonging in the larger metropolitan community.
"I felt a sense of belonging talking with the other fellows during the events. … It was interesting to see how many of us had identified similar needs within the communities we were working with. And that we all had similar experiences as new Americans/immigrants."

—ENACT participant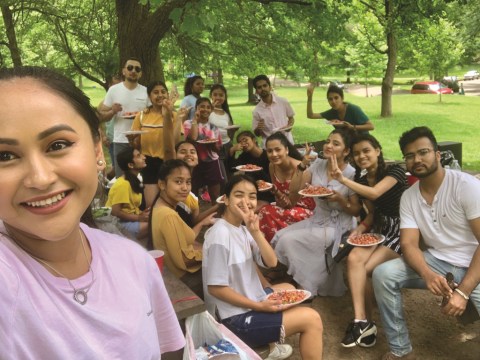 How ENACT Started
Around the time that Ibrahima and I joined the Ohio History Connection staff, the Institute of Museum and Library Services (IMLS) launched its Community Catalyst Initiative, which challenged libraries and museums to innovate in how they anchor the communities they serve. The Ohio History Connection team before us had begun to build connections with two new American service organizations in Columbus: Ethiopian Tewahedo Social Services (ETSS) and the Bhutanese Community of Central Ohio (BCCO). We had candid conversations with members of both organizations, and they each brought up how new American communities needed a voice in larger Columbus decision-making.
Central Ohio and the city of Columbus are home to the largest population of immigrants and refugees in the state. Yet, at the time, they didn't have any elected representatives at the state, county, or city level. Central Ohio new Americans are chronically underrepresented in the community thought-leader space as well, which includes nonprofit boards, neighborhood commissions, and other systems that make daily decisions on behalf of citizens. If you don't have a say in how your larger community operates, how can it ever feel like home?
Working with ETSS and BCCO, we created ENACT, a yearlong cohort of 15–20 emerging immigrant and refugee leaders—the ENACT Fellows. The first six months of the program focus on knowledge exchange workshops and networking, which inform the next six months of designing and implementing community advocacy projects. Examples of previous projects include a Bhutanese girls youth soccer team, art therapy and yoga for Eritrean youth, a financial literacy class for the Hispanic community, and active-
play care packages for Congolese youth, to name a few of the nearly 20 projects launched in the first two ENACT cohorts.
Before you say it: I know, another leadership cohort. But ENACT is uniquely built for and by the immigrant and refugee community. Existing programs in the Columbus area had geographic, cost, or cultural barriers to participation. With ENACT, our community partners had an outsized influence in building something relevant, while Ibrahima and I brought our experience with community organizing; collective impact; and asset-based community development (ABCD), which inverts traditional community development practices focused on what is "missing" from historically underserved and excluded communities, and instead embraces the many strengths and assets already existing in a community. (See "Principles of ABCD" sidebar on p. 28.)
How ENACT Works
Ensuring that ENACT Fellows have access to the full breadth of Central Ohio community institutions and resources requires intentional coordination with partners across the region. That is why each ENACT cohort begins by building the planning committee. These are our closest core partners that oversee the cohort from start to finish. We have been honored to have ETSS, the BCCO, Columbus Metropolitan Library, Columbus Public Health, the Ohio State University College of Social Work, YMCA of Central Ohio, and Welcoming Cities serve as planning committee members across the first two cohorts.
For each yearlong cohort, the Ohio History Connection assembles partners for the planning committee, and the planning committee recruits and oversees the cohort. Since it is essential to center the voices of the new American community, we include two to three grassroots, immigrant, and refugee service organizations on the planning committee. From there, we will add two to three larger community-serving institutions as well. That mix of both large community institutions (e.g., Columbus Metropolitan Library, Columbus Public Health, YMCA, Ohio State University College of Social Work, etc.) and smaller, on-the-ground immigrant and refugee organizations (e.g., BCCO, ETSS, Latinos Unidos, etc.) provides stability given ever-changing community landscapes while still centering the voices of new Americans in decision making.
Many of the program's best evolutions have come from the planning committees, including making the entire ENACT program trauma-informed. The immigration, refugee, and asylum process can be incredibly traumatic, and we would never want to retraumatize those we hope to empower.
Once the planning committee is established, the members outline the topics for six knowledge exchange and networking workshops. The only required topic is civic engagement. Otherwise, we want the community leaders on the planning committee to define the focus areas for each new cohort. This allows ENACT to remain adaptive and receptive to an individual community's needs and challenges at any particular moment. Workshop topics have included public health, libraries/information navigation, parks and recreation, public safety, housing, transportation, and education.
Once those topics are outlined, collective impact again becomes crucial. We connect with community institutions and organizations that have subject matter expertise in the topic area to lead the workshops. However, these are not traditional one-way workshops but interactions that include time for dialogue.
The fellows come into the program with incredible community knowledge and insight, which can help these civic institutions better serve Central Ohio new Americans. Additionally, to deliver as much of a "whole community" perspective as possible, each workshop typically utilizes two different partners: the "big" community institution with broad oversight for the topic area in the community as well as a smaller organization that assists at the grassroots level. For example, a housing workshop included the participation of the city attorney's Code Enforcement Office as well as Habitat for Humanity.
As the partners begin building the workshops, the planning committee starts recruiting fellows. Rather than doing a public solicitation, the planning committee organizations nominate 15 to 20 ENACT Fellows. We trust our partners to elevate those in their communities who are actively engaged in service or leadership—the Ohioans who are already trying to make their communities a better place.
ABCD teaches us that the community is home to the vast majority of assets needed for a community to flourish, we just need to trust and uplift those people. I am continually humbled and impressed by the fellows' talent, skill, and passion.
Feedback from the fellows also helps continually improve ENACT. We send out short, "pulse check" surveys after each monthly workshop to ensure that the fellows are gaining relevant knowledge that helps support their advocacy projects. Based on such feedback, we've worked with our partners to include more dialogue with the fellows in the workshops.
Fellows are allowed to team up if they want to build an advocacy project addressing similar community needs. We work with them on project planning, basic tenets of ABCD, and budgeting to help them build their projects for impact either in the short or long term. A great example is Tika Adhikari's advocacy project, Empowering Women without Blaming the Past. Women in the Bhutanese refugee community can feel isolated, which the COVID-19 pandemic made even worse. Tika utilized her assets as a trusted convener and created a virtual women's group where participants could share about their families, jobs, successes, or challenges. The group heard from mental health professionals and representatives of other community resources, but most importantly, they built their own informal network of refugee women with similar lived experiences to connect, share, and build resiliency.
"ENACT changed my life. It changed the way I view the world, and it taught me to speak up for what I believe in. It has been super impactful, and I will never forget what I learned at ENACT."

—ENACT participant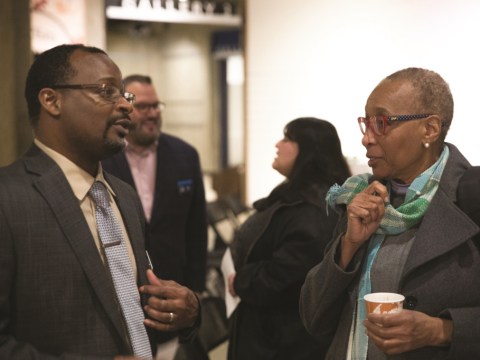 Looking Ahead
As ENACT matures, we continue to direct as many resources to the fellows as possible. They receive stipends for participation and to help implement their advocacy projects. If we aren't handing off as much power and dollars as possible to the people and communities we hope to impact, then what's the point? The Resident Power Ladder, an ABCD evaluative tool, demonstrates how we try to shift that power to fellows throughout each cohort's year, tracking fellows' movement from recipients of information to information sources, advisors to community partners, and, ultimately, leaders.
Hosting the closing ceremony is always a bittersweet moment for me. Seeing a cohort of fellows depart ready to take on the next challenge is exactly what we hope for, but we miss their passion and dedication. The closing ceremony gathers ENACT's entire community of families, partners, and community leaders. We want the community to share in the fellows' incredible work, but the event is also one last chance for the fellows to strengthen their network and hopefully find their seat at a decision-making table.
The ENACT model is designed to be iterative. For ENACT to succeed, it needs to build coalitions of different partners who discuss different topics and recruit different fellows so that the program can shift and flex with ever-changing communities. We are currently running a cohort in Dayton, Ohio, and are planning on launching another in Central Ohio focused on more intentionally addressing social determinants of health in new American communities. I am immensely proud that a former ENACT Fellow, Sofialyn Durusan, now runs those programs.
We believe ENACT is a tool for museums, libraries, and community institutions to more equitably serve their communities. When we empower immigrant and refugee voices in Ohio and across the country, we build more inclusive, resilient, empathic, and successful communities. Trust me, I've seen it firsthand.
---
Principles of ABCD
Asset-based community development (ABCD) challenges those who want to improve a community (whether geographically, identity, or affinity based) to "start with what's strong, not what's wrong." Too often, we view historically excluded or underserved communities from a lens of what they don't have without recognizing the incredible existing assets that if connected, equipped, and empowered can overcome challenges that those in traditional community development would say only an outside actor could take on.
There are six kinds of community assets:
Individuals
Associations (informal groups, such
as book or garden clubs)
Institutions (formal community organizations, such as nonprofits, religious organizations, or government)
Physical space
Exchange (local businesses)
Culture/stories/history (museums, storytellers, artists, etc.)
---
Resources
Interested in running your own ENACT program or want to know more? Check out ohiohistory.org/ENACT for the original logic model, an ABCD Resident Power Ladder, videos of fellows, and ways to connect with the program.