This article originally appeared in the July/August 2022 issue of Museum magazine, a benefit of AAM membership.
---
Academic museum professionals can use their institution's resources to help the wider community better understand the climate crisis.
In her keynote address to the UK's Museum Association in 2019, climate activist and attorney Farhana Yamin began by posing a provocative question: "How many of you have declared a climate and ecological emergency?"
As the trusted public-facing interpretive bridge between research and innovation on university campuses and the public at large, academic museum professionals are practiced experts at dialogic display and interpretation across and among our cultural heritage, exhibitions, and public programs and scholars, scientists, artists, public intellectuals, students, and wider communities.
Often, academic museums are the first cultural organizations to begin publicly introducing the difficult stories, crucial truth-telling, and alarming data that originates out of new scholarship. Academic museums are therefore in a unique position relative to the climate crisis and its solutions.
Sustainability Leadership in Higher Education
Because they are nested administratively within universities and colleges of all types and sizes, academic museums often find themselves in the uniquely complex intersection of policies and practices dictated by the parent institution's leadership and operations. In other words, most academic museums look to their parent institution to make many emission-lowering sustainability changes and policies.
Universities and colleges have created coalitions and associations to coordinate sector-wide accountability for addressing climate action. Now in its 29th year, Second Nature has secured commitments from over 450 universities and colleges to reach net zero emissions. Each institution actively reports their progress using a carbon and nitrogen accounting tool called SIMAP that was created by the University of New Hampshire's Sustainability Institute.
"Presidential commitments used to be the primary way that climate action got started," says Second Nature President Timothy Carter. "Today, because climate action is taken for granted on many campuses, the senior leader's role is evolving, and many campuses are expanding beyond operational action into a 'whole of higher education' understanding about the climate emergency. This is an important maturation of higher education's role in responding to the crisis."
While Second Nature currently focuses on university leadership and institutional commitments, the Association for the Advancement of Sustainability in Higher Education (AASHE) works on strengthening and growing curricula; helping faculty, administrators, and students create effective campus and community programs; and transitioning operations. AASHE also manages the Sustainability Tracking, Assessment and Rating System (STARS), a self-reporting framework for colleges and universities to transparently document and measure their sustainability performance across 18 categories, including academic and public engagement, well-being, and diversity.
Academic Museum Climate Actions
Academic museums are uniquely positioned within the museum sector to lead community education about sustainability and environmental justice because of their access to current research and expertise across a range of university disciplines. At many institutions, researchers have deep knowledge of local and regional history, culture, and ecosystems. As universities and colleges start to re-evaluate their origins on expropriated Indigenous land, ecological expertise has expanded to include Indigenous inhabitants and caretakers, further informing institutional sustainability practices and environmental scholarship.
For example, the Burke Museum of Natural History and Culture at the University of Washington was recently cited for its leadership in new construction by AAM's Environment and Climate Network Sustainability Excellence Awards. The museum's strong reciprocal relationship and exchange with Indigenous peoples is reflected through knowledge sharing and equitable practices that often intersect with climate and environmental justice issues. A recent building project reduced the total footprint of the facility, and the redesign made the formerly closed collections and research lab spaces more open and accessible to the public. Energy-efficient lighting, low-flow water fixtures, a new air quality and mechanical system, and use of local, recycled, and durable materials were combined with natural stormwater filtration and ethnobotanical plantings for a more resilient campus.
During the pandemic, the Bell Museum at the University of Minnesota undertook sustainability efforts that garnered an honorable mention from AAM's Sustainability Excellence Awards in the category of facilities and site operation. The museum made adjustments to its air circulation and energy consumption monitoring, remediated the impact of increased outdoor visitor traffic, and made easy, climate-friendly changes to cleaning protocols. With more visitors eating meals outside and spending time on the museum's grounds, the staff had to tackle a growing wasp problem connected to visitor waste. Wasps not only sting visitors, but harm bee colonies. The museum called researchers at the university's Bee Lab and coordinated with the university's vendor to develop a new sustainability-focused response. Inside the facility, supply shortages created a scarcity of materials that led to new, sustainable operational cleaning solutions: reusable and cost-effective kitchen gloves replaced disposable latex gloves and compostable absorbent wipes replaced paper towels.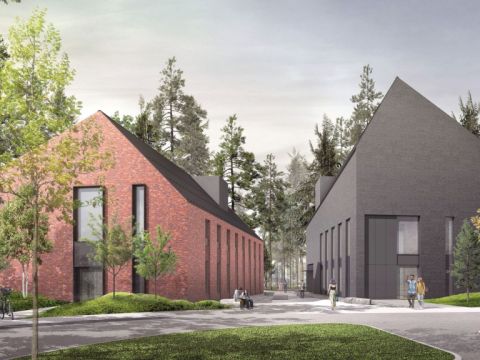 The University of New Hampshire, located on the Great Bay, one of the largest estuaries on the Atlantic Coast, maintains an elite platinum STARS ranking. UNH is a leader in marine biology and ocean research, and the university's Museum of Art has worked closely with the on-campus Sustainability Institute on a variety of art initiatives, including public art, video competitions, and art exhibitions, to make climate research visible to the campus and wider community. One such project, "Long Eye," featured work by Anna McKee, an artist who visited the West Antarctic Ice Sheet Divide ice core field camp where the university managed the Science Coordination Office. Her installation artistically interpreted the past 68,000 years of Antarctic temperature fluctuations and geologic time, visually expressing the dramatic acceleration of current climate change.
Alongside university sustainability offices, which are often focused on helping the institution measure, track, and report their campus-wide transition to green energies and new policies and practices, interdisciplinary centers and institutes are coordinating research, programs, and communication. UCLA's Laboratory for Environmental Narrative Strategies (LENS), Princeton's High Meadows Environmental Institute, and Arizona State University's Global Institute of Sustainability are just a few examples. Many centers and institutes include collections, host exhibitions, and run public programs.
Located in Brunswick, Maine, Bowdoin College's John and Lile Gibbons Center for Arctic Studies and neighboring Mills Hall complex bring together labs, classrooms, auditorium spaces, and the Peary-MacMillan Arctic Museum. The new energy-efficient buildings are scheduled to open in late 2022 and are designed using a mass timber structural system (instead of steel) that reduces the carbon footprint by 75 percent and eliminates the use of fossil fuels in building operations. More than 80 native trees will replace those removed for the construction.
In addition to organizing recent artist talks for interdisciplinary courses taught by Princeton's High Meadows Environmental Institute faculty, new national nonprofit ViVA (Virtual Visiting Artists), partnered with Saint Vincent College's Verostko Center for the Arts and Foster and Muriel McCarl Coverlet Gallery to craft a series of four virtual artist talks on climate change and environmental justice. By hosting virtual visiting artist talks instead of on-campus, in-person visits, Saint Vincent reduced travel-related CO2 emissions by 2.1 metric tons. That equates to traveling around the world 8.7 times by electric train or being vegetarian for 3.9 years.
With National Endowment for the Humanities (NEH) support, several academic museums around the country have begun to undertake assessments and adjustments to collections care and facilities in light of extreme environmental threats. The Museum of the Coastal Bend at Victoria College, a public community college in coastal Texas, is located in an area affected by Hurricane Harvey in 2017. Collections traversing 13,000 years of Texas history were exposed to damaging high heat and humidity due to hurricane-related power loss. The museum is now seeking to address preventative conservation measures and disaster response capabilities with the NEH funding.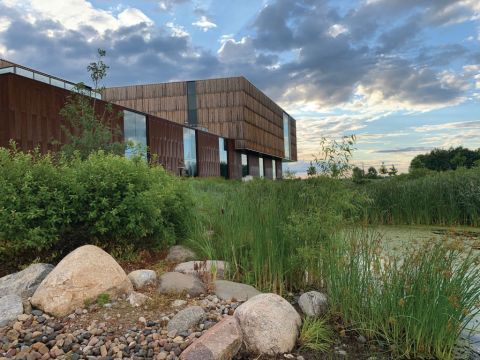 A Call to Action
Academic museums, with their outward-facing positions on campus, frequently act as sites for community conversations and dialogue. They are places where adaptation, resiliency planning, and environmental policies can be discussed in trusted, creative, and collaborative spaces. Museums can and should be seen as reliable partners in keeping people engaged in sustainability efforts that also focus on health, democratic practices, and the healthy ecology of communities through cultural participation.
For this to occur, however, higher education administrators, sustainability professionals, and faculty need to recognize museums as a unique asset—in a divided time we are one of the few trusted interdisciplinary hubs for both internally focused and public-facing efforts tied to climate change and environmental justice education, the translation and showcasing of research and expertise happening on campuses, and empathic storytelling that will activate greater action throughout wider communities and regions
Also, the larger museum community can learn a great deal from higher education. The museum sector and its leadership should look to higher education's coordinated undertakings to formulate comparable measurement and tracking tools, seek signatory commitments from member institutions, and encourage the community to find solutions and take action to reduce greenhouse gas emissions. To both sectors, we suggest that the accreditation processes reflect greater insistence on sustainability measures.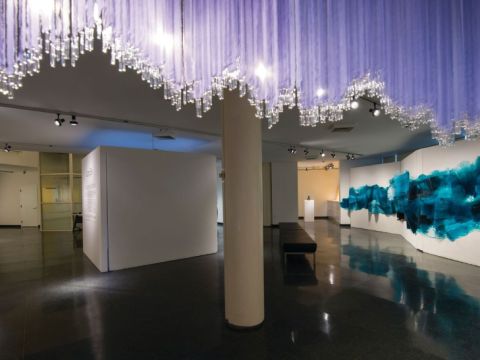 ---
Tips for Getting Started
In addition to the institution's sustainability office, work with university environmental offices (often located within facility and maintenance units) to undertake energy audits to identify and remediate heating and cooling losses in museum buildings. Consider ways this work could involve environmental or sustainability studies faculty and students.
Work with campus planning offices to evaluate and rethink exterior spaces, including their suitability for outdoor seating, adaptive landscaping to mitigate heavier rainfall, or options for increased shade.
Collaborate with on-campus experts to write a climate plan—a strategic plan for how the museum will measure and reduce greenhouse gas emissions.
Revise your disaster preparedness and emergency response policy to better fit the projected reality for your geographic locale in the face of climate change.
Prioritize regular and ongoing curatorial, public education, and informal programming centered on the intersectionality of climate change and environmental justice. Find creative ways to use your collections to educate your campus and community about these issues.
Offer your campus museum as a beta site for piloting front-facing testing of practices and messaging around new sustainability policies and programs.
---
Resources
STiCH
This calculator compares the carbon footprint of museum materials to aid in selecting those with a lower impact.
stich.culturalheritage.org
ViVA Virtual Visiting Artists
Nonprofit that connects intersectional climate change and environmental justice artists to academic museum audiences, classrooms, and fellow cultural organizations.
vivavirtualartists.org
Galleries Commit & Artists Commit
Sister organizations in the US collaborated to form these initiatives to help measure, track, and shift gallery and exhibition practices.
galleriescommit.com; artistscommit.com
Julie's Bicycle
A multifaceted UK-based organization addressing climate crises across multiple programs, disciplines, and tools.
juliesbicycle.com
Ki Culture
Based in the Netherlands, this nonprofit works to connect resources and expertise to the cultural sector and is noted for its publications.
kiculture.org