To say that a lot has changed for cultural institutions and museums in the past few years is an understatement. This is a time when visitors, who have spent the last two years enduring a global pandemic, are consuming professional and amateur digital content at a rapid pace. Leading an institution during this time requires a keen awareness of and concern for the shifting interests and expectations of today's visitors, influenced by changes both related and unrelated to the pandemic.
One of these changes has been the increasing popularity of immersive and multimedia experiences in the art and entertainment sectors. Jennifer Matotek, the Executive Director of Art Windsor-Essex (AWE), has been watching this trend closely. Matotek developed an interest in digital technology in the early part of her career, when she was a practicing video artist.[1] After shifting into educational, programmatic, curatorial, and leadership work in various Canadian institutions—such as the Art Gallery of Hamilton, The Power Plant Contemporary Art Gallery, The Toronto International Film Festival, and the Dunlop Art Gallery—in April 2020 she became the Executive Director of AWE, known for its collections of contemporary, historical Canadian, and Indigenous art.
With her dual backgrounds in digital media and cultural institutions, she has observed the growing popularity of immersive experiences with a curiosity about what makes them so appealing to the public.
"People love the Van Gogh and Monet [experiences] because they're cool," she said. "But people also like them because they don't like going to museums. They would rather walk into a convention center than a museum. In a convention center, you can goof off with your friends, you can talk, you can run around. Those things you can do in an immersive experience and a convention center, you are told you are not allowed to do or supposed to do in a museum."[2]
Skip over related stories to continue reading article
Wondering if a museum could replicate this, and feeling the need for an institution to serve as a relevant and meaningful space for diverse people during the pandemic, she led AWE in creating its own multimedia art experience entitled Against the Current.
Developing and Exhibiting Against the Current
When the pandemic started, Matotek and the rest of her staff had to think of alternative ways to engage visitors after Art Windsor-Essex closed. So, she and her team turned to the digital realm and created online programs and resources, such as virtual tours and artist talks, and an online portal for teachers to use in their classrooms. However, Matotek was also eager to craft something that would allow visitors prohibited from entering the institution during lockdown to engage with art in a safe and fun way. Then came conversations with employees of Moment Factory, a multimedia entertainment studio based in Montreal that specializes in creating immersive and digital environments for museums, historical sites, public spaces, and famous touring musicians, such as Billie Eilish, Childish Gambino, and Madonna. The partnership with Moment Factory produced the project that eventually became known as Against the Current.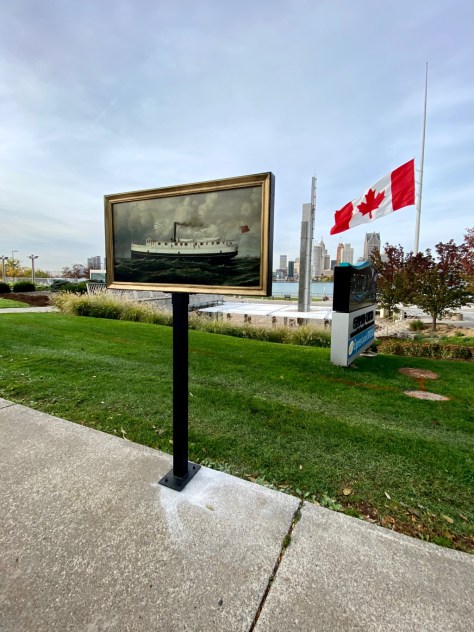 In its early stages, Against the Current started as an outdoor exhibition called AWE Offsite: Look Again! Outside, which opened in November 2021. It featured nine reproductions from the institution's permanent collections strategically placed in different areas of downtown Windsor. After the exhibition's debut, Matotek sought the help of her Moment Factory collaborators, who advocated incorporating technology and digital media into the experience.
In the new version of the project, which had a soft launch in March 2022, visitors go on an interactive art walk using their smartphones and downtown Windsor's free Wi-Fi. They scan a QR code located beneath eight of the nine art reproductions, which leads them to the landing page of the experience's app. From the landing page, they can access a map and play mini-games designed to help them interact with and think about art in new ways.[3]
For the experience, Matotek wanted to prioritize accessibility and user-friendly technology. As such, having visitors use their smartphones seemed like a good choice.
"Everyone is on their phone all the time now. So, if you are going to meet people where they are, you have to meet them on their phones," she explained. "There are some people that say, 'The museum is the place where you should be putting your phone down.' But our brains are not letting us put our phones down."
Since the gamified version of Against the Current debuted recently, it is too soon to know its full impact and outcomes. However, Matotek noted that some potential benefits of the experience include gaining new visitors and contributing to the survival and prosperity of downtown Windsor.
"We recognized that the people who would be encountering our reproductions outside are not the typical audience. They're people that maybe never go into a museum ever because they don't feel comfortable, they don't feel welcome, and they don't know what they would do if they got there," she said.
Matotek hopes that the experience will encourage visitors to continue engaging with the institution and visit its indoor collections. To drive this outcome, she and her Moment Factory collaborators have built an incentive structure into the app's mini-games. Once visitors have earned enough milestones in the games, the app encourages them to return to the institution, where they can receive a discount on admission, see one of the original artworks reproduced in the experience, and participate in a final game challenge.
She is also hoping the experience will drive more people to visit the city's downtown, which has been struggling from the loss of office workers during the pandemic. "A lot of places have been decimated because people aren't coming downtown as much. So, you have to create reasons for them to come downtown if they are not coming in for work," she explained.
Valuing Play
The experience's app features intentionally pithy descriptions of the featured artworks and their historical contexts, compared to the typical length of labels in museum settings. This is because, for Matotek and her Moment Factory collaborators, providing didactic texts was not the primary purpose of the experience. Instead, they identified play and fun as key goals.
"Why have we elevated education over play? What has happened to play?" asked Matotek.
Museums tend to privilege traditional Western education methods, viewing increased knowledge as the main objective of curated exhibitions and programs, she explained, but this does not always align with what visitors actually gain from the experience:
"There have been a lot of studies of people's motivation to come to museums and a lot of people will say, 'I came because I wanted to learn something. Or I came with a friend, I wanted to have a social experience.' But in the end when you ask people what they got out of their experience, often the answer is, 'Well, I had a spiritual experience, and that is not what I intended to have. I did not intend to go to the museum as one person and leave as someone else.' To think that standard education is the only way that transformation happens is a colonized viewpoint."
During the development phase of the exhibition, Matotek and her Moment Factory collaborators wanted to embrace play and fun as essential components of the creative process.
Cloé St-Cyr, the Creative Director of Moment Factory, reinforced this during the 2022 AAM Annual Meeting & MuseumExpo presentation "What's Tech Got to Do with It? Innovative Applications of Technology in the Digital Age of Exhibitions," which also featured Matotek as a panelist.
"We like to think that the best ideas come when we are having a blast and laughing out loud. We need to have fun in the process for the people we create these things for to have fun as well. This mindset of playfulness opens creativity and educational absorbance," St-Cyr said.
Building a Sustainable Future
For AWE, experiences such as Against the Current are necessary for building a sustainable future and attracting different generations of visitors. So are partnerships with innovative organizations and companies like Moment Factory.
Matotek recognizes that challenges have prevented and will prevent some art institutions and museums from embracing the digital.
"I think one problem is that [the] digital is so expensive and museums have had so little money for so many years, [that] it has been very hard for them to get into showing artists that work with emerging and immersive technologies," she said.
But budget does not necessarily need to be a major deterrent. In the #AAM2022 presentation, St-Cyr emphasized that hired collaborators can work with an institution's budget and help their clients use appropriate and customized technology in big or small ways to "create a whole world or touches of magic."
Other challenges that may hinder the incorporation of the digital include receiving resistance from visitors, artists, or board members who may oppose the integration and display of technology alongside museum objects. Matotek and her Moment Factory collaborators intentionally chose to disrupt established conventions of displaying art by pairing them with QR codes and an app and exhibiting the works outside the institution, but not everyone in the field is as willing to disrupt these conventions.
Moving forward, Matotek recommends that more art institutions and museums hire curators of digital technology and develop a digital strategy, which her institution is in the process of doing now. For her, art and museum professionals are in a unique position to create positive change with specific technologies. By using various technologies as tools, they can create new and exciting experiential worlds for visitors.
---
[1] Art Windsor-Essex was known as The Art Gallery of Windsor until April 2022.
[2] Unless otherwise noted, all quotations are from the following source: Jennifer Matotek, "Immersive Experiences in Museums: A Look at Art Windsor-Essex's Against the Current," interview conducted by Maglyn Bertrand, May 6, 2022, Zoom.
[3] Against the Current will run from March 2022-December 2022.