In combating climate change, we can look to Indigenous and historic practices for models of sustainable architectural solutions to extreme heat, cold, and humidity. Structures built in societies or eras without electrically powered air conditioning found passive methods to beat the heat, from enclosed balconies in traditional Indian architecture, designed to funnel cooling breezes; to lanais, the traditional open-sided verandas of Hawaii. We can learn from surviving examples of such structures, some of which are preserved as historic houses or sites. However, in coming decades, many buildings that were perfectly adapted to local conditions when they were first erected will find themselves living in a climate much more severe than that for which they were designed. Yet these historic structures are quintessentially place-based: what is an historic house to do when the world, and the climate, shifts? Today on the blog, Jenny Dyer shares some advice based on her work as Historic House Manager and Preservation Administrator for the Louisiana Landmarks Society and Pitot House Museum.
–Elizabeth Merritt, Vice President, Strategic Foresight and Founding Director, Center for the Future of Museums
---
Most historic houses in the Southeastern United States were built with flooding and extreme heat in mind, because the southern coastal region is hot, humid, and prone to flooding. They were built two to three centuries ago with many tall windows with transoms, lofty ceilings, raised foundations, and expansive galleries, all of which kept the heat at bay and the water out of the living space. The houses are uniquely built for a harsh sub-tropic environment, down to the frames themselves, which are usually made from local cypress to combat rot from rainwater and insects such as termites.
An excellent case study is the Pitot House on Bayou St. John in New Orleans' Mid-City neighborhood. Constructed in 1799, it is the quintessential Creole country home. Comparable homes were a regular feature of the built environment along the southern bayous for centuries. Early residents were aware of the harsh environment they were living in and constructed the house on pillars out of cypress and stucco with a deep, wide gallery and strategically placed windows and doors that ventilate the living space. These houses have served their purpose well for the last two centuries. However, their builders could not have foreseen the even worse severity of those harsh conditions that climate change now threatens.
Historic houses face unique challenges in addressing environmental threats. They are not easily movable artifacts, nor are they easily packaged to protect against weather events. In some rare cases they can be moved, as the Pitot House was 1965 to prevent it from being demolished, but the stewards of historic buildings and houses typically consider this a last-resort plan, both because of the time and money involved and the risks incurred. Moving a historic house raises concerns about structural integrity during relocation, the relative safety of the new location, and whether the house will lose historical value outside of its original natural environment. For example, when the Cape Hatteras Lighthouse owned by the National Park Service urgently needed to be moved in 1999 because of the threat of coastal erosion, a significant question was how far to move it to prevent future threats of erosion while keeping it in a location appropriate to its maritime history. Another challenge in protecting the houses arises when considering what contents of the house should be regarded as a part of the larger "package" and need to be protected as well. These questions become complicated and difficult to manage for most non-profit organizations, which are typically the steadfast preservers of America's historic homes.
Barring moving the structures to safety, there are piecemeal options available to protect them that are essential for stewards to explore. According to the Federal Emergency Management Agency (FEMA), an environmentally sound structure combines approaches by addressing heat, humidity, rain, flooding and wind. To that end, the goal is to have things in place like window reflectors specifically designed to reflect heat back outside. This was done effectively by the National Park Service at Oakland Plantation in Natchitoches, Louisiana. In addition, insulation is indicated to keep the heat out, and a powered attic ventilator, or attic fan, to regulate the heat level of a building's attic by clearing out hot air. Again, this is recommended for modern structures, but can be helpful in historic houses if done responsibly and properly. However, the challenge for houses owned by non-profits is the cost and time required.
The architecture and engineering firm Watson & Henry Associates recently conducted a study of the environmental concerns of the Pitot House which offered modifications and additions to its existing recommendations to comply with the Secretary of the Interior's Standards for the Treatment of Historic Properties and maintain the house's historic character. Their recommendations included screens, shades, or curtains hung on the windows to keep out the heat and sunlight. Another useful and acceptable budget-friendly recommendation was the age-old method of opening and closing the shutters and windows at crucial times—i.e., opening windows and doors to ventilate during hot, humid daytime periods. Pitot House has been doing this to significant effect.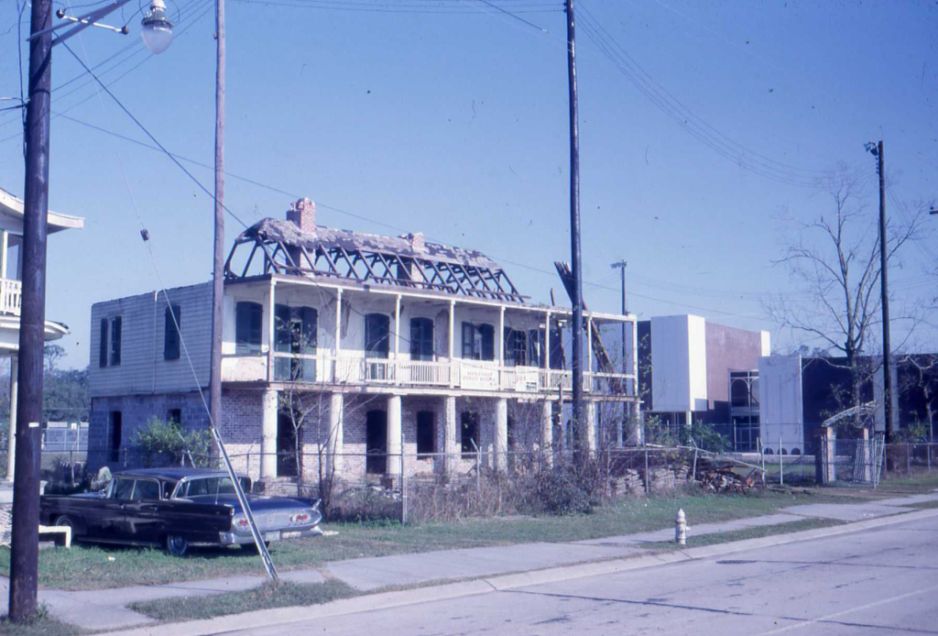 The most significant challenge we face is flooding and hurricanes causing wind and water damage. In 2021, Hurricane Ida strengthened to a Category 4 hurricane within twenty-four hours, with maximum sustained winds of 150 miles per hour. Most staff and board members evacuated the area, and the most we had time to do to protect the house was shuttering it. Upon our return, shutters and roof shingles had been blown off, doors had been blown open, and many trees had fallen. We were not the only damaged historic property, as many iconic sites, such as Oak Alley, suffered the same if not worse damage. It was a wake-up call to many. With an already limited budget, cleaning up and making repairs after the storm taxed the stewards of the house and set back plans to make permanent preventative changes. Yet, preventive measures could not be overlooked.
The plans to address wind and water environmental concerns, ignored not out of negligence but out of budget necessity, emerged again as of the utmost importance. Some of them included:
Structurally reframing the gallery, the gallery colonettes, and the roof au vent to address rainwater entry through exposed surfaces
Replacing the damaged members with dense, durable wood inserts, preferably cypress or kiln-dried white oak
Keeping all structural wood members protected with paint
Reinforcing critical framing connections for additional resistance to wind loads, especially hurricanes.
Wherever practical, reinforcing roof framing connections with hurricane wind-resisting metal plates and tie-downs, as selected by an engineer
(Pitot House implemented many of these recommendations within eight months of Hurricane Ida.)
All of these recommendations are well and good, but useless if stewards of historic houses do not have a strategic plan in place. A staff and board meeting concluded that we did not have a robust plan and required one immediately. With that in mind, we consulted several local organizations to gather information, training, and resources. Notably, Louisiana Endowment for the Humanities conducted several excellent webinars on disaster preparedness and offered a well-rounded resource guide for cultural institutions. It has proved an invaluable resource for Pitot House as we begin the planning process. It includes streamlined recommendations on readiness and planning, response and recovery, and building a network, as well as handouts and links. The guide will soon be available on their website.
Historic houses are some of our nation's most unique artifacts, their diversity of architecture and region making them even more challenging to protect. One size does not fit all, as they say. As many of them are transforming their interpretations and representations into more diverse and inclusive histories, they are meeting the challenges of remaining relevant and essential. They still hold a space for representative living history that provides invaluable insights into institutions, periods, trends, and individuals of our past, together with significant, interesting examples of historic workmanship and architecture. For these reasons, it is time to take rapid environmental changes seriously if we are to save the houses, buildings, and sites that hold together the fabric of our history.
Skip over related stories to continue reading article