---
This article originally appeared in the September/October 2022 issue of Museum magazine, a benefit of AAM membership.
---
The Walker Art Center's Racial Equity and Inclusion Action Plan aims to change the makeup and culture of the institution's board of trustees.
When the Walker Art Center joined the Facing Change program in 2019, the organization had been engaged in diversity, equity, accessibility, and inclusion (DEAI) work for several years. The Walker's program has long championed under-recognized and marginalized artists, and in 2016, the Walker Art Center, along with several other institutions including fellow Facing Change participant the Science Museum of Minnesota, co-founded the Twin Cities Large Cultural Organizations Forum (TCLCOF).
TCLCOF, a collective impact consortium of 10 of the largest cultural organizations in the Twin Cities, aims to support each organization as it works to become more diverse, equitable, and inclusive. These organizations and their boards committed to specific goals, including that by 2020 their programs, audiences, staff, and trustees would be 20 percent Black, Indigenous, and people of color (BIPOC), in line with the projected demographic makeup of Minnesota. TCLCOF spurred several initiatives, including baseline education and skill-building workshops for all staff and board members and sustained year-long programs cultivating cultural competency among staff and board members.
By 2017, the Walker had achieved the TCLCOF 20 percent goal in each category, but we weren't always able to maintain those percentages. As we entered the Facing Change program, we recognized that our efforts had focused primarily on representations of diversity as expressed by percentages without ultimately creating a more equitable and inclusive board culture.
When George Floyd was murdered in May 2020, we felt an institutional responsibility to do more, which generated new resolve for this work. Museums across the country felt this responsibility, but in Minneapolis, where racial inequalities in education, health, employment, and wealth are among the worst in the country, the urgency was palpable.
A Plan for Change
The Walker's Governance & Nominating Committee initially led the board's Facing Change work because of its focus on governance, new trustee cultivation, and board policy. But in September 2020, the board formally approved the formation of the Racial Equity Committee, charged with ensuring that the Walker fulfills its commitment to racial equity and inclusion.
The committee's first task was to complete the Racial Equity and Inclusion Action Plan, which establishes specific quantitative racial equity and inclusion goals that are critical to ensuring that the Walker can achieve its mission, serve its audiences, and maintain its position as a global leader in the contemporary art and museum fields. The board formally approved the plan in November 2020, but it is a living document intended to guide the board as it becomes more reflective of and responsive to the communities among which the Walker is situated and those that it serves.
The action plan is organized into seven sections: education and training, governance, board culture, cultivation, nominations, leadership, and evaluation tools. Specifically, it focuses on:
cultivating and recruiting trustees of diverse racial backgrounds, specifically from BIPOC communities;
nominating, electing, onboarding, and retaining diverse and multiculturally aware trustees;
creating pathways to board leadership positions for BIPOC trustees;
examining board policies through a lens of racial equity and inclusion;
improving trustee engagement and creating an anti-racist culture bolstered by the tenets of trust, support, respect, and inclusion;
expanding opportunities for learning and self-reflection for all trustees; and
developing and implementing an equity impact assessment tool to guide organizational planning and decision-making at both the board and board committee levels.
While the action plan establishes specific, measurable goals, its long-term success will be the evolution of the Walker board of trustees as a space where diverse backgrounds (racial, social, cultural, economic, and professional) and lived experiences are valued and contribute to excellence in governance and the stewardship of the organization. This fundamental change in board culture will allow the Walker to serve its current constituents locally, nationally, and internationally, as well as connect authentically and sustainably with communities in the Twin Cities that have been historically underrepresented on the Walker board, among staff and audiences, and in the museum's programming.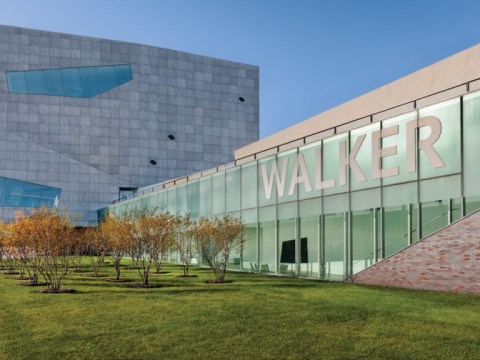 Creating Bespoke Education
Early in the Facing Change process, we recognized that our trustees were at different places in their own DEAI journey based on their lived experience and current workplace. Many of our trustees work in major corporations or serve on other boards where they have taken the Intercultural Development Inventory (IDI) or participated in cultural competency training. A uniform, mandatory DEAI development program would not be helpful for us.
Instead, we opted to create a bespoke education and training program that focuses on how racial equity matters to our mission. We created a guest speaker series that has included prominent philanthropist Agnes Gund discussing her work on mass incarceration; artist Jason Moran talking about his relationship to institutions, particularly cultural institutions with whom he has collaborated as an artist, and how racism shows up in these spaces; and Darren Walker, president of the Ford Foundation, addressing the importance of diversity and excellence in trusteeship.
We also have bimonthly, facilitated coffee hours that include video segments focused on artists whose work engages with issues of racism and colonialism. These events spur both personal reflections and recognition of where these issues show up at the Walker. Resources referenced during the coffee hours, as well as those that support or go deeper into topics covered during these conversations, are also included in a bimonthly newsletter so that board members can take advantage of them on their own time.
Our education program recognizes the ways in which art and artists can create space for these conversations while also affirming the Walker's mission and trustees' passion for the arts. "I have always been fascinated by how art—particularly contemporary art—connects us to others through its ability to simultaneously shift and broaden our understanding and perspectives," says Seena Hodges, President of the Walker Art Center Board of Trustees. "It allows us to engage with difference and see beyond it at the very same time."
Our Progress So Far
We approved the action plan in November 2020, so we now have 18 months of data with which to track our progress. We know this is a long-term effort, but we already can see measurable progress on quantitative measures.
A key quantitative goal of the action plan is for the composition of the Walker board to be 30 percent BIPOC by June 2022 and 40 percent BIPOC by June 2025. This goal was set based on U.S. Census Bureau estimates as of July 1, 2019, which showed the BIPOC population at 32 percent for Hennepin County and 40 percent for Minneapolis.
Following the strategies and tactics of the action plan, the Walker has added nine BIPOC-identifying trustees to the board since beginning the Facing Change program in summer 2019. The percentage of BIPOC representation on the board increased from 16 percent in 2020 to 32 percent as of June 2022. In September 2021, the board elected Hodges as the first Black board president in the history of the Walker Art Center. Additionally, from 2020 to 2021, the number of BIPOC-identifying trustees in positions of board leadership—defined as officers and committee chairs—has increased and include the board treasurer/chair of the finance committee, corporate gifts committee chair, and co-chair of the Racial Equity Committee.
We diversified our board by identifying authentic, existing community relationships within the Walker through our program partners, donors, artists, and members and bridging those relationships to cultivate new trustees. We encourage individual trustees to attend programs and events at community and peer institutions, make financial contributions to those institutions, and serve on other boards. This porosity is key—it is as important to welcome new individuals into the Walker as it is to move outside the walls of the institution and into local communities.
It is, of course, always more challenging to measure the progress of a culture shift, but we have implemented the following concrete changes:
Integrating questions into the annual board survey that evaluate the board's culture of inclusivity;
Conducting exit interviews for outgoing trustees that specifically inquire about perspectives on inclusion and racial equity in a board context;
Holding check-ins every six months between "board partners"—relationships between new and longer-term trustees—at which board culture is openly discussed; and
Using the IDI results to chart the board's collective progress along the IDI intercultural continuum.
The Racial Equity Committee and our bespoke education program have been key elements in our progress. The committee ensures that the DEAI work stays at the forefront of the agenda and offers tools and support to committee chairs and other board members. For example, earlier this year the committee developed an equity impact tool that the committees are using to review their charters as well as the decisions and recommendations they make.
As museums face the changes to the narratives we tell ourselves, demographic shifts in the populations we serve, and evolving expectations from our communities, our boards must also change. They must represent and reflect the lived experiences of the communities we serve. Equity and inclusion create excellence in governance that will help make us more essential to our communities.
---
Language Matters
Decisions about precise titles of diversity, equity, accessibility, and inclusion initiatives—including what acronym to use for this work, such as DEAI, DEIA, DEI, or IDEA—have the potential to stymie momentum. However, alignment on the language that staff, trustees, and other organizational stakeholders use to discuss DEAI goals is critical to the work's success. We chose the term "racial equity and inclusion" for the Walker's action plan to prioritize the need to address systematic racism. We believe that if we could have difficult conversations around race, we could likely have them around other issues of inequity.