---
This article originally appeared in Museum magazine's January/February 2023 issue, a benefit of AAM membership. 
---
Has the pandemic sparked an evolutionary leap in practice?
Revolutions usually begin as replacements for older certainties, and not as pristine discoveries in uncharted terrain.

―Stephen Jay Gould, evolutionary biologist
The COVID-19 pandemic accelerated existing trends in the adoption and deployment of digital technologies in business, education, and commerce around the world. Some museums went into pandemic lockdown prepared to deploy digital survival strategies, while many others struggled to catch up.
As the world emerges from the pandemic, we may find that the stress of the past three years has accelerated digital adoption to the point where it constitutes an evolutionary leap in practice. Digital competence, in this new era, is not merely nice but necessary, a fact that may induce more museums to approach digital as a pragmatic investment in sustainable operations. However, improving an organization's digital literacy isn't as simple as creating a new job title or even a department. Skillfully navigating digital opportunities requires a human infrastructure of vision and skills integrated throughout the organization. How can museums navigate the transition from proto-digital to digital proficiency and embark on a continual process of adaptation?
The Challenge
Sometimes a disruptive event can transform the world by magnifying the importance of what already exists. In the past 20 years, digital technologies reshaped the world with bewildering speed, transforming how people engage with entertainment, shopping, education, work, and socializing.
The pandemic turbocharged that pace of change. Almost half of consumers increased their use of digital channels to interact with businesses (and most expect to sustain that use), use of messaging apps doubled, and engagement via video increased 300 percent. Companies met this demand by accelerating their own digital transformation, increasing the amount they spent on digital and speeding improvements to their digital communications strategy. Use of telehealth platforms has stabilized at a level 38 times higher than the pre-COVID baseline. A combination of state and federal funding channeled $1.3 billion to support K–12 online learning, with an additional $388 million devoted to closing the "digital divide" that disadvantages less wealthy school districts. The pandemic even sparked the revival of QR codes, turning a technology once disparaged in the US as "niche" into a ubiquitous tool.
These digital adaptations are reshaping the nature of how and where people work. In a recent Gallup poll, 94 percent of employees who can do their work remotely expressed their preference for remote or hybrid work, and many employers are willing to comply. But many jobs still have to be done in person, and pandemic labor shortages prompted many retailers to replace checkout staff with self-service kiosks, waitstaff with ordering apps, and inventory stockers with robots. The World Monetary Fund reports that 43 percent of global companies intend to reduce their workforces through automation.
The reliance on digital technology for business increases the importance of digital literacy, but globally 76 percent of workers feel they are unequipped to operate in a digital-first world, and less than a third are actively involved in digital skills learning and training. This skills gap may, in turn, exacerbate existing inequalities in income and employment.
What This Means for Museums
In the future, the museum sector may look back on the first two decades of the 21st century as a golden era of digital experimentation. Cutting-edge digital labs were hotbeds of experimentation and playful innovation. Digital was hailed as the perfect medium for generously sharing content and cultivating input from and dialog with audiences. Foundations poured millions of dollars into the digitization of collections images and documentation, often in the absence of a specific vision of how those assets would be used.
By 2020, there were signs that the enthusiasm about digital innovation for the sake of innovation was beginning to wane. In the early digital era, several US museums founded digital labs (for example, the Met MediaLab and Carnegie Museums of Pittsburgh's The Studio) to conduct ambitious experiments with new technologies. But perhaps because they were often positioned as amenities, not essential components of museum operations, many of these labs had been sidelined or closed by the beginning of the new decade. Some of the most respected digital innovators left the sector when their influence and autonomy failed to make up for the pay they sacrificed to work in museums.
The museum sector has always been cautious about adopting new practices and technologies, preferring, on the whole, to let others go first and see what works. But during the financial disruptions of COVID, digital practices were often essential in museum survival, plugging gaping holes left by the disruption of place-based operations. Tools that some regarded as edgy or experimental (for example, online ticketing, variable pricing, contact-free payment systems, and touch-free interactives) went mainstream due to necessity. The pandemic may prove to be the inflection point between an era of experimentation and one of pragmatism in which digital strategy is seen as an essential component of museum operations.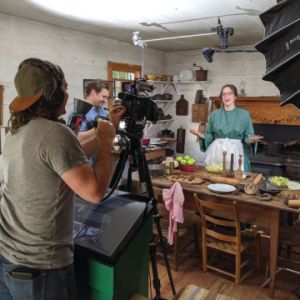 The past three years turned into a vast, unplanned experiment in testing audience appetite for engaging with museums via digital pathways. Research from Culture + Community in a Time of Crisis showed that in early 2020 a significant chunk of the audience using museums' digital offerings (between 32 and 67 percent, depending on the type of museum) had not used similar place-based offerings in the year preceding pandemic lockdowns. Data (through September 2021) from IMPACTS Experience showed even more people engaging with cultural organizations online as the pandemic continued.
For the most part, museums figured out how to meet this demand. AASLH's 2022 National Visitation Report found that over the course of the pandemic, the portion of history organizations offering virtual programming rose almost four-fold, to 40 percent—and more than 80 percent at large institutions. During the past three years, many museums found that digital programs reached more people and attracted a wider range of participants, demographically and geographically, than the place-based programs they replaced. And while it remains challenging to build an income stream around digital programs (in the face of so much free content on the web), the ROI for digital programs that do charge is often exponentially better than for physical ones.
In addition to increased demand for digital engagement, society increasingly needs the benefits digital resources can provide, particularly to support student learning, as kids struggle to make up lost ground and address stress, anxiety, and isolation. Museums have traditionally met these needs with place-based experiences, but research is beginning to show that online engagement can be meaningful and beneficial as well. Just three minutes of viewing art online can alleviate loneliness and anxiety and improve mood and well-being, comparable to the effect of visiting a museum in real life, and evidence suggests that longer engagements offer greater benefits. In one study, people over the age of 65 who attended weekly 45-minute virtual museum-guided tours for three months significantly increased their well-being.
Catapulted by pandemic disruptions into the digital future, many museums are now assessing whether and how to sustain or expand their investment in digital going forward. These decisions may be driven, in part, by changes in user expectations and behavior. Can museums convert their new virtual audience into in-person visitors, or will many users continue to prefer digital experiences?
Many schools have become hooked on the relative simplicity, lower costs, and wider options afforded by remote field trips. Might this increase the number of students museums serve as teachers and schools realize they can access meaningful experiences without expending the time, and bus money, to schlep to the museum? Will that in turn reduce the yearly tide of class visits to the galleries as more students make use of museums' digital resources?
Conversely, might we see a growing advantage of place-based experiences as people become fatigued by the ever-growing amount of time they spend online? Children's screen time went up during the pandemic — a disturbing trend given the copious research documenting the link between screen time, anxiety, and depression in children and adolescents. Might parents place an even higher value on physical museum visits, with minimal digital overlay, as an antidote to these concerns?
Many museums will need to significantly invest in planning, infrastructure, and training to take advantage of digital opportunities. The sector as a whole went into the pandemic digitally underequipped. In 2019, only one-quarter of museums had a digital strategy, either separate from or incorporated into the strategic plan. Hopefully, museums will use what they learned from ad hoc digital experiments during the pandemic to create formal strategies going forward. Many, still experiencing significant financial challenges, may assess how data collection and business analytics can help them reduce costs and improve the bottom line.
Working out the long-term ROI on digital strategies is complicated. Museums often take advantage of the massively expensive infrastructure (Facebook, Instagram, TikTok, YouTube) created by commercial companies but then are at the mercy of mergers, acquisitions, and policy changes that can sever connections to the audience they have cultivated on those platforms. How might museums buffer themselves against these risks?
Museums that intend to maintain and grow digital audiences may have to figure out how to monetize this engagement, either directly through fees, purchases, or subscriptions or indirectly through cultivating members and donors. Weighing the practical outcomes of digital investments will be challenging, but museum leaders who do so may create a more sustainable approach to digital.
Calibrating Screen Time in the Museum
By Ann Fortescue, President and Executive Director, International Museum of Art & Science, McAllen, Texas
Even before the pandemic-induced shift to virtual instruction, meetings, and socialization, there was concern, particularly among parents and pediatricians, that children were spending too much time looking at screens. Data on the developmental and behavioral effects of too much screen time for children is in tension with perspectives that "not all screens are bad."
All agree that children need interaction with adults for screen time to be valuable to their development. Anecdotal evidence: I recently met with two moms bemoaning their children's challenges with in-person socialization. One's teen live chats and games with friends, each in their own home, and the other's middle-schooler struggles to make friends because everyone is on their phone. Both agreed that human interaction is either missing, remote, or hard to initiate in their children's lives.
At the International Museum of Art & Science (IMAS), we are responding to these current (and likely long-term) concerns by intentionally using a variety of media (digital and analog) to create interactive museum experiences for more than two people to do together, or do side-by-side in the same area. As we plan new exhibits, we're asking for multiples of the same activity so families and friends can interact. We're also intentionally including cooperative experiences to encourage sharing, even among strangers—recognizing a smile or thumbs up can provide that non-verbal moment of human connection. In our more traditional art galleries, we're learning from peers, like the Columbus Museum of Art, and including reflection stations for visitors to interact with one another through words and drawings.
We aren't anti-screen at IMAS; in fact, one of our signature exhibits is NOAA's Science on a Sphere—a room-sized, digital display. However, we are paying more attention to how screen time may be impacting our visitors and what kinds of interactions may be missing or significantly reduced so we can provide museum experiences to make up for that deficit and support our community's value of raising well-rounded individuals.
Museums Might …
Create a digital strategy that establishes a vision and goals for how "digital" in a broad sense can contribute to the work of the museum. To support this strategy, bring a digital lens to bear on the whole organization, integrating digital resources and goals into all departments.
Invest in content creation in tandem with developing digital channels. The success of online programming, social media, and digitally mediated place-based experiences rests on the quality of the materials they present.
Audit current digital assets and assess whether and how they contribute to the museum's operations and strategy. Evaluate the long-term costs of maintaining digital assets, budget for those costs, and ensure there is alignment between the museum's investments in these assets and plans to support those expenses.
Evaluate the preferences and appetite of current and potential audiences for online participation, the potential for the museum to reach a broader segment of the public locally and internationally, and the business plan for serving these audiences.
Identify how digital can contribute materially to financial stability through direct income for products and services, behind the scenes by optimizing operations, or by enhancing staff productivity.
Create a staff development plan for digital literacy that evaluates needs and identifies and supports training. This involves not only building skills but (to quote ACMI Director Seb Chan) "fostering a digital imagination that can invent more creative practices, and build more diverse audiences in the future."
Museum Examples

Before the pandemic, the William Root House in Marietta, Georgia, began testing the use of touchscreens to provide a self-directed visitor experience in lieu of volunteer-led tours. Now the organization has switched the entire site (five structures plus historic gardens) to digitally enabled, self-guided tours. Through the digital content, including videos, the museum brought historic rooms to life, ensured the quality of interpretation around sensitive topics such as slavery, and experimented with content geared at younger visitors. This digital focus positions the museum for future growth while ensuring the campus can operate with just a single staff member if necessary.

Old Salem Museums & Gardens in Winston-Salem, North Carolina, and the Black Country Living Museum in Dudley, England, turned to TikTok during the pandemic to engage new audiences while traditional, on-site interpretation was closed, using the platform to inspire critical thinking and constructive dialogue. Despite the challenges of producing content (including research into what's trending on the platform, filming and editing high-quality videos, and managing the public comments and reactions), the museums found that their TikTok presence enhanced visitor experience, not only online but also on-site. At both museums, visitors often say that they decided to visit because of the institution's TikTok presence.

Pre-COVID, visitors to Space Center Houston stood in line for the tram to visit the NASA Johnson Space Center. When it reopened after an initial pandemic closure, staff developed a virtual queue system to facilitate physical distancing. In the process, they discovered that not only did this solution provide a safer way for visitors to wait to board, but it also positively affected the length and quality of their stay. They were now free to roam the exhibits while waiting their turn rather than spending a portion of their visit waiting in line.
---
Resources
Digital Readiness and Innovation in Museums, Knight Foundation, 2020.
The Knight Foundation commissioned this report to provide a fuller understanding of digital readiness and innovation maturity in the museum sector. The report includes data from 480 museums of all sizes, including art museums, historic institutions and sites, science museums, and others.
knightfoundation.org/reports/digital-readiness-and-innovation-in-museums/