As museums encourage visitors to learn and think about what is possible, sustainability is no longer a behind-the-scenes activity. Beyond LEED-certified buildings and facilities operations, sustainability initiatives are taking center stage as a common thread woven throughout the visitor experience.
One example of this is in on-site dining and food retail programs. Inspired by the United Nations Sustainable Development Goals, museums and cultural institutions are adopting new standards based on concepts like responsible consumption and production, sustainable food processing, and resilient agriculture, to make an impact both locally and globally.
"Food brings people together and can be one of the most impactful ways to inspire conversation and action around the preservation of our planet," said Amy Keister, Global Director of Sustainability at Compass Group, the world's largest food and support services company. "Whether it's activities taking place in museum kitchens to manage food waste or activities to engage guests in learning how they can put sustainable practices into action at home, museums and cultural institutions have a unique ability to lead by example and take tangible steps to create a sustainable future for all."
Partnerships between museums and their food service operations and partners can be a powerful force for good, no matter how small they start. Beyond setting goals and reporting on progress, engaging kitchen team members and staff throughout the museum in activities like selecting favorite local products to source, involving them in recycling and composting efforts, and providing them platforms to share their own contributions to the museum's sustainability with guests helps make tackling a big, global issue feel a lot more realistic. "You can't underestimate the value that building a culture of sustainability has on an organization," added Keister.
Here are a few examples of how museums are successfully creating these partnerships at their institutions.
Taking a Sustainability Journey at The Field Museum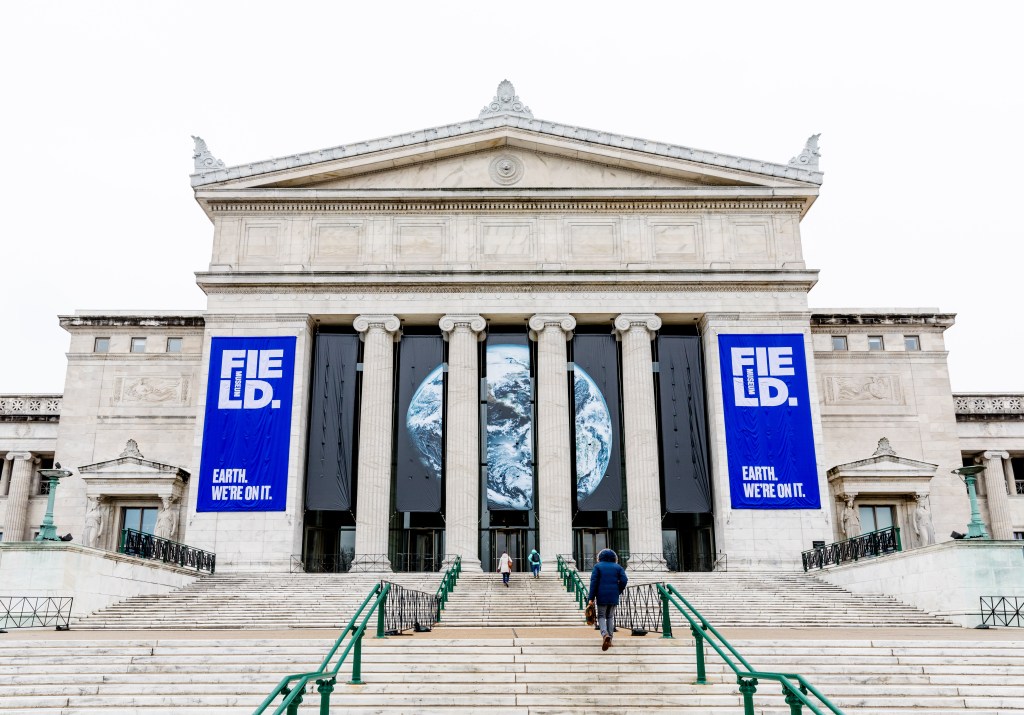 At Chicago's Field Museum of Natural History, bringing on local food services firm Levy to manage dining operations has brought new opportunities to create a culture of sustainability.
In 2013, the Field introduced two new restaurants, the Field Bistro and the Explorer Cafe. In preparation, the museum worked for several years to craft a ten-year tiered growth sustainable food operator program that would help the restaurants put the museum's conservation mission into practice within its walls and educate the public while doing so. After updating this plan in 2021, the museum brought on Levy in 2022 in order to take its sustainable efforts to the next level.
Prior to even stepping foot in the kitchen, the Levy and Field teams met weekly to map out what sustainability would look like on opening day, within the first year, then for the next ten years. Having a clearly defined roadmap that outlined what is feasible to accomplish today and where to prioritize efforts for the long term has allowed the team to focus its energy on the highest-value projects, especially in an environment with competing priorities.
When it began working with Levy, the Field had recently completed a comprehensive three-year project to better understand the environmental impact of its food service program, which found that that 40 to 50 percent of the waste in the 1.3 million square foot facility came from the café and events program. This data was extremely beneficial as Levy chefs prepared new menus and processes for the museum.
Focusing on fresh, local, and sustainably sourced food and energy and waste reduction, the restaurants put the sustainability mantra of "what gets measured gets done" into action, weighing all waste leaving the restaurants, and employing back-of-the-house and front-of-the-house recycling and composting. Tools like Levy's proprietary Waste Not 2.0 system took the once-onerous task of tracking food waste with pen and paper into a tablet-based application that was designed by chefs. By making it easier to collect data, Levy and the Field can better educate employees, more quickly adapt menus to reduce food waste, and better understand the root cause of any wasted ingredients.
In 2023, Levy will transition all compostable single-use disposables to reusable dining and flatware to further increase its current 73 percent diversion rate. The restaurants also undergo a bi-annual external audit to ensure a transparent and honest assessment of their progress. The Field hopes to continue leading a culture of sustainability in its operations and visitor experience.
Understanding that a pinnacle of sustainability is a zero-waste operation, another critical solution is minimizing the containers meals come in. While one of the challenges in creating a reusable container program is driving the behavior change to ensure the containers get returned to the proper place, Levy and the Field have made it their mission to overcome this challenge, among others, and will soon be implementing several new initiatives that bring visitors and associates on Field's sustainability journey together.
Health and Wellness Overlaying Sustainability at the Phipps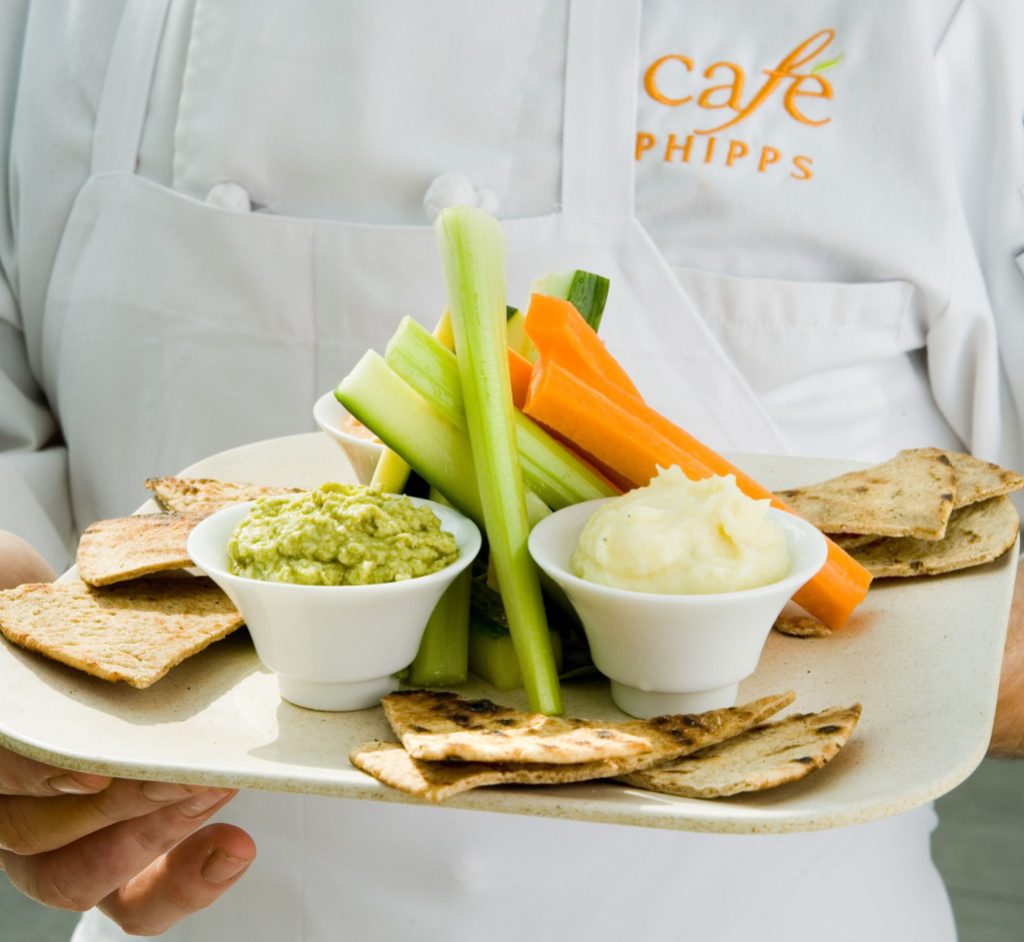 The Phipps Conservatory and Botanical Garden in Pittsburgh is considered a pioneer in sustainability, and its food service is no exception. Phipps' effort to provide sustainable food options on site started almost twenty years ago when its Welcome Center was pursuing green certification. One of the steps it took was to replace disposable plastics with reusable dishware and silverware, a new idea in the cultural sector at the time. Visitors welcomed the change, and it soon became a differentiating factor in its food service. Phipps also eliminated bottled water, soda, and highly processed food, all seen as out-of-the-box thinking at the time.
Phipps' CEO, Richard Piacentini, argues these were essential mission-driven steps. "As a cultural institution that cares about health, why would we want to serve junk food to our visitors knowing how many school-aged children visit us?" he explained. Now the café sells local organic food and provides catering with a sustainable focus, and Phipps even offers advice to the public on greening their own events on its website.
Skip over related stories to continue reading article
When the health-and-wellness-focused WELL certification system was introduced in 2013, Phipps decided to apply as a chance to examine and enhance its operations. This entailed further review of its food services under the certification's "WELL Nourishment" section, including policies about Fruits and Vegetables and Nutrition Transparency. Though the organization was well-prepared for these standards after two decades of sustainability work, WELL's thorough review process for food services led to further progress. Eventually, Phipps met the high bar of the assessment, scoring 77 percent of points in the Nourishment section in WELL version 1.
Even though Phipps' sustainable food journey started well in advance of this assessment, meeting the WELL standards was still a feedback loop, rather than just an outcome-driven exercise. It encouraged thoughtful discussions with Phipps' food vendor, Sodexo, about how to be creative under constraints, for example by finding replacements for foods on the Environmental Working Group's "Dirty Dozen" list with ones on its "Clean Fifteen" list.  Meanwhile, the team received valuable information on farming practices and organic methods and health attributes.
Space Center Houston: Exploring New Frontiers of Sustainability in Dining Programs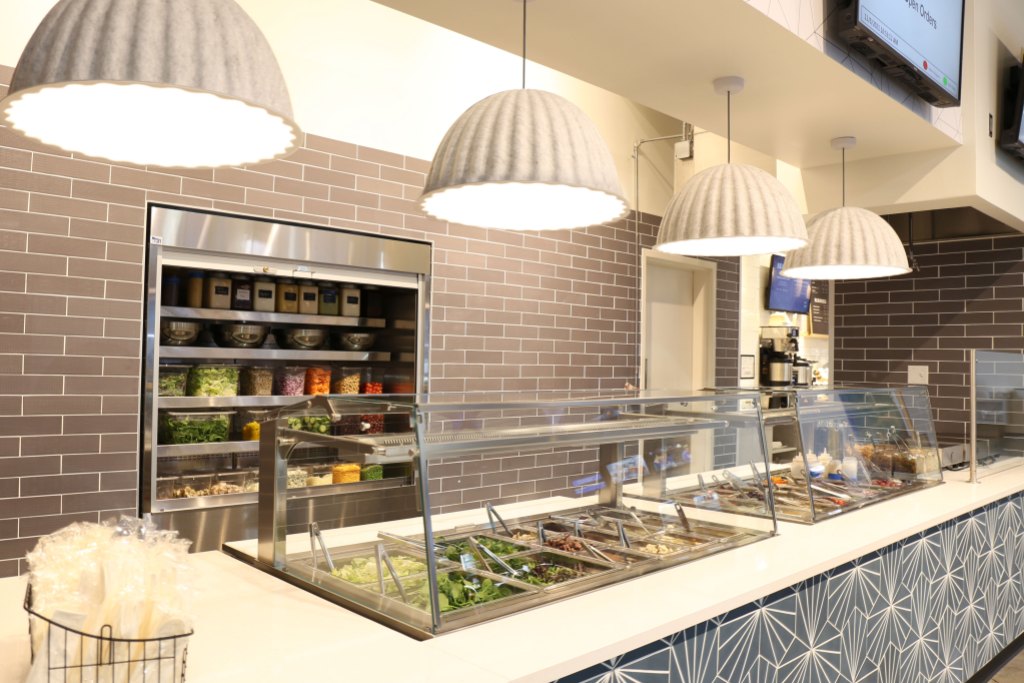 "To be truly original is to invent the future of food, to question, to experiment—to imagine," is one of chef Wolfgang Puck's guiding philosophies. At Space Center Houston, the Wolfgang Puck Catering (WPC) team blends this approach to food with the mission of the center to fuel the STEM pathway and be a gateway for space exploration, science, and engineering learning and innovation. Sustainability is a priority throughout the center and especially in the dining operations, where it plays a role in inspiring wonder and interest in science and math.
"The Space Center Houston team has a unique perspective on planet health," said Mary Shafer, Space Center Houston's Chief Operating Officer. "We're working collaboratively to provide meaningful, impactful programming that creates opportunities for visitors to 'skim, swim, and dive' on sustainability initiatives now and in the future."
A key partner in working with the Space Center Houston team on a master plan for sustainability initiatives, Wolfgang Puck Catering has implemented sustainably sourced packaging and significantly enhanced food waste recovery efforts. Menu items and ingredients are sustainably sourced throughout the center's food service operations, and practices like scratch cooking, holistic uses of every product, and using imperfect produce lead to creative menu development. Through a unique sustainability initiative called "Bags to Benches," the museum and WPC even recycle plastics from food operations into benches and outdoor decking.
The team has also carefully curated partnerships with local producers like Independence Coffee Co., whose 100 percent compostable coffee pods the museum promoted for Stop Food Waste Day, an annual international day of action designed to raise awareness and inspire change around the critical issue of food waste. Sourcing from these local purveyors cuts down on emissions, lowering the overall carbon footprint.