---
This article originally appeared in Museum magazine's March/April 2023 issue, a benefit of AAM membership. 
---
At the Children's Museum Houston, stories are hidden in plain sight.
In 2007, Children's Museum Houston broke ground on an expansion. The construction crew digging the hole for the new building's foundation uncovered a large vein of crystals that appeared to generate energy. The museum consulted the US Department of Geosciences, whose scientists confirmed that the crystals are a previously unknown form of quartz. With local universities, the museum developed a research agenda to determine how to harness the energy they generated.
Arcturus Vex, the lead researcher, was awed by the power of the crystals. But after his extreme experiments destroyed the lab, Vex was fired. Determined to regain control, he formed the Ridiculously Intelligent Villainous Agent League (aka RIVAL) and began to lay siege to the museum to access the crystals.
In response to RIVAL's unprovoked aggressions, the museum established the Special Elite Crime Resolution and Espionage Team (aka SECRET) to discover and thwart RIVAL's advances. But because the crystals were in a children's museum, adult agents would be easily spotted by RIVAL operatives. As such, the museum enlists kids as SECRET agents to fulfill various undercover missions to protect the museum and the crystals underneath it.
At least, that's the lore.
What is SECRET?
SECRET is a serious game Children's Museum Houston developed for kids ages 6 and older that features the timeless theme of good vs. evil wrapped in a compelling secret agent narrative. During each roughly 60-minute mission, kids, acting in the role of SECRET agents, and their families are immersed in a world hidden in plain sight in which they use critical thinking, observation, deductive reasoning, creativity, and other skills to thwart RIVAL's schemes.
The game takes place throughout the museum via a mix of digital and physical interactions. It blends the problem-solving experiences of puzzle hunts and escape rooms by tasking kids with finding clues, solving logic puzzles, and pursuing challenges that drive each mission to its conclusion. The game system records each player's progress through RFID wrist bands so it can assign them the next mission (they get progressively more difficult) on future visits. The SECRET game consists of three main parts: the story and substories (nine missions), the interactives, and the tools (or gadgets).
SECRET interactives are peppered throughout the museum in underutilized spaces (hallways and corners) and existing exhibitions to maximize the experience. The interactive pieces blend into the background of the galleries, challenging players to find them while nonplayers overlook their existence. During a mission, players use at least 10 different interactives, often traversing the entire museum to find them.
Primary digital interactives are networked into the game and directly affect a player's progress. These activities include redirecting radio frequencies using RIVAL's control panel or adjusting the flow of the crystals' energy through SECRET's energy conduits.
Secondary digital interactives are not networked but provide key information that aids a player's progress. These include rewiring a SECRET electrical panel to get a code or conducting experiments on the crystals at the crystal well.
Static interactives, like signs and mechanical interactions, provide clues to solving a particular problem. For example, players find signs with nanite codes or get settings off the inside of RIVAL corruptors.
Gadgets are an essential element of all secret agent experiences. All players are issued a "codex"—an RFID band that gives them access to SECRET HQ and the primary digital interactives. In addition, each SECRET mission uses one to three gadgets with at least one assigned at the start of the mission and the rest collected during the mission. The gadgets are low-cost items such as a USB drive, red-filter lenses, decoder cards, and polarized glasses. Each gadget is integral to completing a mission, its purpose unveiled as the agent progresses through the mission.
At the heart of SECRET is the narrative, which includes the background lore. Each mission also has its own story, such as discovering and disabling stealth drones or becoming a double agent to spy on RIVAL. The missions' stories unfold through interactions with staff, printed case files, and digital narratives provided by animated characters at check-in kiosks in SECRET HQ. Filled with excitement, intrigue, over-the-top plots, and a lot of puns, each mission is a subplot narrative that helps the agents find interactives, use their gadgets, and solve puzzles while keeping them energized, engaged, and immersed in their role as SECRET agents.
The SECRET Experience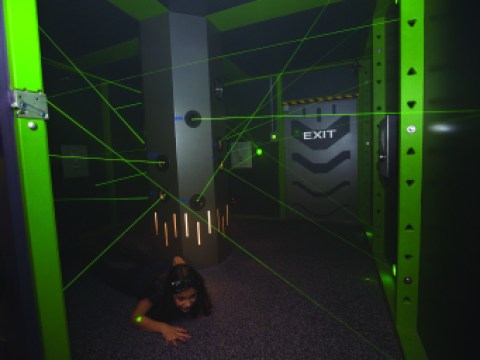 SECRET missions begin at the museum's box office (where visitors pay for SECRET participation in addition to the regular entry fee). Kids are covertly welcomed with, "We're especially glad you're here today. The museum is under siege, and we need your help. Would you be interested in becoming a secret agent and helping protect the museum?" Once they accept, they are handed a card with an odd "C"-like symbol, the SECRET logo, and given a special code phrase: "What do you call a secret agent under water?" They are directed to check in at the Top Secret Gear Shop.
When families walk into the Top Secret Gear Shop, it appears to be an adjunct to the museum's gift shop focused on secret agent and spy gear. But when they present the card and say the code phrase to the salesperson, the employee reveals themselves to be a SECRET recruiter, responding to the code phrase with "James Pond." They explain how thrilled they are to have an agent on hand because a dire situation is unfolding.
Agents are issued their codex, which is set for their first mission or, for returning agents, reenabled with their newest assigned mission. The recruiter pulls out a briefcase, dramatically opening it to reveal the agent's gadget for their mission and their case file, which will guide them through the mission. New players are briefed on how to use the case file and the enclosed map. They are then directed to a plain door with a glowing SECRET logo.
As they press their codex to the logo, the door unlocks, revealing the hidden SECRET HQ. Inside are several check-in kiosks along with a giant monitor that displays mission updates and a screen showing current agents' progress on their missions. Using their codex, they activate a check-in kiosk screen where the digital narrative takes over. They are greeted by Director Angstrom, the head of SECRET, who helps new agents select their code names and introduces their mission. At some point during each briefing, Director Angstrom is joined by Agent Gemini, who is the main guide through the missions.
Each mission follows the same story beats: defining the problem, figuring out a solution, and implementing the solution. Each beat starts and ends with participants reporting to SECRET HQ where Director Angstrom and Agent Gemini help progress the mission storyline. Vex also makes regular appearances to taunt SECRET and the agents.
The printed case file guides agents through each beat with instructions, places to record data, prompts to use gadgets, and puzzles whose solutions propel the mission. Agents may be tasked with using a UV light to follow hidden trails, analyze wavelength readouts, download a computer virus, hack into a RIVAL control panel, record stealth drone serial numbers, create a foil hat to protect themselves against mind control, and avoid a laser security system as they infiltrate the RIVAL base. At the end of their mission, agents are rewarded with digital badges for missions completed and skills earned.
SECRET Origins
The museum's 2009 Strategic Plan called for new "high mission, high margin" experiences, prioritizing gamified interactions that would attract and engage visitors ages 8 and above. Schell Games joined as our core partner, and together we developed the project over 15 months. We assembled focus groups of kids in our targeted age range to test different scenarios based on popular shows, movies, and books, including eccentric inventors, outer-space missions, time travel, superheroes, magic/wizardry, and secret agents.
Once we confirmed the concept, we reenlisted the focus groups to help develop the secret agent theme. We started with narrative elements: who are the protagonists, what are they defending, who guides the players, and what are the antagonists' motivations. We tested visuals: the appearances of the protagonists and antagonists, blending the SECRET elements into the rest of the museum, and SECRET and RIVAL design elements. And we explored the experience: what do kids expect to do as secret agents, what is the appropriate level of story detail, how can we progress the mission, and how can we keep it exciting in an interactive environment like Children's Museum Houston?
We created an initial mission as a proof of concept for the SECRET experience and tested different types of interactives, age appropriateness, ideal mission length, and preferred types of puzzles. Using this data, we generated multiple storylines, which families tested. In the end, we had six initial missions.
With a narrative backbone confirmed, we assessed puzzles for appropriate complexity while ensuring they meshed with the story. Simultaneously, we designed, prototyped, and fabricated all the interactive elements, testing each element with its related puzzle. The first six SECRET missions launched in 2015, followed by three additional missions in 2018.
SECRET Impact
Parents appreciate the educational value of SECRET, typically commenting on how kids are using problem-solving and critical-thinking skills in the experience. In evaluations related to the 2015 initial installation and the 2018 game expansion, 86 percent of parents described direct ties between what kids were doing in SECRET and what they were learning in school. One parent said, "My kids were forced to follow directions, focus on a task, pay attention to detail, use math and deduction, decipher codes and patterns, convert normal items into spy gear, and work as a team."
Essential to the educational value is the compelling nature of the game. In our evaluation of SECRET, 98 percent of families agreed that the experience was immersive and engaging for all genders. About 20 percent of families with children over age 6 visiting the museum opt to pay for a SECRET mission, and about a quarter of those agents return within six months to complete at least one additional mission.
Many families specifically cited the importance of mission storylines, describing how kids' imaginations were engaged while they were on the missions. Many parents shared how their kids invented their own missions at home using the gear they acquired. The importance of the narrative that drives each mission is best described by one agent: "It's like a comic book come to life!"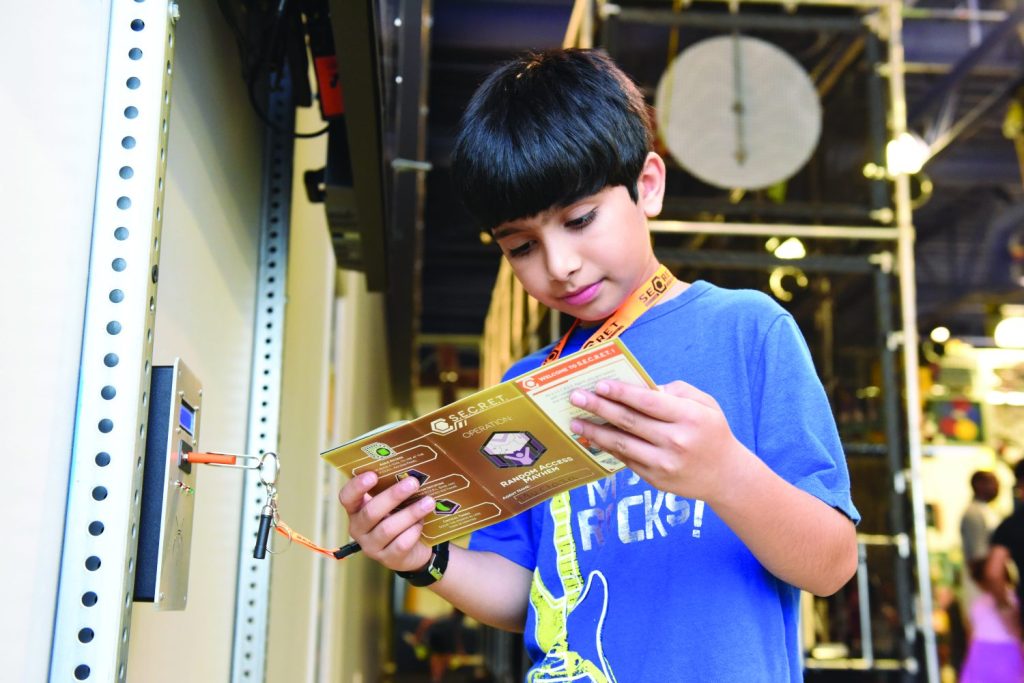 ---
Narrative Tips for Interactive Games
Go big. The more details you have, the more robust your game world will become.
Share sparingly. Let players play—share only what is essential to keep the game moving.
Make it compelling. Make participants excited to play your game from start to finish.
Make it relatable. Help players slip into the role created for them.
Test robustly. Test all aspects with your target audience.