---
This article originally appeared in Museum magazine's March/April 2023 issue, a benefit of AAM membership. 
---
With its museum theater program, The Colonial Williamsburg Foundation cultivates creativity in interpretation without compromising trust.
On a crisp October morning in 2022, Caroline Edman and Eva Blomkvist were preparing to attend a piece of theater. Museum theater, that is.
Rather than settling into plush auditorium seats as the lights dimmed, the two women perched on a wooden bench outside a reconstructed 18th-century tavern in the Historic Area of The Colonial Williamsburg Foundation, the world's largest American history museum. They were joined by a varied audience of visitors, including children, grandparents, couples, and college students, who gathered to experience a 20-minute scene identified on the schedule of daily programming simply as Intersections 1781.
Edman and Blomkvist were hoping for more than a theater production that morning. Museum professionals themselves, they had traveled more than 4,000 miles from Skansen, Sweden, the world's oldest open-air museum, where they hope to introduce a museum theater program of their own. They wanted answers: How would it be received? What sort of training did their staff need? And most importantly, would anyone—staff and visitors alike—trust theater to deliver accurate, fact-based history?
The Evolution of Our Theater Program
Museum theater has been a staple of Colonial Williamsburg's interpretive toolbox since 1979, when we introduced the African American interpretive program, which sought to tell the historical stories of Black people during colonial times. In 1994, Colonial Williamsburg premiered a controversial interpretation of an estate sale, which included the auction of four enslaved women and men, played by a group of courageous and talented African American performers. The Black community's opinion was split on whether it was a necessary, honest portrayal of some of the horrors of slavery, or a needless production that did nothing for Black identity or dignity. The program was only performed once, but the experience made a profound impact on the future of museum theater and first-person interpretation at The Colonial Williamsburg Foundation. It demonstrated how emotionally raw and immediate the events of 250 years ago can still be to communities that remain marginalized today.
Colonial Williamsburg began an American Indian interpretative program in 2003, and by 2016 three full-time members with Indigenous heritage had joined the initiative. As costumed interpreters, they utilize third-person interpretation to connect the past with present Indigenous perspectives. More Indigenous members have joined since, and in 2022, Colonial Williamsburg hired its first full-time research historian focused on Indigenous studies to support the team.
The Nation Builders initiative was introduced in 2005 to portray "founding fathers" like George Washington and Thomas Jefferson. It also portrays African American preacher Gowan Pamphlet and Lydia Broadnax, enslaved cook to attorney George Wythe. Nation Builders perform scripted monologues and scenes as well as improvised first-person interpretation with guests. In 2022, Oconostota, the Cherokee War Chief of Chota, was added to the Nation Builders program.
The foundation's recent museum theater program, Intersections 1781, begins with the narrator welcoming the audience, providing a brief historical context to the year 1781 in Williamsburg, and introducing the audience to members of the community, all of whom are actors playing real people from the historic record. In this piece, a British lieutenant convinces Mingo, an enslaved man, to join the British Navy in exchange for his freedom. All the while, a second British soldier circles the two like a shark. The scene takes an unexpected and gut-wrenching turn when the lieutenant uses Mingo to re-enslave Samuel, a free Black man who refuses to join the British. Samuel is dragged off the street screaming, "Please get word to my wife!"
The play ends with a brief epilogue in which the narrator explains that the historic record makes no further mention of Samuel and asks the audience to consider what might have motivated enslaved individuals to join the British during the American revolution.
Museum Theater Best Practices
In discussing Intersections 1781 with Edman and Blomkvist, the Colonial Williamsburg team highlighted what makes this piece—and museum theater in general—effective: grounding the production in primary source research, using complementary forms of interpretation to help establish trust, and using trained actors. In addition, museum theater works well when all participants are trained to think like a historian—assessing the sources, weighing the evidence, and providing new and more nuanced understandings of history that is often otherwise portrayed as "unambiguous."
Primary Source Research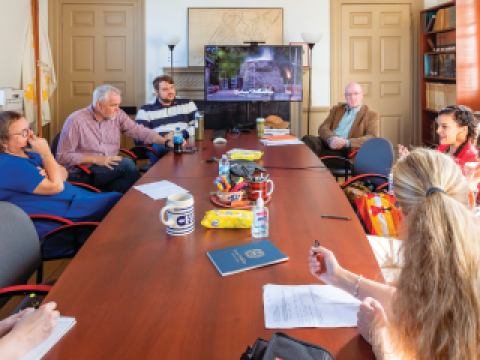 History, as we know, is not just the collection of facts. It is an ever-moving understanding of the past, which is modified as new information becomes available or new questions are asked. Samuel and Mingo were real people whose names appear in primary sources from Williamsburg in the late 18th century. But because Mingo and Samuel were marginalized members of 18th-century Williamsburg's society, very little information about them beyond these basic facts exists in the historic record. This makes it difficult to share their stories in a way that captures the hearts and imaginations of the visitors as is possible with well-documented historical figures like Thomas Jefferson or George Washington.
Museum theater allows interpreters to take the few known facts about people who have been archivally silenced and reanimate them—literally re-member them—by putting those facts in a living, breathing human. Everything that is true of any human—they experience emotion, they feel pain, they have relationships—becomes true of Mingo and Samuel. We also know a lot about other African Americans of the period, which we can use to support how Mingo and Samuel may have behaved or been treated.
Complementary Forms of Interpretation
No matter how well researched an individual or event is, that research won't help establish trust unless it can be effectively shared. One of the unique challenges inherent to museum theater and first-person interpretation is that the actor-interpreter remains in character, making it difficult to share the historical basis of the interpretation with an audience.
To address this, Colonial Williamsburg often employs complementary modes of interpretation. If Intersections used only first-person interpretation, an audience might walk away from it thinking that Samuel and Mingo are fictional characters invented to serve a fictionalized story. While the actors know this is not true—there are footnotes in the script referencing the primary sources where Samuel and Mingo appear—the audience has no idea.
In Intersections, the program's narrator breaks away from first-person interpretation (still playing a character but speaking to the audience outside her 18th-century context) at several points to provide historical context about the setting and to share information from the historic record about the characters. This allows the audience to connect with the play emotionally while also offering historical accuracy, ultimately creating a guest experience that is meaningful and educational.
Many different pairings of interpretive modes can achieve this level of transparency and trust-building. If your audience is composed primarily of children, you could look for ways to make the primary source tangible and experiential. If you are in a space that supports multimedia, consider projecting primary source text or images behind the theatrical presentation. If budget allows, you might send everyone home with a hand-out that lists primary sources. Or you could offer a QR code that connects them to a resource page online. Ultimately, museum theater is most useful when it is considered a tool of—and not the key to—effective interpretation.
Using Actors
Over the years, Colonial Williamsburg has hired actor-interpreters from a wide variety of backgrounds including education, history, and theater. In general, it has been easier to provide staff who already have a background in theater with the training and research tools they need to be effective museum theater interpreters rather than providing historians and educators with the skills they need to be effective actors. Theatrical storytelling also requires playwrights and directors, and often one of the actors fills all three roles.
Building a team of museum theater actors from the ground up can be a daunting task, since this often involves hiring a new type of employee. Partnering with local artists—collegiate theater departments, for example—is a cost-effective way to integrate theater into a museum's interpretive toolbox.
Training for Theater Participants
Regardless of an actor-interpreter's background, ongoing content training is an essential part of a museum theater program. Traditional theater invites artists and audiences alike to accept as true the world of the play. In museum theater, creative choices about setting, characters, clothing, and music that aren't backed by primary sources need to be justified in order to maintain trust. This is a team effort—artistic directors, actor-interpreters, and historians working collectively to ensure that a piece of museum theater is sound history as well as a good story with relatable characters, a clear conflict and resolution, a relevant theme, and at least one moment that will challenge an audience to reexamine their thinking.
Colonial Williamsburg is currently implementing a new approach to training that will provide all employees with the resources they need to view program development and implementation like a historian. The foundation defines interpretation as "the process of communicating information about our resources to the visitor with the purpose of enhancing meaning for the visitor." Interpretation includes both interpersonal interpretation between staff and visitors as well as non-personal interpretation, such as information boards or the appearance of clothing or buildings.
Museum theater is considered a formal interpretation where the presentation is a set length with interpretive objectives that vary from production to production but generally focus on the five themes of freedom, revolution, community, ingenuity, and democracy.
We are working toward having a team of stakeholders, including historians and program planners and developers, set these objectives in advance and then guide the actor-interpreters through the complexities of the past. With a concept and source material in place, the playwright can work their magic. Throughout the process, the team will review the scripts and critique the performances to ensure the final product is accurate and meets the planned interpretive objectives.
The Show Goes On
Edman and Blomkvist spent four days visiting Colonial Williamsburg sites, seeing our programming in action, and talking with historians and other staff members from departments across the foundation, including guest experience, training, museum theater, group interpretation, and site interpretation. They returned home to Skansen with pages of notes and countless ideas about how to translate what works for Colonial Williamsburg to their own organization and audiences.
Their visit allowed us to share what we have learned over the past 40 years as we've integrated museum theater into our interpretation. It gave us a clearer sense of where we currently stand and are headed. As we look toward America's 250th anniversary in 2026, we are focusing on how we can help our audiences better connect the stories of the founding generation to a broader 18th century historical context and ultimately to their own 21st century lives.