---
This article originally appeared in Museum magazine's March/April 2023 issue, a benefit of AAM membership. 
---
An exhibition at the National Museum of the American Indian-New York uses comics to tell relatable stories of past and present Native New Yorkers.
From politics to pop culture, Native excellence and visibility is on the rise in 21st-century American life. Deb Haaland (Pueblo of Laguna) leads the US Department of the Interior, filmmaker Sterlin Harjo's (Seminole Nation of Oklahoma) Reservation Dogs is an acclaimed television series, and the football team that takes the field in Washington, DC, is now called the Commanders rather than a racial slur.
Despite these gains, negative stereotypes about American Indians persist, along with misunderstandings about tribal sovereignty and the contemporaneity of Native peoples. As 2018 research from IllumiNative's Reclaiming Native Truth study asserts, "Accurate information, authentic representation, and narrative disruption are essential to ending racism, bias, and discrimination against Native peoples."
The exhibitions, educational materials, and public programs produced by the Smithsonian's National Museum of the American Indian (NMAI) seek to change the narrative about Native peoples. Centering Native voices and experiences, as well as telling more accurate histories, is essential to NMAI's interpretive practice. And in the new long-term exhibition "Native New York" at NMAI's location in lower Manhattan, that interpretive practice includes original comics. Created in collaboration with Native experts, writers, and illustrators, each comic relies on a different narrative technique, from a poem to hero's journey, to tell stories of past and present Native New Yorkers.
The Exhibition's Goal
As a free museum, NMAI cannot gather information about our visitors through ticket sales or similar data streams. But we do know a significant, albeit obvious, fact about each of our visitors—their location. The visitors who walk into NMAI's lower Manhattan location either live in New York or made a point of visiting. New York, and New York City in particular, loom large in the imagination. This fact provided the exhibition team with a rich opportunity to seek common ground with our visitors and connect them to the exhibition's content in immediately relevant ways.
The very title of the show—"Native New York"—invites visitors to consider what makes a place Native and who is a "Native New Yorker." Using geography as an organizing principle, each of the exhibition's 12 sections begins in a specific New York location and from there travels through time and space.
For example, visitors start their journey at Battery Park/Kapsee, which is located across the street from the museum. They are transported back to 1626 to consider the misunderstandings between the Lenape and the Dutch that underlie the so-called "sale of Manhattan." Similarly, the other sections serve as jumping-off points for a wide range of topics, from Haudenosaunee (Iroquois) lacrosse to the Lenape diaspora.
The exhibition presents visitors with not only more accurate stories of the past but also how these histories impact contemporary life and Native people today. When visitors leave the museum, we hope they will see the city differently, wondering—and finding out—what other Native New York stories surround them.
Why Comics?
In "Native New York," large-scale environmental graphics wrap the gallery walls, providing a sense of place that unites the 12 sections. The sections in turn employ a range of interpretive techniques, from objects and first-person testimonials to videos and interactives. Four sections feature original comics.
Why did we turn to comics as a storytelling medium? One reason was our target audience. As one of the few free museums in New York City, NMAI-NY has long attracted school groups, especially those in fourth through seventh grade. We wondered if the comic medium could disrupt expectations for museum text while also being visually dynamic and appealing to this age group and beyond.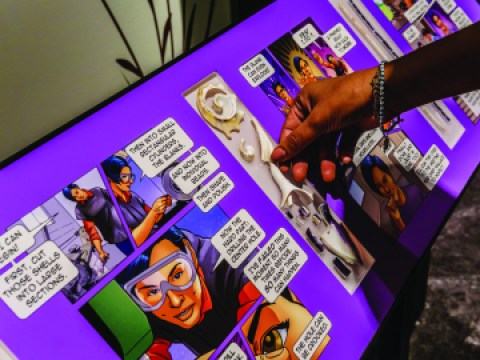 "We're not telling the stories in a pedantic way but a vibrant and dynamic way that draws people in, which is really the best part about using a sequential art medium," says Dr. Lee Francis IV (Pueblo of Laguna), a co-creator of the comics.
Necessity also drove our choice. Just do an internet image search for the "sale of Manhattan," and you'll see why. Historical visual material is full of both inaccuracies and harmful stereotypes about Native peoples.
The comic format afforded the team creative license in crafting the content into digestible, relatable, and hopefully memorable stories. For example, the comic in the Van Cortlandt Park section tells the story of the Stockbridge-Munsee Band of Mohican Indians. It begins with a Revolutionary War battle and continues through successive waves of immigration to present-day Wisconsin, covering many miles and more than 200 years of the community's history. We might have needed several blocks of text and images to relate this story in a more typical museum format. Instead, the story is crafted as an illustrated poem, charting the emotional landscape as much as the historical one.
In the Niagara section, a fictionalized Tuscarora grandmother holds a finely crafted beaded bag while telling her grandchildren about the Tuscarora's return to the north and their traditions of aesthetic adaptation and survival. While each comic is grounded in historical accuracy, they are not a series of facts, but rather stories of people, packed with memories, emotions, heartaches, and triumphs.
The exhibition format gave our collaborators freedom to experiment with comics beyond the printed page. The comic about the "sale" of Manhattan takes inspiration from a circus poster with a commanding visual presence several feet tall. Touchable shells and beads are embedded in a comic in the Poospatuck section about making wampum, which are shell beads strung in strands, belts, or sashes. Small objects are nestled in cases beneath flip panels in the Van Cortlandt Park section. And mid-20th century black-and-white photos of the Tuscarora community surround the Niagara comic.
Consultation and Collaboration
Early in the development process the exhibition team worried that using comics might raise unfounded concerns that the museum was making light of serious topics or presenting caricatures of Native people. The end result couldn't be further from that worry, which has everything to do with the collaborative process of creating the comics.
Overall, the exhibition's scholarship is informed by years (2012–2017) of consultations with Native communities conducted by former NMAI museum curator Gabrielle Tayac (Piscataway). An advisory board of tribal nation representatives and community members reviewed all exhibition content, including the comic art and text.
The museum hired Dr. Lee Francis IV (Pueblo of Laguna) and Michael Sheyahshe (Caddo) to spearhead the writing and art direction of the four narrative comics. Both are creative professionals steeped in the world of Indigenous comic creation and critique. They brought in Weshoyot Alvitre (Tongva), Dale Ray Deforest (Diné), Maria Wolf Lopez (Purépecha), and Arigon Starr (Kickapoo) as illustrators. Sheyahshe and Francis' choice of a different illustrator for each comic brought visual variety to the "Native New York" comics.
"We were fortunate to work with other Indigenous creatives on this project, all of whom belong to various tribal entities and groups," Sheyahshe says. "Not only do these factors increase and nuance both our creatorship and editorial voice, Lee and I have both a long academic history of and real-world experiences with a multitude of tribal groups. Above all, we worked toward making the stories themselves engaging, and also making sure our collective Indigenous voice was still broadcast as loud as possible."
The exhibition team provided the comic creators with a grounding in the messages and goals of the exhibition as well as text-based and visual background material to inform each comic. For the comic created for the Poospatuck section, this included speaking directly with Unkechaug Chief Harry Wallace and his daughter, Lydia Wallace Chavez (Unkechaug/Kainai Blackfoot [Blood]), to seek their permission to be characters in the comic. The two run Wampum Magic, an artisan wampum workshop on the Poospatuck reservation on Long Island.
The comic is a hero's journey in which Chavez is a trainee who must fashion a wampum belt in only four days for a tribal alliance meeting at her father's request. The event, and Chavez's status as a trainee, may be fictionalized, but the people, the setting, and the difficulty of learning how to shape wampum beads from shells couldn't be more true. Such a relatable account, filled with challenges, humor, and accomplishments, is exactly the kind of impactful storytelling NMAI envisioned when we decided to create original comics for "Native New York."
"Something that always guides me in this work, and something that NMAI has always excelled at, is not to fetishize tragedy," Francis says. "Pop culture in America fetishizes the idea of the dead and dying Indian. What was really beautiful was that the curatorial team allowed us to write stories of hope in many ways. Native folks are everywhere in New York. We're everywhere in America. We're still here and we've got bright, beautiful futures."

---
Extending the Impact
NMAI produced several resources related to the "Native New York" exhibition for classroom and at-home learning. These are available on the Native Knowledge 360° (NK360°) website (americanindian.si.edu/nk360; search "New York").
Downloadable comics. All four exhibition comics can be printed at 8 1/2-by-11-inch scale and include historical context and questions for students to consider.
Lesson module. "Early Encounters in Native New York: Did Native People Really Sell Manhattan?" uses original illustrations, videos, maps, and interactives to help students explore how the 17th-century fur craze brought together two cultures—Native and Dutch—each with different values and ideas.
Dialogue toolkit. This guide provides basic grounding in the practice of dialogue and includes a program model that educators can use in connection with the exhibition.
Recorded webinars. This four-part series is designed for education professionals who teach about the Native nations of New York state. The webinars are available on the museum's YouTube page by searching "New York."
---
Resources
Native Americans in Comic Books: A Critical Study, Michael Sheyahshe, 2008
Telling Stories with Pictures: Collected Comics from Native New York
americanindian.si.edu/nk360/resources/Collected-Comics-from-Native-New-York
Red Planet Books and Comics, publishers and sellers of Native comics, run by Dr. Lee Francis IV
redplanetbooksncomics.com/
alterNative Media, a creative, media, and software development firm, founded by Michael Sheyahshe
alter-native-media.com/
The 2018 Reclaiming Native Truth study and other resources about narrative change
illuminative.org/resources/