What can be even better than a museum making a successful hire? Keeping the experienced, well-trained staff it already has. The Alliance's soon-to-be-released latest snapshot survey of our sector documents that half of museums are still experiencing problems filling open positions three years after the pandemic began. To keep these problems from getting worse, many museums are working to improve retention by improving pay and equity, including raising the hourly rate of the lowest-paid employees, shrinking the ratio between highest and lowest salaries, and implementing new initiatives to improve staff wellness. Research has shown that organizations can also improve retention of existing staff by providing clear pathways to better roles. Today on the blog, Scarlett McCahill and Erica Simonitis share how the Barnes Foundation has worked to do this, creating career exposure internships and career ladders for its frontline staff.
–Elizabeth Merritt, VP Strategic Foresight and Founding Director, Center for the Future of Museums
---
To sustain a workplace culture rooted in equity, transparency, and inclusion, it's critical to invest in frontline staff. Frontline staff activate our educational missions. The impression they leave on guests has a substantial impact on our institution, influencing everything from our reputation to our revenue streams. While they hold this significant responsibility, they are often afforded limited avenues for professional development and growth, despite having strong desires to experience those workplace milestones. At the Barnes Foundation, we recognize this problem and want to counter the trend of low investment in frontline staff. For that reason, in 2021 we launched our Pathways Program, to:
Create accessible, transparent development opportunities through career exposure internships.
Offer opportunities for skill development beyond daily job duties.
Structure specialized career ladders within frontline departments.
Program Structure
The Pathways Program has two branches: Career Ladder (which creates structures for job promotion) and Career Exposure (which creates opportunities for internal internships). For this piece, we'll focus on the internal internship branch and the initial impact it's had on our organization.
Skip over related stories to continue reading article
The Career Exposure branch of Pathways offers paid, internal internships, which provide opportunities for career exploration and skill development. In addition, they can prepare staff for internal promotion and career growth, both within and outside of their home department.
Our sixth quarterly internship cohort began this year. In 2022, eleven interns, chosen from a frontline staff census of fifty-two, worked one day a week for eight to ten weeks—roughly eighty internship contact hours each—in a career exposure internship. For the balance of their regularly scheduled weekly work hours, they continued to work in their primary job roles.
Offering the internships relies on strong planning and budgeting practices, scheduling internships around busy operational peaks. Pathways is reflected in our operational budget through:
A cost formula: Number of internships multiplied by the number of intern hours multiplied by the median frontline staff payrate. Institutions of any size can create their own internal internship program using this elastic formula. At the Barnes, we use it to look ahead to plan the next year's internship costs.
An operational strategy: Internship activities are part of frontline scheduling assumptions, just like job duties at our box office or in our galleries. We ensure staffing levels in frontline departments are sufficient and we do not authorize overtime to absorb internship hours.
These practices will allow us to expand offerings in the future in a sustainable way for the institution.
Here's how our internships work:
Intern Eligibility
Staff are not required to have work experience directly related to an internship to qualify. Eligibility is based on high-quality job performance in the applicant's primary role. We explicitly communicate that the internship is a low-risk, high-support opportunity to gain new professional experience, and typically will not result in an immediate promotion. We are cautious not to overpromise on internal promotion because we are a mid-sized institution with approximately two hundred positions. Despite this, we still see excellent program engagement, as measured by applications and post-internship program evaluations. Staff share how much they value the opportunity for resume-building experiences.
Application
Non-supervisory staff from frontline departments—including Guest and Protection Services, Box Office, Call Center, Barnes Shop, and Facilities—can apply to the Pathways Program if they have been employed by the Barnes for at least four months, have no documented disciplinary infractions related to their job performance within the prior six months, and receive their supervisor's referral. The program is open to both part-time and full-time employees. Interested staff complete a web application and are interviewed by a Pathways Mentor from the internship host department.
Mentor Expectations
Interns work with a dedicated supervisor, called a Pathways Mentor, in a Barnes department outside their home department. Thus far, we've had enthusiastic mentors from many departments, including Archives, Conservation, Communications, Family Programs, Business Development, Education, Information Technology, and Marketing. The most sought-after internship has been in preventative conservation, exposing staff to strategies to care for our gallery spaces. Great peer-to-peer buzz has also come after Brand Engagement & Marketing and Archives internships, thanks to dynamic staff mentors.
Preparing mentors is key, as they may have varying degrees of experience in structuring workplace learning plans for others. In the Pathways Program, this preparation is a three -hour commitment before the start of the internship. Our Human Resources Director onboards our mentors into the program and provides continued support to help create a holistic internship experience that focuses on understanding the core functions of the host department. This is accomplished through a combination of on-the-job work tasks, observation of others, and theoretical reading and discussion about strategies employed in the focus area. Mentors are not job supervisors; in the event of work performance, attendance, or conduct lapses, they report observations to frontline supervisors.
Feedback
Staff who apply but are not selected to participate receive constructive feedback about their application and interview performance from the Pathways Mentor, followed by coaching from their supervisor or Human Resources staff. For many staff, this low-stakes interview and feedback experience is a professional development opportunity in itself. Early-career applicants share being nervous to apply, and some applicants interview several times before being selected for an internship. A supportive peer culture has organically developed as staff encourage each other to navigate these program processes.
Post-internship, interns and mentors evaluate themselves, one another, and the Pathways Program. Many interns elect to take advantage of an optional resume review and coaching offered as part of an exit interview.
Taken all together, we are investing in shared mindsets, vocabulary, and feedback structures to make sure we're building each other up through an iterative cycle of feedback and improvement.
Program Highlights
While it's still in early days, there are encouraging initial signs our Pathways Program is serving both the individual staff who participate and the institution as a whole:
1. High rates of internship completion in each quarter offered.
In 2022, we offered eleven placements and had 100 percent completion of offered internships.  

2. Interns learning a new skill or assessing a career track.
Here is a sample of the skills learned and contributions made by interns in 2022: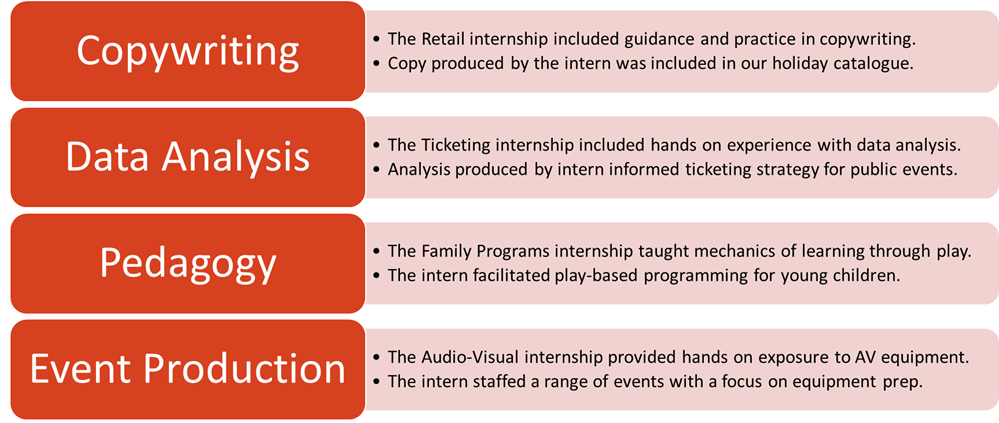 We also asked our Pathways interns to share what they found most valuable about their experience in terms of career exposure and exploration:
"Learning about the visual strategy behind retail displays was valuable. It was a surprising part of my mentor's job that I was unfamiliar with and one of the most exciting skills I learned."

"I had no AV experience beforehand and was interested in expanding my knowledge base, which would help increase my hire-ability for future positions… programs and events I participated in exposed me to the intricacies of producing events like on-line lectures, graduate symposium presentations, or private party events for which lighting, camera, and audio equipment was necessary… I am grateful for the experience which, regardless of what path my career takes, expanded my skill set."
3. Sustained program interest, measured through strong applicant and mentor pools
Each quarter we've had more applicants than available placements. We publish all internships at the beginning of the year, allowing eligible staff to apply to placements of their greatest interest. We also have enough mentors to fill our calendar through next year.
4. Continued or first exposure to coaching and management practices for mentors.
An indirect but welcome result of Pathways is its opportunity for practiced, new, and aspiring managers to have continued education in high-quality, predictable management practices. For new and aspiring managers, the program provides foundational tools for hosting productive 1:1 meetings and experience in skill-coaching without high-stakes performance demands. For practiced managers, the program provides additional opportunities to strengthen their style and delivery of management principles, especially in giving feedback. This type of exposure strengthens mentor relationships in their home departments, provides an avenue for manager training, and sustains a culture that centers feedback and coaching.
5. An increase in frontline staff promotions.
As a bonus, the program has helped identify readiness for promotion, and in some cases successfully converted participants to a career-aligned, promoted role, whether internally or at another organization.
For example, Roman, pictured above, was a long-tenured frontline staff member, with more than five years of frontline experience at the time of his Pathways internship in 2021. Within a few months of learning the fundamental skills of a K-12 Gallery Educator, he was promoted into an open Gallery Educator role.
"My time participating in the Pre-K-12 Education Pathways Internship allowed me to grow professionally in a variety of ways. I learned how to successfully lead a full tour of the Barnes Collection utilizing effective teaching strategies that would allow students to fully engage with collection. I was fortunate to shadow and learn from the experienced Education staff."
Even with some staff departing for promoted positions at other organizations, we have not experienced a disruptive amount of turnover within our frontline departments or organization overall. We celebrate staff who leave the Barnes for career-aligned roles elsewhere.
Implementation at Your Museum
The Barnes's workplace culture, values, and program goals may differ from other institutions, but our advice to others who may be interested in beginning a program like Pathways would be not to wait until your culture and operations are perfect—there's no such thing—but to create your program as part of broader cultural investments and give it resources to sustain a consistent, fair, high-quality program structure. Here are the elements that have made our program a success:
1. Board and Executive Champions
Our board and executive leaders are deeply supportive of this program as a natural extension of our institution's founding commitments to equity, inclusion, and empowerment through learning.
2. Commitment to an Empowering Workplace
The Barnes has invested in its employees in many important ways: conducting periodic cultural assessments; empowering interdepartmental working groups to implement enhancements to our workplace culture; offering competitive pay and fringe benefits; investing in management skills; and centering cultural competency and inclusion in our exhibitions, public programs, and internal investments. While our organizational operations and work culture are not perfect, the Pathways Program contributes to our broader investments into positive culture, empowerment, and equity. These programs have brought us together with greater appreciation and understanding of one another's work.
3. Intentional Program Administration
The Pathways Program was initially designed by an interdepartmental group which included frontline staff. Frontline department supervisors and HR team members implement the program in collaboration with mentor host departments. Pathways is managed by our Director of Human Resources and frontline supervisors, with support from the HR, Finance, and IT departments. Through this structure, we ensure internships remain focused on education and professional development (not on filling an unexpected operational need, replicating favoritism, or perpetuating racial exclusion). The HR department tracks demographics of staff who are or aren't applying and accepted for internships, and we communicate program goals on an ongoing basis during staff recruitment, onboarding, performance reviews, and everyday coaching. This attention ensures Pathways continues to strengthen our operations and advance our commitment to equity.
The organization celebrates mentors and treats their service as an accomplishment that raises internal visibility for the mentor and their department. The HR department provides mentors with tools to keep administrative burdens to a minimum and incentivizes program participation for mentors and interns in our performance review process.
The Pathways Program is championed internally as an important expression of our mission and a smart business decision by giving our largest and most visible group of staff a program that adds to a stimulating and supportive work environment where they can flourish.