---
This article originally appeared in Museum magazine's May/June 2023 issue, a benefit of AAM membership. 
---
The Speed Art Museum and outside experts developed a multidisciplinary program to explore the impact of race-based trauma and gun violence in Louisville.
"What if we could use an art project to bring attention to the excessive amounts of guns in the Black community and the adverse effects?" This question, asked by former Speed Art Museum Steering Committee member and current Kentucky State Representative Keturah Herron, led the museum to develop "The Promise," a research and art-making program to facilitate healing, reflection, and creative expression for African Americans in Louisville affected by gun violence.
Part of Speed's Community Connections workshop series, "The Promise" builds on the public engagement framework that grew out of the museum's 2021 exhibition "Promise, Witness, Remembrance," which reflected on the life of Breonna Taylor, her murder by the police in 2020, and the subsequent year of protests in Louisville.
"The Promise" taps into the Speed Steering and Research committees, which were created to employ community voice to inform presentation, programming, and community engagement around "Promise, Witness, Remembrance," and the University of Louisville's commitment to engage with the Black community to build trust, listen to their priorities, and offer programming reflecting their experiences. In addition to a 12-week workshop series, "The Promise" also offered community engagement experiences and an exhibition of the works created in the workshop.
Starting with Community Feedback
"The Promise" was stewarded by the museum's Research Committee, a Black-led partnership led by Toya Northington, the Speed Art Museum's Director of Equity, Inclusion, and Belonging. Other members include Dr. Emma Sterrett-Hong and Dr. Lesley Harris, faculty from the University of Louisville School of Social Work; Dr. Jelani Kerr and Dr. Gaberiel Jones, faculty at the University of Louisville School of Public Health; and Dr. Maurice Gattis, faculty at Virginia Commonwealth University School of Social Work. This team designed research methods that capture the project's impact on participants' emotional and social well-being and its public health or social justice impact.
Before the project began, administrators at the Speed spoke individually with multiple stakeholders, including activists, psychologists, politicians, and the police department to hear their thoughts, fears, and perspectives. The project began with a listening session with the Steering and Research Committee members, artists, and activists. Participants discussed their experiences with gun violence, and the activists reflected on how it informed their work. Program leadership articulated the project's purpose and solicited feedback.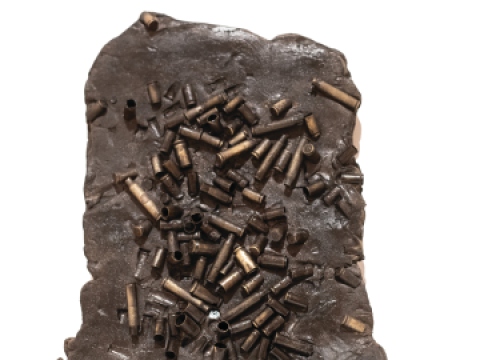 The conversation revolved around four themes. First, Black people have a complex relationship with firearms. This is exemplified in firearms' role as a slave trading commodity, prohibitions against gun ownership during the antebellum era, and the flood of guns into Black communities during the crack epidemic. Second, guns can represent protection, and efforts to disarm the community may be viewed unfavorably, particularly given state and local context. Third, law enforcement behavior is often detrimental to community interests. Specifically, firearms are often recycled into the community through police auctions, captured guns are often unrelated to the crime that was committed, and gun rights are often subverted by assigning weapons charges to innocent people in the vicinity of gun-related probation violations. Finally, community services and intervention are needed to address gun violence.
The listening session set the tone and direction for the workshop curriculum and community engagement events. Instead of focusing on the museum or its art collection, we wanted this program to bring attention to a social issue with the hope of improving the mental health of Black community members. This was new territory for our museum, but we were building on the confidence we gained during the "Promise, Witness, Remembrance" exhibition.
To lead the program, Northington contacted Roberto Visani, a Black, Brooklyn-based multimedia artist who has exhibited internationally, has been awarded prestigious residencies, and possesses a range of experiences as an art educator and artist working in community and institutional contexts. He had an experience with gun violence and has used guns as material and content in his studio practice for over a decade. Visani accepted the offer and joined the Research Committee to help plan the workshops, community engagement events, and the exhibition.
Workshops for Art-Making and Healing
Following the listening session, Visani, Northington, and Research Committee members created a 12-week workshop that began in March 2022 and alternated between in-person and Zoom sessions. Participants researched the history and impact of guns and gun violence on Black communities, examined how these topics are expressed by visual artists, and created their own art reflecting their experiences.
There were multiple points of entry for the workshop participants to express their creativity, though photography was the main medium because cellphone cameras have made it accessible and popular. In the sessions, participants shared their perspectives on the lessons and used photos generated through weekly prompts to convey their ideas in a research process called PhotoVoice. PhotoVoice is a way to hear about people's thoughts and experiences through their eyes and their words. The process also allowed participants to connect meaning and content to their images.
Iron sculpture was the second medium we used due to its physicality and the potential to turn a material that causes pain into something hopeful and meaningful. Originally, the workshop planned to use firearm parts donated through a gun drive as art material; however, local policies prohibited the use of firearms as artistic material, so the museum purchased scrap metal. That metal was used in the culminating workshop, which was a community event at a foundry in Portland, a diverse neighborhood in the West End of Louisville, where participants created molds into which the iron was poured.
In addition to art-making, critical conversations around grief, gun violence, and racial healing were embedded within the workshops. The framework for these conversations centered on: 1) enabling people to document and reflect community strengths and concerns (the sessions were recorded and analyzed in order to develop intervention strategies on root causes of gun violence); 2) promoting dialogue about community issues through discussions of their art, and; 3) influencing policymakers to facilitate changes deemed necessary by the community.
Visani cofacilitated each workshop session with Dr. Gaberiel Jones Jr., a community-engaged researcher whose work focuses on the impact of structural violence on Black communities. He had previously worked with community members on the PhotoVoice project "It Could Have Been Me" during the "Promise, Witness, Remembrance" exhibition.
Dr. Jones suggested including mental health components in the sessions to help participants navigate the complex race-based trauma associated with structural and interpersonal violence. In the first session, for example, participants acted out trauma with guns, linking collective experiences of trauma through role-playing. Other sessions focused on a historical overview of guns, how they are used as currency, and more. Together, the team did an excellent job making sure everyone felt seen and heard. Using her social work training, Northington offered an optimistic or affirmative ending to each session so that participants would not leave in a bad place.
Very little scientific evidence exists about how an arts-based healing group focused on race-based trauma and gun violence could impact participants' well-being. Therefore, the Research Committee devised a data collection and analysis plan to examine participants' experiences with art-making and collective healing. This involved numerous short pre-session and post-session participant surveys, including a race/ethnic-based discrimination survey to gain an understanding of their experiences of discrimination and then a race-based trauma-anxiety survey to determine how those experiences made them feel.
Findings indicated that participants' moods improved after eight of the nine sessions, thus indicating that the arts-based healing activities made positive contributions to their well-being. This suggests that art-based workshops are a relatively low-cost intervention to improve the physical and mental health outcomes of communities that experience high levels of trauma and gun violence.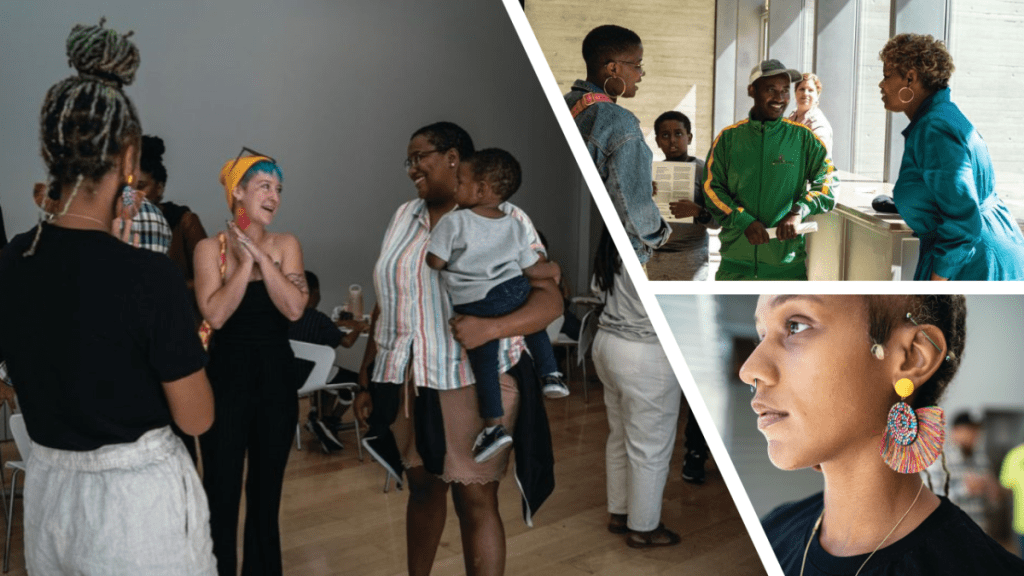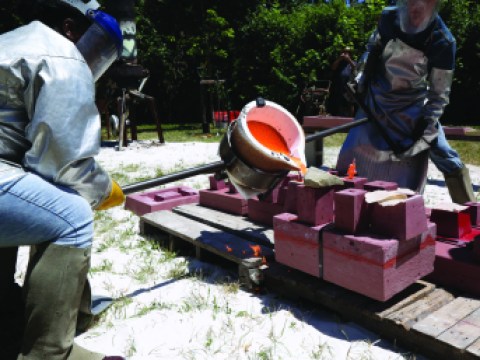 The Culminating Exhibition
The workshops ended with a public arts-advocacy exhibition at the Speed Art Museum from August 19–October 23, 2022, that included artworks created by participants as well as Visani and Northington. Visani and Northington also curated the exhibition in consultation with the participants, helping them create a personal platform to share their opinions, experiences, and creativity with a public audience.
For all of the participants, this was their first experience creating a museum exhibition, and we wanted to engage them in every aspect of the process. Doing so also allowed Visani to discover art pieces that were strong in composition, technique, and content that the participants may have otherwise overlooked.
Because the curators had an intimate knowledge of the artworks produced during the workshop, and had worked with the artists involved, they were able to create thoughtful installations for each work. One example is the series of photographs by Pastor Brown documenting shrines honoring gunshot victims throughout Louisville. The photographs were displayed on the far wall of the gallery in a large cross that echoes the makeshift crucifixes depicted in the photos. Installation of other works took a similar approach, allowing the content to inform the artwork's presentation.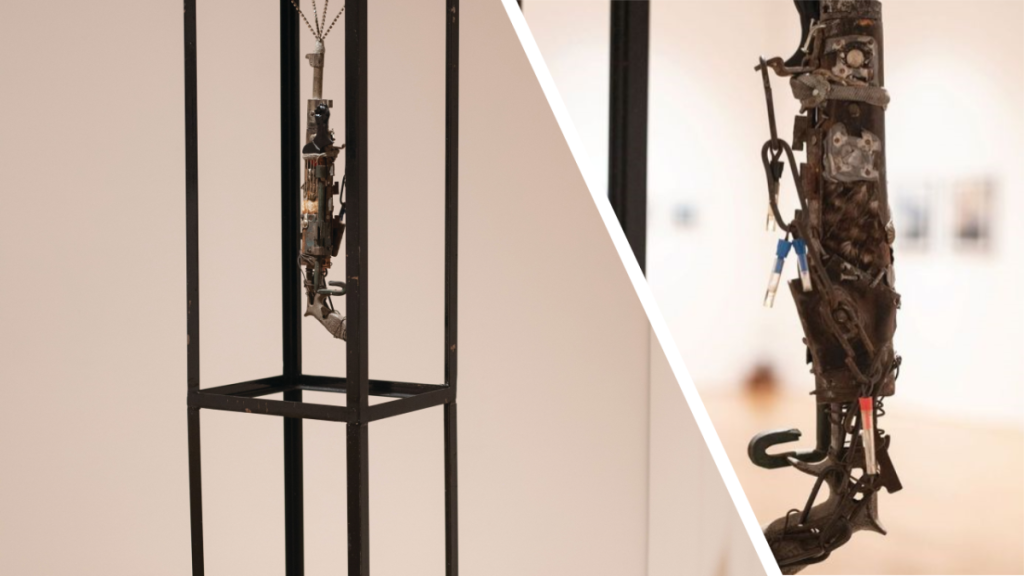 Community Engagement Events
Community Day at the Falls Art Foundry on June 18, 2022, brought community members and workshop participants together to create cast-iron artwork. This was a family friendly event that included free food trucks, a disc jockey, and opportunities for all ages to create molds into which the iron was poured. When the blocks cooled, the participants could take them home.
People came from all over greater Louisville and engaged with local residents and other community members they were unlikely to meet in any other environment. This also broadened the project's art-making process, linking these participants to "The Promise" exhibition.
We held another Community Day event on September 25 at the museum, drawing attention to the exhibition. It featured daytime and evening activities that were an eclectic mix of music and performances; food and drinks; yoga and wellness events; a panel discussion with local artists, poets, and activists; and several intimate conversations about why we developed "The Promise." A diverse audience participated in the conversations, reflecting on their own experiences, fears, and biases about gun violence.
The research team and Visani are currently working on plans for "The Promise 2023." We are brainstorming ways to reach new audiences, including local youth groups and people who are incarcerated, and/or developing a bi-city effort with our partners in Pittsburgh. In addition, the museum received an NEA research grant to analyze the survey information and common themes identified during the workshop sessions and share those findings with local community members, museums, and academic communities.
With "The Promise," participants became catalysts for personal and community change through art-making and dialogue, and we aim to continue and build on that work.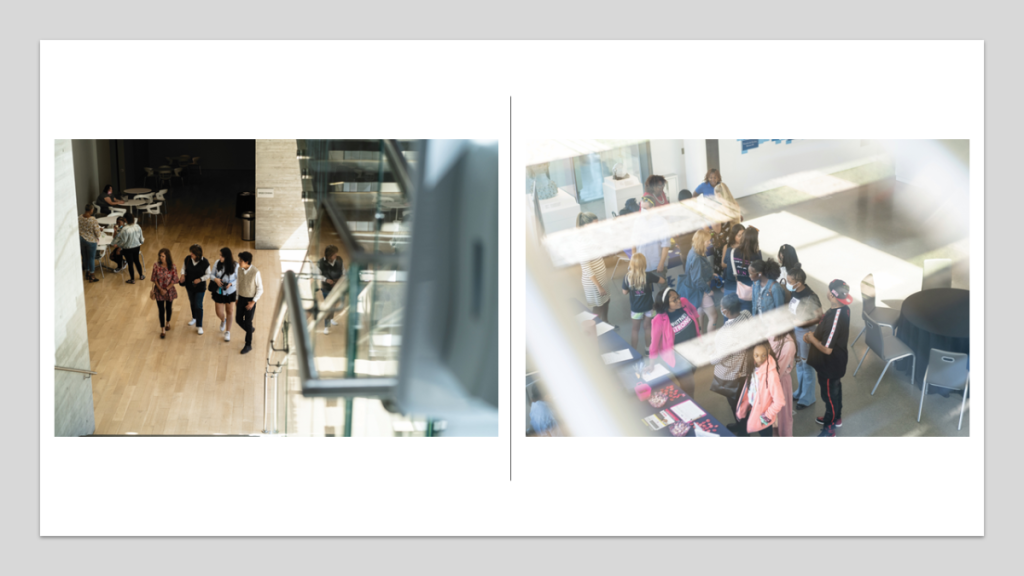 ---
Thoughts on Community Partnerships
Take advantage of interdisciplinary partnerships. For "The Promise," the Speed Art Museum worked with experts in public health, clinical psychology, social work, and fine art. We found that members of each discipline came forward to safeguard different aspects of the project. For example, the research team facilitated the data collection at several levels: conceptualization, agenda, and priority setting when we met with community-based organizations working on gun violence. Every member of the team was dedicated to elevating community voices through different domains of the project.
Look toward the future. When building trust, it's not what you say, but what you do that matters. By continuing to engage with your community partners, your institution can create environments and art experiences that allow marginalized groups in the community to feel seen, valued, and heard. Deep and reciprocal relationships that can foster long-term and systematic change are built over time.