For immediate release
ARLINGTON, VA – The Board of Directors of the American Alliance of Museums (AAM), the only organization representing the entire scope of the museum community, today announced the individuals, programs, and institutions recognized for their leadership and excellence within the museum field. Awards will be presented at the 2023 AAM Annual Meeting & MuseumExpo in Denver, CO.
Distinguished Service to Museums Award
The most prestigious award for individuals in the US museum profession, the Award for Distinguished Service to Museums recognizes an individual's significant and sustained contributions to the museum field over a career of 20+ years.
Cinnamon Catlin-Legutko, late Director, Illinois State Museum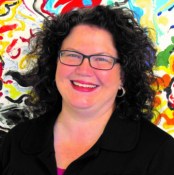 On January 21, 2023, former AAM Board Member Cinnamon Catlin-Legutko passed away after a fierce battle with cancer. A leader in museums for more than twenty years, Cinnamon will be best remembered for using her power to change lives, inspire movements, and challenge the status quo in the museum field.
Cinnamon served as a museum director since 2001, most recently at the Illinois State Museum. During her tenure there, she led efforts to ensure museum exhibits were more inclusive and representative of the state's diverse population. She hired the State of Illinois' first Tribal relations director to build relationships with Tribal Nations, ensure Illinois' compliance with federal laws, and facilitate the return of ancestral remains. She also chaired the Diversity, Equity, Accessibility, and Inclusion (DEAI) Committee at the Illinois Department of Natural Resources where she led INDR's efforts to prioritize DEAI in all facets of their operations.
Prior to joining the Illinois State Museum, Cinnamon was President & CEO of the Abbe Museum, where she was a motivational force behind the museum's decolonization initiative, working with the Wabanaki communities in Maine to develop policies and protocols to ensure collaboration and cooperation. She made the Abbe a leading resource and model for the museum field for ideas, solutions, and strategies for understanding and developing decolonizing museum practice. Her conversations about the topic—including her 2016 TEDx talk We Must Decolonize Our Museums—moved forward a robust national dialogue across the museum and history fields.
Before joining the Abbe Museum, she was director of the General Lew Wallace Study and Museum. During her tenure, the museum received the Institute of Museum and Library Service's National Medal for Museum Service in 2008.
Cinnamon was an active and engaged board member of many organizations, including the American Alliance of Museums, American Association for State and Local History, Association of Midwest Museums, Maine Humanities Council, and the Smithsonian Affiliates Advisory Council; and President Biden recently appointed her to the Route 66 Commission. She authored or edited several transformational publications, including the Small Museum Toolkit (AASLH, 2012), a result of her tireless efforts on behalf of America's small museums; Museum Administration 2.0 (AASLH, 2016), an important book that will guide museum professionals for years to come; and her final and perhaps most important work, The Inclusive Museum Leader (AAM, 2021), offering insights, perspectives, practical solutions, and opportunities for today's museum leaders to build equitable practices within their organizations.
Cinnamon left a tremendous mark on the museum field and the lives of all those who knew her.
Nancy Hanks Award for Rising Stars
To highlight and celebrate the vital role that museum workers play in building thriving museums, strong communities, and a better world, the Nancy Hanks Memorial Awards for Rising Stars recognize museum professionals age 40 or under who are making an impact in their institutions, communities, and the museum field.
Xiomara Blanco, Media Producer, The Historic New Orleans Collection
Xiomara Blanco is a one-person production powerhouse. As the media producer for The Historic New Orleans Collection (THNOC), Xiomara has ushered in a new era of modern video programming for the museum — combining her digital strategy savviness with eye-catching installations.
Prior to her tenure at THNOC, Xiomara spent nearly a decade in digital media. She then began working at the museum in 2019 as a gallery attendant, educating visitors and quietly daydreaming about the exhibits she'd curate if given the chance.
As the organization struggled to pivot online and engage audiences remotely during the nationwide COVID-19 shutdowns in 2020, Xiomara rose to the occasion and helped create videos for the museum. She tapped into the wealth of skills she honed moonlighting at the time as a Jane-of-all-trades creative producer in the New Orleans local music scene. Following the success of the museum's virtual tour video series that she helped lead, THNOC promoted her a year later as the museum's first-ever media producer, where she now films, edits, and produces videos for exhibitions and online distribution.
In a way, she was primed for this position. Already armed with an in-depth understanding of the museum and its visitor experience, Xiomara then combined her considerable experience in digital media and ambitious artistic vision to create award-winning video installations and engaging online videos. Often doing the work of a small production crew alone, Xiomara has directly increased the quality and quantity of original videos produced, resulting in doubled YouTube subscriptions and record-breaking social media engagement.
At its core, her work educates visitors on the history of New Orleans. But the ripple effects of Xiomara's vision has elevated THNOC as a world-class museum, publisher, and research center. A proven leader and self-starter, Xiomara is a creative visionary — and she's just getting started.
Laurie Garcia, Senior Associate Director of Education, Cynthia and Richard Loewenstern Family Endowed Professor in Education, Holocaust Museum Houston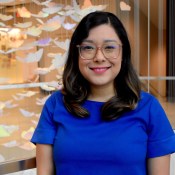 Laurie Garcia is the Senior Associate Director of Education and the Cynthia and Richard Loewenstern Family Endowed Professor in Education at Holocaust Museum Houston. In this role, Laurie leads the Latinx Initiatives Program at the Museum which highlights the histories, experiences, and contributions of the Latinx community through bilingual education programs and outreach efforts. Laurie has connected to Spanish-speaking communities in the Greater Houston area to share the museum's mission by developing and facilitating professional development trainings and seminars for teachers; leading student workshops at the museum and in community settings; managing free bilingual school programs that support access to literature in K-12 classrooms; supporting fine arts integration and arts partnerships as a Samuel Bak educator; conducting Spanish language outreach in the community; and assisting with the creation of education materials and resources in English and Spanish.
Laurie has been with the museum for six years and is passionate about human rights, social justice, and Holocaust education. Before her current role, Laurie founded the Educator in Motion Program, a free bilingual school program that sends HMH Museum educators to schools to teach about the lessons of the Holocaust through character building in PK-5th grade and history in 6th-12th classrooms. In the five years under Laurie's leadership, the EIM program impacted over 140,000 students, 79 K-12 school campuses, and 29 school districts throughout the Greater Houston area and the United States. In January 2023, Laurie led the Lt. David L. Silverman Latin American Institute, the museum's first in person, bilingual, international conference that brought educators from the U.S. and Latin American countries to HMH to build their knowledge and experience in teaching the history of the Holocaust and human rights in their classrooms.
Jeremy Hoffman, David and Jane Cohn Scientist, Science Museum of Virginia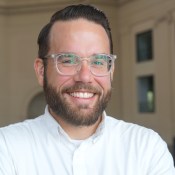 Jeremy Hoffman wants to empower people to solve community problems with science. With his Ph.D. in paleoclimatology and multi-modal communication skills, he unabashedly pursues all forms of communication, including music videos, large-scale visualizations, and theater productions, to excite people in their knowledge of science and climate change. Recognizing the importance of direct engagement with youth on climate change, and working with the local nonprofit Groundwork RVA, he mobilized community members to serve as citizen scientists and map the urban heat island in Richmond, VA. This community science effort discovered a 16-degree heat difference between cooler, wealthier neighborhoods, and poorer, hotter neighborhoods. The youth and community members are now working together to implement cooling infrastructure solutions in their neighborhoods! Through this work and other community-based efforts, he is single-handedly modernizing the museum's approach to climate change and positioning the institution as a leader in climate solutions and youth engagement while centering environmental justice with partners across the environmental spectrum, including transit, housing, and food access nonprofits.
Nickcoles Martinez, Assistant Director, Youth Initiatives, American Museum of Natural History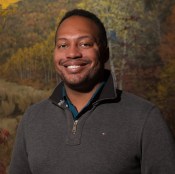 Nick is an Assistant Director in Youth Initiatives (YI) at the American Museum of Natural History (AMNH), a position he has held following multiple promotions since joining YI as a college intern over a decade ago. In his role, Nick is responsible for the strategic direction of youth programs impacting over 600 students annually. A hallmark of his tenure has been Nick's commitment to equity and working to push and support museums to confront historical and current racism. As an African-American and a native New Yorker, Nick has spearheaded AMNH's community engagement work, which has resulted in a dramatic increase in the number of Black and Hispanic students served and more progressive financial aid systems to support applicants. In program design, he's situated youth at the center of their learning by launching a youth advisory council and leading a youth employment program for nearly ten years. Nick's leadership in broadening representation in the museum sector is seen in his work outside of AMNH with his 2020 publication of, "Increasing Museum Capacities for Serving Non-White Audiences" in Curator: The Museum Journal.
Outside of his work at the AMNH, he currently serves on the Board of Directors of the Museum Association of New York where he is the Chair of the Governance and Nominating Committee. He is also an Adjunct Professor at St. John's University and Co-Curating an exhibition in collaboration with the Harlem Gallery of Science.
Recognition for the Advancement of Diversity, Equity, Accessibility, and Inclusion
With the acknowledgment that diversity, equity, accessibility, and inclusion (DEAI) work is necessarily ongoing and iterative, this recognition highlights important and noteworthy work that is driving impact and making a difference both internally through museum workplace culture, programs, and policies and externally through engagement with museum audiences and communities. Multiple individuals, programs/initiatives, and organizations may be recognized in a given year.
Recognition for an Individual:
Brooke Minto, Executive Director, Black Trustee Alliance, New York, NY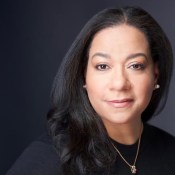 Brooke Minto has twenty years of experience working for museums and interdisciplinary arts organizations in the United States and abroad. As the inaugural executive director of the Black Trustee Alliance for Art Museums (BTA), she launched the grant-funded pilot program which has grown into a robust nonprofit membership organization equipping Black trustees with the resources to bring meaningful and lasting change to their institutions. In her two years with BTA, Brooke established the alliance's research agenda, its research and data fellowship program, and guided its first data-driven publication. She also had oversight of the first three editions of BTA's annual convening for its national membership.
Beginning in May 2023, Brooke will be Executive Director and CEO of the Columbus Museum of Art. Previously, she served as a managing director of Advisory Board for the Arts and held senior leadership roles at Zeitz Museum of Contemporary Art Africa in Cape Town, the New Museum in New York, the New Orleans Museum of Art, and Pérez Art Museum Miami. She began her career in the curatorial department of the Solomon R. Guggenheim Museum. A graduate of Dartmouth College, Ms. Minto studied art history, and earned a master's degree in modern art and critical studies from Columbia University. She is a member of the board of advisors for the Hood Museum of Art, Dartmouth and the board of directors for Print Center New York.
Recognition for Programs:
Johnson County Museum, REDLINED: Cities, Suburbs & Segregation, Overland Park, KS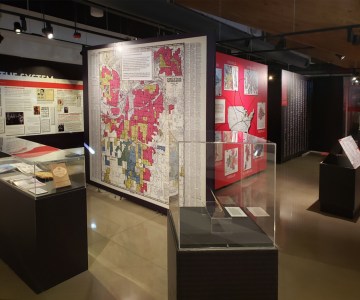 The Johnson County Museum, a department of Johnson County Park and Recreation District, unveiled a special exhibition, REDLINED: Cities, Suburbs, and Segregation, on January 29, 2022. Encompassing 1,500 square feet, REDLINED explored the historical and local roots of the systematic disinvestment of some neighborhoods and populations in favor of others based on race. Stunning graphics, interactives, and art pieces created in response to redlining by nine members of the African American Artists Collective encouraged visitors to explore the history and lasting legacies of the now-illegal federal policy.
The museum engaged the Johnson County Voices of Inclusion and Belonging (VIBE) Advisory Team and enlisted Dr. Carmaletta Williams, Executive Director of the Black Archives of Mid-America, as well as leaders in formerly redlined neighborhoods—Marvin Robinson II, local consultant and researcher; Gloria Ortiz-Fisher, Director of Westside Housing Organization; and Dr. Williams—to share their perspectives on the history of redlining.
The museum staff engaged more than 20 cultural organizations across the Kansas/Missouri bi-state area to offer programming at their locations related to redlining and its continued impact. These programs ignited a community-wide conversation about redlining and its legacies. Staff also developed field trips and educational resources, gallery guide cards for adults and families, public tours, weekly social media posts, and blogs designed to help the community to delve deeper into the relatively unknown history of redlining.
Over 34,000 community members visited the exhibit with over 100 group tours delivered to community organizations, civic groups, churches, and private companies, all wishing to grow in the understanding of diversity and inclusion. With the public wanting more, staff responded by creating a REDLINED book that has sold almost 500 copies and is now available at nine libraries across the metropolitan area. Additionally, the museum launched a fundraising initiative for a digital version of the exhibit, as well as an annual symposium around the legacies of redlining. Staff is also working with Mid-America Arts Alliance to adapt the material into a national traveling exhibit.
The museum staff saw firsthand the transformative power of collective action and the importance of creating a space for difficult conversations and exploring the good and bad of shared community identity.
The Nelson-Atkins Museum of Art, A Frame of Mind, Kansas City, MO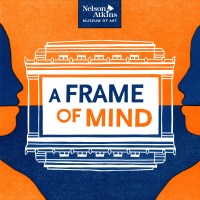 A Frame of Mind is a five-episode podcast that takes a hard look at race in America through the lens of The Nelson-Atkins Museum of Art in Kansas City, Missouri by exploring its history and present relationships to the city.
The podcast stories, deeply tied to the national dialogue around cultural institutions, monuments, power, and transparency, emerged from interviews with 26 Kansas City community members, with focus and priority on the perspectives of Black and Native people. Interviewees included artists, community organizers, and historians with diverse relationships to the Nelson-Atkins, from long-time partners to near-strangers. Poet, educator, and host of A Frame of Mind Glenn North guides listeners with his framework: "you can't talk about anything in our country—museums, barbecue, football, whatever—without talking about race."
There have been over 14,000 downloads of the series from listeners nationally and internationally. Overwhelmingly, listeners respond to the podcast with surprise that the stories are told with such honesty and openness, and new perspectives on what the role of a museum might be in critical conversations about race and U.S. history. The podcast has been a tool for DEI reading groups at local organizations, shared as a professional development resource at museums across the U.S. and as far as Dubai, integrated into curricula for high school students, and re-broadcast on a local radio station.
One internal outcome of the project is a transformative capacity at all institution levels to authentically engage in difficult conversations about race and harmful aspects of their institutional history. The process of making this podcast led internal teams to build new muscles for taking ownership of painful histories to forge a future alongside impacted communities. The success of this mode of storytelling, which honors multiple perspectives and allows museum staff to go beyond a strictly art historical or institutional interpretation of objects, makes space for future efforts in approaching their historical collection with personal social justice lenses.
This series was produced and co-written by Glenn North and Christine Murray, with support from Duaa Mohamed. Editing and sound design by Brandi Howell. Interview recording by Tim Harte. Produced in partnership with Jocelyn Edens and Kim Masteller, with production support from Anne Manning, Rachel Nicholson, Brent Bellew and the Nelson-Atkins Teen Council. This podcast is produced with generous support from Bank of America, N.A., Trustee of the John W. and Effie E. Speas Memorial Trust.
Exploratorium, STARS, San Francisco, CA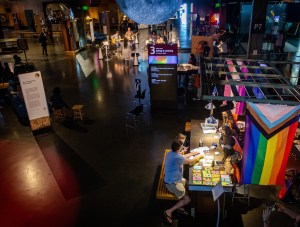 The vision of the STARS (Striving for Trans-Inclusion and Anti-Racism in Science learning) program is to expand inclusion, belonging, and relevance in informal science learning with a focus on addressing inequities based on gender, sexuality, and race. STARS' innovative educational offerings provide Exploratorium audiences with experiences that center excluded identities in STEAM and education fields. The program builds on the work of the Explainer program: youth and workforce development through transformative learning practices, with the addition of centering the experiences of trans and queer people and people of color.
The STARS program started in 2020 during the museum pandemic closures as a paid virtual internship for transitional aged youth aged 18-25. The program has since evolved to include public programs, high school youth development, and school field trip group support. In the last year the STARS program put on 5 large public programs focused on LGBTQ+ identity for family and adult audiences. The celebrations for Transgender Day of Visibility and Pride at the Exploratorium include a range of happenings from panels of scientists, art pieces and performances, and positive identity formation activities.
The STARS program creates inclusive, identity-centered visitor programming, while also providing workforce development for emerging museum professionals. STARS participants engage in collaborative workforce development, STEAM and education career exposure, build confidence and connection for self-efficacy, practice science communication, and develop and implement learning experiences.
Recognition for Institutions:
Children's Creativity Museum, San Francisco, CA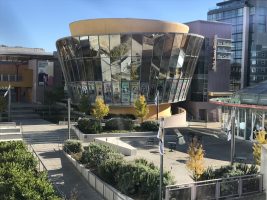 The Children's Creativity Museum (CCM) is a mid-sized children's museum located in San Francisco within walking distance of some of the poorest families in the Bay Area (i.e., SOMA, Tenderloin, and Chinatown), some of the most rapidly gentrifying neighborhoods in the country, and steps from some of the most vicious anti-Asian hate crimes in recent history.
CCM opened in 1998 with an African American Executive Director and an Asian American woman as Chair of the Board of Directors. Since then, and ahead of much of the museum field, CCM has always been led by a leader of color and has placed equity as a core value. The visitors at CCM are over 60% BIPOC, over 50% of the Board and staff are BIPOC, and for 3 of the past 7 years, the Board Chair position has been held by African American and Latino board members.
For years, over 50% of field trips have been provided to Title 1 schools for free and CCM offered free memberships to low-income families. CCM was one of the first participants in Museums for All in the San Francisco Bay Area and has been featured in the San Francisco's Mayor's program that expanded eligibility; now 30% of visitors come through access programs.
During the pandemic, the organization undertook a strategic planning process and decided to place "Equity" and "Co-Creation" as the two core values of the institution. The organization has intentionally created partnerships with the local Asian American Pacific Islander communities within walking distance of the museum to deepen the service to the community, especially as it faces unprecedented challenges through the pandemic and anti-Asian bigotry. As a result of these efforts—virtually all funded by general operating funds, not from grants or donors—CCM has hosted two artists-in-residence that were selected by a neighborhood Filipino advocacy group (SOMCAN) and both residencies resulted in public art and significant community engagement. Instead of hosting CCM's own revenue-generating summer camps, the museum opened up their space for free for a Filipino language summer camp run by a community organization when they were displaced during the pandemic.
While it took 23 months to fully re-open after pandemic closures, CCM used this time to re-imagine what it means to be embedded in a neighborhood and how to truly be of service. The staff have pledged to explore "de-colonized scaling," the idea that partnerships and true impact (not exploitation) only come through mutual respect, co-creation, and trusting relationships. CCM aspires to be a conduit and broker to imagine solutions for individuals and communities.
Frazier History Museum, Louisville, KY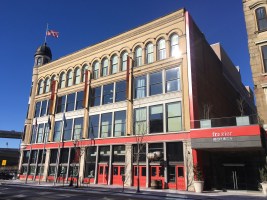 The Frazier History Museum has shown an increased commitment to diversity, equity, accessibility, and inclusion over the past several years, particularly after Louisville became a center of protests in 2020. Through programs, exhibitions, and special projects, the Frazier has experienced increased representation within the museum and the visitors it serves.
In 2019, the Frazier began a series of programs called Let's Talk | Bridging the Divide that brings together panels of diverse community members to engage with the audience in challenging conversations, including programs about policing and social justice, and Louisville's reckoning with issues of race.
Though the Frazier had already begun to make a concerted effort to increase diversity in exhibitions, a turning point was West of Ninth: Race, Reckoning, and Reconciliation. West of Ninth was a partnership with a local photography and personal narrative blog that showcases the stories of residents in historically Black West Louisville neighborhoods. In 2020, the Frazier realized that the community needed a more comprehensive exhibition and expanded to include a deeper exploration of Black communities in Louisville, helping visitors to understand the city's place in current events. The personal narratives and photos from the West of Ninth blog were paired with historic information, allowing the residents of West Louisville to tell their own history.
The Frazier has continued this commitment to telling diverse stories in its permanent exhibitions, expanding them to include the stories of the first enslaved people in Kentucky, important LGBTQ+ people in Kentucky's history, and correcting the history of Native peoples in the region. It has also created The Journey: Unsung Stories of the Underground Railroad. This free walkable, drivable audio tour takes visitors to significant locations along the Ohio River that reveal local connections to the Underground Railroad, and is also available in a virtual format for anyone.
About the 2023 AAM Awards Program
Over the past two years, to better highlight and celebrate the museum professional community in all its diversity, AAM has been redesigning an awards program that aligns with the organization's strategic framework and centers equity and inclusion.
In 2023, a few updates have been piloted intended to make AAM awards and recognition programs more accessible, inclusive, and relevant to the museum field and to create even more opportunities to celebrate the vital role that every museum professional plays in building thriving museums, strong communities, and a better world. Those updates included:
A streamlined, more accessible nominations process
Expanded eligibility for recognition
Recognition of multiple honorees in certain categories to better highlight the scope of exemplary work across all types of museums and roles in the museum field
About the American Alliance of Museums
The American Alliance of Museums (AAM) is the only organization representing the entire museum field, from art and history museums to science centers and zoos. Since 1906, we have been championing museums through advocacy and providing museum professionals with the resources, knowledge, inspiration, and connections they need to move the field forward.
###
Press Contact:
Natanya Khashan
media@aam-us.org