---
This article originally appeared in Museum magazine's July/August 2023 issue, a benefit of AAM membership. 
---
California Academy of Sciences is partnering with museums across the country—and the globe—to engage more young community scientists.
When I first joined the California Academy of Sciences in 2013, I was surprised to learn that the brightest minds at the National Aeronautics and Space Administration—NASA!—rely on ordinary humans like sixth-graders to validate and calibrate their satellite technology. It turns out that at any given moment there are several NASA satellites orbiting Earth, taking photographs of our sky from above and collecting data to determine (among other things) how clouds may affect our planet's changing climate. While computers are better than most humans at recognizing patterns, they can be less reliable when it comes to making inferences and discerning anomalies, which means anything from smoke to snow could be misidentified as clouds.
But middle school students—along with kids and grownups of all ages—can observe local sky conditions from below and submit their findings directly to NASA scientists through the GLOBE Observer mobile app. This public participation in science research is called "community science," and for more than a decade the California Academy of Sciences has used it to advance science and environmental learning goals at scale—far beyond the walls of our 410,000-square-foot museum in San Francisco's Golden Gate Park.
Founded in 1853, the California Academy of Sciences is a renowned scientific and educational institution with a mission to regenerate the natural world through science, learning, and collaboration. We are home to a world-class aquarium, planetarium, rainforest, and natural history museum, as well as innovative programs in scientific research and environmental education. One of those programs, Science Action Club (SAC), leverages our institutional strengths and resources to broaden equitable access to high-quality STEM learning opportunities for youth and educators in out-of-school time (OST) around the country and, more recently, the world.
Clouds, Birds, and Bugs—Oh My
SAC equips all types of museums, libraries, and neighborhood centers with community science teaching kits that educators can implement with youth participants. Each kit contains 12 activity plans designed for grades 5–8, tools and supplies for groups of 20, and a self-paced online training course that prepares program staff to facilitate learning experiences with confidence and skill.
Each of SAC's three curriculum units—Bird Scouts, Bug Safari, and Cloud Quest—is available in English and Spanish and is anchored by a long-term, global community science project that anyone may contribute to anytime, anywhere. Through games, projects, and hands-on investigations, youth in SAC learn the skills needed to follow each community science protocol as they develop deeper connections to local nature and a more robust sense of environmental agency.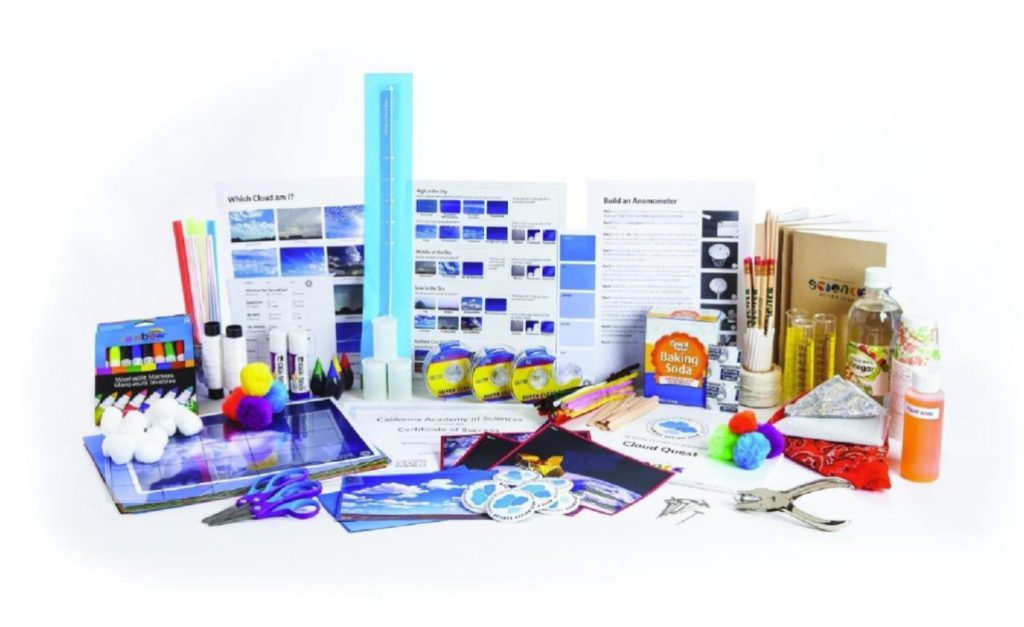 For example, in Bird Scouts, youth explore flight, feathers, and the features that make birds unique. A bean bag toss prepares students to estimate the number of birds in a flock, while an avian spin on the classic photo hunt game invites youth to sleuth out the subtle variances between the field marks of a northern flicker and a red-bellied woodpecker. With practice, youth develop the technical skills to conduct their own bird count outdoors, and they submit their observations to the scientific community using the renowned community science app eBird.
Similarly, in Bug Safari, youth investigate small creatures with big environmental impacts. In one design challenge, youth evaluate the three essential characteristics that all arthropods share—an exoskeleton, a segmented body, and jointed arms and legs—to determine their specialized functions. Then they devise imaginary arthropods with adaptations for invented habitats. Later, they use collection and identification tools like sweep nets, aspirators, and magnifying loupes to safely trap and photograph arthropods and then submit their observations to iNaturalist, a global social network of 3 million nature enthusiasts who crowdsource biodiversity data for scientific research.
Along with Cloud Quest, the SAC unit that connects to NASA's GLOBE Observer, these dynamic and highly interactive experiences integrate scientific observation, creative arts, and physical movement to inspire curiosity among middle schoolers and empower them to conduct authentic and meaningful scientific investigations.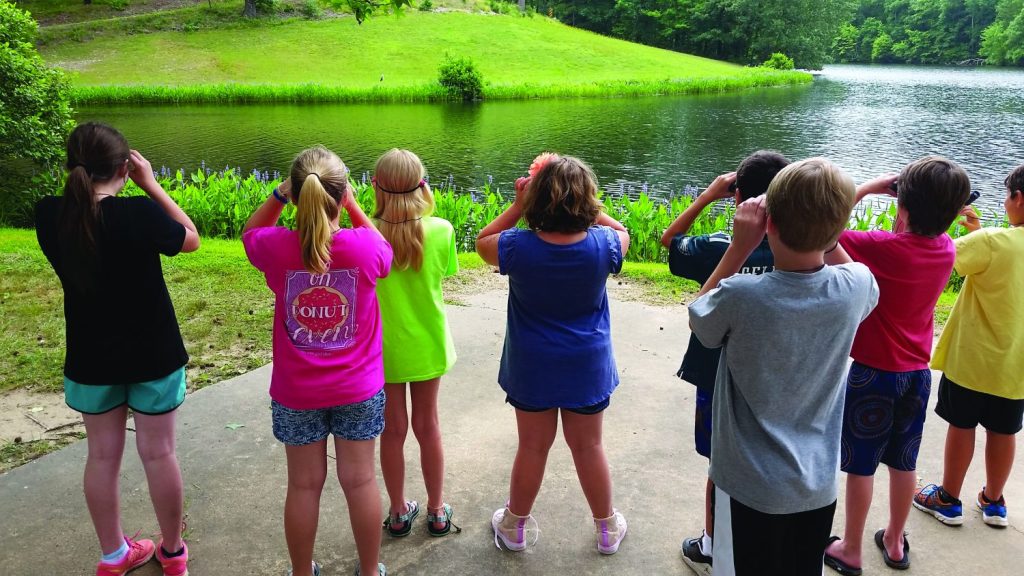 The benefits of this work are multidirectional. With stronger critical-thinking skills and self-confidence, youth are more likely to become informed decision-makers and engaged members of society. Collaborating with peers and connecting to nature also enhances their social-emotional well-being. Meanwhile, the scientific community gains valuable data that helps propel research and address pressing questions about our changing planet.
But to achieve these gains at scale, the California Academy of Sciences must rely on partnerships with other museums and youth-serving organizations that share our goals and values. As a result of these important alliances, SAC, which started in 2011 with just two after-school clubs in San Francisco, has grown to serve more than 75,000 youth and educators in over 480 cities and towns across 41 states and two countries.
Partnering to Expand Community Science
For Nancy Gronostaj, Education Instructor at the Memphis Museum of Science and History (MoSH) in Tennessee, SAC met an urgent institutional need. MoSH has just four full-time education staff and four part-time educators serving 240,000 annual visitors, and they recently began instructing all classes at the nearby Lichterman Nature Center when the community engagement departments consolidated. According to Gronostaj, most MoSH educators have a background in general science and cultural history but not environmental science or natural history, so they felt underprepared to lead the nature center classes.
Given their other responsibilities, MoSH educators had limited time to research, develop, and implement new content, and they preferred not to source activities from a haphazard internet search. They needed something ready-made and vetted that would meet their high standards of quality for superior learning experiences. SAC was a perfect complement to the nature center's exhibits; kit contents like binoculars and pooters refreshed or expanded their inventory of scientific tools, and the activity plans were fun and easy to follow.
Seeing success in the nature center, museum staff began using SAC materials and activities across their spring and summer camps, public floor touch carts, and field trips. And to further MoSH's impact on the local community, Gronostaj became a certified SAC trainer. She supports program staff at nearby institutions, such as Girls, Inc. and the Memphis Botanic Garden, so they can facilitate SAC activities at their own sites.
Farther north, the L.C. Bates Museum in Hinckley, Maine, originally used SAC for its summer camp programs. An early 20th century museum full of cabinets of curiosities and Maine wildlife dioramas, the museum operates "on a shoestring budget and with help consisting mostly of a handful of volunteers," according to Museum Director Deborah Staber. She selected SAC because "the materials are so well designed for volunteers and staff who may not have that much experience or background. Even if you have a student helping, they can just pick up a SAC activity and go with it."
But when COVID-19 hit and no one was going anywhere, the museum made a quick pivot and repackaged the SAC materials into more than 12,000 learning kits that they distributed to local elementary school classrooms and families. Now that the building has reopened to visitors, they are leveraging SAC materials in their lending library of activity boxes that families can check out to use at home, outdoors, or inside the museum's ornithology collections gallery. And the museum is again using SAC at its summer camps and outreach events. "Even a week ago one of our educators went to a library and did SAC Birds Scouts as part of the program," Staber says. "Every piece has been used and reused."
When Patricia Barciela, Museum Director at Domus in La Coruña, Spain, first learned about SAC she recalls being "struck by the fact that the approach was through [community] science, which seems to be a different perspective to bring young people into STEM and to encourage a love of nature." Domus had recently made community science a strategic priority and sought to partner with SAC on a youth engagement grant proposal along with two other European museums: MUSE (Italy) and Tavira (Portugal).
The first clubs at Domus launched in 2020, just as the museum was looking for ways to safely engage students during the pandemic. Since then, the museum has implemented SAC every school year, expanding from small groups to larger cohorts as pandemic restrictions eased. "Collaborating with the California Academy of Sciences has been a valuable partnership," Barciela says. "The richness of a program like SAC, with an educational perspective different from what we have explored at the museum so far, has allowed us to offer our young people something very unique. And at the same time, it has allowed us to train our educators by offering them a new point of view to bring environmental education not only to young people, but to the whole of society. SAC is therefore of enormous value to Domus as a museum and to the people who work there as educators."
The reciprocal value of these partnerships cannot be overstated. The California Academy of Sciences can effect meaningful change at scale only in collaboration with talented and dedicated implementation partners like those at the Domus, L.C. Bates, and the Memphis Museum of Science and History. Only with their guidance can we tailor our programs to their visitors' diverse needs and interests and successfully cultivate a culture of belonging that welcomes youth and educators of all backgrounds into STEM. Only together can we equip tomorrow's leaders to be curious, courageous, and committed to ensuring a regenerative, healthy future for our planet and our people.
---
The Power of Language
There is debate about what to call public engagement in scientific research. While it is most commonly known as "citizen science"—in reference to citizens of the world—some feel that the exclusionary nature of that term discourages noncitizens from participating.
The California Academy of Sciences calls such engagement "community science" to avoid that misinterpretation and demonstrate our commitment to inclusivity, though Science Action Club sometimes uses both monikers. To further complicate things, the term "community science" has historically been used by the environmental justice field to describe a specific type of research in which community members design and carry out projects related to neighborhood health.
Given this lack of widespread consensus, we encourage you to consider how these different terms may be interpreted by the youth, educators, and families you work with, and select the one most likely to inspire and engage. By any name, this powerful work can only be accomplished by a global movement of diverse contributors taking positive action for science and society.
---
Resources
Citizen Science Toolkit for Teachers