Former AAM President and CEO Laura Lott in conversation with NEH Chair Shelly Lowe.
---
This article originally appeared in Museum magazine's September/October 2023 issue, a benefit of AAM membership. 
---
In February 2022, Shelly Lowe (Diné) was confirmed as the new chair of the National Endowment for the Humanities (NEH), the second woman and the first Native American to serve in the post. Here she speaks with former AAM President and CEO Laura Lott about her background, what brought her to NEH, her priorities and aspirations, and ways museums can support and advance those aims.
Lott: What brought you to the National Endowment for the Humanities (NEH)?
Lowe: A phone call. Prior to coming to NEH, I served as the Executive Director of the Harvard University Native American Program, an interdisciplinary initiative to recruit Native students to Harvard, support them and their success at Harvard, and connect tribal communities to the resources at Harvard. I was in my office at Harvard, and my phone rang. The caller said President Barack Obama had looked at my resume and was very impressed and would like me to serve on the National Council on the Humanities. I was in disbelief. I expressed my interest, and that began the long process of being confirmed, which took four years.
Lott: Now that you have completed your first year as chair at NEH, what have you learned? Were there any surprises?
Lowe: My first conversations in this role were about aligning the priorities of the Biden-Harris administration with what I felt the agency should advance, and I was happy to say that they aligned. As a council member reviewing NEH grant applications, I got a better sense of who was and wasn't recommended for funding. Often, I felt that we were not reaching the communities we needed to. In the agency's new Equity Action Plan, NEH created the Office of Data and Evaluation. Through this office, we can gather high-level data from our grant applicants to better assess how we can make a broader impact.
The plan includes creating an Office of Outreach to eliminate barriers and serve all communities, especially rural and small ones that may have felt overlooked. We will also hire a Chief Diversity, Equity, Inclusion, and Accessibility Officer to inform what it means to be accessible to everybody, be inclusive, and overcome our own biases.
Lott: As museums are often thinking about hiring these positions, I think they're really struggling with what they look like, what they need, how to set up those in these positions for success. Do you have any thoughts or advice?
Lowe: NEH can be a resource and forum for museums to have these conversations, make plans, and identify positive ways for that work to move forward. We can also provide individual grants to institutions, for instance, through the Public Impact Projects at Smaller Organizations program. In this program, organizations can assess audience engagement to broaden impact in their operations, programs, and practices.
Lott: Any other priorities you'd like to highlight?
Lowe: When I became chair of NEH, my main priority was to fund as many organizations as possible. With NEH staff, I developed the American Tapestry Initiative, which aims to leverage the humanities to strengthen our democracy, advance equity for all, and address our changing climate. We successfully launched the initiative with several new programs, and this summer, I reviewed the first applications. I was truly impressed with the proposals we received.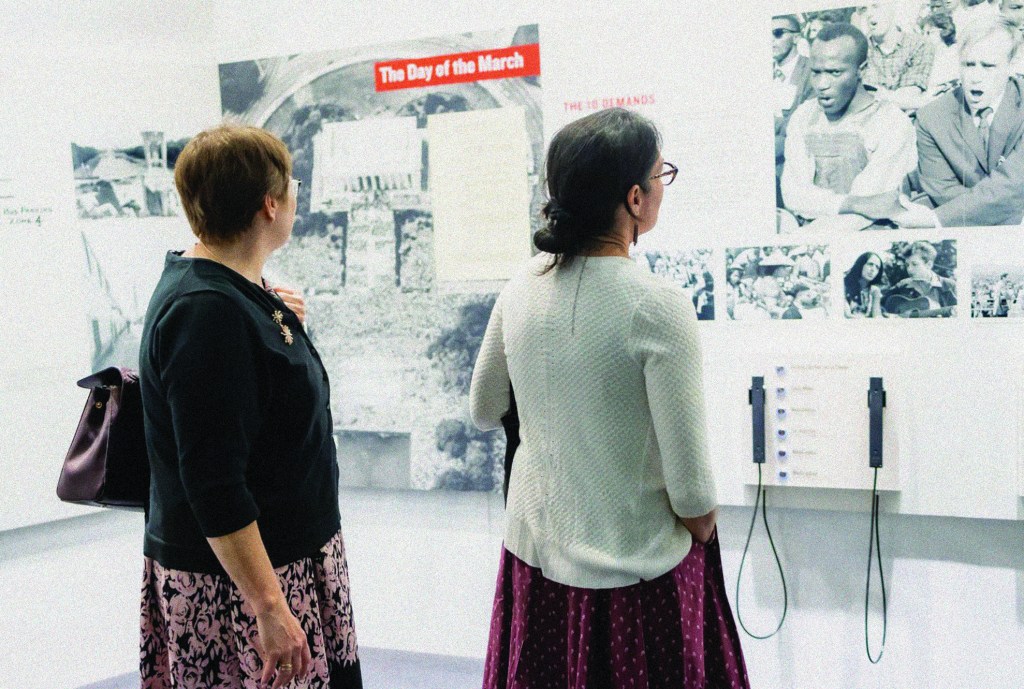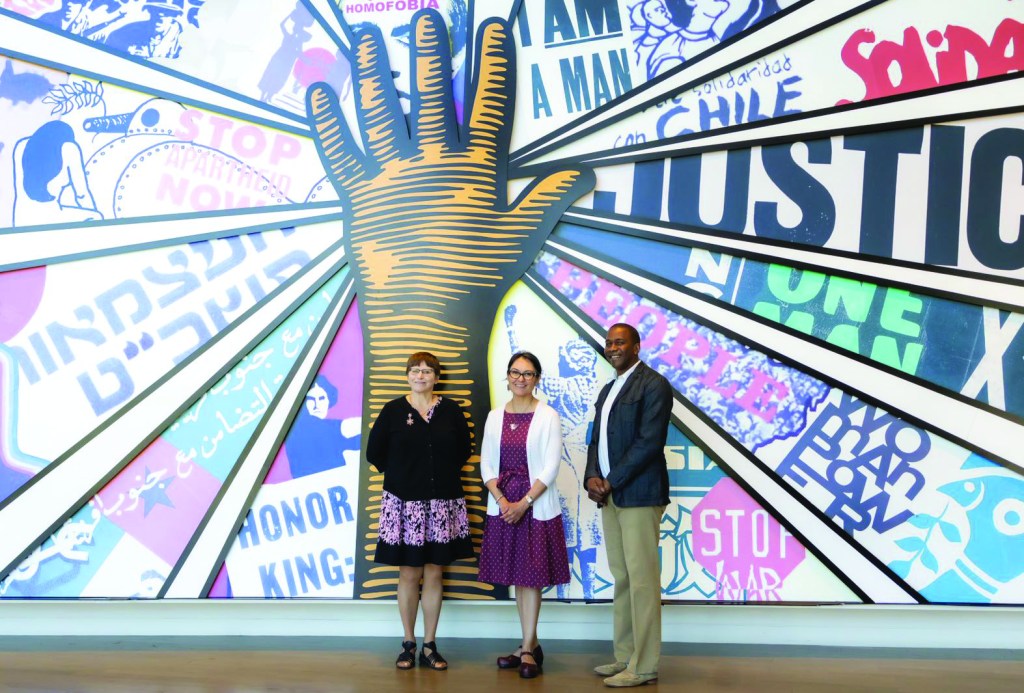 Lott: After your first year or so on the job, what are your thoughts on the future of museums, what you generally see them doing well, and what they might do better?
Lowe: In the US, we sometimes fail to think beyond what we've been taught. However, through museum visits, I've come to realize that there is so much about this country I don't know. Museums serve a powerful role in providing us with information, particularly when we may have assumptions or misunderstandings. Museums offer accurate interpretations of what we're looking at and trying to understand, countering our assumptions with reliable narratives.
With the support of NEH funding, museums have done an exceptional job of reevaluating their exhibitions. They ask themselves whose version of history they are portraying and whose version is being left out. For example, the Sand Creek Massacre exhibit at the History Colorado Center faced concerns from Native American tribes. Using NEH funding, the museum dismantled and reinstalled the exhibition with input from tribal communities, presenting the story in a more accurate, intentional, and inclusive manner than before.
Lott: Are there specific ways that museums can better assist NEH in its aims and some of the priorities you were talking about earlier?
Lowe: One of the most significant challenges we face is effectively communicating what the humanities entail in a way that is easily understood by the public. The humanities encompass the subject matter of museum exhibitions and what museums provide—a resource and teachings into the human experience. However, many people leave museums without thinking they were exploring the humanities.
We rely on organizations like the American Alliance of Museums (AAM) to effectively communicate information about our initiatives and funding opportunities to museums of all sizes and disciplines. NEH is always looking for examples of museums' projects, challenges, and experiences. By collaborating and exchanging knowledge, we can further our shared goals and priorities.
Lott: I was delighted that you spoke at AAM's Museums Advocacy Day a few months ago. As Congress is currently in the process of finalizing the federal budget for fiscal year 2024, what do you feel are some of the most compelling messages when making the case for the humanities?
Lowe: Whether sharing information on a museum exhibition, a film screening and conversation, or a reading program, our grant recipients demonstrate how federal funding and taxpayer dollars are at work across communities. Also, 40 percent of our program funds go directly to the State and Jurisdictional Humanities Councils to develop programming and events that are specific to the needs of their communities. For example, Texas and Georgia are working with museums, universities, and humanities scholars to develop robust teacher training programs that impact thousands of students in their states.
Our Challenge programs also allow organizations to leverage NEH awards toward matching goals for state and private funding for renovations, new buildings, and resources. I recently traveled to Idaho with Representative Mike Simpson (R-ID-02) to visit some institutions we funded. The Museum of Idaho in Idaho Falls received a challenge grant from NEH to expand its museum space to accommodate large traveling exhibitions. I was heartened to know we supported this in partnership with other donors.
Lott: At AAM's Annual Meeting & MuseumExpo in Denver and Museums Advocacy Day, you talked about museums being vital spaces for stories. Can you say more about museums as storytellers?
Lowe: Museums are doing a great job in using digital resources and technology to enhance how they tell a story. I had the opportunity this year to visit Greenwood Rising in Tulsa, Oklahoma, with our Senior Deputy Chair, Tony Mitchell. In that exhibition, Tony sat down in a barber's chair and had a conversation with a barber from the era of Greenwood Rising via augmented reality.
At the Japanese American National Museum, I had a conversation via augmented reality with an 80-year-old Japanese man who had survived the internment camps and has since passed. It was mind-bending. It makes history more human.
Lott: Any NEH initiatives that you want to make sure museums know about other than the ones that we've talked about today?
Lowe: The Biden-Harris administration has called on all federal agencies to strengthen communities after incidences of hate-fueled violence … to heal and rebuild. We are also supporting the Department of the Interior on its Federal Indian Boarding School Initiative through the digitization, research, and cataloguing of records. This project will create a deeper understanding for communities and families to process, learn, and heal.
Lott: Is there anything else that you want to tell the museum field?
Lowe: We encourage museum staff to sign up to be panel reviewers for our grant-funded initiatives. We rely on their expertise to inform us. To do this, visit the NEH website, search "application review process," and complete the form online.