Resources
The development of these resources was supported by The Wallace Foundation. For more information about building audiences, visit The Wallace Foundation's Knowledge Center.
---
---
Connecting the Wallace Foundation Methodology with Museum Research Literature—an annotated bibliography
Based on The Wallace Foundation's report "The Road to Results: Effective Practices for Building Arts Audiences," this resource identifies museum-specific articles for each of the nine effective practices (also known as "spokes"). Use this as a starting place for your research into growing and engaging your institution's audience.
Click the image or the following link to view Connecting the Wallace Foundation Methodology with Museum Research Literature.
---
---
Fact Sheets
The following nine resources are a part of a series of case studies commissioned by The Wallace Foundation to explore arts and cultural organizations' evidence-based efforts to reach new audiences and deepen relationships with their existing audiences. Each aspires to capture broadly applicable lessons about what works and what does not—and why—in building audiences. The American Alliance of Museums developed this overview to highlight the relevance of the case study for museums and promote cross-sector learning.
Each fact sheet includes:
an overview of the challenge addressed
the research and strategies they employed
a description of the results
insights about audience building learned from their efforts
discussion questions
Suggested activity: host a brown bag discussion about one or more of these case studies. Review the fact sheet during the first 15 minutes of the brown bag and then use the discussion questions as prompts for conversation. Alternate option: request that participants review the original case study in advance.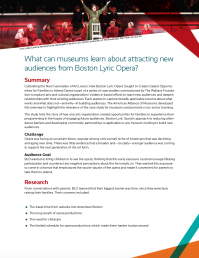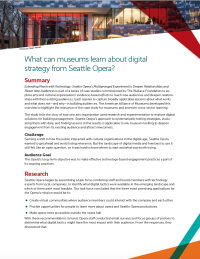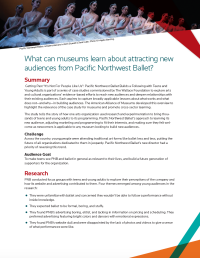 ---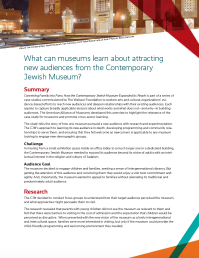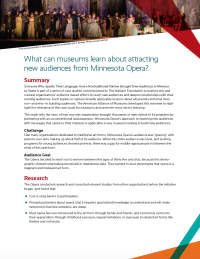 ---