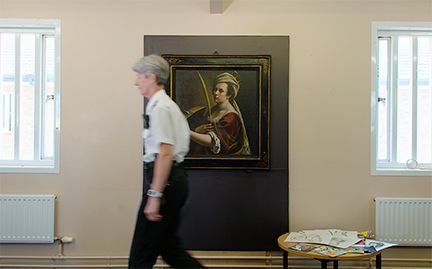 In an effort to reach people who may not be able to see the artwork on display at the National Gallery in London, the museum elected to send Portrait as Saint Catherine of Alexandria by Artemisia Gentileschi on a tour and was most recently on display at a women's prison. While on display at the prison, a museum educator led workshops and discussions focused on the portrait.
"The painting's visit to HMP Send marked the first time that an Old Master work from a U.K. national collection had been displayed in a prison. And according to the Guardian's Jones, who reported from the prison, it resonated with the women there. 'Strong lady,' one inmate said, according to Jones. 'Like the girls where I'm from.'"
Last year, Portrait as Saint Catherine of Alexandria by the Italian baroque painter Artemisia Gentileschi became the first work by a female artist to be acquired by the National Gallery in London in nearly 30 years. The gallery paid £3.6 million (around $4.5 million) for the painting and, in recent weeks, has been sending it on an unconventional tour around the U.K.