Exhibition Journal Issues
Published twice a year, Exhibition offers 128 pages of thought-provoking articles, exhibition critiques, commentary, technical articles, and essays. Each issue is organized around a theme, such as the power of words, exhibitions and universal design, innovation and community relevance, and new media in exhibitions.
The following is the table of contents for each issue with one or two free articles to read (starting with the Fall 2022 issue). Click here to view a list of the full archives.
Fall 2022 Table of Contents
Vol. 41, Issue 2
Effective Exhibitions Should _____________.
Features
Effective Museums and Exhibits Should Build Community: La Rodadora by Isabel Diez, Set David Solís Adame, and Gabriela Torres
What You Bring With You, and What You Take Away: Strategies for Supporting Creativity and Making Meaning in Immersive Exhibitions by Jessica Neuwirth and Hillel O'Leary
Effective Exhibitions Should Provoke! by Tsione Wolde-Michael and Nancy Bercaw
Towards Shared Authority: Community-Authored Labels Expand Expertise, Spark Relevance, and Build Relationships by Melanie Parker, Alison Crites, and Amelia Wiggins
Effective Exhibitions Should Make Lasting Connections Through the Emotional Mapping of Storytelling by Cynthia Torp and Scott Perich
Advancing Environmental Justice Through Inclusive Design and Sustainable Materials by Brenda Baker and Douglas Flandro
Effective Exhibitions Should Build Bridges by Stacy Wakeford
Departments
President's Letter by Jennifer Chow
Editor's Letter by Ellen M. Snyder-Grenier
Exhibits Newline by Jenny-Sayre Ramberg
Guest Essay: Effective Exhibitions Should be Imbued With Passion by Lonnie G. Bunch III
Nuts & Bolts: Credit Where Credit is Due: The Case for Credit Panel Standards by Paul Stavast and Hannah Sharp-Wang
Exhibition Critique: The Black Index by Brisa Smith Flores
Book Review: Designing Museum Experiences reviewed by Sara DeAngelis
Announcements: Celebrating the Work and Talent of Our Community
---
---
Spring 2023 Table of Contents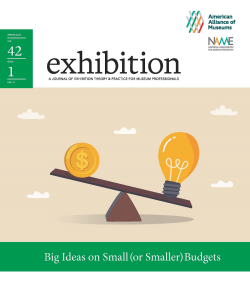 Vol. 42, Issue 1
Big Ideas on Small (or Smaller) Budgets
Features
Tough Art: Building a Collection at Any Price by Anne Fullenkamp
Selection Pressures + Value Engineering = Design Adaptations by Elizabeth K. Shea, Helen Bilinski, Jennifer Acord, Stephen Petri, and Peter Lam
Designing Small Traveling Exhibitions for Large Impacts by Lauren Hunley, Cecelia Gavinsky, and Kevin Kooistra
Crafting Cardboard Experiences: The Activity that Evolved into an Exhibition by Joe Imholte and Keith Braafladt
Fast & Cheap, Stable & Reusable: Reimagining Touch-based Interactive Installations at SFO Museum during the COVID-19 Pandemic by Aaron Cope
Made in Polimi: 35 Square Meters for 150 Years of History by Ludovica Cappelletti and Lola Ottolini
Departments
President's Letter by Travis Helms
Editor's Letter by Jeanne Normand Goswami
Exhibits Newsline by Jenny-Sayre Ramberg
Q&A: Talking Tech with Matt Maher

Exhibition Critique: Denver's Iconic, Interactive, and Inciting Public Art [by a museum person who loves this town] by Beth Kaminsky
Nuts & Bolts: Bold Lighting Without the Big Price Tag by Avraham Mor and Casey Diers
Nuts & Bolts: The Wheel Has Been Invented – How Documenting Work Saves Time and Money, Boosts Morale, and Improves the Visitor Experience by Matt Isble
Book Review: Design for Belonging: How to Build Inclusion and Collaboration in Your Communities reviewed by Becky Seabrook
Announcements: 2023 Annual Meeting & MuseumExpo