This article originally appeared in the May/June 2010 edition of the Museum magazine. 
On a sunny summer afternoon, there are few people touring the galleries at the Grand Rapids Public Museum in Grand Rapids, Mich. Learning about different cultures and the city's history is nice and all, but it's just too darn beautiful outside to be inside, surrounded by walls. Most people are doing something more active-window shopping, exploring their community, playing sports, or dining and socializing with friends.
But for 45 museum-goers, this afternoon will be anything but sedentary and dull. They're about to stroll the streets, discover exotic local neighborhoods, learn new games, eat and visit, all while learning about different cultures and their city's history. They are participants in "The Grand Race ."
As they arrive in teams, their chatter and laughter echoes through the lobby. There are young singles and with children, life-long residents and new arrivals to town. They are dressed for comfort and speed, in Bermuda shorts, shirts, and sneakers.
"Hello, and welcome to 'The Grand Race,"' greets a curator as a group steps up to the registration table. "What's the name of your team?"
"'Hotwired,"' a lady answers, giggling. The four secretaries turn in unison, revealing their team name printed on the backs of their custom-made T-shirts.
Along with the other teams, they receive packets including maps of the city, pencils and passport booklets. Some come prepared with cell phones and GPS devices. They huddle with their colleagues, packets still sealed, taking pictures and fidgeting in anticipation.
A museum program manager addresses the teams: "Welcome to all who are here representing Warner, Norcross and Judd and the Irwin Seating Company. We just have a few simple reminders before you start. Remember that even though this is a race, the point isn't the winning." The team consisting of competitive, jockish law-interns exchanges glances and smiles- for them, everything is about winning.
"This is an introduction to the city you thought you knew. This is your chance to learn about neighborhoods you've never visited and interact with people whose cultures and backgrounds are different from your own. They've given up their Saturdays to introduce you to their worlds." The participants listen politely, but it's clear they're anxious to get started. "All team members must participate in each activity. Follow the clues, answer the questions, get your passports stamped and return to this spot when you finish."
Lawyers and factory workers line up shoulder-to-shoulder like marathon runners at the starting line. "Ready … set … GO!" They race out into a museum without walls-the streets of the city-ready for adventure.
Loosely based on the popular reality TV show The Amazing Race, in which teams compete by flying to various destinations and experiencing different cultures around the world, the Grand Rapids Public Museum's "Grand Race" is a collaborative diversity training program that allows corporate employees to "travel the world" without ever leaving Greater Grand Rapids. Part interpretive program and part scavenger hunt, "The Grand Race" utilizes the real evidences of ethnicity in the community-neighborhood streets and butcher shops, churches and forgotten landmarks, factories, and wall murals-to improve racial sensitivity and increase cultural awareness. It breaks down fear of the unknown by inviting groups of people into storefronts and community gardens that they would never visit on their own. There they are greeted by cultural ambassadors who are waiting to answer their questions and make them feel welcome. And unlike most corporate diversity training programs, which force employees into uncomfortable conversations in sterile rooms to learn what they can't say or do, "The Grand Race" opens doors and minds with the promise of an afternoon of fun.
The Grand Race" was developed as an extension of the Grand Rapids Public Museum's "Newcomers: The People of This Place," a permanent exhibition on racism, ethnicity, and immigration funded by the National Endowment for the Humanities. The exhibition explores the relationships among the many and varied cultures that inhabit the city, and the physical spaces they built. It examines the evolution of immigrant gateway neighborhoods and the effects of ethnic succession on institutions like churches and mosques, schools, and even taverns and barber shops. Community participation in the creation of this exhibition was widespread, involving individuals and societies
representing 45 different ethnic identities who shared their stories and personal treasures with the museum.
The museum staff that developed the exhibition relished their trips into the community, where Asian Indian grocers and Mexican American bakers introduced them to the rich but often hidden diversity of their city. Curators developed a database of restaurants, cemeteries, specialty shops, meeting halls and other urban "artifacts" that define ethnic boundaries and serve as symbols of neighborhoods. But they also lamented the inability to give visitors access to this same experience of learning people's stories directly, in the spaces constructed by their lives. Creation of "The Grand Race" allowed participants this same thrill of discovery and personal interaction that exhibition planners had so enjoyed.
The volunteers who supervise the stops in the race are members of ethnic associations, churches, and temples. They are thrilled to be asked to participate, and many go out of their way by cooking homeland delicacies or creating cultural displays. Because the program is so labor intensive and most volunteers are working people, the program's frequency is limited to just a couple of times each year. But this does nothing to dampen their enthusiasm; if anything, it heightens the excitement for each special day. Other programs like the museum's annual Ethnic Heritage Festival expose thousands of people to their multi-ethnic community from inside the museum walls. "The Grand Race" digs deeper, using the principles of place-based learning to turn the whole city into a learning laboratory by associating people and stories with physical locations.
On a quiet street of tightly packed older homes, one team steps along the neat rows of a community garden planted by recent African immigrants. They're focused on their mission: to search a garden of unfamiliar greens, herbs and vegetables for the ingredients of an African stew. Another team parks farther down the street, still bewildered as they attempt to decipher the riddle that will lead them to this destination. As the first team leaves, the second catches on and runs down the sidewalk, awakening a dog that will bark at many such groups before the afternoon ends.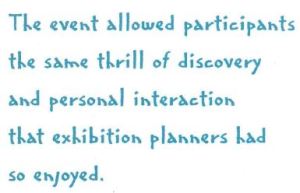 In a different part of town, a team searches in vain for the telltale "Grand Race" sign that should identify the entrance to a church. But finding the doors of a Ukrainian Catholic church locked, they regroup and study the clue again. One looks across the street and spots a gleaming golden onion dome. Realizing they're in the wrong place, they cross and enter a small Russian Orthodox church. Here they are greeted by a priest in long black robes, whose Australian accent seems jarringly out of place, emphasizing the complex nature of ethnic identity. He shows the team the ornate icons in the sanctuary. They're no longer in a hurry. Instead, they stop to ask questions, quieted by the beauty and serenity, candles and incense. By the time the priest identifies the saint whose name is the answer to the question in their passports, they have been so transported to a different time and place that no one remembers to write it down.
Each group drives around the city to the same destinations but in a different sequence so they aren't hurried or crowded by the arrival of multiple teams. The entire route and activities have been timed to determine how long the race should last. At the same time that one team is tasting and attempting to identify Bosnian pastries, another pulls up to the curb in front of the Bayard Gallery of African American Art. As they enter, they are greeted by the owner, George Bayard, and receive bemused looks from a pair of locals who seem rooted in place. They receive their instructions and pick up a variety of colorful. traditional drums and musical instruments from Africa. As they clumsily attempt to bang out a tune, they receive good-natured heckling from the observers. For a moment they are all transformed; no longer black or white, intruder or outsider, they are all momentary acquaintances, cringing at the same off-pitch notes. When they leave, a lady tells her teammates, "I drive this way every day on my way to work, and I never even noticed that this store was here. I'm coming back later when I have more time."
As the afternoon continues, teams rotate to other locations. They count the number of roses in a wall mural of Our Lady of Guadalupe in a business district where all the signs are printed in Spanish. They use crayon and rice paper to make rubbings of General Pulaski's silhouette from a monument in the parking lot of a Polish Hall. They weave pieces of straw together, trying to craft an Irish St. Brigid's Cross. They don wooden shoes and clog in unison at a Dutch import store. A team stands in the parking lot of a Swedish restaurant, throwing wooden dowels and trying to learn the rules of kubb, an ancient game resembling a blend of bowling and horseshoes. As they complete the game, several place orders to purchase their own kubb sets from their Swedish American Society host, a woman wearing a ridiculous Wagnerian horned helmet with blonde braids.'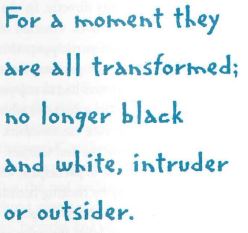 A quick stop at a Vietnamese strip mall turns into a meaningful conversation between a young woman volunteer dressed in a fluorescent red silk dress and a race participant who attended the same high school. For a few moments, they are just old friends, comparing college experiences and catching up on gossip before returning to the task at hand. "When we were in school, I never thought to ask you about your life before you came to America," the one tells the other in this slightly awkward but welcome encounter. "Well, now's your chance," is her friend's reply.
Animated but exhausted, teams eventually straggle back into the museum to have their times logged and the answers in their passports checked for accuracy. As others arrive, they share war stories, with exaggerated descriptions of how their teammates looked dancing or where they got lost. Some internalize what they've just experienced and begin to share personal stories of where their grandparents came from or the neighborhoods where they grew up. Others take time to tour the "Newcomers" exhibition, studying artifacts and labels with fresh eyes. Comments like "I never thought this city was so diverse" and "No, I've never even been to that part of the city" are commonplace.
When the last, hopelessly lost team arrives, the entire group assembles to receive their awards. Several community volunteers also arrive and join the teams at their tables. A just-completed, continuous slideshow is projected, showing images of each team performing its tasks at all of the stops around town. They enjoy platters of Greek, Mexican and Dutch pastries. They complete their evaluation forms enthusiastically-on a scale of one to five, most respond with fives, and none with less than a three. Some suggest locations that they know from their own heritage and their own parts of town to be used by the museum in creating the next race route. Everyone receives gift cards donated by ethnic groceries and restaurants from across the city, and they're anxious to try them. The jocks are vindicated, having succeeded in winning the first-place trophy. The runners-up boo and hiss and immediately begin to plot their strategy for next year.