This article originally appeared in the September/October 2015 issue of Museum magazine.
A conversation with NEH Chairman Dr. William "Bro" Adams
After being nominated by President Obama to serve as chairman of the National Endowment for the Humanities (NEH), Dr. William "Bro" Adams was confirmed by the US Senate in July 2014.
Chairman Adams brought a vast array of experiences to the NEH, including his service as president of Colby College, home of the AAM-accredited Colby College Museum of Art. During his time there, he led a $376 million capital campaign that included an expansion of the museum and investments in internationalism, environmental sustainability, ocean sciences and civic engagement.
A native of Birmingham, Michigan, and son of an auto industry executive, Adams earned his undergraduate degree in philosophy at Colorado College and a Ph.D. from the University of California at Santa Cruz History of Consciousness Program. He served as a first lieutenant in the US Army during the Vietnam War, and studied in France as a Fulbright Scholar before beginning his career in higher education with appointments to teach political philosophy at Santa Clara University in California and the University of North Carolina at Chapel Hill. Adams went on to coordinate the Great Works in Western Culture program at Stanford University and to serve as vice president and secretary of Wesleyan University. He became president of Bucknell University in 1995 and president of Colby College in 2000.
Alliance President and CEO Laura L. Lott sat down with Adams as he approached the one-year anniversary of his tenure as the 10th chairman of the agency.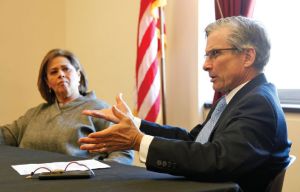 You're coming up on your first year on the job. Tell us how it's going, what you've learned, what's surprised you.
One of the surprising things to me, which I don't think you can grasp until you're on the job, is how big, robust and varied the humanities community is in the United States. One of the reasons it's big is because of AAM and the universe of members and individuals you represent. The museum community, historic sites, cultural organizations of various kinds, libraries, both public and private, research in general—here at NEH, this is our universe in addition to the academic community. It's a big country with lots of museums doing all kinds of work. Getting to know that universe has been a real pleasure and really eye opening.
I was looking at some figures that we put together for our 50th anniversary. Over the 50 years that NEH has been in existence, we've given 6,200 grants to museums all over the country, totaling $750 million for about 2,600 museum exhibitions. That gives you a sense of the scope of our museum work. The other dimension of the museum community that's interesting to me is that museums are starting to think differently about their publics. That was one of the things on display at your annual meeting. The museum as a cloistered place is breaking down into the museum as a community-embedded institution. I think museums are much more public-facing entities.

Dr. Johnnetta Betsch Cole spoke at the annual meeting in Atlanta about the challenge and opportunity that museums face with the changing demographics in the country. Is the NEH doing any work related to this trend?
We're talking a lot about it here. We're in the middle of a four-part documentary film series devoted to American ethnic minorities, including Italian Americans, Latino Americans, Jewish Americans and Asian Americans. Another topic that's very interesting to me is immigration: where a lot of this diversity is coming from, and how we can help Americans understand and engage those changes that are caused by immigration. It's happening, so we need to understand it. The changes you observe are happening in institutions of the kinds that we have supported. They have to change, and we have to help them change, and we have to change.
Looking forward to the future of museums and where we go as a field, what are museums doing well and what do we need to do better?
I don't know if I'd give the museum community advice quite yet on what it can do better, but we are following this evolution of the public orientation of museums with great interest, and we're engaged in it by funding projects. Education programs beyond the walls are a big part of what museums are starting to do now. I had an interesting conversation with some people at the Met a couple months ago about what they were doing. Ditto at the Art Institute of Chicago. Those are big, classic American museums that are now thinking about their education programs in a totally different way, connecting with schools as opposed to just bringing people in to see the riches in the museum. That redirecting is so interesting and promising. Small museums are doing it too, so we're following that shift with great interest. Collaboration between and among cultural institutions is also very important. We want to be a part of that leading edge of change. Our Division of Public Programs, where most of our museum funding comes from, and our Division of Preservation and Access are very involved. There are a lot of technical and technological challenges for museums, particularly related to preservation. We're trying to stay current and leading edge in that field as well.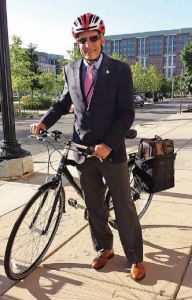 Congress is currently in the process of determining funding for NEH and the other federal agencies for next year. What messages have you found to be the most compelling and useful when you go to the Hill to make the case for NEH and cultural organization funding?
There are a couple of different arguments that we want to emphasize. One is the local, which is always compelling because all of our money gets spent in organizations that are important to communities. The cultural economy has substantial economic impact and benefit and meaning. NEH and NEA have strengthened the cultural capital of the country in very significant ways. About $11 billion between the two agencies has gone into cultural infrastructure all over the country. People say, "Well, that's very nice, but the government shouldn't be in that business." The prospect that somebody else would have been there with that $11 billion dollars—it would not have happened. The other argument has to do with the national importance of our work. In the American democratic system, the preservation and cultivation of history is hugely important, and so is the preservation and cultivation of the fundamental principles of liberal democracy. That's been one of our strong suits over the 50 years of the agency. There's a national level of discussion that has to do with what it means to preserve the liberal democracy, what kind of citizens you have to have, what education for citizenship means. The agency is not just a funder of those kinds of things. It's a symbol of the country's commitment to the preservation of its own historic legacy.
We wanted to thank you for hosting the panel on urban museum practice ("Museums Re-imagining the American City") at the AAM Annual Meeting in Atlanta. What were your key takeaways from that session?
Listening to museum experts in the field talk about their museums and what they were doing in their communities, which were quite similar, but in other ways, so specific to each community, museum audience and organization. These are all distinct organizations that are trying to connect to their communities and local histories in very particular ways.
Our members may know about your army service during the Vietnam War. How does your military service shape your view of the humanities in your work today?
It's the experience that made me curious about a lot of important things in human experience and therefore curious about the humanities and its reflection on human experience. It was a life-changing exposure to a lot of different complex experiential questions that led me into the studies I pursued as an undergraduate. It also anchored my view of the humanities as a form of understanding and knowledge that always comes back to human experience. I have an existentialist and pragmatic view of the humanities, which some people don't share. It's that sense of how salient humanities are to the living of lives. That's the way I look on my work here at NEH. We have a program here called Standing Together: The Humanities and the Experience of War, which is about two things: the American legacy of conflict and war, and the ways in which the humanities can be of service to American soldiers as they attempt to reengage in civilian life. It's been a point of access for me for those programs, which continue to grow. We're very interested in the way museums might thematize the meaning of conflict in American life and history. There are lots of museums that come very naturally to that material.
Tell us about the NEH's Common Good initiative and how museums might be involved with it.
I came here with a strong belief that the humanities can speak to deep and important questions in public life. The Common Good program demonstrates and encourages that. We started the program in January with new grant lines. The first one is the Public Scholar Program [neh.gov/news/pressrelease/2014-12-01]. It's an effort to interest humanities scholars in taking on research projects and publishing in ways that are more publicly accessible than academic monographs—to pick issues and forms of expression that engage a broader audience than is normally the case. So far it's been a huge success. The response was so significant that we were almost drowning in applications. We had 500 legitimate applications and we're going to fund 36 of them. The second grant program that came out more recently is called Humanities in the Public Square [neh.gov/grants/public/humanities-in-the-public-square], offering opportunities for partnerships of community organizations—including, I hope, museums—to dive into a topic of deep humanities character and interest. I bet we're going to get lots of proposals that have to do with the challenge of race and race relations because of what's been going on in the country.
Another program that might involve museums centrally is called Common Heritage [neh.gov/news/press-release/2015-04-20]. We're going to give financial support to communities to collect privately held materials that are of significance to community history—a cultural legacy. So if you've got something in your attic that has salience to the community, we'll pay for its digitization and its use in community programming, and we'll have it preserved in places like small community museums and historical societies. There's another program that we're doing with the Andrew W. Mellon Foundation called the Humanities Open Book Project [neh.gov/grants/odh/humanities-open-book-program] that will enable the digitization of important books on broad public topics that have gone out of print and that we think are worthy of republishing electronically and made free to the public.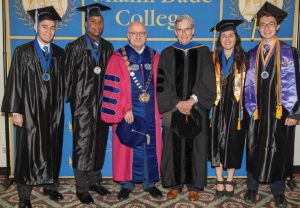 You've talked about the role of technology and expanding access for new audiences that museums and others may not have been successful in reaching before, especially remotely.
We just gave a big grant to the American Foundation for the Blind in New York to digitize the contents of the biggest Helen Keller archive in the country. It's unbelievable what they have there. Digitization is a huge part of the preservation work that we do. We're doing a national digital newspaper project [chroniclingamerica.loc.gov] with the Library of Congress, digitizing every American newspaper between roughly 1835 and 1928. The digital work that we're doing is enormously important for access.
You're the former president of Colby College, home of an AAM-accredited art museum, the Colby College Museum of Art. One of the challenges we face in the museum field is the tension between the missions of the university and of the art museum on campus. It's played out in a couple of prominent cases where a college deaccessioned the museum's assets, selling collections to meet financial needs. How we can strike the balance between the mission of the university and the duty of the museum to serve the public?
It's an important issue, but I don't construct it along the lines of the college threatening to take away the resources of the museum to benefit the college. Where I saw the tension—and where I think at Colby it was overcome—was between the mission of the museum as a place for the public and as a part of the educational program of the institution. What easily happens is that the museum becomes "the big museum" and doesn't think much about its relationship to the educational program and the institution. At Colby, I was very motivated not to let that happen as the collection grew in importance, stature and value. The director, Sharon Corwin, understood that especially at a liberal arts college, if the museum isn't anchored in the educational mission of the institution, it quickly loses its most obvious reason for being. We thought a lot at Colby about the regional and public mission of the museum and we raised money for that, but we were always anchored in the notion that it was first and foremost a teaching museum.
What is the agency doing to mark the occasion of its 50th anniversary?
We are in the planning stages of an In Performance at the White House PBS show that would spotlight NEA and NEH. We're also planning a very interesting event in the fall of 2016 at the University of Virginia that will showcase, in honor of NEH, what a variety of communities are thinking about the future of the humanities. Regional humanities organizations from California to Massachusetts are doing various things by way of celebration. I'll be going down to Austin, Texas, to speak about Lyndon Johnson, who signed our legislation, and, more generally, talk a little bit about the history of the agency. We're having a special communications program that rolls out in September, including digital engagement on the day of our anniversary, September 29, on Twitter and Facebook, and a special issue of Humanities magazine. So there will be quite a few things going on, much of it designed to express the importance of the agency over time. I don't think we're going to have any trouble getting your community to share in that enthusiasm.